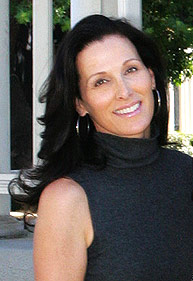 The Terminator franchise is alive and kicking on the Warner Brother back lot, even if their best known star, Arnold Schwarzenegger, now California's Governor, can no longer participate. Focusing on the life of Sarah Connor, her son, John Connor and their Terminator "Protector", Cameron, The Sarah Connor Chronicles will take a new tack. No longer on the run, fugitives from the Terminator assassins sent to kill them, Sarah and John will now stand their ground and go on the offensive, seeking out and destroying Terminators as they race towards the truth of how we became the pawns of the machines.
You may have just done a double take on the byline of this report, trust me; I was just as surprised to be writing this as you are reading it. Every once in a while, if you're lucky, you get a chance to return a favor, which is exactly what happened on September 25th, 2007.
Gilles Nuytens, web-designer, journalist and host of thescifiworld.net, has been taking care of the web-design needs of myself, lovefirstbooks.com, and those of my clients for several years. So when he emailed me to see if I was available to take his place on a set tour on the Warner Brothers lot to interview the cast, crew, and producers for The Sarah Connor Chronicles, I quickly said yes, rearranged my schedule and agreed to meet the tour at the studio.
Obviously, I have been on many working sets, first as an actor, then as a manager for celebrities for personal appearances, and now as a writer and producer. This would be my first time as a reporter so with brand-new tape recorder in hand, legal pad, and armed with Gilles' questions; I felt I looked the part, even if I had never been on this side of an interview!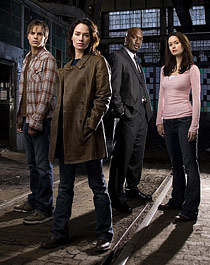 FOX studios had decided to embrace the Internet by inviting the webmasters of blogs big and small to spend a couple of days in Los Angeles introducing their new show, "The Sarah Connor Chronicles". Many of the bloggers seemed somewhat surprised at being invited, flown across the country, put up at a beautiful hotel and then feted with a party and a VIP all-access tour of the show. Others, such as the owner of the Futoncritic.com, had been doing this for years but still retained his wonder that he now has employees, offices, a COMPANY, that sprang forth from his desire to write about his opinion of the entertainment industry.
Cait Hood, the new media supervisor for FOX, is a smart, warm young woman, (it seemed as if EVERYONE was young, I felt like I should have been the chaparone on this field trip!) who made every effort to see that everyone was comfortable and received the proper attention.
The publicist, Tra-mi Callahan, was also very friendly and that's what you noticed right away, this is a HAPPY set. Everyone, from the production assistants to the Executive Producers, seem genuinely excited of being a part of the Terminator Franchise. Any new show has a sense of enthusiasm, but sci-fi shows tend to have a darker sense, (maybe it's all those "the world is going to end at any minute" storylines) but for this cast and crew, there was a true camaraderie not usually found until years into a series. Several of the crew that I talked to gave that credit directly to the stars of the show, Summer Glau (Cameron) Lena Headey (Sarah Connor), Thomas Dekker (John Connor) and Richard T. Jones (FBI agent James Ellison) and the producers, Executive Producer JohnWirth, Producer James Middleton, and the writer, Josh Friedman.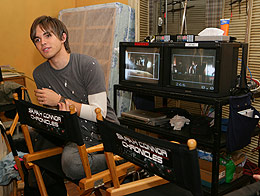 As we approached where today's scenes were being filmed, a young man bounded out to say hello. It was hard to tell at first if he was a crewmember or an actor, but as he was called to set, I realized this was Thomas Dekker, young John Connor.
We were gathered in the "Gilmore Girls" gazebo in the small-town America section of the Warner Brothers lot and split into 2 groups. 2 of the bloggers were going to be transformed into Terminators. I asked to be excluded from this honor as the smell of prosthetic makeup sends me into flashbacks of my days in the make-up chair on Babylon 5. The two were chosen and while the first group went off to watch his transformation in the makeup trailer, the rest of us headed to the video village, (the monitor room) onset to watch Thomas Dekker and Lena Hedley do a scene.
Filming today would be in Sarah Connor's house set and we were ushered into the room where the director can remotely watch the scene being shot. Given headsets so we could hear the dialogue, the scene was between Sarah Connor and John Connor, blithely discussing their various enemies while John prepared to head off to his new high school. Lena, virtually unrecognizable from her role in "300", slipped easily into a modern day mom, albeit one who's job was to raise and protect the savior of mankind.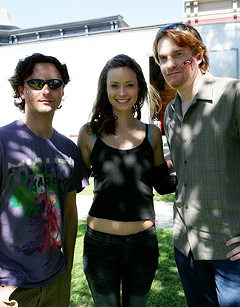 Just before the scene began, Summer Glau came by to say hello. The star of "Serenity", "Firefly", and other projects, is a comfortable ambassador for "the Chronicles" a veteran of the science fiction convention circuit and publicity junkets. "I feel like I have met you all before." She said, smiling a sweet smile. I had met Summer briefly at a convention and after a moment she looked at me hard and said, "Wait a minute, I HAVE met you before." It's always weird when you run into people out of context, especially when you meet thousands of people at a time! Summer could only stay a few minutes before she was called away to wardrobe, so I was not able to ask the questions that Gilles prepared. Luckily, one of the other tour guests did ask about stepping into the shoes of such Terminators as "The Arnold".
What you find is practically EVERYONE on this set not only has seen all the Terminator films, they REALLY liked them, watching them several times, long before being cast on the show. Summer's role is a very physical one and her training as a ballerina has been coming in handy. Since the show is going away from the Terminators of the later films and back to more of the original Terminator Robots, Summer will not be able to "morph" into other people, but she WILL reveal her robotic skeleton when she has been fighting and wounded. Oh, and one other little tidbit delivered by Thomas Dekker, (with the blessing of one of the producers) is that Cameron's Terminator does NOT obey every command from John Connor, which should make for interesting plot lines!
After the director, Doug Nutter, had the shots he wanted, Thomas Dekker came into where we were seated and we all had an opportunity to interview him at length. My first comment to him was, "You do realize you are the "hunkier" version of John Connor? Are you ready to step up into carrying this show?" Thomas IS hunky, with an intense quality similar to Edward Furlong, the originator of the John Connor role, but as Thomas explains, John Connor is growing up.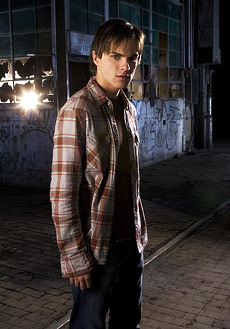 "John and I have a lot in common, both of us moved around a lot as kids, we both had a sense of tightly controlled anger, just beneath the surface, but now, growing up, we've had to take on more responsibilities. So yes, I'm ready to step up."
Sarah and John's relationship is still healing, but they are in this together, John, using the brains over brawn approach, Sarah, still kicking ass and taking names. Asked what it was like to have a beautiful, young, female, terminator as his classmate, Thomas laughed. "It's always a bummer when you really like a girl and you find out she's a robot!"
Will there be a love interest for John? I asked. Thomas smiled a tiny smile, "Well, I certainly hope so." The Consulting Producer, James Middleton, chimed in, "Absolutely!"
Middleton went on to explain that they looked at several HUNDRED actors for this key role, seeing Thomas NINE times for the part. I asked him if this was difficult, although as an actor myself, I already knew the answer and being the veteran that he is, he stated what we all know in this business, "It was hard, because you REALLY want the job, but it just makes you more determined."
So, ladies, get ready to meet the teen heartthrob version of John Connor! Michael Biehn, who played John Connor's father in the original Terminator movie, is someone I have spent some time with at appearances, and I was struck by just how much Thomas looked like him, and told him so.
"Really? I think Michael Biehn is an amazing actor!" (Michael, I smell a guest star role in your future.)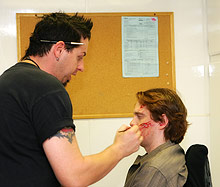 Thomas spoke with us for another 15 minutes, clearly eager to share his view on how this Terminator spin off would honor the original films, but still allow for new storylines, an expanded vision of the world James Cameron created, and his part in all of it.
"I still watch the Terminator movies, we've tried to stay true to the look of the films, even down to the wardrobe, although we are now having to fit in and be as "normal" as possible. The pilot was very physical, the next several episodes will deal more with the character development and setting up the relationships, but we are ramping back up so there will definitely be more fight scenes."
And then it was time for our group to head to the makeup trailer for one of the bloggers to become a Terminator. The key makeup artist, Rob Hall, who's company Almost Human has worked on many of the Whedonverse shows, as well as numerous feature films, gave us a chance to watch him work as he went about creating the Terminator out of a blogger.
"We use a type of tattoo these days and pieces that are created to be used on a variety of actors and can be applied much more quickly."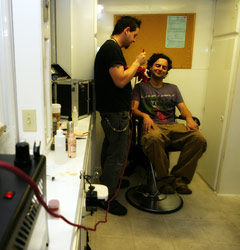 I asked Rob how he felt make-up artistry would change in the new HD format. "I think my work looks better, actually." he said. "I like that people look more real, that the monsters or robots have more detail."
"Do you think the beauty make up artists, (not special effect, but regular makeup) will have to make adjustments to their work, perhaps leaning a bit more on the director of photography to help keep the actors looking good?" I asked.
"Great question! There will have to be some kind of collaboration between lighting and makeup since HD is so unforgiving. Some actors look great in HD, it's all in the bones, other actors are not so lucky."
When asked about the decision to go back to the original Terminator design, Rob Hall explained it this way, "With a Terminator who could morph into anything or anyone, it would complicate the storylines and make it harder to follow who was a Terminator because you would never know who they are."
We all agreed that Rob's work was wonderful and complimented his subject on his new look, and then it was time for lunch.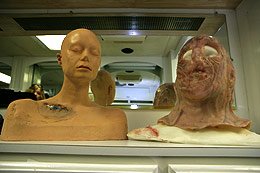 A nice spread had been laid out next the "Gilmore Girls Gazebo" and we settled onto our tables like high school kids on their first day. Soon, John Wirth, Executive Producer, and Richard T. Jones joined us.
Richard, most well known for his work on "Judging Amy", was open, friendly, (See? I told you, they ALL are!) and quite intrigued with the internet world of blogging, as was John Wirth. John asked how this tour came about, and I motioned to the ever-present Cait Hood as the culprit. Cait explained how FOX realized the importance of an online presence and interaction at a grass roots level with websites that featured the sci-fi, fantasy, horror genres. John wanted to know how the various websites came to be and was surprised to learn that most of the sites started out as personal websites to express the webmasters' opinion and developed a following resulting in thousands of "hits" a day. As the webmasters explained, they have a direct link to the fan base that watches these shows, and as I elaborated, those "hits" can be quantified and translate into advertising demographics and revenue. So along with promoting the shows they love, many of the sites themselves have developed into thriving e-businesses.
John and Richard then vowed to read more blogs! Richard was also open to the idea of attending some science fiction conventions and meeting fans since witnessing Summer Glau's audience response at the San Diego Comicon. And as I work with actors for those events, I promptly offered to assist in those endeavors! Just then, Lena Headey dropped by for a quick hello, it was a heavy shooting day for her and there was no time for me to interview her properly. Small, dark, with intense blue eyes, Lena possesses the intensity of the original Sarah Connor, but is physically quite different. It is clear that she has the respect of her cast mates, as both Richard T. Jones and Thomas Dekker were quick to point out she is a wonderful actor, and could probably kick their butts.
I asked John Wirth how he felt about comparisons of the television show to the film and he made it clear that this show honors the original works and would strive to open up the world of Sarah and John Connor without alienating the core audience. In spending about an hour with him it is very apparent that John is very passionate about this show. An accomplished writer, you can tell that as a producer, he KNOWS that the script is where it all starts, if it ain't on the page, nothing works!
Character details and arcs, storylines that are willing to unfold, rather than throwing the kitchen sink at you, the Sarah Connor Chronicles team realizes this is part of a franchise, part of film history and are eager to show the audience their devotion to the film that started it all.
I look forward to seeing the show, as I, too, loved the Terminator films, and I have a feeling we are in for quite a ride.