The contest is now over. We thanks our sponsors for the gifts:
The correct answers were 1) Dirk Benedict, 2) Peter DeLuise, 3) The Asgards and 4) 63!
Those who have participated more than once have been deleted. Only the FIRST of their answers is valid. And the 2 winners are:
- Nathan from Australia
- Nate Muench from USA
Congratulation to both of them!
12th January 2006

TV GUIDE MAGAZINE and SCI FI CHANNEL TEAM UP TO PRESENT SCI-FI FAN CARDS and to GIVE AWAY 75 VIDEO iPODS PRE-LOADED with EPISODE 1 of BATTLESTAR GALACTICA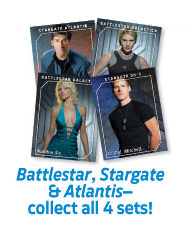 FOUR SETS of FOUR CARDS, EACH FEATURING CHARACTERS from BATTLESTAR GALACTICA, STARGATE SG-1, and STARGATE ATLANTIS AVAILABLE EXCLUSIVELY in the JAN. 16 ISSUE OF TV GUIDE (on newsstands Jan. 12)
January 12, 2005 (New York, NY) — TV Guide magazine and SCI FI Channel announced today that they have partnered to present four sets of sci-fi fan cards, available exclusively in the January 16 issue of TV Guide (on newsstands January 12). Each copy of the magazine includes one set of four cards featuring characters from SCI FI Channel's SCI FI Friday line-up, including Battlestar Galactica, Stargate SG-1, and Stargate Atlantis. The front of each card features a photo of one of 16 characters, while the back of the card includes factoids about that character.


The four sets include:
Battlestar Galactica's Dr. Gaius Baltar (James Callis),
Battlestar Galactica's Sharon "Boomer" Valerii (Grace Park),
Stargate SG-1's Lt. Col. Samantha Carter (Amanda Tapping),
Stargate Atlantis' Teyla (Rachel Luttrell),
Battlestar Galactica's President Laura Roslin (Mary McDonnell),
Battlestar Galactica's Lee "Apollo" Adama (Jamie Bamber),
Stargate SG-1's Dr. Daniel Jackson (Michael Shanks),
Stargate Atlantis' Lt. Col John Sheppard (Joe Flanigan)
Battlestar Galactica's Kara "Starbuck" Thrace (Katee Sackhoff),
Battlestar Galactica's Number Six (Tricia Helfer),
Stargate SG-1's Lt. Col. Cameron Mitchell (Ben Browder),
Stargate Atlantis' Dr. Elizabeth Weir (Torri Higginson)
Battlestar Galactica's Admiral William Adama (Edward James Olmos),
Battlestar Galactica's Karl "Helo" Agathon (Tahmoh Penikett),
Stargate SG-1's Teal'c (Christopher Judge),
Stargate Atlantis' Ronon Dex (Jason Momoa)
Additionally, in an unprecedented giveaway, TV Guide and SCI FI will give away 75 video iPods, each preloaded with the entire series premiere episode of Battlestar Galactica. Details about the contest are included in the January 16 issue of TV Guide.
Fans can enter to win by visiting www.tvguide.com/SciFri beginning January 12. Battlestar Galactica is currently available for download on iTunes.
"Science fiction has long been a staple for TV Guide and a huge draw for our readers. I am very pleased to team up with SCI FI Channel to help deepen the fans' experience of their favorite shows by offering them these exclusive trading cards," says Ian Birch, editor-in-chief, TV Guide magazine. "What's more, I am thrilled to have the opportunity to put TV Guide magazine in front of the latest technological innovation in TV viewing by giving our readers the chance to win a video iPod featuring an entire episode of Battlestar Galactica."
"We welcome this opportunity to work with TV Guide in reaching out to the many loyal fans who have made our shows such a success over the years," added Blake Callaway, Vice President of Brand Marketing, SCI FI Channel.
A division of Gemstar-TV Guide International, TV Guide® magazine is the leading weekly television entertainment and guidance magazine in the USA with a total circulation in excess of 4.5 million. From standard programming and interactive developments in television, to the popular DVD market and fast-growing video game industry, TV Guide magazine has every corner of the television medium covered. Gemstar-TV Guide International, Inc. is a leading media and technology company that develops, licenses, markets and distributes technologies, products and services targeted at the television guidance and home entertainment needs of consumers worldwide. The Company's businesses include: TV Guide Channel, TV Guide online (www.tvguide.com), TV Guide Interactive, TV Guide On Screen, and TVG Network. Additional information about the Company can be found at www.gemstartvguide.com.
SCI FI Channel is a television network where "what if" is what's on. SCI FI fuels the imagination of viewers with original series and events, blockbuster movies and classic science fiction and fantasy programming, as well as a dynamic Web site (www.scifi.com) and magazine.
Launched in 1992, and currently in 85 million homes, SCI FI Channel is a network of NBC Universal, one of the world's leading media and entertainment companies.