Date of publishing: 8th June 2012



Most recently, Victor Webster starred as the scorpion king in the third installment to the film franchise; The Scorpion King 3: Battle for Redemption. Victor began his acting career with a starring role on the Emmy Award winning AMC Network series The Lot and then the number one nationally syndicated action series Mutant X. Webster then began his theatrical film career in the box office smash Bringing Down the House. During this time he continued to alternate between television and theatrical film roles. He has had guest appearances on shows including Bones, CSI, NCIS, Criminal Minds, Necessary Roughness and Single Ladies. He has also had recurring roles on such shows as, Related, Charmed, Lincoln Heights, Harper's Island, Melrose Place and Castle. Currently, Victor can be seen in the television show titled Continuum.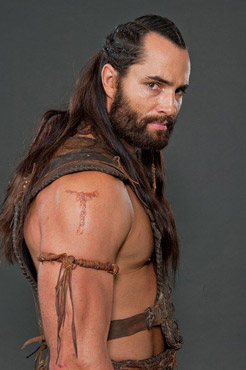 Gilles Nuytens: Firstly I would like to know what drives you in life? What are the most important things in life to you?
Victor Webster: I have two most important things, one is laughter, I wanna have a good time and enjoy life as much as possible, you never know when it's gonna end. The other is adventure, I wanna try new things, I wanna go to new places wanna try new cultures and people and food. Both of them kind of fall under the same umbrella, making the time we have here a positive thing.
Gilles Nuytens: You've done many things before becoming an actor, from stock broker to company owner, so what made you decide to change and start acting?
Victor Webster: Well, I think I just was confused with what I wanted to do in life you know, I was all over the place, I was travelling all over the world, doing some modeling, I was teaching martial arts, I sold shoes, I just had no idea what I wanted to do. So I got back from a trip to Italy, I was there for about 8 months and said to myself: you know I wanna take some acting classes to help me out with commercial auditions, cause I wanna do some commercials while I'm gonna figure out what I wanna do with my life. And then I started doing some commercials and I really was enjoying the acting classes and I was thinking, wow this could be fun if I could do this. This is not easy, so I really did not think it was a possibility for me and then my commercial agent sent me out on a couple soap opera auditions and I ended up booking one of those and just started acting from then on. It was kind of crazy.
Gilles Nuytens: For how many time did you had acting classes?
Victor Webster: I had done some theatre classes at school, I had taken theatre classes in college but I never seriously entertained the idea but when I was a kid I was always pretending I was somebody different. Every day it seemed I'd be dressing up as a superhero, a secret agent or a cowboy and I would totally go into character, so it's something that I loved doing from a young age, I just never thought I'd make a living of it. So once I started taking the acting thing seriously, I had taken a lot of classes and I was working with an acting coach and I really jumped in with both feet and took it very seriously because in this business you just can't just hope for the best and think you're gonna become successful, you actually have to work very hard.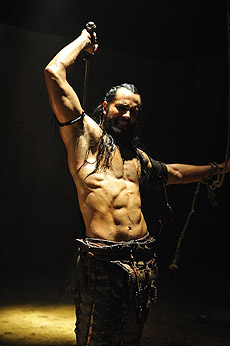 Gilles Nuytens: How would you describe your first job as a full actor?
Victor Webster: Uhm really scary [laughs], I got cast in "Days of our Lives" and it was a contract role and I knew I was going to be in that show a couple years at least. The first day of my work Entertainment Tonight followed me to work, on my very first day, so there was a ton of added pressure, with the camera crew following me and me never done this kind of work before besides a few episodes of "Sunset Beach", 5 to 10 lines here and there but nothing serious, right. This was the first time I actually was on a show as a character. So I'd seen these people working and I watched the show before, you know, it's been on for so many decades, I was really nervous and when you watch my first couple days work you can really tell, I was really stiff, it was hard for me to get the dialog out.
Gilles Nuytens: It's not easy to start acting, unless you have a natural big talent or have a lot of good relations, so how difficult or easy was it to get your first job?
Victor Webster: I went to a lot of auditions before I got my first job and it was difficult, you have to be able to take the word no and not have it deeply effect you, you just let it roll of your skin, because in this business they can say no for so many different reasons and you have no idea what they are and if you take it personally, it's gonna destroy you as an actor; as a person, it will bring your confidence down and you can't let that happen, so no has to become a word that basically means "not right now" to you.
Gilles Nuytens: How do you work your character usually, do you have a particular method?
Victor Webster: I like to read the script over and over again, many times, every time I do I pick up something differently. So obviously there is a lot of yourself in the character, how you would react in that situation, or how the character reacts when he gets angry, how you manifest anger, would the character do it the same way. There is a lot analysis and breaking down, it's a time consuming process. Once you initially break down a character and you know what he's like and how he's going to react, then you not really need to do that anymore, like in a tv series a lot of that analysis is done in the first few episodes and then from there you have the character and now you just need to implement all that work that you've done into the rest of the series.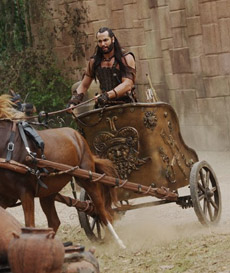 Gilles Nuytens: After 14 years of acting, looking back at all you've done so far, what would you say about what you've accomplished?
Victor Webster: I say it's a good beginning [laughs], sometimes I'm amazed and look back and I feel like, it's been 14 years, that's crazy because it seems like it's been nothing and I think that with everything when you look back, and that's why it's so important to enjoy the process, enjoy. Every time I'm on the set I try to make the most of it and have as much fun as I can. Because when I look back it seems like yesterday and I realize how time flies. I feel like I've done a lot of things that I wanted to do, I worked on some great movies, some great tv shows, and now just to continue doing the same, just to be involved in bigger, wider reaching projects.
Gilles Nuytens: Any future goals, challenges you want to do?
Victor Webster: Yeah I definitely want to work on really great project I want to challenge myself, working on characters that people would not normally see me in. And I wanna step behind the camera and working towards finding something to direct or writing a small project to direct myself. Yeah I will start very slow, I'll do like a short movie or something small at first and just work my way up, you know, directing is a completely different ballgame as well and I can't just expect to jump in and direct something, you first need to prove yourself.
Gilles Nuytens: What are the most difficult parts for you in acting?
Victor Webster: Some of the things that are really difficult are also one of my favorite things. Travelling and going away for 4 months to a foreign country and having to have somebody take care of your dogs, run your life and pay your bills and do all that stuff when you're gone. But that's also one of the things that I love about this business, going away and travelling for 4 months to a foreign country, trying out new food, riding an elephant or experiencing those different cultures. It's also, somebody has spent countless of hours developing a character and they are putting their fate in you to bring the character alive, so there is a lot of pressure to make sure that you, yourself, the project, the writer and the director and everybody are doing a great job. So I try not to think about it that much, just to go out there and do what I confidently know that I can do and I don't let anything get in my head, but in the very beginning, you have those thoughts and then once you work on the character that all goes away.
One of the hardest parts about acting is not acting, it's the in between acting, the downtime, trying to figure out what the next project is gonna be or when it's gonna be. The business side of it, a lot of times, is really political and really screwed up, so dealing with that.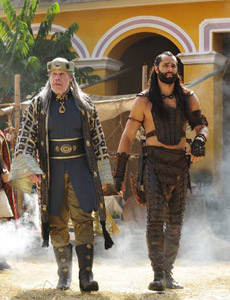 Gilles Nuytens: And then what are your favorite parts?
Victor Webster: The things I really like the most, let's see, definitely, like I said, travelling the world, going to exotic locations and having the ability to become any character. You know as a kid, you make believe and you play that you are a secret agent or a cowboy or any of those and in my job I can be all of those and can do it on a grand scale. I can play a barbarian, and fight with swords and ride horses and have those big banquets with food and all that comes to life for real. So all those things that you, if you have a big kid inside of you, can really bring those fantasies to fruition and that's always one of the best things about it. There are always those benefits and perks about it, all the things that come along with it too, a lot of things are more accessible, depending at what level you're at, sometimes life gets easier with the things that you wanna do, like you get invited to go on trips in your personal life. Some of the fun stuff, hanging out with really interesting people, being able to make a difference, get involved in charities. Some of the perks of being an actor you get public attention and awareness and that can help bring focus to charities and organizations.
Gilles Nuytens: How do you prepare for you part, how do you learn your lines?
Victor Webster: I just sit there and I memorize line by line, and then I go to the next line and the next line and then I go back to the beginning and do it over again. I just read it over and over again. When I'm practicing I don't act, when I'm memorizing, all I do is memorize. I don't wanna get trapped in a certain way of doing something. So I just literally memorize it, it's like memorizing history as a kid, no special skill or anything, it's like doing push-ups, for your brain, once you do 10, you can do 20 then you can do 30 it just becomes easier, if the writing is good, the words stick in your head much better, if the writing is odd or stylistic, it requires a lot more work to memorize.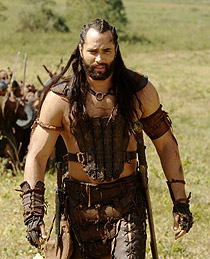 Gilles Nuytens: Do you like it, do you like to memorize the lines?
Victor Webster: Anything that challenges me I like, I like to be put in a situation and, thinking, this is gonna be really though, memorize this 2 pages monologue and then half hour or 45 minutes later, or whatever it is, you have it done, you have it memorized then you feel like you've accomplished something, you feel good.
Gilles Nuytens: Do the characters you play, do they sometimes bring something to you? Do you have some examples?
Victor Webster: Well I think anytime you flush out a character you have to ask yourself how would I deal with this situation, and you ask yourself a lot of questions you normally would not ask yourself. Especially in acting you deal with such extreme circumstances which most of us never have to deal with in our lives, so you have a chance to vicariously live through those circumstances and think of how you would react and what you would do? So when you ask yourself those kind of questions, you learn a lot about yourself so I think that character analysis always brings something to you as well as the experience of making these films, the travelling and being with those people always leaves you a little bit changed in who you are as a person.
Gilles Nuytens: We learn from good experiences, but we also learn from bad ones, we can get benefits from failures, do you have such example in your career?
Victor Webster: I think I have done some things in my career that, I look back on now and me being the person I'm now, would not have done. But without those experiences I wouldn't be who I am. Like you said, you learn from everything, the good and the bad experiences, I find that I tend to learn more from the bad experiences in my life so... that being said, if you look at it that way, if you look at them as valuable experiences then those situations aren't necessarily bad, they're actually good.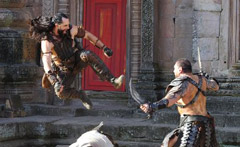 Gilles Nuytens: So, you took the role left by The Rock in Scorpion King 3, how did you land playing this mythic character?
Victor Webster: I met with the director, with the casting director, we talked a lot about the character and then I just auditioned for it. It was pretty simple, we went back and forth about 4 or 5 times, 4 or 5 meetings and working the character, they wanted to see what I could do physically as far as martial arts and they wanted me to get some weapons, some punching and kicking and some movement, so the combination of working out the character and seeing the physicality of the role, they offered me the part.
Gilles Nuytens: Replacing the role left by someone else isn't easy, so how did you prepare to become Mathayus?
Victor Webster: Well the first thing is, I don't know if you have noticed, The Rock is huge [laughs]! First thing I had to do, I was about 225 pounds at the time and I wanted to get as big as possible and I had about 4 or 5 months to do that. So the first thing I did was hitting the gym, eating and taking all those supplements and trying to put on as much size as I could because he's supposed to be a big, intimidating, imposing man. The next thing I did is I watched the other movies and then I had to go breaking down the character, this character is completely different from the other movies, so it required me to really analyze everything, everything that he's been through.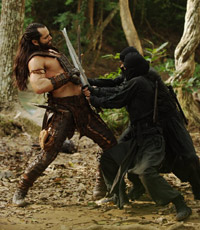 Gilles Nuytens: All the 3 episodes of The Scorpion King are very different from each other, very different tones. How would you describe Scorpion King 3 compared to the other ones?
Victor Webster: Scorpion King 3 is a little darker, it feels a little heavier in the sense that he has so much to deal with himself, personally, in the place that he's in and he now has to go through that all over again, dealing with those obstacles. It looks different, René the director uses a lot of hand held, a lot of frenetic camera movements, it's very fast paced when you watch a lot of the action, very quick cuts, fast paced and very interesting stylish way of shooting. The first 2 are more like a typical Hollywood movie the way they are shot. I love the first one, really funny and I love The Rock, I think he did a great job and still stands up as an excellent movie. So it was different in the way it was shot, the tone of the movie.
Gilles Nuytens: What did you bring to Mathayus? Which part of your personality did you give to him?
Victor Webster: Well there is a lot of intenseness to this particular Mathayus, he's dealing with the loss of everything he's ever known and loved, he's travelling around basically looking for someone to kill him because he cannot commit suicide. He's looking for a warriors death, he's a mercenary for hire, so that being said, I brought lot more intensity, a little darkness, still trying to find those moments of humor and levity in midst of all of it, but definitely that feeling of loss.
Gilles Nuytens: What have you learned from your experience on that movie?
Victor Webster: That I can get the crap kicked out of me every single day and still get up and be able to move [laughs]. Very physically strenuous, everything in my body hurts for about 6 weeks afterwards.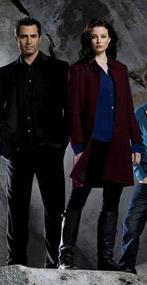 Gilles Nuytens: Let's speak about Continuum. Now that you finished shooting the first season, how would you describe the whole show?
Victor Webster: It's a really good show. It has a little bit of something for everybody. At first it's a character piece, cause you're getting into the minds of these characters, you're dealing with, for example, Kiera [Rachel Nichols' character], who's a fish out of the water, she's got to a place she's never seen before, that she could not imagine it was even possible, she's lost her son, her husband, her life. You're dealing with these Liber8, who are either terrorists or freedom fighters, depending on which side of the situation you are on. And why they are going through doing everything they are doing, trying to change the world, they are not doing it the right way but they are doing it for the right reasons. And then there is tons of action, car chases, gun fights, regular fights, all kinds of action all the time, action packed. That very intelligent smart sci-fi aspect where you're asking those theoretical questions about time travel and really makes you think about your life, makes you think about the things that are important to you, it's also a thinking person show.
Gilles Nuytens: What makes this show unique and different from what has been done before?
Victor Webster: I think because all these things that are in the show have been done one way or another before, but the fact we've combined them all together and the fact that the show looks the way it does, it's beautifully shot and directed, Vancouver is an amazing city to shoot in, all the actors we have on the show are really good at it, they're really talented. And the writing from our writers, they just come with these very interesting and unique characters. It's a combination of all of these things together that makes this show so great.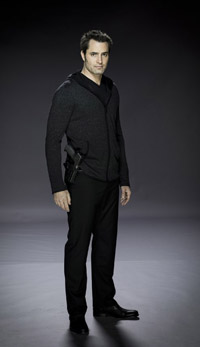 Gilles Nuytens: Can we say it's a futuristic cop show or is it much more than that?
Victor Webster: The thing is, everything takes place in 2012 as far as all the cop stuff is concerned. We do flash to the future quite a bit, to explain characters and stories and things like that but everything takes place in 2012 and it's a character driven cop show with sci-fi elements and it's action packed, that would be a great way to describe it.
Gilles Nuytens: How would you describe Carlos?
Victor Webster: Carlos is a pretty intense guy, he's a guy's guy, he likes to watch sports and drink a beer and everything. But he takes his job very seriously, he follows the rules strictly, but he also got a sense of humor and is lighthearted about things, in the midst of everything that's serious. So he likes to find a little levity in his job and in his life. So while is job is very intense, he is a person who is a little bit more lighthearted.
Gilles Nuytens: The characters written on paper on the script and how a real person play it may be very different depending on the actor, so in the case of Carlos what do you think you brought to him that wasn't described in the script?
Victor Webster: Well in the original script, definitely like I said, he's very intense, he's by the book and is all about getting the job done, the thing that I thought was very important was bringing him, with the ability to be a little self-deprecating and define those moments where you kind of take a step back and be a little bit lighter.
Gilles Nuytens: From what I've seen so far, Continuum tells the story of people fighting for a good cause but with very bad methods, that's the least we can say... killing thousands of people for a cause, as good it may be, is quite horrible... What would you do if you were living there?
Victor Webster: I guess that depends on what side of the tracks I was on, if I was of the corporation that was running everything obviously I was trying to keep everything in check and control everything so that nothing got out of hand, I mean if you think about the reasons why that all happened was because everything got out of control, you'd wanna run it like a tight ship to be able to control everything. Now as a person living there, well your freedom has been taken away and you are being told what to do, when to do it, there isn't anybody that wants that to happen. Especially in your own life, I mean it's one thing to have that at work where we have to do that, but you have a sense of freedom in your normal everyday life, to be able to do the things you want to do and when you wanna do it; to have that taken away, of course you are gonna rebel against that, that is no kind of life for everybody.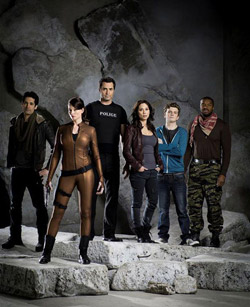 Gilles Nuytens: The show is also showing what could happen to us if all our governments failed. What do you think of this subject?
Victor Webster: Well I think that everything that's going on right now, dictatorships and governments being re-arranged and occupy movement is going on, I think that's definitely something that's feasible, I don't know if it's ever going to be as extreme as that but that's something that we can all see happening in the political landscape of what's going on right now and what's happening in the world. I think Simon did a really good job in taking all of the current events and everything that's going on in our world and then taking it to the next level of what could be conceivable and I think it makes us think about what's going on.