Date of publishing: 6th May 2013



Richard Harmon's brooding good looks are in stark contrast to his bashful, humble demeanor. Born in Mississauga, Ontario, Richard moved to Vancouver when he was young and has lived there ever since. Richard begun acting professionally when he was only 10 years old, but it took him until he was 15 to fall in love with the craft and hit his stride as a thespian.

Acting was a natural career choice for Richard whose mother is producer and former actor, Cynde Harmon, father is director Allan Harmon (Afghan Knights) and whose older sister is actor Jessica Harmon (Life As We Know It, Black Christmas). Richard has had numerous recurring and guest star appearances on such television shows as SyFy's Jeremiah, Flash Gordon and Caprica, CW's Smallville and The Secret Circle, FOX's Fringe, Cartoon Network's Tower Prep, Showcase's Continuum and the critically acclaimed AMC series The Killing.

Despite his young age, Richard's choice of film roles has proven he is mature beyond his years. He has made appearances alongside Anna Paquin in the horror film Trick 'r Treat, Uma Thurman in the fantasy adventure film Percy Jackson & the Olympians: The
Lightning Thief and William Forsythe in the psychological thriller Dear Mr. Gacy. Harmon
wowed audiences along side Charlie David in the sci-fi drama Judas Kiss and with David James Elliott in Rufus.

Most recently Richard will fill the recurring role of Richard Slymore in the A&E series Bates Motel. Inspired by Hitchcock's genredefining film, Psycho, Bates Motel is a contemporary exploration of the formative years of Norman Bates, his relationship
with his mother, Norma, and the world they inhabit. With his film and television accolades stacking up, Richard Harmon is proving to be a star on the rise.

Richard Harmon plays the young Julian Randol in the scifi show "Continuum".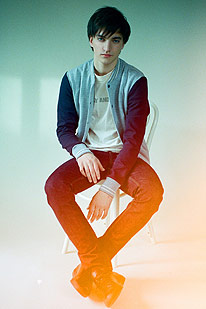 Gilles Nuytens: Hello, I am pleased to speak with you. Almost all your family is working in the movie/television business. So, I suppose it was natural for you to be part of it yourself?
Richard Harmon: A pleasure to speak with you! I suppose in a way it was natural, I got into it mainly because my sister had before me and it was sort of a monkey see monkey do type of situation.
Gilles Nuytens: I see you started acting at 10 and really started to love it at the age of 15. What happened to make you love this job so much at this precise moment?
Richard Harmon: I worked on a film called "Trick r' Treat" when I was fifteen. It was the first time in my career that I had had a role that required me to be on set for a good period of time, after being there for a while and seeing kind of the family aspect that set can have I just ended up falling in love with my job and I really started caring greatly for it after that.
Gilles Nuytens: What do you like the most when you're on the sets in front of the camera?
Richard Harmon: It's something that's hard to explain.. Its a feeling of responsibility, its a level of having some pressure on your shoulders that I really embrace and enjoy.
Gilles Nuytens: What draws you to a role in general?
Richard Harmon: Most characters have something interesting about them that I would love to explore, I especially love having roles that ask me to do things that I would never do in my personal life.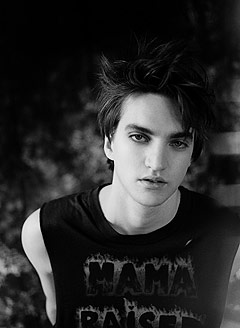 Gilles Nuytens: What was the most challenging role you had so far?
Richard Harmon: Wow, thats a real tough question to answer, I've been so blessed to have some amazingly fun and challenging roles in my career so far. I don't think I can really say one in particular but there have been aspects of my characters that I will say have been very difficult to try and portray realistically. Morally a lot of my characters that I play have some serious flaws; murder, psychosis, all sorts of crimes, things I can confidentially say I know nothing about.
Gilles Nuytens: We all learn everyday, so what's the most important thing you've learned lately, acting-related?
Richard Harmon: For myself, I think its not so much of what I've learned lately more than it is reminding myself and strengthening what has already been taught to me by my parents or my peers who I look up to. Most recently I think its just being relentless and never thinking that I can be lazy and succeed.
Gilles Nuytens: What is the role you preferred to play at this point, the best one, the one that most marked you?
Richard Harmon: I apologize for not being able to name one but there have been so many that have marked me in one way or another. I gain so much from every single day that I'm lucky enough to be working on set.
Gilles Nuytens: In Continuum, at the end of last season, we realized that your character is a key character in the show. How are you satisfied with your role so far?
Richard Harmon: Oh I am more than satisfied! What they have given me to do on Continuum has gone so far above and beyond what I ever could really have even thought of, I can't wait for everyone to see not only what I get to do but what the entire cast was given to work with on season two.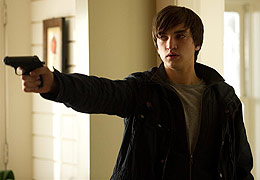 Gilles Nuytens: Are we going to see you as much as last season?
Richard Harmon: Well I think you're just going to have to wait and see! I doubt you'll be disappointed though.
Gilles Nuytens: What are you the most proud of about that show?
Richard Harmon: There are so many things that I'm proud of the show for but the one that is popping out for me right now would be that the show isn't just black and white. There is no pure good and evil, your main antagonists down to their very core actually have beliefs that I think most of us have, they just go about it in a much more aggressive way than the rest of us. The whole show is just one giant grey area.
Gilles Nuytens: What did you enjoy the most being on that show?
Richard Harmon: The people that I get to work with every day that I'm on set, this is one of the best cast and crews that I've ever had the pleasure of working with. Also all the crazy stuff I get to do as Julian is a great way to spend a day.
Gilles Nuytens: We love hearing funny stories about the show we love, anything funny to say about Continuum?
Richard Harmon: Oh it's definitely a set that isn't short on laughs, as far as stories that I could tell it wouldn't be too funny since most of them are all just little inside jokes that we have individually with one another but rest assured we have a lot of fun.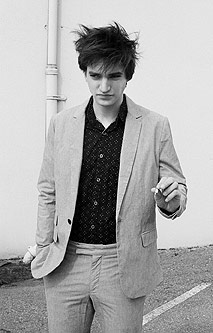 Gilles Nuytens: Which parts of your own personality did you put in Julian, and how close is he from you?
Richard Harmon: There are some traits that we have in common, we are both highly motivated to get what we want but what the two us want are definitely different things. In my real life I think I come off lighter than Julian does, I'm a very happy person. As far as how close we are as people I don't think we are too close, but that mainly comes from two very different upbringings.
Gilles Nuytens: How did you prepare for the role of Julian?
Richard Harmon: The writing helps a ton on this show and any questions I have our creative team is always right there to point me in the right direction while at the same time letting me have a huge say in how Julian is portrayed. I also made a Julian Randol playlist on my iPod that helps a lot.
Gilles Nuytens: What was the most challenging thing you had to do for continuum?
Richard Harmon: Without giving anything away from season two I'll take something from season one. The scene where my father is killed in front of me was a scene I had some serious nerves about. My family and I are incredibly close so it was hard for me to even imagine what Julian would be going through at that moment.

Gilles Nuytens: What's your best memory so far from Bates Motel?
Richard Harmon: Just being able to be a part of something that was already such an important piece of film history with "Psycho", I'm a big movie fan so that is a special experience for me. I actually watched Psycho the night before I got my audition for the show, with no prior knowledge that the series was being made.
Gilles Nuytens: Tell me something people don't know yet about you...
Richard Harmon: I drive a Smart Car. His name is Marcus.
Gilles Nuytens: A free question to you. Ask "yourself" a question as if you were the interviewer (something that you'd like someone would ask you), and answer it :)
Richard Harmon: "What movie are you looking forward to the most in 2013?".
"Inside Llewyn Davis", The Coen Brothers are my favourite film makers (Woody Allen as well) and I get excited to see any of their films when they come out.
Gilles Nuytens: Thanks for your time and I wish you best of luck for the future!
Richard Harmon: Thank you very much for having me and for the well wishes!