Date of publishing: 4th April 2013



Nicole Muñoz is a multi-talented young beauty whose on screen presence speaks volumes in regards to her ability. At a very young age, Nicole is a talent making her mark. The Vancouver born and raised actress is a veteran of the film & television industry, starting her career at the tender age of four. With over ten years of experience, Nicole has over 40 film and TV credits to her name. Nicole is not only a talented actress, but also a gifted dancer and started her love affair with dance as a child. She has honed her skills in jazz, hip-hop, ballet and contemporary. Nicole's skills have made her a three-year Canadian representative for the Los Angeles International
Convention, Dance Excellence and winner of "Best Partnering" at the New York City Dance Alliance. Her success in dance has helped with her acting career as well, leading her to a role in the dance film Centre Stage: Turn It Up. Nicole has landed numerous roles on such films as the action adventure Fantastic Four, the family sci-fi film The Last Mimzy and comedies Tooth Fairy and Marmaduke. Nicole has guest starred on hit shows such as The CW's Supernatural, SyFy's Sanctuary (In "Pavor Nocturnus" as Jessica Mitchell), Stargate: Atlantis (In "Epiphany" as Hedda) and had a recurring role on the ABC series Defying Gravity. Recently Nicole not only graduated high school with honors, she secured a lead role in SyFy's new series Defiance premiering April 15th. She will also appear in the American horror/thriller television series for Netflix Hemlock Grove which premieres April 19th and as a recurring character as Trina in the comedy pilot Rita for Bravo. Nicole recently wrapped on the MOW Scarecrow which will premiere on the SyFy Network in 2013.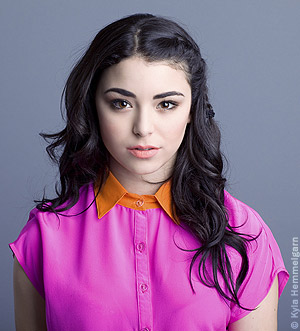 Gilles Nuytens: Hello, and nice to meet you! I see you started acting at a very young age. How has this "adventure" started?
Nicole Muñoz: Hi! It's great to meet you too. When I was four years old I had gone to my very first audition, it was for a laundry detergent and I ended up booking that roll. I was having so much fun on set and was enjoying doing auditions that I just kept on going. Now, here I am!
Gilles Nuytens: What do you like the most in acting?
Nicole Muñoz: Story telling. Being able to transform into something different and conveying a message to the audience. Also having the creative ability to bring life to words on a page.
Gilles Nuytens: You've done this job since this very young age, so would you imagine doing something else in the future, and what would that be?
Nicole Muñoz: I have been doing this for over ten years! It feels odd to say seeing as I am only 18, but this is honestly what I see myself doing for the rest of my life. I do want to go to university though, either for political science or sociology, I am still deciding.
Gilles Nuytens: What kind of roles do you like the most? Any preferences? Any roles you haven't done yet that you'd really want to do?
Nicole Muñoz: I enjoy roles that have an interesting story, plot or something with a lot of substance. I like to keep an open mind when it comes to my future roles, I enjoy the challenge of transformation.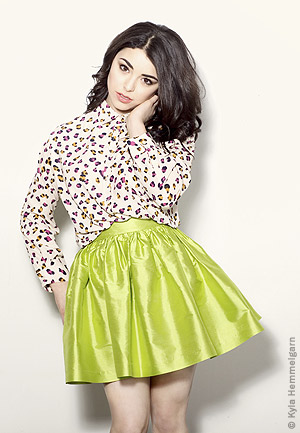 Gilles Nuytens: Generally, before playing a character, how do you prepare yourself mentally to be in the role?
Nicole Muñoz: Every actor has their ways, I have many, it really depends on the role. I find that doing my research on the character, the style, the tone, the storyline etc. helps a lot.
Gilles Nuytens: Which actresses (their work, play, etc) have influenced you so far? Anyone in particular that is a model to you?
Nicole Muñoz: Jodie Foster and Natalie Portman are the two actresses that influence me the most. Not only with their talent, their dedication, their skill and their heart but also the fact that they have both managed to go to post secondary education and still be successful female actors.
Gilles Nuytens: As an actress, what is the part of the job you are the less at ease with? And what is the one you are the most at ease with?
Nicole Muñoz: In this industry you are always learning new things everyday, I am always on my feet and ready. There is nothing really that I am "not at ease" or "at ease" with, if anything I find some things challenging and try my best to conquer them. Some things I find routine, like memorization and the whole audition process. This is a fast paced industry and you have to be willing to jump over a few hurdles in order to move forward.
Gilles Nuytens: What is the role you preferred to play at this point, the best one, the one that most marked you?
Nicole Muñoz: My role in "The Gwen Araujo Story". It is not necessarily the role I preferred to play, nor is it my biggest role but it was a story I felt that was important to tell and as I had mentioned earlier, storytelling is why I love acting.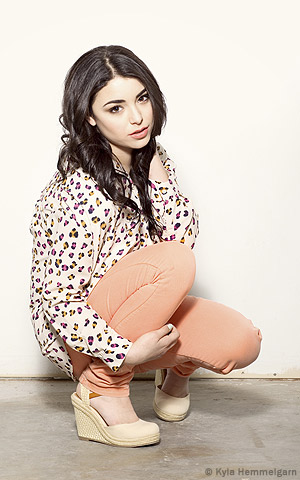 Gilles Nuytens: So, Defiance, how was the casting, did you get the job easily?
Nicole Muñoz: When I read the script I was ecstatic to be able to audition for the role of Christie McCawley. I fell in love with her, and with the plot. I had sent in an audition tape from Vancouver and waited patiently to hear back. I didn't think there would be much chance of me booking it, there were a lot of teen girls auditioning for this role. The day my agent called me to tell me that I had booked it, I think it is safe to say that I was one of the happiest girls alive.
Gilles Nuytens: How was the whole experience on that show?
Nicole Muñoz: Incredible. The cast became a family instantly and the set was astonishing. Everyone was so professional and friendly which created such a pleasant working environment.
Gilles Nuytens: Similar question as before, but specifically for Defiance, how did you prepare for the role of Christie?
Nicole Muñoz: Christie is a strong, loyal, loving, family-oriented girl but she is at the point in her life where she is ready to spread her wings and create her own path in this new world. To prepare for this role I studied the character, learnt everything about her, and allowed myself to become her.
Gilles Nuytens: Your character, it's a little like Romeo & Juliet into sci-fi! And you're Juliet! Every little girls dreams to be Juliet! How do you feel about that?
Nicole Muñoz: Christie is such a wonderful role to play and she is quite like Juliet! I love the Romeo and Juliet-with-a-twist plot line Christie has. It is so much fun to play around in and explore!
Gilles Nuytens: Which parts of your own personality did you put in Christie, and how close is she from you?
Nicole Muñoz: Christie and I are quite similar especially when it comes to our sense of adventure. We are both around the same age but she has grown up in a whole different world than I have. I do see a lot of me in her, but she is much more brave… I don't think I could ever stand up to a hellbug…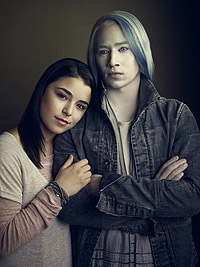 Gilles Nuytens: Each experience is a whole new opportunity to learn things. What did you learn from your experience in Defiance?
Nicole Muñoz: Defiance was my first big recurring as a series, and I really learnt a lot about acting as an art and as a job. I was surrounded my incredible mentors like Graham Greene, Kevin Murphy, Michael Nankin, and the whole cast.
Gilles Nuytens: What was the most challenging thing you had to do on Defiance?
Nicole Muñoz: Working with the green screen. I had done work with it before, but this was on such a larger scale. It takes a lot of imagination and coordination.
Gilles Nuytens: Graham Greene is a legendary actor, how was it to work with him?
Nicole Muñoz: To say that I play his daughter is such an amazing thing. He is truly a legend. He is so kind, and full of knowledge. We would sit together at our cast chairs and discuss our scenes and run lines before we filmed. And that is probably one of my favorite memories from being on set.
Gilles Nuytens: Could you share some nice or funny anecdotes from the sets?
Nicole Muñoz: The circus, where all the trailers are, also doubled as a dog kennel. Jaime and Julie sometimes brought their dogs, Lulu, Bamboo & Sugar and Mia would sometimes bring hers, Rainbow. I loved it. I would take them out for walks between scenes or on our lunch break.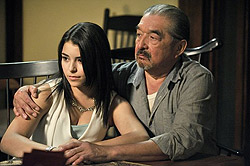 Gilles Nuytens: There's also a video game, have you been involved in any way on it?
Nicole Muñoz: I have not. Though it is a really interesting concept, the game influences the show and vice-versa. Grant and Stephanie had quite a big role in the making of the video game.
Gilles Nuytens: FREE QUESTION
Nicole Muñoz: "What is next on your agenda?" I just finished filming a pilot called "Rita" it is an absolutely hilarious comedy. I am also currently filming a TV movie called "Baby Sellers" I am very excited for people to be introduced to my character in that project.
Gilles Nuytens: Je vois que vous parlez français couramment, alors je me permet de vous remercier en français pour cette interview et pour le temps que vous avez consacré à y répondre! Très belle interprétation de votre personnage dans Defiance, je suis impatient de vous retrouver dans les prochains épisodes! Je suis ravis d'avoir fait votre connaissance et je vous souhaite bonne chance pour la suite! A bientôt peut-être!
(Note: The question and answer were in French, here is the translation.)


I see that you can speak French, so I would like to thank you in French for this interview and for the time you spent answering it! Great job on your character in Defiance, I look forward to see you again in the next episodes! I'm glad to have met you and I wish you good luck for the rest! See you soon maybe!
Nicole Muñoz: Merci beaucoup Gilles, j'ai bien aimé vos questions! J'ai hâte que vous et les lecteurs puissiez voir les autres episodes et j'espere pouvoir vous parler encore. De plus, je vous remercie et a bientôt!


Thank you very much Gilles, I liked your questions! I can't wait that you and the readers could watch the next episodes and I hope to be able to speak to you again. And I thank you, see you soon!