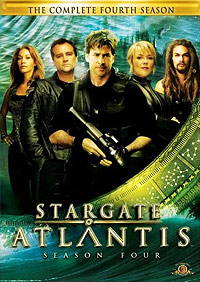 The fourth season continues to deliver out-of-this world excitement and amazing adventures with exceptional visuals chronicling the voyage of the Atlantis team in the Pegasus galaxy. Stargate Atlantis Season Four boasts a talented ensemble cast including Joe Flanigan, Rachel Luttrel, David Hewlett, Jason Momoa, Amanda Tapping, and is executive produced by Brad Wright, Robert C. Cooper, Joseph Mallozzi and Paul Mullie. Closely timed to the release of the highly anticipated new feature length DVD and Blu-Ray premiere of Stargate Continuum, "Stargate: Atlantis" Season Four includes 20 thrilling episodes on five discs and features cast and crew commentaries, deleted scenes, photo galleries, the first "Atlantis" blooper reel and more.
The "Stargate: Atlantis" Season Four DVD is compiled on five discs (widescreen, anamorphic, aspect ratio 1.78:1), and is presented in English 5.1 and English, French and Spanish subtitles. This is a Region 1 only DVD (North America).
The Scifi World will offer 1 copy of the DVD box to the winner of the contest!
THE CONTEST IS NOW OVER
Question 1:
A well known character from Stargate SG-1 is now (in season 4) a full member of the Atlantis team, what is the name of the actress playing this character?
Question 2:
On this site, there's a smilies section with thousands of smilies from 5 different shows, what are the names of those 5 shows?
Question 3:
What is the date of our first interview with Rachel Luttrell?
Question 4:
What is the date of our first interview with Amanda Tapping?
Question 5:
How many people will participate to this contest?
(Please, answer with a precise number, not such things as "thousands/a lot, etc.", this is totally useless! This question is to determinate who is the winner, so if you want a chance to win, answer this one carefully!)
THE CONTEST IS NOW OVER