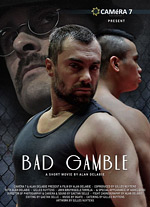 Check out this short movie with Gilles Nuytens (as well as the poster created by him), owner and webmaster of The Scifi World. This isn't sci-fi, however you will recognize Gilles playing the role of the man with the hat (here in the background of the poster).
This short movie sounds more like a demo-reel, but here is the plot: "Kurt fights Wong Lee in an underground tournament. Pressure is on his shoulders as he must get back the money from the Gipsy..."
The movie is French with English subtitles and is produced by CAMéRA 7.
Directed by: Alan Delabie
Director of photography: Gaëtan Selle
Music: Henning Berg, Mithridatium, vvsmusic
Choreography: Alan Delabie
Editing, Post production: Gaëtan Selle

Kurt: Alan Delabie
Wong Lee: John Bruynseels Torreja
The Gipsy: Gilles Nuytens