Date of publishing: 25th July 2012



Alain Chanoine was born in Montreal and spent his early life in Haiti. When his family moved back to Canada, Alain began acting in his high school theatre company. Although he had always dreamed of pursuing acting and stunt work for a living, he never really saw it as an option. Enrolled in college and studying to become a police officer, Alain was on his way back from football practice when he noticed a sign that said 'audition'. Pushed by his childhood dream, he went to the open audition - little did he know that this single decision would change his entire life direction. Alain booked the role and relocated to Vancouver where the movie was set to film. As can often happen, the movie was never made but by then it was too late. Alain was hooked and had decided that art was going to be his life. He found an agent, started auditioning and was soon booking guest roles on television shows such as Dead Like Me, Smallville, Battlestar Galactica, and The L Word. He also booked roles in many feature films including The Art of War II with Wesley Snipes and The Five People You Meet In Heaven with Jon Voight. Next came lead roles in the films Shred and Shred II, Revenge of the Boarding School Dropouts with Tom Green, both directed by David Mitchell. As a result of his world-class martial art skills, Alain also did stunt work and fight scenes with Wesley Snipes, Jessica Biel and Ryan Reynolds, as well as all the stunts for the character of Blade in the television series of the same name. Alain was afforded the opportunity to put his acting and stunt work together in the action/horror feature film Evil Feed, directed by Kimani Ray Smith. He has also done some works on Immortals and Percy Jackson.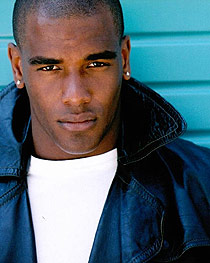 Gilles Nuytens: Hello, and nice to meet you! Firstly, let's introduce yourself to our readers.
Alain Chanoine: My name is Alain Chanoine, I'm an actor and stunt performer.
Gilles Nuytens: Except acting/stunts, what drives you in life?
Alain Chanoine: Life itself drives me. Life is a beautiful thing and living it is an Art. How to enjoy every moment, work hard, take your time and relax but bettering yourself in every aspect of life; reaching your goals and your dreams and mostly; be happy. Doing all this at the same time is what drives me... I also train Mixed Martial Arts every day ;)
Gilles Nuytens: You started acting in school, what decided you to do so?
Alain Chanoine: My high school had a really good theatre company and only the older kids in the 2 last years were aloud to audition. By the time you were old enough to audition you had already seen 3 great plays from that company so it was a no brainer. I wanted to be part of it.
Gilles Nuytens: You are doing both acting and stunts, doing your 2 passions all at the same time, can you tell us which part of each of these crafts you like the most?
Alain Chanoine: When it comes to Acting, it is all about the Craft, the study of the Human Being. Showing the things, publicly, people are most ashamed of so they can watch it in the dark and think 'This is me' or 'I do that'. Movies get us together because we relate to them. Movies tell us we are not alone feeling this way or doing that thing we do. So many things are Universal and we forget that we all do them. It is the actor's job to show his humanity so people can relate. Stunts are all about the adrenaline and the action. Before a big stunt when everybody is quiet and ready to go. The first assistant director calls: "ROLLING"... and at that moment it's all about the present moment. Every time I get a tunnel vision of what I have to do and at that very moment there is no other problem in the world than stay safe and do the job right. I love the guts and the focus it takes to do this job.
Gilles Nuytens: You've done stunts with many famous people, Wesley Snipes, Jessica Biel, Ryan Reynolds and Jean-Claude Van Damme, who was your best memory to work with? Can you tell us about that experience? And if you want to share more experience with the others, feel free!
Alain Chanoine: To be honest it was great meeting all the actors and most of them are great people but if we talk about stunts it is always more fun to do it with their stunt double. When a stunt man is doing a stunt or fighting an actor he has to be twice as careful to make sure everything goes right, because the actor is probably not use to doing whatever action is required of him. But when doing it with another stunt performer we can go faster, harder and better.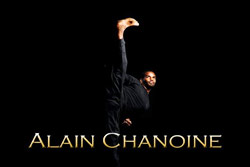 Gilles Nuytens: You just finished a shooting with JCVD, can you tell us about this movie and this experience?
Alain Chanoine: The movie is called "Enemies Closer" with JCVD, Tom Everett Scott, Orlando Jones and Linzey Cocker. It is an Action film where 2 mortal enemies have to join forces to fight a greater enemy. It was very interesting meeting JCVD. He was a big influence when I was a kid. He is one of the reasons I started Martial Arts. And there I was in Bulgaria fighting him and he was so nice and down to earth. It was a great experience.
Gilles Nuytens: Doing martial arts is a good thing. But not all martial artists are able to do stunts for the cinema. So where and how did you learn that?
Alain Chanoine: Fighting in movies is like a dance. But you have to be able to do the moves, remember them under pressure and most importantly, be able to pull them, stay safe and have control. I learned in the gym to be a stunt performer. It is like anything else, if you put the hours in, you'll eventually get better at it.
Gilles Nuytens: What's the most important thing you've learned lately, acting-related?
Alain Chanoine: It is funny because all the important things about acting were told to a student or somebody who started acting in the first 2 years of his career. But I would bet anything that it takes 10 to 20 years to any actor to understand most of what was said to them years before. So most of the things I'm learning right now are just deeper levels of so many different aspects of the craft and I will never stop learning. This is the great thing about this job, constant improvement and goals.
Gilles Nuytens: Same question, but as a stunt performer?
Alain Chanoine: As a Stunt performer I have just started to learn how to stunt drive. That is very exiting because I've always been more of a fighter and I'm now expending my skill set.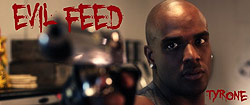 Gilles Nuytens: Evil Feed, the synopsis of this movie sound horrific! Can you speak about your role/experience?
Alain Chanoine: Yeah it is pretty harsh lol. My Character's name in the movie is "Tyrone". A 70's leather coat wearing, Karate loving, vengeful badass. When his friends get in trouble Tyrone is going in head first to save his friends but he is doing it with Swag and Style. I think that Tyrone was always obsessed with old, black exploitation 70's flicks. And this horrific adventure basically gives him the opportunity to be the hero he always wanted to be and test his Mo-Jo. And he gets his money's worth.
Gilles Nuytens: You've lived in Montreal and in Haiti, so I bet you speak French. Most of your credits are in English, why no more French productions?
Alain Chanoine: Yes my French is as good as my English but there's only 6 million people in Quebec and France is a long way from home so it is a matter of opportunity. I started acting professionally in American films and TV shows so that's where I kept my focus but I would love to make more French movies because they are amazing. I'm sure that door is going to open by itself one day. For now I am just focusing on what is working and giving back.
Gilles Nuytens: Any future goals, challenges you want to do?
Alain Chanoine: I'd love to write, direct and star in my own film. I've always wanted to do that. So right now I'm spending a lot of time writing. And at the end of the day, all these "jobs" will only make me a better actor.
Gilles Nuytens: What are your projects now?
Alain Chanoine: There some things I contractually cannot talk about but I'll tell you that you'll see me in Los Angeles very soon.
Gilles Nuytens: What are the most difficult parts for you in acting? And the easiest?
Alain Chanoine: I am definitely comfortable with comedy and everything else is not hard but demands a lot of work. Any actor can do any part but the further the character is from the real you, the harder you'll have to work to get there. But trust me when I tell you that real actors work hard and deliver.
Gilles Nuytens: Same question, but as a stunt performer?
Alain Chanoine: As a stunt performer the thing I'm most comfortable with would be the regular hand to hand / martial art fight scene and the most difficult for me would be anything that has to do with heights. I've done many high falls and above the ground stunts but it is something I had to work on more than other things.
Gilles Nuytens: Thank you for this interview! Anything else you'd like to share?
Alain Chanoine: Nope! Just thank you for your interest and have a great read.