Date of publishing: 30th August 2007



Alan Scarfe is born in 1946, in London and immigrated to the United States in 1985. Alan began his career as a theatre actor and performed mostly in North America and Europe. But Alan has also an impressive filmography in cinema and television. You will recognize him as Professor Bradley Talmadge in the TV show "Seven Days", as Archmagus in the epic "Earthsea" as well as several small roles in other sci-fi shows such Stargate Atlantis, Star Trek Voyager, Star Trek TNG, Andromeda, Highlander, SeaQuest, Quantum Leap, McGyver and the list is still long! His latest job was to portray Father Cassidy in the "Direct-To-DVD" Babylon 5 movie "The Lost Tales".
Gilles Nuytens: First of all, can you tell us a bit about yourself, who is the man behind the character?
Alan Scarfe: I was trained as a stage actor and most of the first twenty years of my career were spent doing that in theatres across North America and in Europe. Dozens of big classical roles like Hamlet, King Lear, Othello.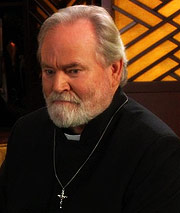 Gilles Nuytens: Why did you become an actor, what was your motivation?
Alan Scarfe: I wanted to be a great classical actor in the long tradition of Burbage, Garrick, Kean, Booth, Olivier. Forty-five years ago when I began it was still possible to think in such a romantic, idealistic way.
Gilles Nuytens: You have a really impressive filmography, which films are you most proud of?
Alan Scarfe: I don't really think of film and television as the impressive part of my career. But of the films it is mostly the small, independent ones of which I am most proud. Films like Deserters and The Portrait and the recent Hamster Cage.
Gilles Nuytens: You have appeared in a lot of science-fiction productions, what do you like about this genre?
Alan Scarfe: Science fiction on film and television, especially if you are playing some kind of alien character with fantastic make-up, is great for actors with a strong stage background. The productions need that kind of size and intensity of performance. You can't really mumble if you're a Klingon.
Gilles Nuytens: What did you know about Babylon 5 before landing the role of father Cassidy?
Alan Scarfe: Virtually nothing other than that it existed.
Gilles Nuytens: How much creative freedom were you given with this character?
Alan Scarfe: As much as I wanted. But the truth is, with television scheduling, you are just trying to do your best under quite rigorous circumstances.
Gilles Nuytens: How was it like to work with a talented writer such J. Michael Straczynski?
Alan Scarfe: That was the best part of the experience. J. Michael's writing. The show was much more verbal than most are and the arguments presented much more interesting.
Gilles Nuytens: Was it hard to get the role?
Alan Scarfe: No. Very easy. J. Michael had pretty much decided he wanted me to do the part from looking at my demo tape. Then we just had an informal meeting, shared a few jokes with each other, and that was it.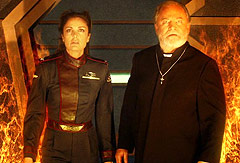 Gilles Nuytens: What is the atmosphere like on the sets?
Alan Scarfe: Most sets are quite relaxed. This one was. Though sometimes, for example when shooting the pilot for a new series, things can become more than a bit hysterical. But Babylon 5 had already had a long-run as a successful series, so the atmosphere was very relaxed. Most experienced professionals definitely prefer it that way.
Gilles Nuytens: Are there any practical jokes from the sets you'd like to share?
Alan Scarfe: Not really. I did make the error of describing a satirical, anti-Bush cartoon that I'd just seen in the Guardian only to discover I was speaking with a Bush speech-writer and avid supporter. And then we had to work closely together for the next eight days! This was not J. Michael, I hasten to say.
Gilles Nuytens: What did you enjoy the most working on Babylon 5?
Alan Scarfe: The writing, as I've mentioned. The unaccustomed subtlety of it.
Gilles Nuytens: What aspects of your personality do you share with this character and what aspects of him are completely unlike you?
Alan Scarfe: I'd like to think I shared his compassion and intelligence. But the character was a Catholic priest and I am a life-long atheist.
Gilles Nuytens: Now a few questions about Seven Days. You played Professor Bradley
Talmadge for 3 years, what memories do you take away from that show?
Alan Scarfe: I have done several television series and always enjoyed them. It is the closest an actor can come on television to being in a theatre company. And I like to think it offers the chance for one's work to become better and better.
Gilles Nuytens: What do you miss the most?
Alan Scarfe: Well, I'd be dishonest if I didn't say the pay check.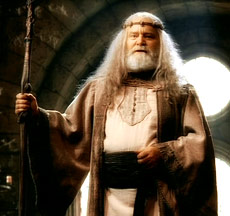 Gilles Nuytens: How was it to work with Jonathan LaPaglia, is he as "crazy" as Frank Parker?
Alan Scarfe: Jonathan is not the least bit crazy. He is a qualified MD, you know. He just likes to have fun and that comes across. He was terrific to work with and a really delightful person. I developed a bit a skin cancer on my face during Season 3 and he was the first one to point out to me what it was.
Gilles Nuytens: As Season 1 progressed, did the story lines from Seven Days meet your expectations?
Alan Scarfe: Yes. The difficult thing about any series and the question I would ask anyone who showed me an interesting pilot script is "OK, now what happens in episode 100?". Writing for episodic TV is hard. I think we had good writers.
Gilles Nuytens: On Earthsea, you play a powerful magician. How did you feel about taking on such a role?
Alan Scarfe: I felt easy enough about it once I realised we had such a good director and such a fine production team for sets, costumes and all that. We also had a very fine cast.
Gilles Nuytens: What did you know of Earthsea before getting the job?
Alan Scarfe: Nothing. But I read the novels afterward. I found Ursula LeGuin's writing to be utterly charming. I wish I had made them known to my children.
Gilles Nuytens: Do you prefer this kind of heroic-fantasy genre, or is there another genre you feel is more suitable for you?
Alan Scarfe: The theatre. But I guess you could call that heroic-fantasy, too.
Gilles Nuytens: Generally before playing a character, how do you prepare yourself mentally?
Alan Scarfe: On television and film, where you often get little or no rehearsal, I just make very, very sure that I know my lines! In order to do that you basically have had to rehearse the whole thing by yourself in your trailer or hotel room or whatever and that inevitably gets you into the mind of the character. So, it's really the same process as rehearsing a stage play, just a bit more compressed and a lot more lonesome.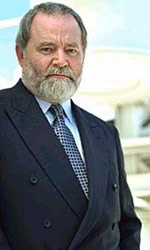 Gilles Nuytens: In general, what draws you to a certain role?
Alan Scarfe: Just whether I think I can play it or not. Whether I think I can get the audience to believe me in the role. And whether I feel like playing it at the time.
Gilles Nuytens: After all your experiences as an actor, are you interested in writing or directing for the cinema or television?
Alan Scarfe: I have directed a lot in the theatre. And my wife and I have written at least ten screenplays that are gathering mold in various production offices around the world. We like to think it's because they are too good. We are still writing them. I have never been interested in directing for television but I would like to have directed a
couple of our movie scripts. I doubt it will ever happen now because I am too old and too lazy.
Gilles Nuytens: Can you tell us about your experiences on Stargate Atlantis?
Alan Scarfe: It was brief. Only one episode. But it was an interesting character with an interesting and all too common problem. It was a nice group of young actors to work with.
Gilles Nuytens: Same question about Andromeda.
Alan Scarfe: That was a delightfully wacky character and I had a lot of fun doing it. I was never too sure what I was talking about but I could happily have done it for more than the three episodes.
Gilles Nuytens: What else can we expect from you in the future?
Alan Scarfe: Well, I'm having a novel published in Rome next year and I'm toying with the idea of playing Orson Welles on stage in Italian. As for television, that always comes up at the last minute.