Date of publishing: 30th December 2005



Alex was born in Northern Alberta, and, according to his mother, has always enjoyed performing for others. He grew up loving the classics in acting, Bogart, Cagney, etc. Got involved with theatre while still in school, performing in a stage version of MASH. Took some time off to travel Europe and while lying on a beach in Greece, decided to go to Film School. Later, taught a class on `Acting for Teens' at the Vancouver Film School. A familiar face to sci-fi fans, Alex has appeared in numerous genre series, including seven guest spots on Stargate SG-1 (Spirits, 1969, Foothold, Beast of Burden, Metamorphosis, Enemy Mine, and Space Race), and the SCI FI Channel's movie, Babylon 5: Legend of The Rangers: To Live and Die in Starlight, portraying "Dulann", the lead Minbari warrior monk who serves as first officer of the starship Liandra. Alex has also made guest appearances as "Johanssen" in James Cameron's Dark Angel (Red, Rising), Andromeda (Music of a Distant Drum), The Immortal (Forest for the Trees), Welcome to Paradox (Blue Champagne), First Wave (The Purge), and the special 100th episode of The Outer Limits (Tribunal), as "SS Lieutenant Karl Rademacher".


Gilles Nuytens:

Can you talk about yourself, what do you do when you are not acting? On your free time or for other jobs.


Alex Zahara: Well I go to the gym as much as I can with my buddy Eric, usually every morning at 6 am. Hang with friends and try to be a little creative with some producing of a tv show that I am working on.

Gilles Nuytens:

What are your current projects, what are you working on?


Alex Zahara: I am executive producing a spec pilot called Bandwagon, it is about life on the road for a touring band. It is told mainly from the perspective of the road manager, James Bodine, as he tries to keep the chaos on the road from destroying his hopes and dreams!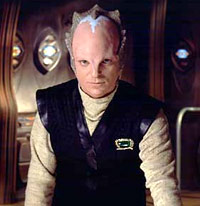 Gilles Nuytens:

You have played several different roles in Stargate but we haven't heard of you since some time on the show, is it a personal choice or a lack of opportunities?


Alex Zahara: Well they write what they write and I guess they haven't seen me in any of the roles, I guess I am their alien choice but perhaps I haven't fit their views of their alien needs.

Gilles Nuytens:

Would you be interested to play a wraith in Stargate Atlantis?


Alex Zahara: For sure, they look very cool, not sure if I am tall enough though, a lot of the wraiths seem quite tall!

Gilles Nuytens:

Playing several roles in the same TV show must be interesting on the acting point of view, what did you learn from your roles on Stargate?


Alex Zahara: How to keep things interesting and how to conserve your energy and use it when it was needed. It is pretty taxing on the body and mind to be in those suits all day (18 hours.) Plus making every character different and unique to themselves.

Gilles Nuytens:

You played Dulann, a minbari in the movie "Babylon 5: Legend Of The Rangers", could you first talk about your experience there and I think it was supposed to be the pilot of a new spin off. Can you talk about this whole subject and how have you been approached by the producers, was it only for the movie or did they talk about a "future" series?


Alex Zahara: B5LOTR was supposed to be a back door pilot for a new series, if the numbers were good enough on the initial broadcast. It was a great time, everyone on the show was cool from start to finish. As a cast we all got along very well and hung out a lot. The production staff and crew including of course the producers were all amazing. It seemed like a big family all wanting to do the best we could.

Gilles Nuytens:

Is there a role you would like to play at any cost?


Alex Zahara: Well I don't know about any cost but I would love to play Hamlet but I may be getting a bit old for it, (LOL.)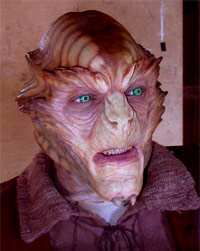 Gilles Nuytens:

What was the most challenging thing you had to do for a sci-fi show?


Alex Zahara: I think the most challenging thing was to play a Nazi in the Outer Limits, I had to make this inhuman monster seem like a human and not just a charicature. The person really existed and ran the family barracks at Aushwitz and was responsible for the deaths of thousands of people including Leo Egan the father of the show runner and producer Sam Egan. I had the responsibility of making this man a believable threat rather than a unbelievable evil man. The reason the Nazis were so terrifying was because they were men doing absolutely inhuman things, so I had to make him a man and not a monster because if he isn't human then people won't be affected by his actions they will write it off as a story and not something that was real and did happen and could happen again if we aren't vigilante.

Gilles Nuytens:

Do you remember an anecdote that happened on the sets of Stargate?


Alex Zahara: I guess my favorite one is during my first episode, Spirits, it was so hot in the studio and I was wearing a very warm costume, it was hard to keep cool. My character X'els had been zat gunned and was passed out on a gurney in the med lab, well I was so hot that I fell asleep without realizing it. The next thing I knew, Amanda Tapping was gently shaking my shoulder saying, "Alex, you're snoring." There was no airflow through the mask I was wearing so I had started to snore, it was pretty embarrassing but also funny.

Gilles Nuytens:

Can you talk about Ezekiel and your time on the sets of the TV show Jeremiah, did you read the comic book?


Alex Zahara: I had a great time on the series, everyday was a pleasure. I never read the comic because I didn't want it to affect my performance, I though I would bring what I got from reading the script because some elements of the comic may not have been in the script and If I would have brought elements of the character that were only in the comic and not the actual script I may have confused the audience.

Gilles Nuytens:

You auditioned for a role in X-Men 3 and Hollow Man 2, can you say something about the roles you auditioned for, and was is a success for you?


Alex Zahara: Well the role for Hollow Man 2 was a cool part in the beginning with a guy who gets killed by Hollow Man. X Men 3 was kind of strange, they were really only auditioning for very small parts, like team leader etc, for the original X men movie I had auditioned for Wolverine and for X2 Night-crawler. I didn't get the roles for either show but wasn't too disappointed because they would have been very minimal roles anyway.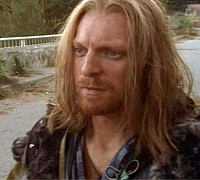 Gilles Nuytens:

What attracted you first in sci-fi, the stories, the universe, imagination, ...? Can you talk about what you like in this genre, first as an actor and second as a fan?


Alex Zahara: Well the work is the work and we do a lot of sci-fi up here in Canada so... it kind of dictates what you as an actor are able to do. In the greater picture though I am lucky because I really like sci-fi and have been a big fan of sci-fi for years. I am a have been a Star Trek fan for years and watch a lot of sci-fi whenever I can.

Gilles Nuytens:

What is the role you enjoyed the most to play in Stargate and why?


Alex Zahara: I think the role I enjoyed the most was plying the hippie Michael because that episode had a real message behind it and it affected me in a lot of ways. 1969 was a real anti war statement and I think that that was the most important thing of all, that war is never a solution, sometimes it is a necessary response but should never be entered into as a fist response.

Gilles Nuytens:

J. Michael Straczynski is to my opinion one of the best sci-fi writer, especially with his Babylon 5 stories, any project to work again with him?


Alex Zahara: I would love to work with Joe again, working with him gave me some of the most fun and experience I have ever had, B5 and Jeremiah, I would work with him again at anytime.

Gilles Nuytens:

What is your opinion about the new Galactica TV show?


Alex Zahara: I really like it and think it has a great future. It is dark and character driven which makes things so much more engaging. I just read something about the western series Gunsmoke which ran for 20 years, it was character driven and had great stories, so that is the path to success in the story business.