Date of publishing: 21st August 2007



Andee Frizzell started acting when she was about four years old. Started in a library group with a bunch of kids and then traveled with drama through school. And then when she was 17, she started traveling to Europe from Canada. She modeled in Europe for about ten years, did a little bit of acting there but mostly lived in a bunch of different countries -- 13 countries and seven continents. And then she came back to Canada and moved to Vancouver and started acting there.
That's how she landed on Stargate Atlantis to play the wraith keeper on the pilot and several other wraith queens later in the show.
Andee Frizzell just got a role in the new SCIFI Channel series "Flash Gordon" where she plays "Cleric", a preistess in a village of healing women (episode "Infestation").
Don't forget to check out her last blog entry where she explains with photos the make up process of the Wraith Queens! Check out the blog here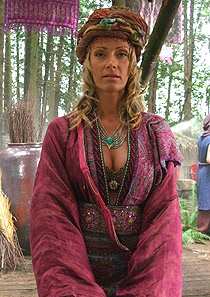 Gilles Nuytens: Could you give us some information about the role you are playing in Flash Gordon? Are you going to play a monster "again"?
Andee Frizzell: I play a preistess in a village of healing women that Flash appeals to for help in saving his friend. And no it's not a monster role but well.... I am pretty scary to men anyway.... you'll have to watch and see why! haha
Gilles Nuytens: What did you know about Flash Gordon before getting the role, did you know the comics or the earlier versions?
Andee Frizzell: Before auditioning my only knowledge of the Flash Gordon series was that of the 1950's version. I remembered it being something of a Gullivers Travels but in space kinda show which I thought was pretty cool.
Gilles Nuytens: Have you watched the first episode and did you like it? Do you like this kind of "cheesy" science-fiction?
Andee Frizzell: I really like the comedic value of the show. I think Eric Johnson does an amazing job of being funny without being " cheesy" which allows the audience to find the humor as well as enjoy the story being told.
Gilles Nuytens: What did you enjoy the most in your episode (Flash Gordon)?
Andee Frizzell: I really enjoyed working with the cast. They are a great team of actors that compliment each others abilities. Being on a new show also has the energy of something great. Everyone is excited and challenged at the same time. I really liked that.
Gilles Nuytens: How is the atmosphere on the sets compared to Stargate Atlantis?
Andee Frizzell: Atlantis is different only because I've been with this character and these people for a long time. It's like hanging out with old friends you haven't seen in a while. Everyone sharing inside jokes and being well themselves, relaxed. On Flash Gordon the set was more like a meeting of new faces. Exciting, everyone putting their best face forward, getting to know each other. Both sets were great to be a part of but for different reasons. I was blessed with the opportunity to work back to back on both sets. I shot Flash the first week then Atlantis the next. I was able to really appreciate both shoots for different reasons.
Gilles Nuytens: Is there anything else you'd like to share about your experience in Flash Gordon?
Andee Frizzell: Watch it! I think everyone will be pleasantly surprised at the new Flash and his crew. I think everyone will find a talented pool of actors and crew as well as writers. It's a really fun, colourful show.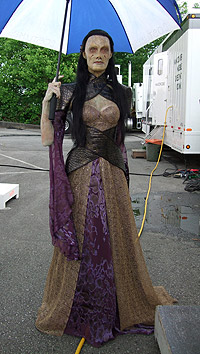 Gilles Nuytens: You are credited as "Thin Woman" in the movie "Blood: A Butcher's Tale" With Aaron Douglas, what kind of role is that?
Andee Frizzell: The "thin woman" sounds really funny. The character is a heroïn addict which I guess after a long time addiction has become thin. Haha I laugh because they also could have credited woman with really bad hair if we were going only for appearence discription. Haha, It was a challenging role but very rewarding. Playing a charcater that is easily sterotyped and not playing to a cliche was a great experience.
Gilles Nuytens: Outside of Flash Gordon & Stargate, what can we expect from you next?
Andee Frizzell: This year has seen a real change of direction in my roles. I have been auditioning for roles that I feel have expanded my abilities as an actor. I love the characters that I have played but am excited to see where these new roles will go. As to what to expect I don't even know.
Gilles Nuytens: Can we expect to see you in more than 1 episode of Stargate this year?
Andee Frizzell: Thus far I have only shot one episode but am still hoping for more Wraith developments. I am loving the direction they are taking the Wraith and would love to be more active in that development. I guess we will have to wait and see what the amazing writers have in store for the Wraith queens!
Gilles Nuytens: This new Wraith Queen from "Spoils of War" looks a bit like the one we saw in "Submersion", what can we expect from her?
Andee Frizzell: In appearance only. I have been a brunett, a red head and a bleach blonde, we were running out of colours! Haha But this Queen has some great secrets to share! I think it is a very exciting episode for the Wraith and their fan followers.