Date of publishing: 14th August 2007



Born of immigrant parents and raised in a small farming town in New Jersey, Shimerman's family moved to Los Angeles when he was 16 years old. In an effort to help her son meet new people, his mother enrolled him in a drama group and (as the saying goes) the rest is history. He appeared in recurring roles in two CBS series. He portrayed Pascal in Beauty & The Beast, and Cousin Bernard in Brooklyn Bridge. He has also guest starred over 65 times on such television series as L.A. Law, Married: With Children, Civil Wars and Seinfeld. Perhaps the most memorable of Shimerman's guest appearances was in Star Trek: The Next Generation when he made his debut as the uncredited Wedding Box in the first season episode entitled "Haven." Later that season, Armin returned to the set of Star Trek: The Next Generation where he portrayed Letek, the first Ferengi in a Star Trek series, in the episode "The Last Outpost." During the third season hiatus of Star Trek: Deep Space Nine, Shimerman worked on the film "An Eye for an Eye" with Sally Field and Ed Harris. He has also co-starred with Andrew McCarthy, Patsy Kensit and Star Trek: The Next Generation alumna Denise Crosby in the feature film "Dream Man," in which he portrays District Attorney Van Horne. Armin Shimerman also played a recurring role in Buffy: The Vampire Slayer, portraying Principal Snyder. He is also known for having portrayed the Nox "Anteaus" in Stargate SG-1. Amongst his other guest appearances, we can name for example Charmed, Ally McBeal, Sliders, Seinfeld, ER, Nip/Tuck, Numb3rs, Boston Legal and many many more. The Scifi World had the opportunity to chat a bit with him during a convention in Germany, Fedcon 16, last June.

Gilles Nuytens: Recently we celebrated the 40th anniversary of the Star Trek franchise. What did you do for this occasion?
Armin Shimerman: I did nothing. Until I came here yesterday I didn't know it was 40 years, the last I remember was 30 years. I don't know where the last 10 years went.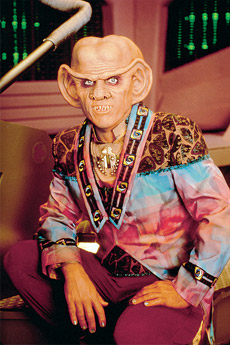 Gilles Nuytens: Eight years after the end of Deep Space Nine what could you say about your experience in the Star Trek world?
Armin Shimerman: Well I certainly had a good time. I was a big Star Trek fan before I was on Star Trek, I watched the original like any good fan and was very happy to be a part of it. So I'm very honoured to be a part of the Star Trek franchise and it introduced me to a lot of wonderful people who I wouldn't have met if I had not been on Star Trek. As far as Quark's role in the Star Trek franchise I think that he brought a little bit of comedy that maybe had not been as much there as there was before and it introduced to people the idea that you have to treat all cultures exactly the same.
Gilles Nuytens: Did the storylines on Deep Space Nine as Season 1 progressed meet your expectations?
Armin Shimerman: No, I wished there were more stories about Quark actually and I actually wished there were more dramatic stories for Quark. But some of the stories after Season 1 were wonderful stories I'm very proud to have done a number of them. I soon learnt that because Quark was not Starfleet he was not part of the team that solved the problems that the Starfleet team solved every week and that was slightly disappointing but only a little disappointing.
Gilles Nuytens: How often do you make an appearance at Quark's Bar in Las Vegas?
Armin Shimerman: I'm usually at Quark's Bar twice a year, always as myself, never as Quark. But I must say that when I go to Quark's Bar they treat me like I'm the boss.
Gilles Nuytens: What was your craziest experience you had with a fan?
Armin Shimerman: Well most fans want to rub my ears and that sometimes gets a little embarrassing.
Gilles Nuytens: Did you have a lot of creative freedom with Quark?
Armin Shimerman: Yes and no. On Star Trek all of the actors have to say their lines exactly the way they are written so we were confined within the parameters of the lines. But every actor brings a certain creativity to their performance and I believe I brought a lot of different approaches to the material than perhaps the writers originally thought when they wrote it. It's a strange thing to say but I think I brought more humanity to the role than perhaps was there in the beginning.
Gilles Nuytens: What was the most challenging aspect of being Quark?
Armin Shimerman: For me the most challenging episode that I had, was the episode when I had to play a female Ferengi. Mainly because it was a matter of not only creating a new role but also of wearing a costume that was much hotter than I had worn as Quark. Quark was a warm costume and makeup but this one was so hot that on one day, I think the fourth day, I fainted at work, just collapsed from the heat, so very challenging.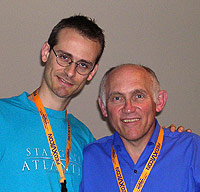 Gilles Nuytens: What aspect of your personality do you share with Quark?
Armin Shimerman: I think my and Quark's love for other people, that we are as Quark used to like to say I'm a people person and I believe Armin Shimerman is a people person too.
Gilles Nuytens: You do an impressive amount of guest roles on TV shows, which ones did you enjoy the most?
Armin Shimerman: For the most part I liked all of them and it's hard for me to judge among my children which one I liked best but certainly my performances in Star Trek, in Buffy The Vampire Slayer, Stargate and I must say all the judges that I have played for David Kelly in all of his shows I have enjoyed a great deal. And on one or two occasions I have worked on television with my wife and those are very, very pleasant occasions as well.
Gilles Nuytens: You play a small role in the movie Dead And Deader was that a project that you enjoyed doing?
Armin Shimerman: Not particularly, the reason I was in Dead And Deader was that John Billingsley and I have the same agent and he was signed to do Dead And Deader and when he couldn't make it the agent talked to the producer about me finishing the work that John hadn't done yet. He couldn't make it a day at work and so they called me up and said can you take over his one day of work and I like John and I was doing my agent a favour and I like the people who were producing the movie and so I said yes. So it wasn't a project that my heart was in, I was simply doing a favour for some friends that's all.
Gilles Nuytens: What are your current or upcoming projects?
Armin Shimerman: Basically I've gone back to performing on stage, live theatre and when I get back I have to direct production of Twelfth Night, a Shakespeare play. I am in the process of building a theatre in Los Angeles called Antius and I'll be doing that when I go back and I'm in the midst of writing my fifth novel so I have that to do and I will probably go back and do some more television work for Boston Legal.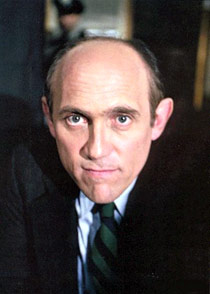 Gilles Nuytens: Are you interested in directing or writing for television series?
Armin Shimerman: No. I have no interest whatsoever for writing or directing for TV or for movies, I leave that to my friends who are very good at it. I'm only interested in writing novels and I'm only interested in directing the stage. The reason I'm not interested in TV and film is it takes a lot of work to learn how to do that correctly and well and I think I'm a little too old to learn that and also it takes the ability to see things visually and that's not what I do best. What I do best is aurally, I hear things better than most, of the how it should sound, the way its put it together and that's not a film director's responsibility but on stage it is, so I prefer directing for the stage than I do for film or TV.
Gilles Nuytens: You play in two episodes of the TV show Invasion …
Armin Shimerman: No, I know what it says on the internet but they're wrong, only one episode of Invasion.
Gilles Nuytens: Ok, what are your views on today's Science fiction?
Armin Shimerman: Well it's been very good to me, I've worked a lot in science fiction and SF often times has the ability to inspire people to become engineers, to become physicists, to become chemists, to become explorers and it allows people to use their imagination and to inspire them and for that I think SF is enormously important.
Gilles Nuytens: Is there a project, movie or series that you would really like to be a part of?
Armin Shimerman: Heroes.