Date of publishing: 22nd June 2007



Ben Browder is best known to sci-fi fans for his starring role as John Chrichton on Farscape, as Commander John Crichton, a 20th-century American astronaut who was accidentally shot through a wormhole to the other side of the universe. He also is familiar to television audiences for his role as "Sam," Neve Campbell's boyfriend in the FOX series Party of Five. In addition, he has appeared in several TV movies. His serial TV credits include guest-starring roles in Melrose Place, Grace Under Fire, Murder She Wrote and Boys of Twilight with Wilford Brimley. Born in Memphis and raised in Charlotte, N.C., where his family owns and operates a NASCAR Busch series racecar, Browder is a graduate of Furman University in Greenville, S.C. He received his acting training at Central School of Speech and Drama in London. Ben Browder plays Lt. Col. Cameron Mitchell in Stargate SG-1 since season 9.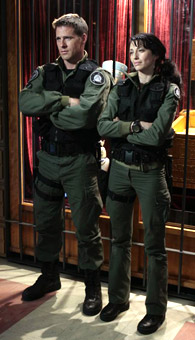 Linda Craddock: Had you been please with your character's development prior to cancellation?
Ben Browder: I liked how Mitchell eventually settled in to his role as leader of SG1, it wasn't an instant "Here's the capable I can do anything kind of leader guy thing". That to me was a good progression. Sure there was much more to explore with the guy, but I like where we leave of heading into the movies.
Linda Craddock: How different was it to play opposite Claudia Black in Farscape and Stargate?
Ben Browder: Claudia played such different characters on shows, that our on camera interaction is very different. Off camera we have such an "easy" working relationship that when we work together its like breathing… its natural and it feels good.
Linda Craddock: With 2 seasons as member of SG1, what story or mission would you like to see further exploited on the big screen?
Ben Browder: I leave the missions to the writers… but I'd love to see the whole of SG1 engaged in trench warfare… deep in the mud.
Linda Craddock: Your talent has brought you 2 Saturn Awards, nominated for 4 within the Sci-fi genre, what direction would you like to take at this point of your career? Continue acting/writing, perhaps directing or producing?
Ben Browder: I just like to keep working for a while… shake the trees and see what falls out… you never really know what adventure is around the bend. Any of the above could be fun.
Linda Craddock: What would be your ideal role for a television series or movie?
Ben Browder: Don't have an ideal role in mind. The fun is in taking what you get and finding a way to make it work for the story and the project. What I look for is something which engages me intellectually, physically, emotionally or otherwise challenges me. Looking for the ideal role… Something like the Elephant Man, but funny, and without the prosthetics which are a real pain in the backside.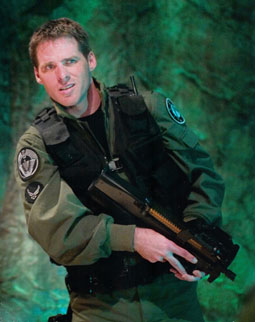 Linda Craddock: Is it safe to say there was a little more flexibility as a member of Farscape, from inception to be more creative versus fitting into a cast and the writing of a series that has been on for 8 seasons?
Ben Browder: It's safe to "say" that. The shows seem to be built on very different working models. But not being around at the inception of SG1, I can't fully and accurately comment.
Linda Craddock: You wrote story for "Bad guys". What was your motivation for this episode?
Ben Browder: I came up with a story idea. Martin Gero and the writing staff fleshed it out and wrote it. My motivation?... I think I was just thinking out loud, as I am apt to do on occaision, who knew they'd actually use the fool idea.
Linda Craddock: It is not often 2 main cast members from one TV show get cast into main roles together in another sci-fi show. How did you feel about that?
Ben Browder: I feel good about it. Claudia is immensely talented and a good friend… its win, win.
Linda Craddock: What unique element do you think Mitchell brought to the SG1 cast?
Ben Browder: Mitchell brings fresh perspective. He has no"been there, done that" in him. The problem with "experience" is that it often narrows our perspective and choices. People who head off in the "wrong" direction often achieve the most interesting results.
Linda Craddock: I understand you travel often between work and family to spend quality time with your children. How difficult was this on your daily performance?
Ben Browder: I spent a great deal of time on the road while shooting SG1. 16 hours of travel for 36 hours at home was not unusual. I spend as much time as I can with my family… quantity is quality as far as I can tell. But "difficult" for me, would be to not have a family to come home to. Being tired (from travel, work, parenting, or spousedom) is all part to the job… if that's the worst thing that happens to me, I'll be okay.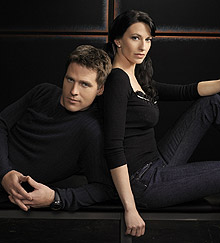 Linda Craddock: What do you do in your spare time? Do you enjoy any hobbies during your time off?
Ben Browder: Right now… and my interests do change over time… I'm into coaching youth football. Next year I hope to coach the polevaulters at the high school. I suppose it falls into the I like working with young people category. Teaching kids, helping them meet and exceed expectations, watching them grow in the process is infinitely fascinating. And as a parent, I believe that we have a duty to whole of the next generation, not just our own progeny. Sport is a no lose endeavor, Kids can try without real repercussion. If you fail at school, you've got a real problem… at work, it's a problem… fail to file taxes, big problem. But in sport you can exceed your reach, fail, pick yourself up and try again. This kind of learning I like.
Linda Craddock: What do you feel was your proudest moment as an actor with SG1?
Ben Browder: Hmmm… tough one. Can't encapsulate a moment. I'm very pleased that fairly quickly in the process I felt part of the cast, not an outsider. But that may be more credit to them than me, hence nullifying the concept of pride
Linda Craddock: In completing this sentence "My career thus far has exemplifies ... "
Ben Browder: … that Forrest Gump's Mama was right about life and boxes of chocolates.
Linda Craddock: Since the cancellation of SG1 has there been any speculation about the direction of SG1 in the not to distant future?
Ben Browder: No news here… we just completed the first 2 SG1 movies.
Linda Craddock: How would you like SG-1 to be saved? There are several ideas about saving the show on the web, from mini-series, TV movies, theatre movie, 11th season to go direct to DVD, 11th season only for iTunes or AmazonUnbox downloads … What would be your choice?
Ben Browder: I like the series of movies idea.
Linda Craddock: The Stargate fan base is so huge that they may finally influence a decision to continue an 11 th season. How would you like to thank them? Can you say something to all of us?
Ben Browder: Without an audience, what we do (actors) is meaningless. A story, well told and well received is our work. On stage, in some places, it is customary for the actors to applaud the audience at the end of the bows. I wholeheartedly support this tradition. We are partners in the endeavor… thank you.
Linda Craddock: What would you like the fans to know about Ben Browder?
Ben Browder: I was often late in doing my homework… but I'm still working on the problem.