Date of publishing: 1st November 2005



Bill Dow is an award winning actor and director (and occasional writer) in theatre, film, and television, with scores of credits over a long and varied career. Currently appearing in two hit television series, Bill Dow is a versatile and sought after performer. As Dr. Lee on STARGATE SG-1 he is the passionate, though sometimes slightly befuddled man of science who does his best to assist the warriors of Stargate Command; while on Da Vinci's Inquest, the award winning Canadian Drama, he plays Russ Hathaway, the mayor of Vancouver. These are just the latest in a long line of characters created for television series that range from sci-fi (Charles (Chuck) Burks, Agent Mulder's old college chum who dabbles in science and the occult on the X-Files), to prime time drama (Mr. Parkman, the teacher on Pasadena), to comedy (Bob Fraser, the owner and bartender of "The Fraser Arms" on Nothing Too Good for a Cowboy). Bill Dow has played many other guest star and recurring roles in a variety of television series, MOW's, and feature films, notably: Legends of the Fall, Mr. Magoo, Andre, and the recently-wrapped Absolute Zero.

In the theatre, Bill Dow has directed several award winning productions for the Vancouver Playhouse (where he was Artistic Associate for many years) including an innovative and moving production of Steinbeck's Of Mice and Men; he has performed many lead roles, including David Mamet's Oleanna, and most recently a Jessie award winning performance as Martin Dysart in Peter Shaffer's Equus. His short film, The Alley, was nominated for several awards and invited to the international short film festival in Siena, Italy.

Bill Dow is completing his M.A. in Liberal Studies at Simon Fraser University.
Don't forget to visit his official website that I build for him: www.billdow.net
This is the first part of a big interview I made with him some months ago. The next part will come later, check often the site to read the last part of this interview.


Gilles Nuytens:

You already have a long career behind you, in movies , TV shows, and theater, and you have also been a director and a writer. Which aspect of your career do you prefer and why?


Bill Dow: I really love it all. I feel partiularly fortunate that I can explore all these different avenues. Essentially I love stories and story telling - directing, acting, writing, they allow me to share that joy in so many ways. For instance, acting is something you do collaboratively, you create with the director and your fellow actors - it is a social and cooperative experience. Directing starts with a more visionary, individual, process and becomes collaborative with a wider group - designers, writers, camera and lighting people. It requires great skills of organization and communication. Writing is at some point more solitary, but with a sense of trying to connect all of humanity. I guess all of it - writing, acting, directing, is about building connections.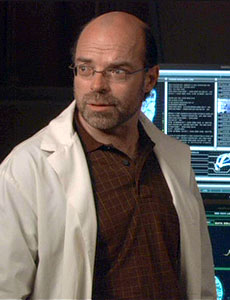 Gilles Nuytens:

Which character - movie, TV or theater - made the biggest impression on you?


Bill Dow: Well, again, they all have a special place and allow me to visit different areas of myself. I love playing Dr. Lee - its just so much fun. I really enjoyed the last play I did - I played Martin Dysart in "Equus" - and it had a big effect on me. It is about a man who has found that the passion has left his life, he is experiencing a very small slice of what is available in the world - he has no reverence, no worship, and no ecstacy. I found it very inspirational to tell that story night after night, it was a real spur to me to not become complacent.

Gilles Nuytens:

You got a recurring role in 2 sci-fi shows that have beaten longevity records, i.e. X-Files and Stargate, and in both you play a scientist. Which one impressed you most and in which one did you enjoy playing the most?


Bill Dow: I loved doing the X-Files, David and Gillian were always very suportive, we had a good time together - lots of laughs. Of course, when that show was just becoming popular there was a lot of excitement around it, because that kind of success was new to everyone.

Coming onto Stargate was different because there was this well-oiled machine clicking along. When I did that first episode there was no indication that there was any future for Dr. Lee. So it was very gratifying as the writers started to discover what I could bring to the show. Also, my relationships with the cast grew over time - I guess I only wish I had started sooner so that Richard and I could have done more together - we had a real blast together.

And now, of course, as Stargate re-imagines itself, there is the kind of excitement that comes with creating something new - and we don't really know yet what all the possibilities are. I think that's always the best, that period where anything can happen - you get a sense that its good, and that it is still unfolding...the actual creation. I like that the best.

Gilles Nuytens:

Looking back at your long career how would you define it ? Can you give us a few words about it?


Bill Dow: Well, I think that for me its all about telling stories and communication. Trying to bring people together, connect them by sharing a story. If we can build common ground through shared experience, we have a better chance of being able to tolerate and understand each other.

Gilles Nuytens:

You acted in many TV shows, is it a personal choice or just some opportunities offered to you?


Bill Dow: I've been very lucky to be able to appear in the wide variety of shows that I have. We're lucky here in Vancouver that so many different projects choose to shoot here. - I do choose, but I have a wide assortment to choose from.




Check out the site soon for more!