Date of publishing: 23rd September 2005



Bill Marchant is an actor, director, and writer, his feature film "Everyone" recently won Best Canadian Film at the Montreal Festival and played to packed houses at the Vancouver International Film Festival. Bill also currently has a recurring role on the popular Canadian television show Da Vinci's Inquest, and previously had a recurring role on the sci-fi series Stargate SG-1, playing the billionaire Adrian Conrad and later the Goauld that possessed his body.




Gilles Nuytens:

According to your online Resume, your first job for television was for Millennium. You were a drama teacher in Vancouver for years, what decided you to come to television ?


Bill Marchant: Theatre in Canada is a tough climb; opportunities are limited. I have always had a deep and abiding love of film, so the choice was easy. However, I have not left the stage behind. I will be appearing in a tour of an original production of "Adrift on The Nile" in 2006. I look forward to hitting the boards.


Gilles Nuytens:

You did a multiple job on the movie "Everyone", you were actor, producer, writer and director! How did you manage so much things in the same time ? Can you describe life on set with so much things to do ?


Bill Marchant: That was a wild and hectic time. Always a bit of a control freak, I wanted to make cover all the bases. Next time, I plan to surround myself with experts and exercise my talents in delegation. I probably shaved five years off my life by tackling so much. I want to see what I can do to get them back.

Gilles Nuytens:

Could you describe the positive and negative points for each of these jobs ? And what did you enjoy the most ?


Bill Marchant: It is difficult to choose what I prefer, but if I had to choose, I guess I would probably pick writing over all the others. I feel the most free and unhindered when I have an empty page in front of me. The possibilities are limitless. I get to play god. Actors have to give so much of themselves away. I love it but.... And directing is just a heck of a lot of work. Exhausting. I only do it to get the project done.

Gilles Nuytens:

In Stargate, how could you describe your characters, your "dual personality" ? What did you have in common with them ?


Bill Marchant: I've never been a billionaire, so my connection with Adrian Conrad is fairly tenuous, though I must admit some desire for world domination. In actor terms, it was a blast to play the Goa'uld, because their objective is so clear. They are free of doubt, confusion or any sense of hesitation.

Gilles Nuytens:

What did you find the most difficult about playing Adrian Conrad and the Goa'uld ?


Bill Marchant: The voice work was the most challenging. As you know, the voice is altered in post-production, so finding a voice that worked for me was a big concern.

Gilles Nuytens:

This Goa'uld finally never got a name ... and you, did you give him a name ?


Bill Marchant: Not yet. I am still hoping they will resurrect me. In Sci-fi, anything can happen. Conrad was also heavily involved in cloning, so maybe one day I will have a name.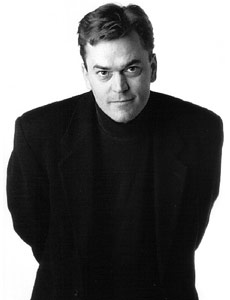 Gilles Nuytens:

What do you think you have brought to the Stargate franchise, as a person and as an actor ?


Bill Marchant: I always bring my passion and professionalism. I treat every role like it was Shakespeare. I also have a deep love for science fiction, so I give over to "play" with ready abandon.

Gilles Nuytens:

Now, my favorite question: What is the funniest anecdote that has happened on the set of Stargate if you remember ?


Bill Marchant: The funniest anecdote is that when I was playing "ill Adrian" I actually had a temperature of 104. I was barfing between takes. Not funny at the time but hilarious in retrospect how difficult it is to act sick when you're sick. I couldn't have done the role that day without the wheelchair.





Gilles Nuytens:

Your best memory on Stargate ?


Bill Marchant: The best memory could only be how warmly I was treated by everyone, especially Amanda Tapping. She is the classiest act. I love her.

Gilles Nuytens:

How do you feel when you watch your episode to see yourself with so much power and ... with glowing eyes ?


Bill Marchant: I laugh my ass off.

Gilles Nuytens:

You joined the Stargate team where you met one of your former student, Ivan Bartok, how was it to work with one of your former student ?


Bill Marchant: Ivan was never anything less than a total pro. Even in school, he was way ahead of the game. I wish I saw more of him.

Gilles Nuytens:

What are the episodes (from Stargate or from another show) you enjoyed the most to do ? As an actor and as a person, what did you learn from it ?


Bill Marchant: Desperate Measures was the experience of a lifetime. It was my introduction to the Stargate universe. People have been unbelievably kind to me. I still receive mail from around the world. What a ride.