Date of publishing: 2nd May 2012



Meet Cameron M. Brown, an actor who at the ripe age of seven, is already making a name for himself. You can catch Cameron playing Willie Lincoln in the anticipated 20th Century FOX film, "Abraham Lincoln: Vampire Hunter" directed by Timur Bekmambetov. The film, produced by Tim Burton is about Abraham Lincoln, the 16th President of the United States, discovering vampires are planning to take over the United States. He makes it his mission to eliminate them. "Abraham Lincoln: Vampire Hunter" releases in theaters worldwide on June 22nd, 2012.

Cameron's past film credits include small roles in "21 Jump Street" starring Channing Tatum and Jonah Hill and "Looper" starring Emily Blunt. Cameron has been acting and modeling since he was born. He is a charismatic, enthusiastic actor, who is skilled in his trade, and receives ongoing training to perfect his craft to fulfill his dreams.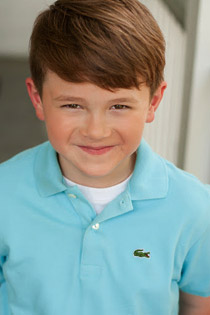 TSW: Hello, and nice to meet you! You started acting very young. What do you like about it?
Cameron M. Brown: I like acting because it gives you a chance to be heard. I like meeting new people, and having a chance to learn from other actors.

TSW: You also worked as a model since you were born. Do you have a preference between modeling and acting?
Cameron M. Brown: I wanted to be an actor after modeling because I could be any type of boy, meaning I like getting into different characters.

TSW: You're also a very talented student. Do you think about doing something else than acting in the future? What would that be?
Cameron M. Brown: I wouldn't want to stop acting because it's my dream, but in college I will study acting and business.

TSW: Can you talk to us about the movie you recently played in: Abraham Lincoln Vampire Hunter? How was the experience? Did you enjoy it?
Cameron M. Brown: 1st I played Wille Lincoln. 2nd The experience was awesome. 3rd Yes, because I became friends with Anthony Mackie and Ben Walker. They are awesome. I loved Timur the director because he was funny, not bossy, and he asked you to do things in a great way.

TSW: I imagine you should have been the youngest actor on the set? Was it impressive?
Cameron M. Brown: I didn't mind being the youngest because I make friends easily. When I first met Anthony I just walked up to him at base camp, grabbed one of golf clubs, and started playing with him.

TSW: What do you think of this theme: vampires? Do you like it?
Cameron M. Brown: Oh yes they are my favorite.

TSW: In the future, in what kind of movies would you like to play? Why? Any dream role?
Cameron M. Brown: I would love to have the lead role, and I would love to work with Timur and Anthony again. Also Dominic Cooper was cool. My dream role is the one that wins me an Oscar or Golden Globe-haha.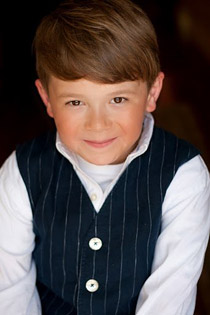 TSW: If you had the opportunity of making an appearance in a series, what would that be? What is your favorite series?
Cameron M. Brown: Once Upon A Time

TSW: Do you have anyone that inspire you, someone that you see as a model, or anyone that you would like to work with?
Cameron M. Brown: Tom Cruise, EMILY BLUNT, and Johnny Depp.

TSW: What about your life at school and with your friends, isn't it a little difficult to grow up as a normal little boy? Or on the contrary, is it more exciting?
Cameron M. Brown: It has been exciting growing up as an actor. I still do normal things, I play baseball and hockey, and take hip hop.

TSW: I saw you liked to draw. Do you only draw comics? How did the idea of drawing playmobil's comic came to you?
Cameron M. Brown: I draw pictures for books, I made the comics online because I love legos.

TSW: I noticed you also read since the very young age of 2. Any favorite book?
Cameron M. Brown: Hunger Games

TSW: Do you have other passions and hobbies? Like music or sport?
Cameron M. Brown: I love to sing and dance, I love to use my imagination in writing stories. I want to be a director and own my own studio one day.

TSW: What are your future projects?
Cameron M. Brown: I have some things in the works. I just signed on with an L.A. manager and agent.

TSW: Thank you for this interview! Anything else you'd like to share? I wish you the best in the future!
Cameron M. Brown: Thanks so much. The movie is going to be awesome, and I couldn't be prouder.