Date of publishing: 27th August 2013



Christian Pitre stars in the action adventure film Bounty Killer, also featuring Gary Busey, and Kristanna Loken. Christian portrays Mary Death, the most popular celebrity bounty killer in this post-apocalyptic world where white-collar criminals' greed has turned the US into nothing but a barren wasteland. Bounty killers are regarded as the most beloved heroes and at the top of the ladder is Mary Death, a woman that will slit a criminals throat with a smile on her face. The film is also a celebrated graphic novel by the same name and is written and illustrated by the film's director Henry Saine.
Check out the trailer here!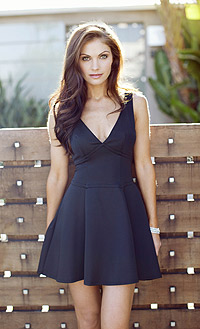 Gilles Nuytens: Hello and nice to meet you! So, let us know what's behind your love for acting. How did the passion start?
Christian Pitre: It's something that I have always loved and always knew that I wanted to pursue. Even as a child I always talked about moving out here to make movies. I often would be told that I needed to prepare for what my "real job" in life would be but I just refused to believe that it was impossible for me to make a living doing what I loved, so I just stuck with it!
Gilles Nuytens: What do you like so much about "being in front of the crowd and entertaining"?
Christian Pitre: Well, honestly, I am pretty shy and being in front of a crowd makes me extremely nervous which is why I enjoy film making because it is usually just you and your crew there. The "entertaining" is what I do have a love for and I think a lot of it comes from growing up in a small town (in a log cabin out in the woods!) where I found myself constantly looking for an "escape." My mother used to tell me that I lived in a "dream world" but I never minded because in that world anything was possible! To be able to play even a small role in someone else's discovery of what their dream is or what their "escape" would be, for me, is a dream come true!
Gilles Nuytens: What is the most difficult part of acting for you? And the easiest?
Christian Pitre: The most difficult part for me would be finding the "truth" in every moment. It is important because I believe it is what keeps you and your audience connected but it is far from easy and I still have a lot of learning to do! I haven't really found an "easy" part of acting yet except maybe memorizing my lines comes very easily to me.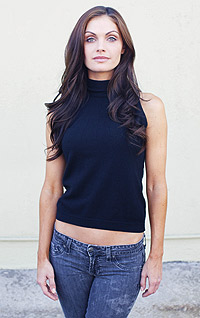 Gilles Nuytens: How do you work your character usually, do you have a particular method?
Christian Pitre: I tend to read the script over and over until I find clues as to who the character is and then I start relating those clues to personalities that I know of. It's nice to have an open line of communication with your director so that the two of you can bounce ideas off of each other. Mostly I find that it is like getting to know a new friend and figuring out what they stand for and how they respond to things, then just becoming that person when the camera is rolling and using their instincts as your own.
Gilles Nuytens: If you had the opportunity to choose the role you really want to play in the movie of your choice, what would you choose?
Christian Pitre: Well, I really love "Mary Death" and I would love nothing more than to have the opportunity to play her again at some point but if I had to choose something outside of that... I have always wanted to play Priscilla Presley in Elvis' story. I am a huge fan of his (my daughter's name is Presley) and to be any part of a story about his life would be an absolute dream come true!
Gilles Nuytens: Each experience is a whole new opportunity to learn things. So what's the most important thing you've learned lately, acting-related?
Christian Pitre: As I mentioned earlier, finding the "truth" in everything. No matter how extreme the character or the circumstances, just like in real life, every character is driven by a need for something. If you can pinpoint that need then you have pinpointed the motivation for everything they say and do and your performance will come across as truthful. The explanation is much easier than the execution though!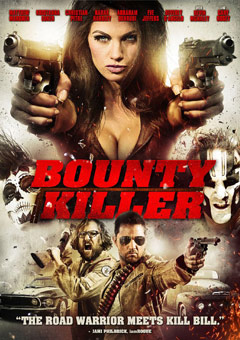 Gilles Nuytens: How was the whole experience on Bounty Killer?
Christian Pitre: Bounty Killer has been one wild ride! I have been on board since we shot the short 3 years ago and it has been nonstop madness the entire time! Shooting the feature was a really special time not only for me but for everyone involved. Each day was more exciting than the next and everyone grew closer and closer as a family throughout the shoot. We were working in extreme conditions in the desert but every individual gave one thousand percent one hundred percent of the time!
Gilles Nuytens: What did you enjoy the most being on that movie?
Christian Pitre: It's hard to say what I enjoyed most. I enjoy pushing myself beyond what I'm sure that I am capable of mentally and physically which I definitely did on this shoot. The stunt work was especially trying but it gives you such a feeling of accomplishment when the day is done. I have to say that outside of working with my wonderful co-stars Matthew Marsden and Barak Hardley, I was delighted to have the opportunity to work with Beverly D'Angelo! I still watch our scenes together and can't believe that it' s me on the screen with her!
Gilles Nuytens: How close (or far...) is "Mary Death" from you?
Christian Pitre: You know, I get this question a lot actually and I always answer the same way... To me, Mary is who I wish that I could be in so many ways! People say to me "Christian, you are Mary!" but I'm really not. I find it very easy to embody her because I feel like I "get" her but she is actually a lot more flighty than I am. I feel like she is confident about who she is as a killer but she tends to hide behind her celebrity so she can mask her emotional immaturity. Maybe it was losing her parents at such a young age and being raised by savage gypsies, but it seems that around the time of the corporate wars she just quit evolving emotionally and shut down her feelings in order to cope. I probably relate to her in that way more than I like to admit as I also have been through some traumatic times that closed me off a bit but I ended up working very hard to break through those barriers. I hope to have the opportunity to play Mary again so that we can allow her to grow into who she is capable of being also.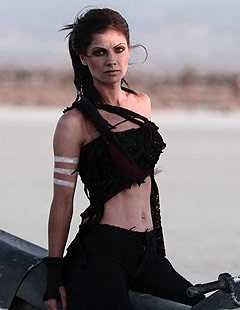 Gilles Nuytens: What did you bring to her? Which part of your personality did you give to "Mary Death" that wasn't especially visible on the script?
Christian Pitre: I think a lot of times what is hard to read on the page is "heart." I feel like in order to make this superhero relatable to actual people I had to find ways to bring her to life by adding the "heart" that can only be captured in a look or in a breath or in a tear. It was really a lot of fun to work with Henry and Jason on developing who she is. They very much had this woman created when I met them but were trusting enough to allow me to put my spin on her.
Gilles Nuytens: How difficult (or easy) was it to enter and portray this character, who seems to be a very strong and pitiless woman!
Christian Pitre: Well she actually isn't pitiless at all! Mary may be a bad ass but she is not a bad guy! She feels justified in what she is doing because of the reasons that she chooses to do it. In the world she lives in she is a hero because of it! It wasn't as difficult as you would think... of course, I have had years of getting to know her so her instincts come pretty naturally at this point!
Gilles Nuytens: I've read you weren't really fond of sports at school... but playing this character must have been very physical... How did you prepare physically for that movie?
Christian Pitre: I am actually much more athletic now than I was growing up... don't ask me how that happened! Luckily I had some great people helping me for this movie. My trainer, Alfred Kendrick, who owns FitArts studio on Sunset Blvd in Hollywood trained me in Capoeira style fighting and mixed martial arts. We worked together for about 4 months prior to shooting and it really helped whip me into shape for this role! I also would meet with my stunt coordinator, Randy Archer, and my stunt double, Stacey Carino before certain fight sequences to work on making it look good for film. As cool as martial arts are in real life, sometimes you have to change them up a bit to look awesome for the camera. Henry Saine is definitely all about making things look awesome!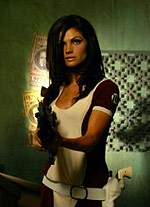 Gilles Nuytens: We love hearing funny stories, anything funny to say about Bounty Killer, anecdotes on the sets or anything related to the movie?
Christian Pitre: Let's just say that when I hear "Bounty Killer" I think blood and lots of it! I am not sure the exact amount of fake blood that was used during shooting this movie but I know that every time I turned around Henry was asking for more! For whatever reason he believes that it is possible for someone to hold an entire Solo cup full of blood in their mouths. I'm sure there were many of us that managed to pull that off so that he was happy! Actually, when he is directing, after every take Henry yells out, "Who's not happy?!" so the crew ended up making t-shirts that said "In Saine we trust" on the front and "Who's not happy?!" on the back and we took a cast and crew picture on the last day of shooting with everyone in their shirts. To be honest, I could tell stories all day about Bounty Killer because crazy things were happening 24/7! In fact, I think the guys are still taking turns on babysitting a severed head from the shoot. I won't give away who it belongs to!
Gilles Nuytens: Any future goals, challenges you want to do?
Christian Pitre: I would love to continue working in these types of roles. I enjoy the physical challenge of them. Next time I would like to be able to say that I did all of my own stunts. Not that I want to put my friend Stacey out of a job, but it would be a challenge that I think I could overcome.
Gilles Nuytens: A free question to you. Ask "yourself" a question as if you were the interviewer (something that you'd like someone would ask you), and answer it :)
Christian Pitre: If you could give any advice to someone thinking of pursuing acting what would you say? I would say what my acting coach, Myra Turley, said to me...."If you can do anything else and be happy, do it. If not, then commit and be ready to work hard." This is one of the toughest industries that you can choose to be in so you have to be a little crazy to choose it but in the end, the payoff is like none other! Watching your dreams become reality right before your eyes is something that not a lot of people ever get to experience. It takes hard work and insane persistence but if you can keep the "good" as your focus in spite of the "bad" then you will find enjoyment in the journey and elation in the success!