Date of publishing: 10th September 2006



A native of L.A., Christopher Judge was born in 1967. His first step into entertainment came when he won a contest to host a morning radio show in Oregon. But he got started in acting in his senior year, when Fox hosted some regional contests. After winning, he hosted an "MTV talk show type thing", used it to get an agent, and things went from there. In 1989 he started studying at the Howard Fine Studio in Los Angeles. His first acting role was in the 1990 film Bird on a Wire and from there he starred in numerous films and TV shows before landing the role of the Jaffa, Teal'c, in Stargate SG-1. He's guest starred in lots of Sci-fi shows, including Andromeda and First Wave.

The Scifi World had the opportunity to meet Christopher Judge in Vancouver on the sets of the episode "Bad Guys".





Download the audio interview (Zipped MP3 file)
Disclaimer:
Please, do not direct link to this file, link to the page ONLY.
Gilles Nuytens: Stargate SG-1 has just been cancelled, what's your opinion?
Christopher Judge: Stargate has been ... SCI-FI Channel has decided not to re-up with us next year but that by no means spells the end for SG-1, the responses on the internet has been overwhelming. Its truly flattering and I know that MGM has kind of a bigger vision for SG-1 and for the whole franchise. So I really believe that there are other things in the works so we just have to kinda hold tight for a minute and see what's next.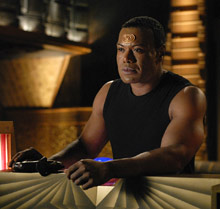 Gilles Nuytens: What did you enjoy the most about the 200th episode?
Christopher Judge: The 200th episode was a great experience, great working on it, and I really think it was probably one of the best times I've every had shooting anything. Everyone was excited about it, it was really a week of fun

Gilles Nuytens: Have you been pleased with your character's development thus far this year?
Christopher Judge: I really have been pleased with where Teal'c is going this year, he is taking an active role in the war against the Ori and which you know concerns the Jaffa because the Jaffa having been suppressed for so long are mostly determined to never be enslaved again, so I am really pleased with how that's going.

Gilles Nuytens: Now that they cancelled SG-1, would you like the opportunity to continue acting in the Stargate franchise, maybe in Stargate Atlantis?
Christopher Judge: About Altantis you know I really don't know what the future holds as far as any crossovers or anything like that, but, I've been very opened with whatever Brad and Bob want me to do, you know, I'm there so yes, I really hope that it will definitively continue in some fashion or other.
Gilles Nuytens: You are the funny guy on the set ... what was the funniest thing you did while shooting episode "200"?
Christopher Judge: Well that entire episode was kinda funny so I don't think it was any one specific thing I did It was fun just getting to be all these different characters and to wear all these different outfits and to really kinda break the 4th wall ... I guess it was just a lot of fun all around; I think the 200th was kind of a bunch of funny moments from everyone including the behind the scenes people.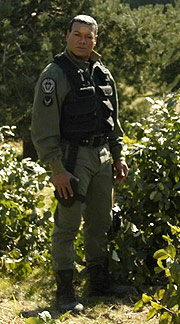 Gilles Nuytens: What's your opinion on the evolution of Teal'C during those 10 years?
Christopher Judge: My opinion of the evolution of Teal'c over these ten years ... well you know one thing being on for 10 years has given the leisure of this ... the opportunity to progress the character logically he hasn't had to make any huge jumps in behavior or anything, I really think that the evolution has been a very natural progression of a kinda to have anyone thrown in a new situation, and then you see things along the way, you learn things along the way, that's kind of what makes us who we are is the sum of our experiences and I truly think that Teal'c is that.

Gilles Nuytens: We haven't seen Rya'c or Ishta for a while, are you planning to write a new episode with those 2 characters?
Christopher Judge: I don't know of any plans at least in the immediate future for either one of them to return of course, who knows what the future holds, but I personally don't know ... as far as my writing for the show in the future, I guess we kind of just have to wait and see what the future brings. That will kind of answer those questions.


Gilles Nuytens: What has been the most joyful part of the year thus far for you, and the most stressful?
Christopher Judge: The most joyful part of this year has been kind of the ongoing celebration of what we've accomplished. I truly think that it starting to kind of dawn on people what we have actually accomplished being on the show, by doing the show for 10 years and truly what that means not only sci-fi history but television history and I think this whole years has been kind of a celebration of that.

Gilles Nuytens: Of the past 10 years, what will you remember most about Stargate?
Christopher Judge: I think the thing I remember most about the last 10 years is probably the human drama what's gone on behind the scenes, the birth of children, the loss of loved ones, the marriages, the divorces, the ... I think that's the thing I will remember most, the interaction between this diverse group of people who have come together and done something really great.

Gilles Nuytens: Where do you think the show will leave fans at the end of the season?
Christopher Judge: I don't know, to tell the truth I don't know where it will leave the characters at the end of the season [laughter] to kind of hypothesize about where the show will end at this point is kind of futile. You know with recent developments, I truly don't know, I truly don't think it's the end, but to try to guess on where it's going to go, I really couldn't do that.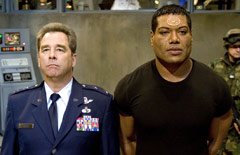 Gilles Nuytens: What can you tell us about the episode you're shooting right now, and your character's involvement in it?
Christopher Judge: The episode we are shooting now, is actually one that Ben wrote the story for, so it's quite interesting to get the insight into Ben's take on the show and what Ben would like to do, it's interesting in this episode we are actually perceived from the very beginning as the bag guys which is kind of a new take on it for us and how we cope with the perception that we are not the good guys you know so I think it's very interesting.

Gilles Nuytens: What has been your favorite story?
Christopher Judge: My favorite episode in 10 years is probably "Heroes", because I think "Heroes" truly encapsulated the humor the real character had ... all the character had between each other and I think that really what Stargate was all about.

Gilles Nuytens: Teal'c has evolved over the past ten seasons, is there anything else you feel the writers have not looked into regarding Teal'c?
Christopher Judge: The character development I would really like to see more of is actually answered in the next episode where I haven't had many scenes with Beau, General Landry, and I have a few scenes with General Landry where we kind of butt heads so I'm very interested in exploring that aspect of character development, definitively.





Comment this interview on the forum