Date of publishing: 11th January 2011



Rising star Cory Hardrict can next be seen in a lead role in the highly anticipated big budget sci-fi, action thriller, Battle Los Angeles for Sony pictures. The film also stars Michelle Rodriguez, NeYo, and Aaron Eckhart. The movie is about a Marine platoon that faces off against an alien invasion in Los Angeles. In the film, Cory plays "Corporal Lockett" a Marine soldier who is very intense and passionate about the Core and will defend it and Los Angeles with his life! The film is directed by Jonathan Liebesman and will be released nationwide on March 11, 2011. In addition to Battle Los Angeles, Cory just wrapped a lead role in director Doug Aarniokoski's independent thriller entitled The Day, a new indie action thriller described as an apocalyptic siege warfare film. Aarniokoski, a Robert Rodriguez protégé is best known for his second unit director work on such films Takers, and Resident Evil: Extinction. The film is rounded out by an all-star cast that includes Shawn Ashmore (X-Men), Ashley Bell (The Last Exorcism), Dominic Monaghan (Lord of the Rings, "Lost") and Shannyn Sossamon (Catacombs, One Missed Call)!
Check out the trailer for Battle: Los Angeles here
Gilles Nuytens: So, could you introduce yourself to those who doesn't know (yet) about you? Tell us something about what drives you in life as well as in your job, something that isn't in your bio. Who are you inside, the man behind the actor?
Cory Hardrict: My name is Cory Hardrict and I have no fear! What drives me in life is I want my life to mean something, wanna make others lives better thru me, want to inspire the youth that your dreams can come true because I come from nothing and I'm still here thank god! I'm a man first god fearing man who believes all things are possible just never give up!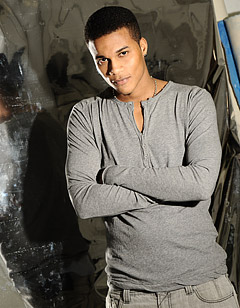 Gilles Nuytens: Why did you choose to be an actor? I understand it was after some great experience as a boy on a few sets, however not everyone wants to start a career even if the experience was wonderful. Some only keep this as a dream and doesn't go further. So why acting and not for example being a chef or... gardener or anything else? And by the way, how did you land into this first TV movie?
Cory Hardrict: I choose to be an actor because my mother wanted me to try out for a film to be an extra. That was 16 yrs ago. She's now in heaven smiling down because she lives through me, just keeping the dream alive! I grew up wanting to go to the NBA because I was a baller with skills but I hurt my knee and the love bug of acting hit me!
Gilles Nuytens: Maybe a little similar question, every actor has a reason to play, it can be just the love of acting, the love of being on a set, the need to be recognized, to hide or work on a lack of trust in themselves, to be a movie star, for money, etc... what is yours?
Cory Hardrict: To touch peoples lives! I don't do it for attention; it's all about getting the job done! I'm a silent ninja! lol
Gilles Nuytens: Are you happy with what you've accomplished so far?
Cory Hardrict: I'm very happy and it feels like I'm just getting started. I'm so thankful!
Gilles Nuytens: I see you've quite a huge list of guest star roles on many TV shows, do you have a favorite one, which ones were the best for you and why?
Cory Hardrict: I played a guest star on ER. I had to breakdown and it hit close to home because my mother was on her hospital bed. I lived that same experience with my mother in real life, it just took me there emotionally and felt so real to me, so by far that ER episode!
Gilles Nuytens: If you had to choose between shooting a very good movie for free or to shoot a bad one for money, would that be a very hard choice and what would you choose?
Cory Hardrict: Very good movie for free, a no brainer. Haha!
Gilles Nuytens: Now, if you were proposed a very good role, but if you had to play a character that you would really really hate, would that be a problem for you?
Cory Hardrict: No, because I would prepare myself as that character to hate it and really hate everything about my role then bring it to life and stay in the moment!
Gilles Nuytens: On the sets, between takes, are you the kind of person to concentrate very much on your next part, or then to relax and have fun to empty your head?
Cory Hardrict: Well, on sets I have never been in the situation of walking into another role. Hopefully one day I can tell you about that experience. Lol!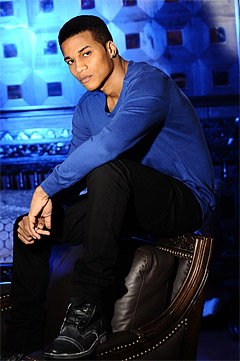 Gilles Nuytens: Being in front of the camera can be sometimes stressful, especially when you have to play a difficult scene. How do you manage your stress?
Cory Hardrict: I use everything I'm going through and pour it all into my character, no stress at all its fun going there! I luv it!
Gilles Nuytens: I've seen the trailers to Battle: Los Angeles... AWESOME! Looks like a future blockbuster! How was your experience shooting this movie?
Cory Hardrict: It was amazing! Much love to Columbia/Sony, Neal Moritz, the whole orginal films team, and the great Jonathan Liebesman (the director) for believing in me. This movie was the real deal. It felt like I went to war. It was really the hardest acting job I've ever been apart of and loved every minute of it. It's what you dream of doing as an actor as far as movie roles are concerned. If you put Call of Duty; Black Ops, Resistance, District 9 and Black Hawk Down in a pot you come up with BATTLE LOS ANGELES!
Gilles Nuytens: There have been so many alien invasion movies, shows, books, etc. My first question is: what does Battle Los Angeles brings to the genre? What do you think is unique about it? What makes the movie not just another invasion movie with spectacular special effects?
Cory Hardrict: It's a war movie first. It's based off true events, its concept is original and it has an amazing story. It's not just a special effects movie. I mean its door to door combat at its finest. But it's REAL in every aspect and you will believe everything about what's happening when you see it March 11th 2011!
Gilles Nuytens: My second question is why do you think dangerous aliens fascinate so much people?
Cory Hardrict: Because with all the sightings throughout the years people are believing more and more that something is out there and the government is hiding it. People are smart, the signs are here and I think people are intrigued with that and wanna see more. Hey, be careful what you ask for....stay tuned!
Gilles Nuytens: Let's speak about your character, Corporal Lockett, he is described as being "very intense and passionate about the Core". Can you tell us some more?
Cory Hardrict: He is all those things indeed, but he's also a warrior and would die for his fellow core members. He's really hurting inside from all the pain thats been endured in his lifetime experiences and just wants to be accepted!
Gilles Nuytens: So, this seems to be a story of survival, a story of soldiers during war. What will you remember/keep from it? Do you now see soldiers from another point of view?
Cory Hardrict: You're as good as your fellow Marine. No one man is ahead of the core. I have the upmost admiration and respect for the man and women who have given their lives to defend our country! Hoorraaaa!
Gilles Nuytens: Can I say this is (on a big scale) some kind of a reflection (with both meanings: a "thought" about it and "being a mirror") about the recent world conflicts USA took part during the last years (Iraq, Afghanistan)?
Cory Hardrict: It's on a super big scale and all I can say is I'm very proud of my country. I'm all about unity and peace. One world, One love, yes we can!
Gilles Nuytens: Can you say something about the director? What kind of person is he, was it easy to work with him?
Cory Hardrict: Jonathan Liebesman was cool to work with. He knows what he wants and gets it done. I can say he brought out the best in me. I trust his vision and can't wait to do it again! He's the hardest working director in Hollywood with a crazy fun sense of humor!
Gilles Nuytens: And about directors in general, each one has its own method, do you adapt yourself easily to everyone?
Cory Hardrict: I just adapt to the director because they are all different but work towards the same goal; telling a story with hopefully a great outcome with the finished product!
Gilles Nuytens: You've recently been part of a movie called The day, it's described as "an apocalyptic siege warfare film", can you tell us a little more about this and your character?
Cory Hardrict: The Day will give you the chills, trust me! It is an awesome movie! I play Henson. I lost 20 pounds for the role. I had pneumonia and was deathly sick fighting for my life in the last days! Stay tuned! Haha!
Gilles Nuytens: Your dream role?
Cory Hardrict: The Phoenix! Coming soon!
Gilles Nuytens: A free question for you, ask yourself something about a subject or anything you'd like to tell and share... something exclusive :)
Cory Hardrict: Do you play sports? Yes, I like to get my basketball. I play in the ELeague in Santa Monica on my Sundays and it's awesome!

You can leave comments on this interview on the Facebook page here!