Date of publishing: 24th January 2012



Born in London, CYNTHIA ADDAI-ROBINSON, whose mother is from Ghana and father from America, moved with her mother to the United States and was raised in a Suburb of Washington, DC. CYNTHIA fell in love with acting at a very young age, performing in all her school plays and local productions. She furthered her love of the Arts when she went on to pursue a degree in Theatre at the prestigious Tisch School of the Arts at NYU. After performing in several plays in New York, CYNTHIA moved to Los Angeles, and appeared on show such as CSI: NY, CSI: Miami, and Numbers. Her recent recurring roles include the F/X show Dirt and ABC's Flash Forward.
She can currently be seen on the big screen in the Sony film Columbiana. CYNTHIA will next be seen on the hit Starz show Spartacus playing the series regular role of 'Naevia'.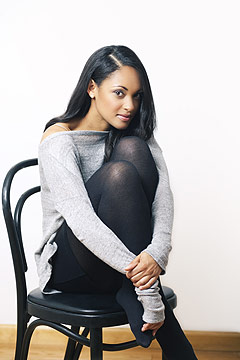 Gilles Nuytens: Hello and nice to meet you! Firstly I would like to know what drives you in life?
Cynthia Addai-Robinson: What drives me in life ... that's a tough one! I am definitely someone who pushes myself, and as a result, I try to grow and learn along the way. So I guess I'd say my curiosity and my constant desire to learn and be open to new things.
Gilles Nuytens: I see that you fell in love with acting at a very young age. Can you tell us more about this love for acting?
Cynthia Addai-Robinson: My passion for acting is really about my love of being a storyteller. I come from a family of really animated storytellers! I think it may have somehow come from that. I was a really shy child, but being on a stage - having that platform - gave me permission to be outgoing and loud. I liked the fact that I could be the shy , quiet girl laying low and then surprise everyone with a performance that seemed so unlike me. I would say that holds true to this day.
Gilles Nuytens: To follow up the previous question, what made acting more than a simple hobby? Why did you choose this profession instead of something else?
Cynthia Addai-Robinson: My first experience with the "craft" of acting was when I was a teenager. I was looking for something to do one summer and applied to a pre-college program at Carnegie Mellon University. It really opened my eyes to the history and technique of acting, and it was exciting to be with like-minded people who were as passionate about acting as I was. After that I knew I wanted to go to college and pursue a degree in theater, and I still can't believe that my mother went along with it, but I am extremely lucky that she did. I could have taken a "safer" route and studied something practical, but nowadays that's no guarantee that you'll have it any easier than a starving artist. Better to starve for something you're hungry for.
Gilles Nuytens: As an actress, what is the part of the job you are the less at ease with? And what is the one you are the most at ease with?
Cynthia Addai-Robinson: I'm still navigating the world of social media. It's something I'm trying to embrace because I recognize that it's a great way to connect with people who are fans of your work. But I'm also a very private person, so I'm trying to find my comfort level in terms of what kind of information I share. I'm most at ease when I'm actually acting; as an actor, you're doing so many other things that are business-related, that sometimes acting becomes a small part of what you do. The rest of the time is spent reading, auditioning, doing press, etc. The other aspects of the job can be fun too, but acting definitely gives me the most satisfaction.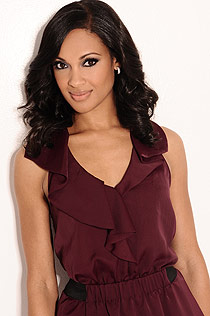 Gilles Nuytens: Which actresses (their work, play, etc) have influenced you so far? Anyone in particular that inspire you?
Cynthia Addai-Robinson: I'm influenced by many actresses past and present, but think I'm more influenced by everyday women in my life. I also just like to sit back and observe and take in the world around me; I love to travel any chance I get, and everything I've observed over the years inspires and influences my work.
Gilles Nuytens: And what about directors, any favorites or anyone you'd like to work with? And why?
Cynthia Addai-Robinson: I hope to be lucky enough to work with a variety of directors, because often the director is the element that really dictates the work experience. I recently saw "Shame" directed by Steve McQueen, and it was a intense movie that could have gone any number of ways, but I think the subject matter was really deftly and artfully handled. And the working relationship between director and lead actor (Michael Fassbender) was obviously one strongly rooted in trust. I would love to have an opportunity to work closely with a director, build a character from the ground up, and then just "play". So McQueen, or any other director that works in that style, would be a really exciting challenge.
Gilles Nuytens: Which is the role you preferred to play at this point, the best one, the one that most marked you?
Cynthia Addai-Robinson: I'm having a lot of fun at the moment playing Naevia; it's my first major role on a television series, and I'm really happy that I'm being given the opportunity to do things with this character that I've never been asked to do before.
Gilles Nuytens: Similar question, not about a particular role, but the best experience?
Cynthia Addai-Robinson: It's hard to pick just one, but for now I'd say when I left home for college in New York. I have really fond memories of my time in New York, and it shaped a lot of my views on acting and life in general. It's an inspiring city and most of my closest friends are people I met while I lived there.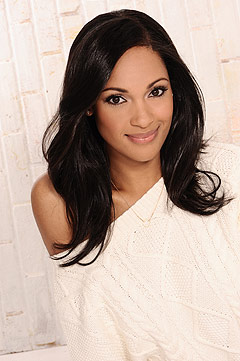 Gilles Nuytens: You are born in London but lived in Washington. Do you feel a little British or not at all? What do you think about British cinema/TV?
Cynthia Addai-Robinson: Ha ha, sure, we can say I feel "a little" British. I still have some relatives over there, so I get to London quite a bit. I absolutely love London, grey weather and all . Whenever I'm there, I really identify with the city; it gets me and I get it. I'm very much a city girl at heart. As for British film and television, I'm a huge fan of projects that feel distinctly British in tone, especially comedy. I love Ricky Gervais and Simon Pegg and that brand of humor, but then I also crack up when I watch Mr. Bean.
Gilles Nuytens: In Spartacus, You are reprising the role left by Leslie-Ann Brandt. Reprising the role left by someone else isn't an easy task, there are many points that are very important for the continuity of the show (same for the role of Spartacus himself). How did you prepare this role? And how do you generally prepare yourself to be in the role?
Cynthia Addai-Robinson: It really depends on the role. Playing Naevia in "Spartacus:Vengence" was a particularly daunting task, for many reasons. I had to go back and watch the first season to see what the previous actress had established, and then I had to fill in the holes and make some personal choices to bring the character to where the audience finds her in season 2. In some ways, it helped that I was a bit isolated; we shoot in New Zealand, so I was very far from home. I was away from my life, so I didn't have many distractions . But that can be a blessing and a curse. I tried to make sure that as I mentally prepared to take on the weight of what this role required, I could also get out of that mindset and be myself again, which was tricky. Some days, that proved easier than others, but I really wanted to fulfill what the writers had created on the page and bring as much truth as I could to the role.

Gilles Nuytens: What would you say are the differences between your portrayal of Naevia and Leslie-Ann Brandt's?
Cynthia Addai-Robinson: We are portraying Naevia at two very different points in her journey; in the first season, as well as the prequel, Naevia is a young, naive house slave whose path would have been pretty straightforward if not for her love affair with Crixus. The love story had an innocence and purity to it. Unfortunately the circumstances at the end of season one set Naevia on a very different path, and in this second season I portray Naevia in the aftermath of a violent, and I would even say near-fatal, exile. I would also say that Leslie-Ann looks a lot cleaner than I do, ha ha!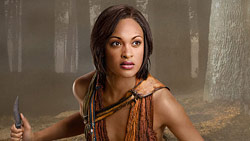 Gilles Nuytens: How did you enjoy shooting in New Zealand?
Cynthia Addai-Robinson: Getting the opportunity to live and work in a part of the world I had never been to was a dream come true. The people are lovely and the city of Auckland is great. I'm hoping to travel a little bit more the next time I'm there. The only downside is being so far from home, but Skype helps keep me sane.
Gilles Nuytens: Spartacus is getting a 3rd season! Are you going to be part of it?
Cynthia Addai-Robinson: I believe so - you never know with this show!
Gilles Nuytens: What are the best memories you have from the show?
Cynthia Addai-Robinson: We work really hard on the show, and sometimes have really long days, but some of the best moments are in between set-ups. We have a lot of personalities amongst the cast and crew, so there was always a lot of laughter.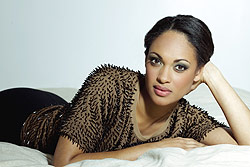 Gilles Nuytens: Any good anecdote you want to share about Spartacus?
Cynthia Addai-Robinson: Um, what happens on Spartacus stays on Spartacus :)
Gilles Nuytens: Colombiana, tell us about your experience on that movie.
Cynthia Addai-Robinson: I had a lovely time working on Colombiana. The film was shot all over the world with an international crew, and I worked with the film in Mexico City. It was another opportunity to see a new place which I loved. Working with a French and Mexican crew, with all the languages flying back and forth, was really just a testament to the power of the universal language of film.
Gilles Nuytens: Same question for FlashForward, what do you keep in mind from that show?
Cynthia Addai-Robinson: I was just happy to be involved in a project that had such a cool concept and amazing talent both in front of and behind the camera. It was unfortunate that it only went for a season, but television is a tricky medium in that way.
Gilles Nuytens: How far would you go to get a role you really want, even if this role isn't bringing you money?
Cynthia Addai-Robinson: I would try to prepare as much as possible and get as much information as possible in terms of the project, but I would never do something that I would later regret. It's just a role, after all.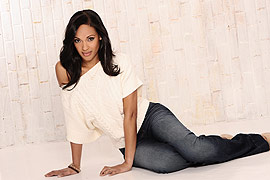 Gilles Nuytens: If you were offered a role you dislike, but offered a lot of money to portray it, would you accept?
Cynthia Addai-Robinson: Some of the most highly regarded actors and actresses have taken roles that were obviously for the money. I'm sure everyone has there own reason or justification for it because it is a job, but hopefully the financial stability from a large paycheck puts you in a position to do roles in independent films , plays or even pursue a passion outside of acting. So if it were for those reasons, I would say yes as long it wasn't something that I felt was demeaning.
Gilles Nuytens: Thank you for this interview! Anything else you'd like to share?
Cynthia Addai-Robinson: Phew, I think that's all I can manage; great questions!