Date of publishing: 8th November 2007



Nichelle Nichols guest stars in NBC's Emmy nominated ensemble drama series "Heroes" as "Nana," the grandmother of "Monica Dawson." Nichelle is most widely known for her role on "Star Trek" (1966) as "Uhura", which was one of the first times that an African American actress was portrayed in a non-stereotypical role. Nichols' role broke the stereotype barrier among African American actresses. Nichols was one of the first actresses that portrayed a character on a TV show and science fiction series that was treated fairly like other races, and to all of Star Trek fans, the TV series and films that followed set the standard for multiculturalism.
Dana Davis stars in NBC's Emmy nominated ensemble drama series "Heroes" as Monica, a young woman with newfound special abilities who would give up everything to help the people around her. "Heroes" follows the lives of ordinary people who discover they possess extraordinary abilities. On television, Davis was a series regular on the critically acclaimed series "The Nine." She has also appeared in substantial guest star roles on hit series such as "CSI: Miami," "Cold Case," "Gilmore Girls" and a recurring role on "Boston Public" as Marie Ronning. Other television credits include recurring roles on "The O.C," "Point Pleasant" and "Veronica Mars;" guest star roles on "Malcolm in the Middle" and "Joan of Arcadia." An accomplished singer and musician, Davis's talents are showcased in Disney's all musical episode of "That's So Raven" playing Raven's archrival Jasmine, the Theater Queen.

Question: We've seen a lot of family in the series so far and then you come on as the grandmother character. So could you just talk about the Importance of family?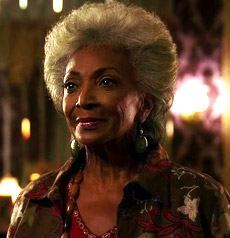 Nichelle Nichols: Well that's a very good question because family is very important in Heroes and especially a New Orleans family. Well I'm feeling that it's very similar to my own family. I come from a large family and we're always at each other's back, you know, there for one another. And it's a very loving family. And a very diverse family. And I find the same thing here. And I have these two young grandchildren who bring out - I'm a strong woman who's gone through an awful lot and has lost her daughter. And now is providing a home for these two beautiful grandchildren. And that's the focus of my life now because we've gone through Katrina. We've survived and to establish a really strong and safe environment for them - for these beautiful children whom I'm very proud of. I think Dana could probably add as much more to it from her perspective as I. I hope that I've hit on it the way they see it, too. But maybe she could add some more. What do you think, Dana?
Dana Davis: Well yeah, definitely. Just what Nichelle said. I think that Heroes really is about family. I mean, sure it's this surreal story and it's about people with powers. But the story behind that story is a story of family. We saw it all through Season One. And then in Season Two with Monica joining the cast, it's like this girl who dropped out of college after her mother died to take care of her family, to work this job. And it's really just like the central point in Heroes is that it's really important.
Question: Monica's powers are actually very cool. So she's able to have the ability to go and watch something and then be able to do it. So how much training have you had to do or put into the show to learn all these different kinds of things that she can do?
Dana Davis: Oh my God. You know, I was kind of thrown into it. I showed up for work and they were like, "guess what Dana, we're doing this". And so it was really hard on me because I came from it out of shape. I mean, I'm an actor, you know? And I don't even work out. My idea of working out is going upstairs in my apartment. And so I had to do a lot of physical things right away, like the double-dutching and doing a lot of the karate. And I spent a lot of my weeks really, really sore at first. And so I sort of have gotten into it now and I have a stunt double who works with me. And we're starting to work out. They're starting with some karate training. So at first I was just like blindly, just like here you go. But now it's gotten a little bit easier and the preparation is a little bit more.
Nichelle Nichols: Don't believe it. She's in beautiful shape. But I can appreciate that she's sore.
Dana Davis: No, looks can be deceiving. So I'm not in good shape.
Question: And then, Nichelle, how did you get involved in this show? Did they come to you? Did you just audition like you normally would do?
Nichelle Nichols: Well, it was a magical moment I'd say, in a point in time that just stood still. I was passing through. I was doing a film in Denver called The Torturer and I came to LA to pass through, pick up some more clothes and go to another film.
And my agent said "oh this is great. Since you're here, you can" - and I said, "but I'm only going to be here two days. One day to pack and one day to leave". And he says "one of those days they've asked for you to come out and interview for this role".
And I said, "I can't go. I can't go". He says, "you have to go". He'd never said anything like that and he said "I'm sending you the (sides) and it's for Heroes". And I'd only seen a couple of episodes of Heroes because I've been traveling so much. But I knew that I really liked it. And so I said "oh, well okay". And I thought they were talking about like a day, you know, a guest appearance for a day. And so I came out to the studio and there sat all these men and women. And then I went "uh-oh, the last time I saw this many people out I got Star Trek". And I'm laughing to myself. And of course, it was for a recurring role. They asked me if they could film me, and if I would do this scene. And I had looked at the scene kind of and I had gotten it the night before. And this was early in the morning, so I looked at the scene and I thought I felt her. And they said that day they were delighted. But I heard that before and I said "thank you, thank you so much". And I left and they said "thank you so much". And they were laughing and enjoying me. And I left and got on a plane for Phoenix to do another movie -- This Bitter Earth. And so it was quite wonderful when I get a call saying "surprise" someone, not even affiliated with me had tracked me down and said "isn't this incredible? You're going to be on Heroes". And I called my agent and said people are telling me I'm going to be on Heroes. He said "how would they know"? I said "'they're Trekkers, they know everything". And so that's almost the way I found out. He says, "but hold onto your hat. We don't know yet. And he called me in a few hours and said 'that's true. You're on". And what it was, and I guess – "well when do I shoot?" And they said "well we don't know". And he - and then they realized I thought it was just a one-time guest shot. And I said "because I'll have to get off from the picture to come in". And he said "no sweetheart, you have a recurring role. You're joining the cast". I was all "'oh my God". And I was delighted. So that was a wonderful, wonderful moment.
Question: It seems that the powers are genetic since there's a lot of family members who have powers. And since D.L. had it, Monica and Micah all have powers, is it safe to assume you have a power? And if so, can you tell us yet?
Nichelle Nichols: I couldn't tell you if I knew. We very jealousy guard what is coming. That's because it's kind of wonderful for the audience to discover it in the moment. But I don't know. Dana might know.
Dana Davis: I know nothing.
Nichelle Nichols: I think Dana - I don't know if Dana knew when she had powers. Did you?
Dana Davis: I did. I came into it knowing what my power was, yeah.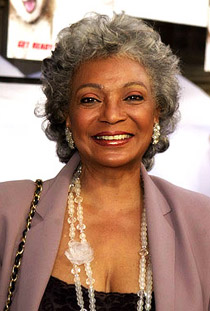 Nichelle Nichols: And that it was developing. All that I keep hearing is we will see what we will see. So that remains to be seen. A little haunting remark from the producers and executive producers, and, you know, people who would or should know. But maybe they just haven't decided yet or maybe they're planning it and they really don't want anyone to know, including me.
Question: Dana, how excited are you to be working with Nichelle? And how familiar were you with her work, and with her importance in television in terms of breaking that whole race barrier that they did back in the sixties with the original Star Trek?
Dana Davis: Wow, I hate to admit this, but I'd like to keep my game face on. But when I found out that Nichelle was joining the cast, one of the producers told me. He was like 'guess who's playing Nana'? And I was like "who", you know? And he goes "Nichelle Nichols". And I was like "shut up". And I remember I punched him. I was like "shut up". I was so excited and I called like my manager. I ca- and they were like "no way". Everyone was so excited. My mom was more excited that I was working with Nichelle than that I was on Heroes. She was like "will you please tell Nichelle that I said hi". And I'm like mom, "I can't just say hey guess what, my mom said hi". But it was so cool. It was surreal. I mean she has so much grace and beauty, and I always joke that I'm totally upstaged by her because we'll like walk into a room and people will be like 'Nichelle,' you know? And it's like "hi I'm here, guys". But it's great. You know, it's a real treat. I'm a big fan and I don't get star struck that often so it's cool to be in her presence.
Nichelle Nichols: Oh that is beautiful. Well you know, the moment I walked on the set and met Dana, I adopted her. I mean, she's such a lovely lady and she's so poised. And I loved her from the moment and I said "yeah this is my granddaughter".
Dana Davis: Aw, I always say I'm jealous of Monica because if I could pick a grandma, it would be Nichelle.
Nichelle Nichols: I am your Nana - Nana Two.
Dana Davis: I'll take that. I'll take that.
Question: And Nichelle, how much more of you will we see on the show? How many episodes are you signed for? And the general impression is that you will be part of that adult generation of heroes. Can we - I know you can't give away too much, but can we at least assume that's where you're heading?
Nichelle Nichols: I - the second part of being - as part of the adult, I couldn't be part of anything else but, could I? But I would be honored. Right now it's a recurring role and it keeps growing. And I'm liking it very, very much.
Question: How many have you done so far and how many more do you know you're doing?
Nichelle Nichols: I don't know how many more I'm doing because it, as I said, it continues to extend and I hope it continues to extend and extend, and extend. But I, on the next episode that you'll see me--I think you've seen me three times: my introduction and a couple of scenes. And those scenes keep growing and the next one will be a flashback of four months ago. So those things are interesting. I'm just interested in watching it and letting them know what my schedule is so that I can come and do their bidding and become Nana. It's an absolutely lovely match.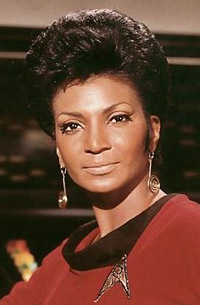 Question: Great. And I do have to ask a quick Star Trek follow-up question, which is what do you make of the idea that they are revamping the franchise with a new film? And have you spoken to Zoe Saldana, who is going to be playing Uhura? And if they called you, would you want to be there?
Nichelle Nichols: I haven't spoken with Zoe. I think it's - to answer the first part of your question, I think it's just terrific. And to know that Gene's legacy shall not only live in what was there when he was here, but that it's going on in that same image and like. And I think that in J.J. Abrams' hands, it's there. All the respect and all of the wonderful characteristics that made Star Trek what it was will be honored, but I think he will also take it to even new heights as Gene would have loved. I know that he's up in Heaven going like "Right on!" So I'm delighted and I'm looking forward to meeting Zoe and to meeting with J.J. I talked with him and he was a delightful man, although I had met him before. It was just a joy to know that he's taking the helm for Star Trek. I'd say as Trekkers that said Star Trek lives and they can just say now Star Trek lives on and on.
Question: Dana, I was wondering if you had your character's power what would you look at once and really want to copy?
Dana Davis: I would want to join the NBA. I've always wanted to slam dunk and I've always wanted to impress the boys in my family and stuff like that. So I got a little nephew, too, and he loves NBA. And I'm fascinated with their athletic ability, so I'd definitely get that.
Question: Well maybe they'll let you do that. And Nichelle, what if they do give you a power, what are you kind of hoping you're going to get there - the power?
Nichelle Nichols: I'm going to keep that under my belt.
Question: Oh, because they might give you your wish, huh?
Nichelle Nichols: I don't want to jinx it.
Question: Okay. And one thing for Dana, your musical abilities are amazing. So are they going to let you use your musical abilities, do you think, in future?
Dana Davis: They're talking about it.
Question: So it may happen?
Dana Davis: You never know. Yeah, they are talking about it so we'll see.
Question: Now, for Nichelle, I was wondering - it seems like Heroes is becoming a place for the Star Trek cast to come back to. It had George Takei and now you. I was just wondering, do you think William Shatner and Leonard Nimoy are watching this and they might join as well?
Nichelle Nichols: I have no idea. And oddly enough, like I said, I was traveling so much that I was not aware that George had joined the cast, until just before I went on, just before I signed on. I thought that was just amazing. And of course, then I got the first season box of DVDs. And it was so much fun to watch.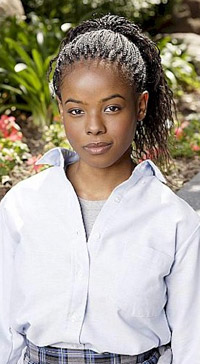 Question: And actually for Dana: have you used anything from your character Felicia Jones to help you with Monica?
Dana Davis: Well, Felicia and Monica are so different. Felicia was just like so burdened, depressed, and stressed out. Monica is a lot of fun. She's got this really upbeat, funny personality and I'm really enjoying playing her. It's a really big contrast from Felicia and Monica.
Question: I understand the familial relationship. Nana is actually Micah's great grandmother, right, because we met the grandmother in Season One.
Nichelle Nichols: No, she's Micah's Great Aunt.
Question: For both of you, is there anything that you've had in your life that operates the way that Monica's power does where you've had something that you observed and just intuitively picked up?
Dana Davis: Oh.
Nichelle Nichols: Dana?
Dana Davis: Nichelle? Not really. I think if I see someone crying, I cry, too. But that's about it.
Nichelle Nichols: You're at an impasse.
Dana Davis: Exactly.
Nichelle Nichols: Well, there have been phenomenas in my family and so I've grown up just thinking that what people refer to as powers are natural extension of our lives, of our abilities, and are hidden somewhere in that 90% of our brain that even Einstein hadn't used yet. So I believe in a higher power and if there's a higher power I'm part of that. And then I'm part of that, I'm part of some powers that I don't even know that I have. And those that I do know I have, and acknowledge.
Question: Heroes has a rather interesting way of working in that they're shooting sometimes three episodes at once, meaning that you can work with three different directors in one day. How is that for you?
Dana Davis: Oh, it was - when I first came into the show, I started on Episode 4 on like a Tuesday. And then Wednesday I was on Episode 5. Thursday I was back on Episode 4. It was crazy. I'd never done that before and really it's very, very stressful for the actor. But you kind of get used to it. Like right now we're on Episode 11 and I've gotten used to it. At first it was really hard, but now I kind of enjoy it. It's fun. There's never a dull moment on the set.
Nichelle Nichols: I can attest to that. And I'm really delighted to hear that Dana did have that difficulty because when I first came in and we were shooting one scene, and then it's four months earlier and I'm not sure what took place and where, I was really at sea. I immediately ask questions. And I think they thought I knew more than I did about the series, and I should be adjusting. But it was very stressful. Once I understood it, it's like 'that's wonderful'. It's like magic. So I just jumped from Magic 1 to Magic 4, to Magic 3 and back to 1 -- and whatever it is. That's wonderful. I learned to adjust - make that adjustment and now it's fun.
Question: Dana, obviously you're able to copy physical things that you see. But do you know or can you say does that also translate to like if you see someone use their powers, much like Peter or somebody, are you able to copy those as well? Or is it just simply physical things like being able to copy a fighting style or something that your powers are limited to?
Dana Davis: I think right now my powers - well you know how Heroes' powers have a way of evolving throughout the season. So right now my power is that whatever I see I can do, a physical ability. It's limited to physical ability. I think the producers of the show, they already have that element with Peter and with Sylar, you know, the supernatural who can do everything. And I think they wanted to capitalize on the amazing abilities of human beings. They're so - I mean, you can just watch the Olympics. Human beings are so amazing and I think they wanted to bring that element in a supernatural way to Heroes with Monica.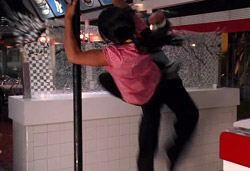 Question: Being that your powers are very physical and you're a fighter and such, can we expect to see any kind of knockdown, drag out fight scenes with other characters, like maybe Kristin Bell's character or something in the future?
Dana Davis: You're going to see a lot. Monica gets pretty tough. As far as will she be with, you know, any other heroes in some cool fights - we can only hope. I really can't say right now. But I can say that Monica, you will see a lot of her fighting. It gets pretty exciting, so I can say that.
Question: Nichelle, what's it like working on a regular TV show again as opposed to like back when you worked on the original Star Trek series? Is it very similar? Have a lot of things changed? What is it like being a regular cast member on a regular TV show again?
Nichelle Nichols: Well, on Heroes, it's quite different because of the timed elements can change. You can four months back, as I was saying. You can do flashbacks and you have to adjust to what your emotion was and who you were. And Star Trek, we were going forth in peaceful exploration and meeting any difficulties head on that we might have. But I find such a correlation between the two in terms of the human dignity within us. And that is inspiring. And no matter if there is an evil situation, there is a counter good. And I'm finding the adjustment from one to the other is very natural.
Question: Having Zachary Quinto who plays Sylar and I'm sure you know will be playing the young Mr. Spock in the upcoming Star Trek movie, has he come to talk to you, kind of pick your brain about Star Trek or anything like that get any tips for his new upcoming role in the movie?
Nichelle Nichols: No. I believe Zach has talked with - I know that he has talked with Leonard and I just saw him the other day at a premiere, or an awards show. And he is very, very excited. And he himself is a Trekker and you can imagine how excited he is to be chosen to play Spock, the young Spock. And I gave him my best wishes. And when I first came on the show, all I had seen of Zach were some pictures in the makeup room. And I said I wasn't sure about that actor, as I was seeing him in a picture, in a photo - which is totally different, totally of the role he's playing in Heroes.
And the moment I met him, I said - I saw him in one of the episodes. I said "oh my God, what an actor". And then when I met him in person, I said this is the young Spock. So they did a brilliant job in casting him.
Question: Any chance of you having a cameo role in the new Star Trek movie?
Nichelle Nichols: Wouldn't that be nice?
Question: Yes it would.
Nichelle Nichols: I will be blasting it all over the world if and when that should happen. I think that would be so wonderful.
Question: For both of you, I'm wondering if it's sort of emotionally wrenching playing these two survivors of Hurricane Katrina? What is that experience like?
Nichelle Nichols: Oh.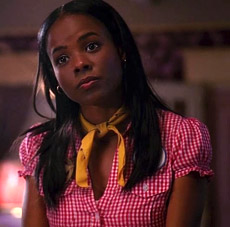 Dana Davis: Well I'll have to say in the beginning it was because when I did my research and I watched some of the documentaries about Katrina. I'm the kind of person, like I said before, that if I see someone else crying, I cry too. I take on that emotion. So sometimes I run from it. And when I got this part, I couldn't run from it anymore. And so, you know, I watched a lot of the documentaries and it was just - it made it real to me. I mean, because Heroes is so surreal and it's fun, bringing in this element of reality - it was hard for me at first. And so I just kind of keep that with me. I find a way to put it in a box so I can play this upbeat, fun character. But I think it makes the character more real.
Nichelle Nichols: I must say that that's a beautiful correlation to what you feel with the Katrina. I watched Katrina on television like a junkie. I couldn't turn it off. And I was at the crying stage daily, especially with the little children and the people losing their homes, and those who succumb to that pain and those watching those who stood tall and through thick and thin. And I thought, my God that - this is real - this is reality of what can happen. And I'm in the fire zone a few miles away and though my home is safe, and the surrounding areas. It brought home - it brings home just how delicate your existence can be at any given time. And to be able to play this role and to have this given circumstance already set out for you, I could relate to her so powerfully and relate to her house, you know. And how she has stood tall and diffident. And it either makes you or breaks you. And I've decided that I could see that Nana was not broken, injured but not broken. And she has a reason to go on to stand tall and to be a strong woman for her granddaughter and grandson.
Question: And Nichelle, you had said earlier that some members of your family have exhibited sort of interesting abilities or phenomena. Could you just give us an example of that?
Nichelle Nichols: Well my mother was a genuine psychic. She never went into business for it, but she could interpret dreams. She dreamed and other things, and sensory things. If I walked into the house and something was bothering me, and I was always the kind to shelter my loved ones from my problems. I walked out, my mother would say okay sit down and tell me what's the matter. I'd burst out crying. I'd walk in the house. "Hi I'm home. Guess what I did today?" And she says, "sit down - tell me what's the problem". And she knew before I knew everything. She knew when people were in trouble and she knew when people were pregnant before they did sometimes. And I grew up with this as a natural thing. It was not a phenomena to me until I grew up and people reacted to it. And I realized that this is something that not everyone has. And some people's are more dynamic than others. But I grew up as – with phenomena's and appreciations for it.
Question: Dana, many of the characters on Heroes, they accept their powers begrudgingly, like they're cursed instead of blessed. Monica seems to enjoy her powers so far. I think that's kind of refreshing. What do you think about that? And also, if you were in a position like that in your real life, are you the type of person who would view it as a blessing or as a curse?
Nichelle Nichols: I don't think anything God given is a curse. It's a matter of how we, but some things that happen to us that we, powers if you have, it's startling when you discover you have it and it's a little disconcerting when you realize that you're different from other people or other people view you as differently. But I think that Monica did a wonderful job in being amazed by hers, a little startled by it, you know, and then embraced it as 'bring it on'. She's a young beautiful, wise woman and here she's got this, you know, this power to do this and for now it's got to be fun. Monica, yeah? Aside from getting sore muscles?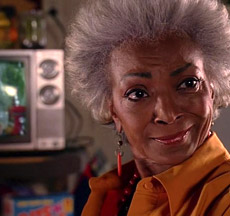 Dana Davis: Yea absolutely. I think in the beginning the producers sat down with me and they said just what you said, they said Dana, all the heroes, you know, most of the heroes on the show are burdened by their powers and we want to bring, you know, back the excitement of like when Masi in the beginning was so, you know, yatta! and so excited about his powers they wanted to bring that back. Bring it back a little bit with Monica and so it is refreshing, it's fun because I've done a lot of drama in my career and I've played a lot of burdened sad characters, so it's, it's fun for me to play Monica.
And you asked me about if I had a superpower, I'd be the one who'd be like on the news, like 'guess what everybody, I have a superpower and I would announce it to the world because it would be so awesome'. But yeah, I'm really excited to play somebody who is excited about it, so.
Question: Dana, how well did you know the show before this opportunity came up? Were you a loyal viewer since the very beginning?
Dana Davis: I was a loyal viewer, yes. I actually watched Heroes before anyone else. I got the pilot, because you know actors we get these, we get huge stacks of pilots from our agents. And I watched it over the summertime and I was just like, oh my gosh. And I remember calling my friends and being like, I have the newest hit. And they're like really, and so they came over and we watched the DVD that I had and it was like a ritual, it was a like a Monday night ritual with Heroes. So it was just like so surreal for me to join the cast, you know what I mean? Something I'm a huge fan of so.
Question: I know that since there hasn't been like a military type surge to save post-Katrina New Orleans they could really use a hero like Monica. Now I realize your story might ultimately lead the characters in a completely different place but what do you think of the idea of a Monica and some of her super friends and family cleaning up New Orleans?
Dana Davis: Wow. I think you're right, you're right there. You're right there with what the producers want after the direction their going. I think that bringing the Katrina thing into Heroes that's not trying to be political, I think what they're trying to do is just restore a little bit of hope to a community that's lost a lot, and yes it's surreal, yes it's make-believe but it restores a little bit of hope to people. I mean, you know, they're watching it and they're like, hey that's us on TV. And I've said before that once I watched a documentary where they asked like Spike Lee, they said "'Hey, do you think Katrina, do you think that New Orleans can be rebuilt?" And he said, "I don't know." And I said that broke my heart because more people need to say, "yes, New Orleans can be rebuilt". I think that it starts with little things like this. Restoring a little bit of hope bit by bit.
Question: Some people have said it's kind of exploitative for the show to have characters set in New Orleans and I was wondering what you guys make of that?
Nichelle Nichols: I think that's silly. That's as if to deny that it happened or that what happened, happened and that and is a great tragedy, that when it happens to one person in the United States, if you're a citizen, it happens to us all. And to acknowledge it and to make it part of something called Heroes is to do honor, and the honor that could be done even more in the re-building of that beautiful city and that beautiful state of New Orleans is to show how it can be done and it can be done just like the President came to California when Malibu is burning, to give assistance. That kind of immediate attention to New Orleans that has saved and would have saved, and still can, as to what it takes a lot of lives and a lot of pain, and can rebuild New Orleans. What are you going to do, drop it off of the map?
Dana Davis: Yea, I think she said it. She said everything; I mean that's exactly it.
Nichelle Nichols: It's too beautiful, this country is too beautiful to write off one place as can't be saved. That's just whoever thinks that...I'm an optimist and a rebuilder so that's my answer.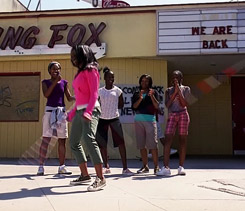 Question: We got a glimpse of an (Isaac Comic Book) with who is St. Joan and I was wondering Dana if that means that Monica might actually take up a costume and start fighting crime?
Dana Davis: Wow, I don't even know what I can say. But I can say that that's a good guess. I can say that. But I think that's all I can say.
Question: What sort of spoilers can you give us?. Can you just throw us a bone somewhere about what's going on with both your characters in the next couple episodes say?
Dana Davis: David [Gardner]? What can we say; I mean it's hard. David Gardner: I think in the next of episodes though you can certainly talk about exploring your powers with Micah, with the character with Noah, and that you're going to be crossing, you're going to be meeting some new heroes. You're going to be crossing over with other characters in some surprising ways.
Dana Davis: Yea well I think, and also Monica is going to go a place that no NBC hero has gone before. It's going to be really fun to see Monica's story unfold because it's something that's not been done on Heroes yet, so it'll be very fun.
Question: How do you mean?
Dana Davis: Oh gosh.
Nichelle Nichols: Wait and see. How could you possibly want to know in advance?
Dana Davis: I wish I could say. I think that's as much as I can say. You know, we're like sworn to secrecy so we're not, we like for the fans to find out as it still plays, sometimes spoilers get out but we try to keep as much secret as possible. But yea.
Question: Okay, can you talk about working with Noah and the actor who plays Damon?
Dana Davis: Oh man Noah is like, I love that kid. Like he is like the little brother I never got. I love him to death. I mean I have a little nephew who's 12, and so on the set Noah and I, it's just like we're just having fun and it's interesting because I'm the kind of actor who when I get into a role I sort of really get into it and a lot of my characters have been kind of sad and burdened and so now that I'm playing this fun loving character on the set, me and Noah are just like laughing, talking, we're getting in so much trouble. The other day we just got yelled at by the director because we're laughing and joking around and he's like "'Dana, Noah, please". And we're just, it's so fun to work with him. I think I'm like, you know, 12 years old at heart because me and Noah, he's like my best buddy now and the little actor who plays (Damon), his name is Carlon, I just love him. We'll sit at the table on the set and we'll play with cars and we'll have arm wrestling fights and people are like, hey "Dana how old are you". So, I have a lot of fun working with those kids. I love them to death.
Question: Nichelle, I was wondering if you have any thoughts for what you would like to see Uhura do in the new Star Trek movie.
Nichelle Nichols: I do have some but I don't want to discuss them yet because I think I am going to meet with Zoe and let her pick my brain if she wants to, but I would like to hold that in abeyance to see what she, because she's such a lovely actress and creative actress herself. I'd love to wait and see what she brings to it so that I can understand, so that I can get to see what who and what Uhura was like and what the qualities were that Uhura, Nyota Uhura had that qualified her to go on that first five-year mission where no man or woman had gone before. I think she might bring some interesting new qualities to the character.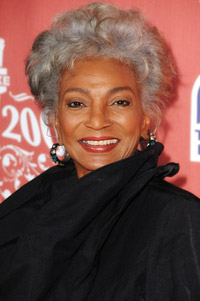 Question: I know earlier you were mentioning a little bit about how they may incorporate your musical abilities into the show, but what about off the show, are you still finding time to play music or are you just super busy like training for the fight scenes and things like that?
Dana Davis: I am. I am really, really busy with the show and I haven't had a lot of time to devote to anything else. It's funny because before I joined the cast of Heroes I was an insomniac. I have suffered from insomnia for like so long. Now that I'm on the show seriously I sleep like a baby. I'm so tired all the time.
Question: Does the lviola or anything help you unwind after a day of work normally when you do have time for it?
Dana Davis: Not lately. I haven't been able to devote any time to music. It's unfortunate but hopefully I'll get back to it.
Question: Nichelle, what have you seen, have you seen any similarities between die hard Heroes fans and between maybe die hard Trekkers?
Nichelle Nichols: That's a good question because die-hard Trekker fans are die-hard Heroes fans. I discovered when shortly after within days that I had been cast as Nana and had not reported yet, so it was still almost thought to be like a secret, it was still a surprise and of course Trekkers had heard the rumor and here I am in Las Vegas before 30,000 people and a couple of weeks later in Atlanta before 40,000 people and when I had gotten permission to say, yes I am, I can confirm the rumor that I will be joining cast of Heroes, that place came apart, like you absolutely could not believe. It was thunderous. And so the approval of it and the joy that their Star Trek star was joining in the cast of the stars of Heroes was like amazing and it went on for a good four or five minutes. Oh there was screaming and yelling and "Yes!" you know. So I was off and running to a good start you know.
Question: Nichelle, obviously the Heroes story lines are well kept secrets. Was it ever like that on Star Trek keeping surprises for the audience?
Nichelle Nichols: Actually, no not so much as surprise but we were working five days a week and we never had much time in those first weeks of putting the show on because we had no audience yet as we started out all together. And when the show went on and we began to get this fan mail, so amazing, we were all excited and then the mail started coming in asking us questions of this and we'll read that and were we going, what was going to happen, we were still, of course, busy filming. But we didn't have that sense of keeping it all secret as this – because that was not the focus as such as now. But episode after episode was with the entire cast and guest actors so it was more the adventure each time that was about to take place that our fans sat and waited to find out what's going on, it could happen this week.
Question: For each of you besides each other, who have you enjoyed having scenes with so far?
Nichelle Nichols: Well I have enjoyed Micah and Damon so much. They are the exact opposite of characters of what they're playing. Like Damon plays this little demon that can't stand his cousin, you know. He wants to do him in and then the moment, and he's so good at it, you believe he's this little monster, and the moment they say cut the two of them are laughing and falling into each others arms and doing, and wrestling and playing games and then he says "okay, let's first team up" and then scene is there, bang they're right back together. And Micah is, as Dana has said, is a phenomenal artist, a pianist, his music is amazing and I thought he was playing the player piano and that was him. And so when I said "isn't it wonderful that we have another musician in the house" it was a fact and that he really was a musician in the house. His charm, both of them, are so captivating. I just enjoy them so much. And of course, I'm glad you said besides Dana. Because I've just never really worked with anyone quite so poised and talented and beautiful and I'm really, and young, and I'm really, really proud to be working with her.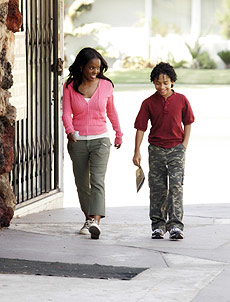 Question: Dana, same question.
Dana Davis: To go further with what Nichelle said about little Noah and Carlon, who plays Damon, their relationship is so adorable. I mean the other day I caught them like making a secret handshake and I was just like, "oh this is so cute". These little boys are so cute. But I've also had a chance to work with Sendhil who plays Mohinder. Oh what an amazing, amazing guy. I mean you know Sendhil's this beautiful [guy], like he looks like he should be a GQ model or something and you'd think he'd be like the bling, bling Hollywood-type guy, but really he's just a sweet family man with this heart of gold who talks about his family and his child. I mean, just never have I met such down to earth people. I thought I was going to go into this, you know, with these stars and these, you know, these big heads that you hear about in Hollywood, but nothing could be further from the truth.
Nichelle Nichols: Yes I agree with that too. I haven't met the whole cast but some who were on the lots came into make-up and they'd walk up to me and grab me and hug me and say "oh, it is so good to have you joining us", like Hayden and just any of them that I've met. I'm looking forward to meeting the rest of them and really enjoying the ones that I'm working with.
Question: Who are each of you looking forward to having scenes with in upcoming episodes?
Nichelle Nichols: Anybody who will have me. Any of them on there because I've been to awards shows and see how beautiful they are with one another and how they have treated me and so I can only hope that they might come to New Orleans or I might come up there where they are.
Dana Davis: Yeah, I agree. It's like in a sense you feel sometimes kind of isolated from the cast because the stories kind of stand on their own so well.
Nichelle Nichols: Yes.
Dana Davis: So I look forward to the moments when we all work together more often. it'll be fun. Even when we're just in the trailers it's a blast, we're laughing and…
Nichelle Nichols: Exactly.
Dana Davis: …you know, we're in the make-up trailer. I just can't wait for that to be brought into the work element so.
Question: Dana, did you always want to be an actress while you were growing up or did you have other professions in mind?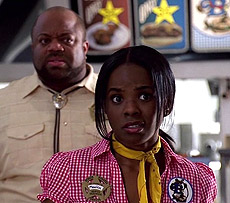 Dana Davis: No, you know what's funny is my mom took me to the theater for the first time when I was six years old. I was just amazed by it, and I just said, "hey Mom can I do this too?" So she signed me up for little theater classes and I remember my first audition for a play when I was seven years old was for The Thankful Elf. I remember all the little kids getting up, auditioning for The Thankful Elf and I'm sitting there like, "'no, The Thankful Elf would not say it like that". And I just knew, I knew who the Thankful Elf was. For my first audition I booked the lead as the Thankful Elf and so I've been acting ever since. I used to ask my Mom when I was ten years old, can we move to LA, please, please. I would look in the Chicago Times because I'm from the Midwest and I would look for auditions and I'd be like, 'Mom there's an audition in Chicago, can you take me?' She'd be like, no you got to wait, wait, because we just didn't have the financial resources for me to do that. And so I waited until I was 18. I went college hunting when I was 16. I was on a mission. Like I knew what I wanted to do when I was just a little girl.
Question: Good for you, that's great.
Nichelle Nichols: That's beautiful. I didn't know you were from the Midwest and I'm from Chicago myself.
Dana Davis: Oh wow, yeah two hours outside. I'm actually from Iowa, but like two hours outside of Chicago.
Nichelle Nichols: And grew up in musical theater there. Yeah it's lovely.
Question: Nichelle, what has made a career in this industry rewarding for you so far would you say?
Nichelle Nichols: Accomplishment. The most rewarding thing about it for me is being able to make my living doing the one thing or the things that I love the most and would probably do for free. I would have done it anyway. That creative little theater in Chicago with my little playmates and wrote musicals and plays and of course always wrote myself as the star. Directors like that or I'll say my Dad's got a barn, my Mom can sew and I grew up making costumes and dreaming of Broadway. And a funny thing happened to me on my way to theater and Star Trek interrupted my career and changed my life and I've never looked back. I've never been more happy in my life.
Question: Nichelle I'd like to ask a little bit about Lady Magdalene. How was your experience as an executive producer, writer, singer of that particular project?
Nichelle Nichols: Oh that was one of the most incredible experiences because I was in as a producer and executive producer, [also] who was the writer and director and also acted and to work side-by-side and to make this with these actors and to make these things happen and wearing hats that I'd never worn before, that I hadn't always worn as a professional. [That] was very challenging. It was at times very frustrating and to bring out this character of Lady Magdalene whose the owner of a brothel and not make her into the stereotypical broad, mean, you know, tawdry person that is still in a profession that does not exactly gets accolades, but to bring out the woman in her and her soft side and her strong side and tough side and what is happening to her. And then all of the things happening around that's going through her brothel was a real challenge because I knew nothing about it and it was really a challenge and one that I'm still working at with the funding and the distributors. It was, and learning editing and so forth, and being involved in all the aspects of it with Neil Schulman. The producer and director was really something and it's an experience that I treasure.
Question: And Dana, what could you tell us about Prom Night?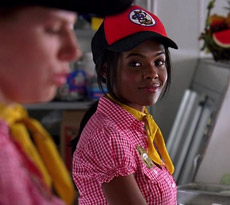 Dana Davis: Well Prom Night is just a slasher movie. It's a teenage slasher movie set with the backdrop of like the most awesome prom Hollywood style you can imagine. I mean there's a slasher on the loose, there's blood. It's just fun. It's just pure fun. I got a chance to see a rough cut and it turned out pretty good. I'm really proud of it, you know, even though it is what it is but I had a lot of fun doing it.
Nichelle Nichols: Dana, when do I get to see it?
Dana Davis: It comes out next year but we'll work something out.
Question: A lot of African American kids are being raised by grandparents due to divorce or problems in the family with either parent and I wonder if both of you really feel gratified to be able to present a positive example of the grandmom and grandkids relationship on TV.
Nichelle Nichols: I feel rather honored to play it. I never thought of myself as growing up to be, you know, in my career as lasting long enough to have a wonderful role as a grandmother. Because grandmothers are always, you know, the old lady. This is a new type of grandmother that's portrayed but is the type of grandmothers that have always been, especially the ones who have had the opportunity to raise their grandchildren and to see them flourish. I never got to know my grandparents on either side, my mother's or my father's, but I saw my mother and father be great-grandparents to all of their children's offspring and I really base Nana in honor of my mother, Lisha.
Question: Dana, do you have something to say about that?
Dana Davis: Yeah, I just think it's beautiful what Heroes does because sometimes on TV they give this image of you know, the perfect little family with the white picket fence and the mom and the dad and everything's so great. Well, Heroes shows you more of a reality, just like with the first season I was so happy to see a little bi-racial kid with a white mother because that's reality, I mean that is so real. I think that, just like you said, it's real that grandparents are raising their grandchildren, our sisters are having to raise little brothers. I mean, reality, it's not so sad you know, we can show something that's real and not, you know, make people upset so.
Question: Does the thing that we're going to find out about Monica have something to do with her personal life?
Dana Davis: Yes.