Date of publishing: 17th November 2005



Daniella Evangelista entered the world of acting when she was only four years old. Of Italian family background, and raised in Vancouver, BC, Daniella is the elder of two daughters.
Her early work in television commercials and modeling included national campaigns for Benetton and worldwide exposure through Japanese calendars and other promotions. She was also profiled on the front of the popular Italian teen magazine, 'Bambini'. Her first appearance in a television series was when she was five years old, in 'Lies From Lotus Land'. She played opposite Michael J. Fox as the bratty kid next door. Before the age of ten, she had filmed up to 20 commercials.


In the late 90s she was approached by 20th Century Fox to read for a role in Star Wars, The Phantom Menace, although the part was eventually given to Natalie Portman.

Daniella is also known for her role of 'Tracey' in the Canadian television hit series, "Edgemont", which is now filming its fifth season and she got the role of Denya in the episode "Crusade" (9x19) of Stargate SG-1.
Learn more about Daniella on her website: www.daniellaevangelista.com

Gilles Nuytens: Thank you for this interview! Can you speak about yourself? What motivates you in life, what are your dreams?
Daniella Evangelista: I'm a passionate, sometimes fanatical person. Or just easy going and listening to music. I am motivated by life of people, animals, and nature around me. The emotions, talents, and structure of my surroundings.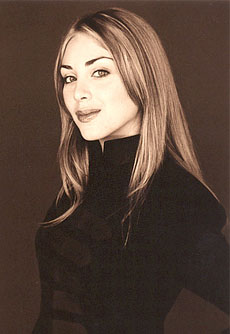 Gilles Nuytens: You can do so much things, cooking, acting, modelling, painting, fishing ... play soccer and video games! That's wonderful!
Daniella Evangelista: Enjoying all the above with my friends!!!! I love music and I've been a D.J for a few years now.

Gilles Nuytens: You began acting at the age of 4, you were all your life in that industry, what do you like in that job?
Daniella Evangelista: Since I was a kid I have just always been very sensitive to thoughts and communications of people. And expressing that in all arts. I love movies, music and dancing.

Gilles Nuytens: You are for sure a beautiful woman and in Hollywood this can have some advantages, but sometimes disadvantages as they usually see you only as a "body" and don't give you more "deeper" roles ... what do you do to not let this kind of success destroy your personality and to keep your head on your shoulders?
Daniella Evangelista: I just ignore it, because I can't predict it. I've been 5 pounds under or 5 pounds over someone's ideal body or perfect. Most of I realize it's just 5 pounds. I'm confident in the way I live my life as a healthy person for no one to tell me otherwise. If a part requires me to work out or eat more whatever it's another wardrobe. I'll change my habits when I'm shooting a movie to suite the character beter.

Gilles Nuytens: You play in an upcoming episode of Stargate SG-1, called "Crusade", can you speak about your role in this episode?
Daniella Evangelista: I have so much fun. You have to see it, the sets are amazing and my corsets killed me so watch it!! Michael Ironside and I got along great, he was perfect for that role!

Gilles Nuytens: How did you get that role, was it easy?
Daniella Evangelista: I got it because the director liked me right away! He's also one of the writers and he knew what he wanted.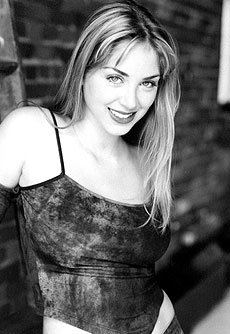 Gilles Nuytens: Is there a possibility for a future come back of Denya? Are you still in contact with some people from there?
Daniella Evangelista: I don't come back I can't tell you why you have to watch it!! I friends with Chris Judge… A bunch of the cast and I went to Destiny's Child for their last concert. The box was courtesy of the studio so that way fun!! The cast from Atlantis was there also.

Gilles Nuytens: You also have an appearance in "The Collector", what can you say about that role and your experience there?
Daniella Evangelista: The collector is a great show and Chris Kramer is so funny and fantastic all around. I play a vampire and it's a dark, sexy, dangerous feel.

Gilles Nuytens: You are shooting a support lead on a Lifetime movie of the week right now, how is it and what is your role?
Daniella Evangelista: It's fun… it's called Abby Lord…The director Matt Hastings is one of my favorite people. My character is crazy… she kidnaps, well not a kid but a doctor for money to start a new life with her man.

Gilles Nuytens: What is the best memory of your career and the best one from Stargate?
Daniella Evangelista: That's a tough one, It's all good. Best from stargate had to have been the fact that Claudia [Black] was really pregnant and I felt it kick, Michael and I talking about music and Stax (record lable), or my taking tons of pictures because the set's and wardrobe were amazing.

Gilles Nuytens: You worked with Robert Cooper in Stargate, what kind of man is he to work with? Can you talk about your experience there?
Daniella Evangelista: Rob was on it. A really nice funny smart guy!! He made being on set feeling like you were at home. He never freaked out.

Gilles Nuytens: What would you like to do to change the mentality in Hollywood that sees only the outside beauty of an actress (the blond stereotypes) and doesn't look more deeper to find the "real" beauty and "talent-inside" of an actress?
Daniella Evangelista: Surgery of the brain and lots of it ah ha ha, what I'm I going to do? I'm not threatened by it. I know who I am. I'm an actor, and I don't take myself that seriously all the time. If I present myself as a stereo type for a role... fine. That's rare. Do I act/dress like that everyday? No. I get calls for stereotypical hot sexy girls, geeky, gothic, punk, country sweetheart… whatever. It's not always about my appearance. It depends on the role. Hollywood is a general idea of a lot of people I don't know.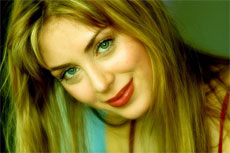 Gilles Nuytens: If you had to choose between a great role in a low budget movie, I mean this kind of role that is really challenging and interesting for an actor, and a Top-model job where you will get paid an huge amount of money, what would you do?
Daniella Evangelista: Both…hahahaah… first the movie because an easy life without a challenge has no adventure.

Gilles Nuytens: We can see some actors from Edgemont (such as Grace Park, Dominic Zamprogna, ...) in the new Galactica series, any plans on having a role there?
Daniella Evangelista: I'm doing this movie with Dom. And I saw Grace and Edward from Battlestar last week. I'm so happy and proud of that show so many of my friends are on it. They are having such a great fulfilling time.

Gilles Nuytens: And a last question for Edgemont fans, what do you have in common with Tracey and what did you put from yourself into the character?
Daniella Evangelista: Tracy was just fun because she was so not me… I brought straightforward and deviousness energy to the role so you never really knew what she was up to.

Gilles Nuytens: Thank you very much Daniella for this interview and for the time you took for answering my questions. I wish you good luck with your career and be looking forward to see you in Stargate and more!