Date of publishing: 31st January 2008



David was inspired to act by his aunt, who was a highly respected actress in the theatre in 1960s Melbourne, Australia. His first role was in a mini-series called Loss of Innocence, about a boy growing up in Depression Era Australia. David did a two year apprenticeship with the Sydney Theatre Company. He has performed numerous roles on stage, tv, and the big screen. His theatre performances range from starring as Elvis in the musical "Are You Lonesome Tonight?" to "Shakespeare's A Midsummer Night's Dream" and "MacBeth". He has had roles on tv from sci-fi classics such as Xena and Farscape to the soap opera The Young and the Restless. He has appeared in numerous movies, most notably "My Brilliant Career" and "The Matrix Reloaded".
This interview has been conducted by Renee Burl during Dragon*Con 2007

Renee Burl: What did you like most about your experience on Farscape?
David Franklin: It was fun because when going into work you never knew what predicament your character would be in.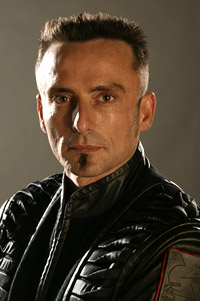 Renee Burl: What do you miss the most and least?
David Franklin: The arduous make-up process. It was 10 minutes in the make up chair. So I'm glad that is over. It was too hard to bear (laughs). What do I miss the least? I don't know. I'm going to have to think about that and get back to you.
Renee Burl: Ok. What have you taken from your experience with Farscape and brought into the world today?
David Franklin: That character-wise you never know... the characters would always be in such extraordinary circumstances and it was great not saying "Oh my character wouldn't do that" because you would find yourself in that situation saying "Ok, now how do I…." People are capable of doing extraordinary things and behaving true to character but doing things that are out of the box. If that makes any sense. It makes sense to me.
Renee Burl: Yeah. I understand. It allows you to not keep your character in a confined space.
David Franklin: Thank you, Renee. You can speak for me. I like it.
Renee Burl: Concerning level of difficulty, how would you compare your experiences of working on Farscape to other shows and other experiences?
David Franklin: I guess it was so extreme that was different, which made it exciting because the stakes were always extraordinarily high and there were always bizarre situations. So everything was heightened.
Renee Burl: What's your best memory of Farscape?
David Franklin: Well, I don't know if it's my best memory but I remember when we were doing the mini-series and it was really boring during set-ups for the battle stuff. I just remember being with Raylee and taking all sorts of stupid photographs and all of the crew getting involved, setting up these crazy stills.
Renee Burl: Were they for personal use?
David Franklin: Yeah. So that was a lot of fun. It was really crazy that all of the crew got involved with it. We were doing it because we were bored. You know how much it cost every minute to keep a crew waiting. It was like, "Go away, you are meant to be filming. Go and work."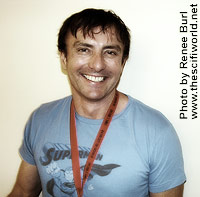 Renee Burl: What do you think of the Sci-Fi genre in general? Are you a Sci-Fi fan yourself?
David Franklin: I never was. I never watched a lot of Sci-Fi before. I found it really can pose such interesting questions and situations that of course as regular old human beings we can relate to. It's fascinating. It can pose a lot of interesting and fascinating questions.
Renee Burl: It opens up the world.
David Franklin: See Renee, you can answer my questions for me.
Renee Burl: What was the craziest experience you've ever had with a fan?
David Franklin: Most of the fans are really good. Fantastic, actually. The craziest? They're mostly pretty good. The first time I met a fan, in America. She was a waitress in a coffee shop and I was actually more excited than she was.
Renee Burl: How do you feel about being asked to do conventions? Do you do many conventions?
David Franklin: I just do one or two a year. So that way you don't get the burn out and it's still genuinely great to catch-up with the fans. A lot of the fans I've seen over the last couple of years, so it is always good to catch up and see what's going down.
Renee Burl: Now we haven't heard much since Farscape. What did you do after Farscape and The Young and the Restless?
David Franklin: I had surgery. I had sleep apnea and I had surgery on my tongue. For a while I couldn't speak. It only now that I can speak reasonably clear. So for about a year I was kind of out of action.
Renee Burl: So the Young and the Restless. How is that experience?
David Franklin: Fast. My God they work fast on that show. It was fun, good fun. The scenes were over before you began. It was like, "Are we going to do another take?" "Moving on!" I was like, "Whoa!"
Renee Burl: No second chances.
David Franklin: Moving right along. It was crazy.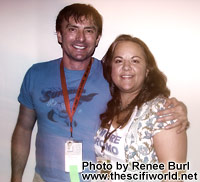 Renee Burl: How different is it to play in a soap opera like Young and the Restless versus a classical show such as Farscape?
David Franklin: Gee, I don't know how to answer that question. I was guesting on the Young and the Restless to serve the main actors and to serve their plot. You just fly by. Like in Farscape, we thought we were shooting fast. Hah! It's nothing. You have no idea how fast it was. There is a different style of performance with the Soap Opera. It's really drawn out and there are long, pregnant, meaningful pauses. I remember thinking was the other actor tired and forgetting his lines. He was just acting in that particular style. It was fitting into that particular genre.
Renee Burl: Have you done much other work in America?
David Franklin: I've done a couple commercials and some industrials. I just waiting to hear about a film project.
Renee Burl: So my next question was: what can we expect to see from you in the future?
David Franklin: Well, you can keep your fingers crossed for me about this film project, which will be really, really exciting. It's not Sci-Fi, but it's a really interesting genre with an extraordinary director. I thought I would know by now but I don't.
Renee Burl: I'll keep my fingers crossed for you.
David Franklin: Keep your fingers crossed. It would be really, really cool.