Date of publishing: 22th June 2005



David Winning is a highly award winner and nominated director
with 50 International Awards and 9 Nominations. The last to date is for Stargate Atlantis with the episode 1x06 "Childood's End", the first Stargate Atlantis episode to win an Award but also his first episode for the show. David Winning has directed numbers of Andromeda episodes, Dinotopia, Earth Final Conflict and many more.





Gilles Nuytens: Hi Mr Winning can you describe us the director's job from the beginning of a project to its end?
David Winning: Typically a television episode is produced in a checkerboard fashion; one show is prepping while the other is shooting. Essentially the main cast and crew never get a break. Prep is usually six or seven days and shooting follows with the same number of days. Bigger budget shows sometimes will shoot for eight or ten days or occasionally follow with a few days of second unit shots, etc. Production meetings are held in the boardroom all week during the prep period. The director and producers usually meet with the different department heads; wardrobe, special effects, props, etc in individual meetings to discuss the particulars of the episode. This is in effect where the show is created - because all "limitations" are presented to you and you have to make critical decisions that become set in stone. Obviously this is where a skill for pre-visualization is paramount; keep in mind, the prep period is only a few days and suddenly you're on set. Then just before the first day of filming on the episode, the main production meeting occurs where all department heads gather. The assistant director reads through the script from page one, while simultaneously reviewing the shooting schedule - triple checking that all materials are ready for each days work. This is the last chance we all have formally to make sure our heads are all on the same show and things are ready to go.
The clock is your enemy more in television than feature films. Television is a producer's medium and as an episodic director you can begin to feel like a hired gun or substitute teacher to an existing and familiar family. Feature films are more the realm of the director. You have more control and certainly, my feature experience has been far more personal. On normal big budget features with a "normal" schedule, you shoot in the area of 2-3 pages per day. On episodic television, because of the nature of the beast, you're tackling anywhere from 8 to 12 pages a day. Makes the day go very quickly. You start the day with a simple actor rehearsal so everyone can figure out what needs to happen to get the scene completed. Ideas are usually tossed back and forth; becomes a bit like molding clay. Then the actors are released and stand-ins take their spots so the lighting crew and director of photography can light the set once the action has been blocked out. It's a bit like watching grass grow.
Gilles Nuytens: What is the part of your job which you prefer?
David Winning: I look working with different creative people and I like the initial planning stage. I usually have a newsprint pad and a pen and I just start scribbling stuff and making some plans. The first time you read the script, you begin to formulate exactly how you will stage the sequences and scenes. You have to do alot of the planning ahead of time so that the entire army of a creative and technical production team can assist and support you in getting the show made. Quite often the specifics of scene blockings happen on the day when you have the actors on set. Often this is their first chance to add input. It becomes a conglomeration of elements. Scenes in scripts will usually remind me of other scenes from great movies I saw as a kid. So they become homages to the classics. That's what keeps me inspired anyway.
The creative side of me believes filmmaking is an art form, but I always tell people the process is a little like painting a picture when seven people are holding the brush. The director is the ringleader: the job is to get creative forces working together to get the best result. I like to create an environment that's fun for people to work in. It's such a delicate balance, especially when you're trying to coax the best performances out of actors, especially when the material is tough. You have to create a little cocoon for them to work in. In science fiction the task can be harder because many elements physically don't exist on set. I've always said I think the best actors are in SciFi. They're really working with just their imagination in some scenes.

Gilles Nuytens: In the Staragte Atlantis episode you directed, what was the best time and why?
David Winning: I loved working with the kids obviously, that was a major fun part of the show. Cleo and Casta played by Jessica Amlee and Sam Charles were both amazing and pretty experienced for their age. But I think the most challenging part was just creating this whole forest village that the kids lived in. With amazing support from a great effects team (to add the actual treehouses) and also the art direction and set decoration was incredible. That village went on forever; just wish we'd had the time to shoot it completely and show it off. Perhaps the movie version. I think it's always fun to be in on the ground floor of a series because everyone is finding their way. Childhood was such an early episode for Atlantis, that it was fascinating watching the characters being formed by a talented cast. I really liked playing with the tension in the group as Aries starts to get more manic and defensive. There developed sort of an evil quality to the villagers amidst the innocence of youth.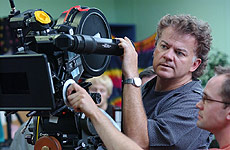 Gilles Nuytens: Do you a a funny story to tell us that happened during your work on the Atlantis set?
David Winning: It was a great group of people and the thing I remember most was the incredible funny chemistry between McKay and the kids. It's the strongest memory. Felt very at home in the Stargate Universe.

Gilles Nuytens: How is the work with children? Is it easy? Is it very different for you to work with children or with adults?
David Winning: I worked on many kid series for many years with Nickleodeon so this was like old school to me. Sweet Valley High, Goosebumps, Afraid of the Dark? Etc. Kids make the greatest performers because they have yet to be ruined by adult ego. Some of the most fun kids to direct are ones who've never acted before.

Gilles Nuytens: Which is the project you are most willing to work on ?
David Winning: Andromeda, the family and the series, was a major piece of good fortune for me obviously. Also I really enjoyed the dramatic impact and powerful writing of the Pax series TWICE IN A LIFETIME. I directed ten episodes in 1999 and 2000 and got to work with a brilliant producing writing team of Steve Brackley and Pam Long. Also in the first season, got to work with the old master Barney Rosensweig who created Charlie's Angels among other things in the '70's. The series was a remarkable blend of humour and bittersweet drama and I got the chance to direct some amazing gueststars and characters actors from Patrick Duffy to Michelle Phillips, Markie Post, Bruce Boxleitner, Earle Hyman, Daniel Baldwin, Martin Mull, Jere Burns and Brent Carver.
I'm pretty proud of just plain "surviving" in a very tough industry. Lots of twists and turns over the years. My favourite feature project I've directed would probably be EXCEPTION TO THE RULE, starring Sean Young, Eric McCormack, Kim Cattrall and William Devane. They're have been so many great moments over the years. I think one that sticks in my mind is taking EXCEPTION to the 1997 Houston Film Festival and showing it to a packed movie theatre. We won best thriller that year and it was just a wild night. Nothing like watching one of your films with 600 excited moviegoers; people jumped and laughed in all the right places and afterward Michael Bateman, the film's editor, and I answered questions for about an hour. I think that's really the payoff for all the hard work, to see a movie with a crowd and have it really work for them.

Gilles Nuytens: Regarding the CGI visual effects what is your level of involvement during their conception/development ?
David Winning: Mark Breakspear and his team at Stargate Season One were incredible to work with. As with all things in television; it's a collaborative medium. Most visual effects are designed and discussed for weeks in the boardroom before production. We usually will generate many sketches to make sure the ideas are similar and the outcome will what we're both happy with. Their input and creative ideas are amazing and invaluable.

Gilles Nuytens: Which advice can you give to a newcomer in that job?
David Winning: The best way to break into television or movies to write a great original script. The power of a good script is unbelievable in Hollywood. Then everything else has to come together just right too. A really good story is so rare. It's hard to make a good movie from a bad script, although I think I've done it a couple of times :) Syd Field's books on screenwriting are great - as is anything by William Goldman whom I think is a genius. The most original writers in Hollywood today are the Coen Brothers and Tarantino. Hey, it's just my opinion.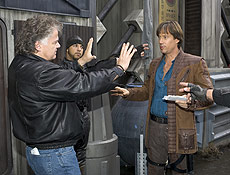 Gilles Nuytens: How do you work, can you give your opinion on a script which is given to you? In the affirmative do you often make some changes? Has it happened on Stargate Atlantis?
David Winning: The creative side of me believes filmmaking is an art form, but I always tell people the process is a little like painting a picture when seven people are holding the brush. The director is the ringleader: the job is to get creative forces working together to get the best result. I like to create an environment that's fun for people to work in. It's such a delicate balance, especially when you're trying to coax the best performances out of actors, especially when the material is tough. You have to create a little cocoon for them to work in. In science fiction the task can be harder because many elements physically don't exist on set. I've always said I think the best actors are in SciFi. They're really working with just their imagination in some scenes.

Gilles Nuytens: What was your inspirations when you created that children village? In general, what are your inspirations when creating the various universes of the shows you realise?
David Winning: Logan's Run and Lord of the Flies were pretty foremost in my mind. The atmosphere on the set was incredible so it all helped. This is a very well-oiled machine by now believe me. The actors all have great senses of humour and I've always believed that the best work comes from an environment that is light and positive anyway; they were a pleasure to work with. Actors always have input. The secret is to steal all their good ideas. In order to actually make an episode in a very limited amount of time, obviously you have to plan and replan everything. But when the actors are physically there and saying actual words, things change rapidly. They bring a vital third dimension to the planning on paper and the ideas and input is always welcome and interesting. As in most series, the regulars (certainly the star) always have input into the scripts from week to week. After all, they get to know the characters intimately because they play them every day. Improvisation and finding something on set minutes before you commit them to film (or tape) forever create happy "accidents".

Gilles Nuytens: Who are your director's models ? What are the films, the directors you consider as examples to follow?
David Winning: My idols has always been a huge fan of Stanley Kubrick and John Carpenter. Am a big Tarantino fan too. I struggled for a long time in my twenties working on passionate projects that took years to finish. Most of my twenties were spent making my first feature STORM; which I loved. In some ways, you realize later that if you hadn't spent years making those first films, you wouldn't have had the career that followed because STORM led to everything else I've ever done. I was asked at age 27 to direct episodes of Friday the 13th: The Series for Paramount Pictures Television; filming in Toronto, Canada and that became my first paying job. Seventeen different series followed that over two decades.

Gilles Nuytens: Concerning the accompanying music track how does it work between you and the composer? How is it working in general?
David Winning: In television the pace is a bit faster obviously than in long form features. Also in television the composer has a certain formula he's working with so the director is a bit less involved. A series need to have a continuity in terms of the music. I was impressed with Joel Goldsmith's amazing work on this series; this week he was nominated for an Emmy for Outstanding main theme.

Gilles Nuytens: Thanks a lot for taking the time answering this interview. We hope to see you again soon working on another episode of Stargate Atlantis, SG-1 or both!
David Winning: I certainly hope so, I had a great time. You know, fans could always write to Stargate with this request. Thanks for your interest. More cool stuff at http://www.davidwinning.com