Date of publishing: 23rd May 2007



Born in Leicester, England, Dominic Keating's early stage performances led his instructors to single him out as a "bright, young hope." Nevertheless, his major studies at the University College in London earned him a B.A. with honors in history, not theatre arts. But Keating kept the acting flame alive through the academic years, participating in several University productions and pondering an eventual leap into the professional theatre. Most recently Keating finished filming Beowulf (Old Cain) and Hollywood Kills (Francis Fenway). He starred in the feature film "Jungle 2 Jungle" (Ian) opposite Tim Allen and Martin Short. He also appeared in the Oscar-nominated feature film "Almost Famous" and starred with Raquel Welch in "What I Did for Love." In "The Hollywood Sign" (Steve) he plays his first American role opposite Rod Steiger, Burt Reynolds and Tom Berenger. His television credits include a lead role on Star Trek: Enterprise (Lt. Malcolm Reed), and on Glory Days, a series regular for five years on Desmond's (Tony), recurring roles in The Immortal (Mallos) and G vs E, plus guest appearances on Special Unit 2, Buffy the Vampire Slayer and Poltergeist: The Legacy, and a guest appearance on Las Vegas (Anthony Denvy). Biography from dominickeating.com






Download the audio interview by clicking here (Zipped MP3 file)
Disclaimer: Please, do not direct link to this file, link to the page ONLY.

Linda Craddock: Tell us a little about your latest projects "Beowulf" and the character you are playing.
Dominic Keating: I'm playing "Old Cane", who is, John Malkovichs' slave who is one of "King Hrothgar's" Lords and who is played by Anthony Hopkins and Brendan Gleeson to name but a few. It was an interesting journey! It's done with the motion capture so we wore the weird leotards with all the swatches in our faces dotted with silver dots all day long and was shot on a sound stage about the size of a tennis court, horses and all and it was (laughs) quite an experience, I have to say.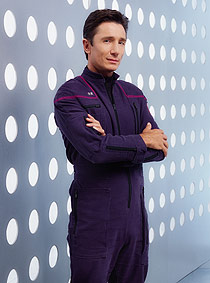 Linda Craddock: There are already several movies about Beowulf, especially one with Christopher Lambert in 1999.
Dominic Keating: Yeah, that was an old version of it.
Linda Craddock: Why is this version different, what does it bring to the legend?
Dominic Keating: Well, I believe there was a new translation. Do you know the poem?
Linda Craddock: No I don't.
Dominic Keating: I think it was the first every published piece of work back in 1090 something or even 11 something and there was a new translation of it which got a lot of attention about 2 or 3 years ago and I guess Bob Zemeckis figured, it's ultimately the first action hero story and he thought it would make a great motion caption. That is what he does nowadays. I asked him on set one day if he thought he was ever going to do a live action movie again and he thought probably not. He likes the overall power shooting motion caption movies gives him and the ultimate in the final cut. We spent a few hours each giving just endless faces and gestures and emotions to a camera and weird little blanketed off booth around the back of the set And he's got every possible reaction and acting moments on file for each character. He can just have you anything he likes ultimately so it will be interesting to see the finished cut. Because you may not remember doing that at all. I think that's what it was and Bob Zemeckis is a big time director and the translation got a lot of attention. And Bob wanted to do it.
Linda Craddock: In this movie, you play with a lot of big stars such Angelina Jolie, Anthony Hopkins and John Malkovich, how was the experience working with each of them?
Dominic Keating: It was fine. Anthony Hopkins was a treat. I did not do any scenes with him, but I was around one or two days when he was on set and you know what they say, the bigger the star the nicer the person and I have to say that's certainly true of him. And Ms. Jolie, too, very charming and it was a great experience. You know sort of working with A-lists actors, and I don't know a bit of a zenists of a career (laughter) and it was a nice shot in the arm. Then this part of it, when there were a couple of chums on it too actually which was quite nice down the scale a bit and so you know we were all pitching ourselves and going "wow look at us". (laughter)
Linda Craddock: What was your most memorable or funny moment working on that movie?
Dominic Keating: Well I guess the most memorable was I was in the make up chair with Ms. Jolie one morning, we were chatting and these leotards had these stretchy parts under the arm pits so you can move more freely and around the buttocks and the crotch area and I couldn't help noticing on day one when I put mine on that Ray Winstone got a sort of nice basic blue, stretchy lycra under a set pits and round buttocks and John Malkovich had a sort of meted maroon and I got day glow palm trees. (laughter) from the costume queen (laughter) and Angelina couldn't stop starring at the day glow palm trees (laughter). I had to remind her with my finger by just pointing at my eyes, "I'm here, love, I'm here". (laughter) she thought that was pretty funny.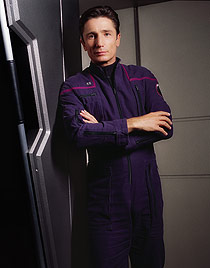 Linda Craddock: Can you speak about "Species IV" and the role you play on it, you're credited as "Villain", is that a small role only?
Dominic Keating: I really wouldn't know how to go about changing that. Someone alerted me to that. The character has a name. The characters name is "Forbes McGuire". It was really fun to play. I played him as an Australian because I thought it suited the part. The long short of the story that Ben Cross plays the lead character and we were buddies and scientists together. I was his sort of protégé back when we were first exploring the possibility of using alien DNA the sort of "super babes". (laughter). We had a falling out and he goes his merry way and I go mine and he takes the girl that we created and raises her as his niece in America and she's very smart and fully rounded and all together a wonderful DNA alien humanoid, but she starts to go wrong and that's when he reluctantly come looking for "Forbes" again to see if I can be of any assistance to save her. They find me hold up in Mexico City in some sort of deep bunker with my own "super babe" that I've made for myself called "Azura" and I'm sort of churning out dead dogs and pets and "super babes" for Texas oil billionaires (laughter) and when they find me. Then it becomes a sort of a race against time to sort of to see if we can save the girl and that is as much as I'll tell you. It was very fun. We went to Mexico for a month and it was quite a hard shoot. It was mostly nights, I remember that and three weeks into that I was pretty topsy turvy. I've never been to Mexico City which was quite an eye opener. What a circus that is. Twenty three million people live in that city.
Linda Craddock: Wow
Dominic Keating: It's getting bigger by the day. The pollution was stark, I mean within minutes of being there, I had a headache. It smells like when we got off the plane it smells like you were walking into a garage to get your car, you know. Anyway, good shoot and apparently the films done or almost and will be released shortly and it should be out on DVD soon.
Linda Craddock: Were you familiar with the "Species" franchise prior to the role?
Dominic Keating: No really, to be honest
Linda Craddock: Ok
Dominic Keating: I certainly knew of it. I don't know that I ever even seen the first one with Ms. Henstridge. I knew them by their law.
Linda Craddock: So we shift gears with a little comedy in "Certifiably Jonathan". Based on your career, thus far, you've enjoy dabbling a bit in the comedy genre.
Dominic Keating: I did a sitcom back in England for 5 years or so before moving to the states. I really like getting my hands in comedy. It's a lot of fun. This was particularly fun shooting with Jonathan Winters. What a treat that was. We saw the film for the first time about a month ago, when we went to the HBO film festival in Aspen and we were a big hit there. You couldn't get a ticket, standing room only for both our showings and it was warmly received and it was just great being in an audience and watching people laugh at what you're doing. It was a big buzz and I play this world renowned art critic "Nicholas DeBoor" that discovers "Jonathan's" an artists because he's actually an accomplished surrealist and I discover him as such and make it my last mission to have him hanging in the museum of modern art. And I rope in Stacey Kaufman who is the curator of the museum, but unfortunately "Jonathan's" going slightly batty and crazy by the minute and he ends up trying to sell off half his paintings to desperate workers in and around the Santa Barbara area. I find him flogging his art work off on the streets of Santa Barbara (laughter), much to my despair. There are some really funny moments in it and it was just a treat working with him and I mean he's 76 or 77 now and still sharp as a tack. There are some big names in it. Robin Williams showed up and the premise is they had a couple of his paintings stolen and he sort of looses his sense of humor. And the documentary that's being shot about him is suddenly off because he's lost his sense of humor and he's not funny anymore. So that's when the film's director and his producer get the bright idea to rally around some of the lineage that came in his wake to have Robin Williams and Jim Carey and the like help Jonathan get back his sense of humor, so they can finish the movie and come in on time and in budget. It's a good hoot. Its going to the Seattle film festival next, I think and hopefully we'll get distribution, fingers crossed.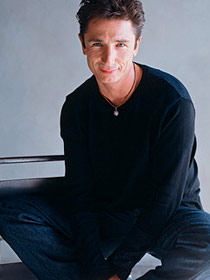 Linda Craddock: Interesting.
Dominic Keating: It's worthy of it.
Linda Craddock: Let's reflect a little on "Star Trek Enterprise" and your role as "Lt. Malcolm Reed". What was your impression of the "Star Trek" franchise during season 1 of the series?
Dominic Keating: Well, I guess I thought it was fairly business as usual. Certainly by the midway of season one I, to be honest with you, I thought we began a slightly different show. When I look back to those days and think well, you know that production team had been together a long time they've had a succession of hits and I think they just, I don't they rested on their laurels particularly, but I think they just went back to making what they knew how to make and the understanding that's what people wanted to watch. By then the whole dynamic had shifted and I think we were offering out some stuff which was maybe a little old fashioned by the end of season one and a little outdated and our numbers dropped off accordingly. In every show has its own meat and meter and by season 4 I think we were hitting a pace. We had some new blood driving the show and it's a shame it was cancelled prematurely. I think we had a least another season or two in us but then you look at the demise of our network and what happened there and so it's no big surprise.
Linda Craddock: I enjoyed the direction season 4 went.
Dominic Keating: Season 4 was great. It really was and like I said with Manny Coto and, you know I really don't want to bash Brannon Braga and Rick Berman at all because God knows for 16 or 17 years they were at this and it's a tour de force unrivaled in television history, really but the work load was enormous for them and how do you stay fresh after so many years. Its almost impossible and they did an amazing job, I mean God knows shuttle pod 1 was in season one, if I'm not mistaken and that was certainly my finest hour on the show. I think one of the finest episodes of the whole series.
Linda Craddock: Were you a "Star Trek" fan prior to your role?
Dominic Keating: Yeah, as a kid I was. I watch the original series as a kid growing up for sure. I looked a bit at new Generation when I first arrived in America, of course, it had an English actor in it. (laughs) Stewart was one of the forerunners as it were on American TV, but no I can't say I was a huge fan prior to getting the job on "Enterprise" and you become an instant fan.
Linda Craddock: Well, you've already answered one question I was going to ask you about how confident were you as an actor with the writers ability to maintain the traditional "Star Trek" story line and capturing the essence what took place before the first "Star Trek series?
Dominic Keating: Yeah, I think they did a good job. The feel of the show was nice. The look of the show was great, without a doubt, I liked, that it had the sense that you were in some submarine space ship, if you will, and it had a bell house, industrial quality to it, which I liked. Initially I thought we were going to be a lot more character driven and it wouldn't be that we were visiting a planet once a week and saving the day and moving on to the next planet which it sort of became. It became business as usual, I think and every week we'd go over, it was an adventure for the actor, especially the first time on a show like that. I mean stage 9 every week was just transported into some fictional fairy land, whether it was a comet or a lush tropical grove or you name it, they made it and they did it in 10 days, it was really astronomical. There were chances for us to become more of a gritty show, more character driven with real emotions and there was a lot more story lines on-board the ship that were being passed over in favor of. Science fiction, planet driven, alien driven story lines and I thought we might be a bit more "ER" in space if you will (laughter). But they did a great job, it was great fun working on it.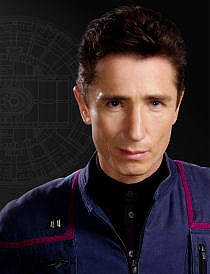 Linda Craddock: There were a lot of uncharted territory with the Vulcan character "T'pol" and her relationship with the crew, her loyalty to "Star Fleet" versus the "Vulcan" empire. Talk a little about that.
Dominic Keating: I didn't follow much about the "T'pol" story line (laughter)
Linda Craddock: That's from a fans point of view.
Dominic Keating: Nice cat suit. (laughs)
Linda Craddock: It was interesting, though.
Dominic Keating: Yes, indeed. Like I said I think the fans get a lot more closer to the history of "Trek" and the nuances of things such as that than the actors ever do I have to say, God knows out of all our episodes I probably only ever looked at about 15 or 20 of them the truth be known. I used to leave town right after we wrapped the show and that's when they'd be showing in America I'd go back to England and then I'd miss them there because they were behind and then I'd come back here and the season would be over and we'd start work again, that's how, literally if I saw post season, if I saw about 3 or 4 of them. I used to get some of the ones I had something more to do in. I'd have the tapes sent to the trailer. Then I'd look at them in the trailer, but other than that, God knows we shot them (laughter), I knew what was happening
Linda Craddock: New technology was also introduced as predecessor to the original "Star Trek" such as transporter capability. Your character, "Reed" in particular was not to anxious to use this particular method of transportation. Tell us what your approach was to that aspect of your character.
Dominic Keating: I just think he was a bit of a ludike where new technology is concerned and slightly resistant to it and so that was a lovely line in that opening episode "for fruits and vegetables only I presume" as he starred rather ominously at the transporter. Yeah, I liked that about "Malcolm". He was a traditionalist and things to be done in a certain way and there was no hurry, to rush to technology if it really wasn't needed. I liked playing that aspect of his character.. Anything concerning ammunition I am sure he'd jump at the chance have it evolve in light years.
Linda Craddock: Did you as an actor have any behind the scenes input to any "Star Trek Enterprise" episode?
Dominic Keating: I did pitch one episode to Brannon at one point where a friend of mine who came up with a smart idea but it was after we were helping out with some tribe in the Amazon Rain Forest and we thought of an episode that could sort of parody the encroachment of people's land like this because of the ever marching of McDonalds or the oil companies. And there were some ideas about the fact that an episode came out and future episodes but we didn't actually get that episode made and aired. I think he thought it was a bit preachy and the end of the day he, they were always careful not to be too preachy. They had a pretty tight reign on it to be honest. I remember very consciences of the words they'd written. I've never know people quite so, you had to ring out to change any word in any of your dialogue whether it was "and" to a "but". I mean they were always open to it but you have to call up, you couldn't just do it. I quite enjoyed the discipline in the end. I learned how to learn lines verbatim and not some sort of version of it, its good training. It was quite an eye opener on day one when the script supervisor came up and went "Ah Dominic you said" and I'm like "your kidding, right". Not on this show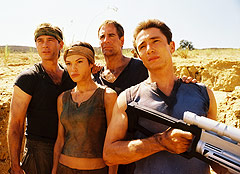 Linda Craddock: In 4 seasons there had to be a very moment on the set?
Dominic Keating: Well, the last when we all said goodbye to each other. I remember when Brad Yacobian gave me my show wrap it was very emotional, I have to say after 4 years and 100 episodes near enough and yeah, it was a real time. I miss those days and working at Paramount with such a great cast and crew. It was such a laugh, I tell you it really was a lot of fun. We did some long hours, too, particularly in the first 2 or 3 seasons, but I really loved it. I loved the structure of going to work at Paramount and having a full time job like that. It was good tonic I have to say, so my show wrap moment was really heartfelt and I'll never forget it.
Linda Craddock: What was your working out routine during the series to stay fit and how much stunt work did you do as "Reed"?
Dominic Keating: Well, I did all the stunts I could do without what might cause real bodily harm. So I couldn't do the kick boxing stuff but I did all that I could do. They weren't going to let me do anything like that but I did a lot of the run and jumps and I did learn to box, particularly for the episode with Steve Culp as what was his name "Major Hayes" was it. Was it "Hayes" it was "Hayes" wasn't it?
Linda Craddock: Yes
Dominic Keating: Gosh, it's all become such a blur. To keep fit I had a little gym in the back of my trailer so I'd lift some weights and I've always kept, one way or another I've kept in shape. I swim at the moment, a lot and I surf and do yoga and I do a lot of stuff but pretty much every day I do something if I'm not working and then when we were at Paramount because I had the luxury of the trailer I'd do a few bit of weights in the back of the trailer. I took the bed out. I have to do something physical most days, I'd go crazy otherwise.
Linda Craddock: You obviously had a great cast and crew chemistry during the 4 seasons with the series. Are you still in touch with your fellow cast members?
Dominic Keating: Yes I am. I see Connor quite a lot, he lives around the corner from me. Not as much as we used to, he's got a baby boy now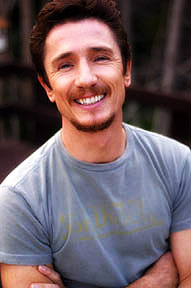 Linda Craddock: Yes.
Dominic Keating: That kind of takes over and Anthony and I are in touch on the phone a lot, we see each other from time to time and the same with John Billingsley. We all got together I guess it is about 4 or 5 months ago now but we were all over at Scott Bakula's for an evening. He's very sweet and has us around there from time to time and we all catch up. I'm going to see John this weekend, actually and I'm reminded I'm going to Jackson, Mississippi to do a convention. Tomorrow morning I leave so I know John's going to be on that and Tim Russ whom I just shot a little film with which apparently is pretty funny called Slugged. It's about product placement in the movies. Me and Gary,Graham, we play these two detectives who try and solve a murder (laughter) just blatant, in the opening scene we're looking over the dead body and the morgue guys come in the with the sheet to cover it and they stop momentarily, it's got "Chai for those extra stubborn stains" emblazoned morgue sheets as it goes over the body and it doesn't stop from there. It's a nice little show we shot and it;s getting some attention. But of all the guys Connor is the one I see most but we do, we stay in touch.
Linda Craddock: The film "Hollywood Kills", talk about that a little bit?
Dominic Keating: That was a horror movie, wasn't it.
Linda Craddock: Yes.
Dominic Keating: "Francis Fenway" I played. A little low budget horror movie but it was fun scripts and I don't know fancied playing this crazywacked out, sort of Jonathan Waters "director-esq" sort of character. Who lures young hopefuls back to his studio in Hollywood and traps them and makes snuff movies out of them. One for the kids. (laughs) I've seen it, it is what it is. It was made for I think under a million bucks. Go see what happens to it but it may find its way eventually to DVD but it was a lot of fun, a lot of blood and it was just fun playing a really nasty person (laughter).
Linda Craddock: Who is your favorite actor/actress?
Dominic Keating: I don't know about favorite, I don't know, I really couldn't say. Gary Oldman, I've always admired. He such a chameleon and actress Judi Dench, I was watching her on "Notes for Scandal" the other day she's inhabits parts, she really, it's quite a trick.
Linda Craddock: Your bio states you worked in a drag act called "Feeling Mutual" in order to get your equity card?
Dominic Keating: I did, I did about 4 or 5 months in drag to get my equity card, yeah. You had to be a union member back in those days and it was a closed shop and I had not gone to drama school and I needed this union card and it was very tricky if you didn't go to an accredited drama school as an actor it was not easy but there was this other route into equity through the variety end and I saw it and took that and I was an opportunist and took a deep breathe and did it and it was quite an experience, I must say (laughter). Having done that I can do just about anything.
Linda Craddock: Well, Dominic I want to thank you for taking the time for this interview.
Dominic Keating: My pleasure.






Comment this interview on the forum