Date of publishing: 10th November 2005


Don S. Davis is a character actor, painter, designer, woodcarver, former theatre professor, and was a Captain in the United States Army during the sixties. Don was born and raised in a small town in the Missouri Ozarks. He received a Bachelor of Science Degree with double major in theatre and art from Southwest Missouri State College in 1965. He then served three years on active duty in the United States Army. Don's television credits also include his series regular role as General George Hammond in Stargate SG-1, and recurring roles in The X-Files where he played father to Gillian Anderson's Agent Scully.
Here is the second interview he did for The Scifi World.


Gilles Nuytens:

Could you talk about your passion for painting and sculpting, what does interest you in art?


Don S. Davis: I'm basically a visually oriented person. I'm eclectic in my visual tastes and any object, natural or manmade, that strikes my fancy at any moment interests me. In my own work I paint, draw, carve, model or build whatever form or type of image in whatever style or medium that happens to reflect my mood at any given time.

Gilles Nuytens:

Why did you choose acting instead of sculpting or painting?


Don S. Davis: I have a PhD in theater and spent many years teaching theater in various North American colleges and universities. Becoming a professional actor was a natural progression.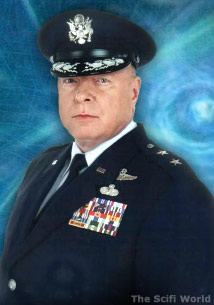 Gilles Nuytens: What are the differences of the lifestyle being in Vancouver and in L.A.?
Don S. Davis: Vancouver is more laid back than LA and is a much pleasanter place to live.
Gilles Nuytens: What do you think of the new direction of Stargate this year?
Don S. Davis: Whatever direction the very talented writers of Stargate SG-1 choose to explore is sure to provide stimulating storylines. Life is in a constant state of flux. Art based on the human condition should reflect that state of continual growth and change.
Gilles Nuytens: What was the most challenging thing you had to do for Stargate?
Don S. Davis: I couldn't honestly pick one thing that stands out from the whole.
Gilles Nuytens: What can you say about the evolution of Hammond from the beginning until now, the psychological aspects or everything else?
Don S. Davis: Hammond, like all of the recurring characters in the series, became more understanding, flexible and committed to the individual members of SG-1 and Stargate Command as the years went on. This is simply a reflection of life itself. The longer we as individuals remain increasingly involved with a given group, the more intensely invested and protective we become.

Gilles Nuytens: Did you watched sometimes Stargate? And what did you think of the result of your work on screen?
Don S. Davis: I seldom watch myself on the screen. Unless you are a raving narcissist you become too critical of the flaws in your performance to judge it objectively. And that subjectivity combined with the over-riding knowledge of what the outcome of the tale will be becomes off-putting. I'm confident that I'm a competent actor because I've been able to make a great living at it for several decades - that's very hard to do - that knowledge is enough for me.