Date of publishing: 6th August 2006



Brian Richardson is the videography director for Dragon*Con and executive producer for Dragon*ConTV, a volunteer "fan film" project that produces comedy videos to show in between Dragon*Con events. Since it's not a professional production crew, "executive producer" covers everything from scriptwriting, editing, special effects, camera, audio, voiceovers, "acting", catering and letting people sleep on his couch after a drunken evening of footage review (a.k.a. watching bloopers in the hopes we did it right once).

In real life, Brian manages a software development team at a software company just outside of Atlanta, Georgia (USA). His wife Suzan helps out with DCTV when she's not tending to their small farm of horses & goats. Their house in Loganville, Georgia ("GeekFarm") serves as the backdrop for most Dragon*ConTV mayhem.

For more info, visit:
http://www.dragoncon.org and http://www.dragoncontv.com
The convention is scheduled September 1-4 2006 in Atlanta, USA.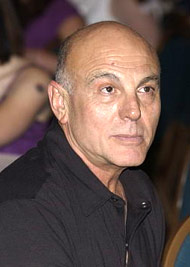 Gilles Nuytens: For the people who doesn't know Dragon*Con, tell us why they should go to Dragon*Con!
Brian: Dragon*Con is the largest sci-fi convention in the Southeast US, and one of the largest in the world. This is the 20th anniversary of the convention that started as small comic book show in Atlanta. It is 96 straight hours of sci-fi and fantasy, thanks to our "takeover" of three of Atlanta's largest convention hotels. Guests cover the entire world of sci-fi and fantasy ... movie stars, TV stars, film makers, writers, artists, astronauts, podcasters and musicians. If you're not there for the hundreds of guests, then show up for the thousands of fans in costume.

Gilles Nuytens: How many people do you expect this year?
Brian: If the pre-registration numbers are correct, about 30,000.

Gilles Nuytens: Dragon*Con is one of the biggest sci-fi convention in the east coast of the USA, how much time does that take to prepare such an event and how many people are working on it?
Brian: There's a few levels of staff at Dragon*Con. The general staff (several hundred) has three official meetings a year between March & July. Directors (a few dozen) meet five times a year & stay in touch all the time by e-mail. Senior Directors seem to love, eat & breathe con and stay involved the entire year. There are only a few paid employees (office manager & assistant).
Technical Operations, which I used to work with, has almost a hundred people on staff ... this team handles video, audio & other voltage-related convention issues. I now run videography, a much smaller staff (9 people), which is in charge of camera operations. TechOps & videography work closely. Several staffers start collaborating on-line in March so we're ready for con in September.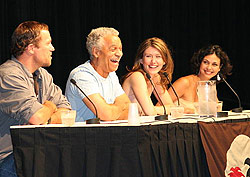 Gilles Nuytens: Dragoncontv.com is an associated site of Dragon*Con, could you speak about this project?
Brian: I started Dragon*ConTV by accident in 2002, when two convention staffers suggested we make an introduction for the Masquerade, the convention's
largest costume contest. Of course, Lucas & Patrick had this idea three days before the contest. They did the editing, I did the writing, and we had a nice introduction done just in time for the event.
The convention director was impressed, and then asked what we were going to do next year :-o
So more friends got together, and we hatched the idea of making fake commercials for sci-fi products .. sort of a "Saturday Night Live" for Dragon*Con. Videos are produced before the convention, shown for the first time before convention events, then made available for free at dragoncontv.com (yes, free, like the rest of the fan films). This helps fight boredom while people wait for the next panel to start, so our friends on Security staff live happier lives. The first year we only had enough to premier before two or three events, now we have hours of content to run in between all of the major events.

Gilles Nuytens: There are a lot of "self-made" videos, short movies, clips on there, all scifi related, how many people works on that and how much energy do you spend to work on those videos?
Brian: Dragon*ConTV has about 20 people in the "core" staff ... few of us have any real experience in video production or acting (it probably shows), but we all have fun making the videos. In recent years we've had a lot of volunteers with great costumes (Klingons, Elves, Hobbits, etc.) that want to be a part of the videos. This really helps the look of our work, plus they bring their own great ideas.
Each year of Dragon*ConTV starts a bit earlier ... this "season" started in February. Ideas are contributed to an on-line message board, scripts are traded by e-mail, and folks show up on spring & summer weekends to tape footage. Editing starts in June/July, then really gets going in August (last chance before con). Each year adds more people who can write, act, edit or produce special effects. It has gone from a silly idea to a great team of really dedicated folks.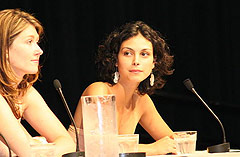 Gilles Nuytens: What's your best memory, or the funniest thing that happened on Dragon*Con, which included sci-fi actors?
Brian: After 8 years on staff, I'm starting to collect them ...
At the convention wrap party ("dead dog" party), having drinks with Richard Hatch (before the new Battlestar Galactica was produced).

During the Masquerade Costume Contest, Anthony Daniels (C3P0, Star Wars) told the audience he felt so safe at the convention that he could just leave his drink somewhere and know it would be there when he came back ... it was stolen minutes later, then returned to him by a six year old child.
At the Dawn Look-a-Like contest, watching Peter Jurasik (Londo Mollari, Babylon 5) crawl on hands & knees after a very, very, very attractive contestant ... all the while knowing he had just recovered from heart surgery and we might have to perform CPR on him at any moment.
Interviewing a real US astronaut, Dick Gordon (Gemini and Apollo missions), who was at Dragon*Con last year ... meeting someone who pioneered the vision that we have of going to the stars.
Watching Peter David convince 2,500 people at a Firefly panel to flip off Nathan Fillion on behalf of Jewel Staite (part of a great practical joke)
Loaning my computer to Walter Koenig (Chekov, Star Trek) so he could watch "Batman: Dead End", a fan film featuring his son as The Joker.
As an announcer for main events ... introducing Peter Davison (Dr. Who) & getting 3,000 fans to sing "The Ballad of Jayne Cobb" to Adam Baldwin (Jayne from Firefly) when he came on stage.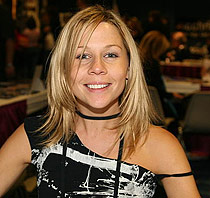 Gilles Nuytens: Do you already have projects for Dragon*Con 2007?
Brian: Yes ... they're all of the ideas we never finished in 2006, 2005 & 2004 :) We have lots of ideas that we never finish due to a lack of time (we have more actors & writers than video editors, and all of us have bills to pay). Fortunately our best ideas revolve around "classic" sci-fi, so the ideas don't expire. Several of our staffers do nothing but create scripts, so we should have plenty to choose from for 2007.

Gilles Nuytens: You have so many guests, how is it to be part of such an event?
Brian: Dragon*Con is a sci-fi fan's dream. The convention literally takes over several hotels, so there's no time than the convention "stops" until the end of the last day. Attending the con is fun, but never as fun for me as working the con. I've had a chance to meet a lot of great fans & guests thanks to my new job creating the official convention DVDs.

Gilles Nuytens: Could you explain the link between your site Dragoncontv.com and the convention, except the sci-fi related stuff of course?
Brian: Dragon*Con staffers represent the majority of our crew, and the senior directors of the convention love the work they do to entertain the fans. Our videos always get shown as part of the convention, so we get instant feedback on our work from a lot of hardcore fans. It's sci-fi fans making comedy for other sci-fi fans. We may have fans of our own now, but we're just an extension of what the volunteers do for their love of Dragon*Con ... so there wouldn't be a Dragon*ConTV without Dragon*Con.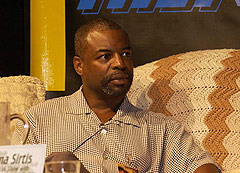 Gilles Nuytens: There are a lot of different events during your convention, what's the most popular?
Brian: The Masquerade is the highest attended event ... three thousand people see it in person, plus it's broadcast within the three main convention hotels and recorded for purchase on DVD. Robot Battles, the Dawn Look-a-Like contest (based on J.M. Linsner's comic character) and the Miss Klingon Empire Beauty Pageant are also well attended.
I'm a huge fan of the parade ... fans & guests march down Atlanta's Peachtree Street, most in full costume. Stormtroopers, Cobra Command, Space Marines, Stormtroopers, Ghostbusters, Klingons, Wizards and more Stormtroopers. It's surreal, but very fun.
Last year the panels for Serenity & Firefly guests were packed full ... almost 3,000 fans per panel. The line went almost all the way around the hotel, and we have big stars from the show this year (Adam, Summer & Alan). We also have the build team from Discovery Channel's MythBusters. I expect those events to pack the house.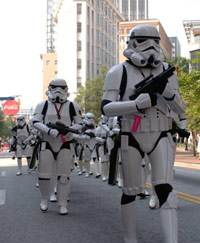 Gilles Nuytens: What do you think has made the success of Dragon*Con?
Brian: Years of getting great guests to a place where fans who can't get to ComicCon or WorldCon ... real sci-fi fans serving as convention staff & directors ... somehow an environment has been created where the staff build a show they as fans want to see every year, and it just gets bigger all the time.
Also check out videos of the past parade, the two TV ads I created for Dragon*Con 2006 and some info about the DVD set (with video from the Miss Klingon contest):

http://dragoncontv.com/videos/50/
http://3chip.com/wp/?p=13
http://3chip.com/wp/?p=12
http://3chip.com/dcondvd/