Date of publishing: 6th September 2008



The handsome and talented, Ed Quinn brings a charm to Hollywood that is comparable to the leading men of yester year and can currently be seen dazzling his fans on the hit TV show "Eureka" on the Sci-Fi Channel. The show is set in a small town called Eureka that is nestled in a remote part of the Pacific Northwest. The town which is very unassuming to the average onlooker is anything but ordinary! Developed after WWII by President Truman, Albert Einstein and other trusted advisors, the President brought together the nation's top scientific minds to conduct top-secret research on behalf of the government. However, what they've unintentionally created is a place where anything imaginable can happen and usually does. On the show, Quinn plays one of the lead characters, 'Nathan Stark' a charming, Nobel-prize winning mathematician and Eureka's head researcher, The series had the most successful season ever for the network and brought in over 5 million new viewers and made the channel the #5 most watched cable channel on TV and "Eureka" the #1 watched show for the network!
Quinn grew up in Berkeley, California, and earned a Bachelor's Degree in History from the University of California, Berkeley. After graduating he worked as an actor and model in Paris, Barcelona, and Milan, tearing up the runaways and landing parts in more than 35 international television commercials. Things were going so well with his commercials/modeling that the he was encouraged to return to the States and focus on his acting, as they could see that he had a natural gift for the craft. With that encouragement, he soon returned to the States in 1995 to pursue his acting career. He has starred in feature films such as Touchstone's Starship Troopers II and Beeper, opposite Harvey Keitel. This interview has been conducted end of June.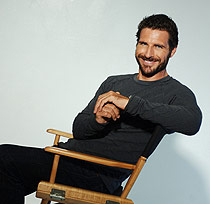 Gilles Nuytens: You studied History in California and then you wanted to travel around the world. This was the stuff that led you to a modeling and acting career, I believe. How did you go from history studies to modeling and acting?
Ed Quinn: I was at University of California Berkeley and I was a surfer. A photographer saw me on the beach and wanted to shoot some photos. So I started modeling my last year [of school]. I always wanted to travel in Europe, to study abroad but I could never afford it. So I used the opportunity to go to Europe to model. And to be honest, I wasn't a good model. I was too big, I wasn't pretty. I wasn't old enough. Modeling was not very good for me, but I shot I think thirty-seven commercials while I was there. In Spain, and in Milan, and in Paris, in two years I shot about thirty-seven commercials and everybody I would work with said "You're wasting your time at modeling. You're never going to be any good, but you may be a good actor. You should go to Hollywood." So I took their advice and I moved to Los Angeles.
Gilles Nuytens: And modeling, was that something you liked to do?
Ed Quinn: No, not very much. I liked the travel and I loved doing the big runway shows, the collections, in Milan and Paris and Barcelona, but as far as standing, I like to talk and models are not supposed to talk. So I would always be talking and the photographer and the designer would be [saying], "Shut up, shut up, shut up!" And I'd have many things I want to say, but nobody cares what you have to say when you're a model. But when you're an actor, Ahhh!
Gilles Nuytens: Do you still do commercials sometimes or modeling?
Ed Quinn: Modeling no, but commercials I will still do. I just did two Cadillac Escalade commercials with the big feature film director Joe Carnahan. He did all the commercials with Kate Walsh for Cadillac and he's the director of Smoking Aces and Dark. Commercials I still definitely will do but as far as the modeling jobs, no. Modeling is a whole business that takes a lot of time and you have to put a lot of time into. I'm just far too busy with my acting career to really pursue it anymore.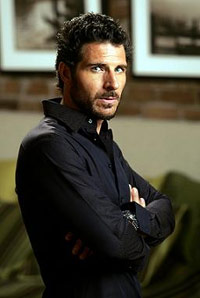 Gilles Nuytens: I heard you're trying to put together an album. How is it going?
Ed Quinn: I have been rehearsing this year before I started filming and I hopefully will have a recording in August. So hopefully I'll have some songs that I'll be able to put on iTunes. I want to put out a small album very soon and then be able to continue to record after that. I've been working for a long time on developing a new sound, writing new material, and revisiting old material, songs that were good songs but need to be played in a different way, I believe. I think with as much work as I've been doing with acting, I think my music has matured as well.
Gilles Nuytens: Do you sometimes do some small concerts or something like that?
Ed Quinn: Yeah, I haven't played live in a long time, but mainly in a studio, but I love to play concerts. I have a drummer named James Austin. He and I work on most of the music, but our bassist lives in Austin, Texas. So it's hard to schedule concerts...you need a full band. So, once we do some recording that'll be the next step: to get a full band together so we can start playing some live shows.
Gilles Nuytens: I think you finished the shoot for the Rainbow Tribe some months ago now. What did you like in the project?
Ed Quinn: It was fun working with all the kids. It's a movie about a camp and we filmed at camp. I just had a great time. Daniel Frisch, the executive producer and writer, it was really a passionate piece for him. There's rumor that we'll shoot a sequel this summer. The first one has not even been released yet, but they already want to start filming a sequel. It was just a really fun job and it was really fun to be up in the mountains sort of filming, camping, and having a good time.
Gilles Nuytens: Except Eureka, do you have anything else in the pipeline that we haven't yet heard about?
Ed Quinn: I shot a pilot that was for an internet web series that's kind of like a Law and Order series written by the executive producer William Forbes. I shot that just before I came up here and that could be something that would be really fun to do. The internet is the future so being able to do a series for the internet would be really interesting. And right now I have a couple of movies out there. There are always a couple of big projects that you hope are going to come through and hopefully during my hiatus I'll be working on them so we'll just have to see.
Gilles Nuytens: So you went for a web series. What do you think about this concept of web tv shows?
Ed Quinn: Well, you know I think in a sense it's going to be the future, it's being streamed more. You know, if I miss an episode of, say, Friday Night Lights, I'll stream it online. I'm a huge MotoGP fan, motorcycle racing, and I prefer to watch the races live on the internet instead of waiting for the rebroadcasts on American television because it doesn't have as good of coverage. So I think the future will be that most shows are going to stream on the internet. It's definitely a territory which I'm very interested in exploring and being a part of as one of these pioneers.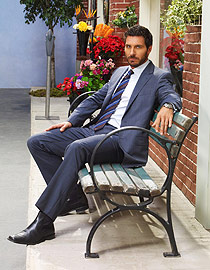 Gilles Nuytens: Did you already shoot all of the episodes for season 3 of Eureka?
Ed Quinn: No, we're on episode five right now. We're doing twenty-one episodes this season. We're on episode five, but we're doing eight and then there's a hiatus and then we're doing thirteen.
Gilles Nuytens: Without giving any spoilers, how happy are you with this season so far?
Ed Quinn: It's been really fun for my character especially. There's a very strong arc. And I know exactly where the character is going. There's some big powerful reveals this season that I think the audience will be very excited about.
Gilles Nuytens: Knowing that season two was a bit less comedy oriented than season one, are there any major differences between this season and the previous seasons?
Ed Quinn: No, season three is still very much the same as season two. It's definitely a big, dark procedural Scifi, dealing with life subject matter. It definitely feels like this show has found its home. The network and studio really love the show and want to see it have some longevity. That's why they've ordered twenty-one episodes. We had a lot of episodes ordered. I know they are trying to deals for season four. They're very happy with the show, so hopefully we'll be around for a long time.
Gilles Nuytens: What was your favorite moment from the past seasons, including season three if you can speak about it?
Ed Quinn: I think my favorite moment so far this year was Salli Richardson gets covered in mud. And it was freezing cold and she was in this beautiful dress, her hair was all done beautiful, and they turned these huge mud machines on her and just soaked her. And she was so angry, so cold, and so sad, and I laughed, and laughed, and laughed. I laughed for days. I went home the weekend and I'd wake up in the morning and I would say "Is it Christmas?" and I would say "No, it's not Christmas"; I can still remember Salli covered in mud. She's in the car with me now. She does not think it's very funny.
Gilles Nuytens: What do you enjoy the most being part of this show?
Ed Quinn: I think it's the people. I think it's every day we just laugh on the set all day. I mean, it's hard work, but we have this incredible crew. Robert Petrovicz, who is our UPM, he has this amazing crew that he's been together with for about seven years. They really are like a family. The cast has this amazing sense of humor. So all day long we joke around, make fun of each other, make fun of life itself, it's that type of thing that's the best part. When you put in these kind of hours you want to be in a place that's fun, energizes you, and you know you have a lot of friends and family. That's what the show really is.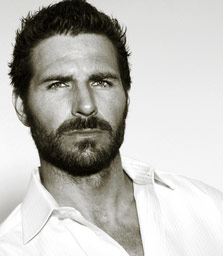 Gilles Nuytens: People like to hear funny stories from behind-the-scenes. Is there anything else that has happened recently on the sets of Eureka that you'd like to talk about?
Ed Quinn: Oooh, let me see, funny stories recently this season. Ah, I think the funniest thing was at one point I went to see the band Iron Maiden, who I love, and I happen to know the tour manager and so I got these back stage passes. I talked to the ADs and they said my call time was around noon. So I went to the Iron Maiden show, had this great time, and had all my dialogue down, and it was great. But while I was at the concert, at 11PM, they realized that they needed to do a second unit, not the main unit, but they had to pick up all these other shoots, and so they changed my call to 5:30AM. I got home from the concert at about one in the morning and instead of going to work at noon, I have to be at work in a few hours. It was something else. Everybody thought it was so funny because there I was so tired, and all the dialogue had changed, so I had all of these scenes that I didn't know I was going to shoot but I prepared all of my work before I went to the concert. When I got out to the van the whole crew was just laughing and cheering and made fun of me all day. That was one of the funnier moments.
Gilles Nuytens: So you are also a singer. Did you ever think of maybe doing one song for the soundtrack of the show?
Ed Quinn: I've thought about it, but I didn't have anything recorded. Once I have something recorded I'll definitely be putting it out there for the possibility of soundtracks and stuff. I really haven't gotten the chance to submit anything because I don't have anything recorded that I was really proud of. I've played in a lot of bands and did a lot of demo work before, but nothing that I really want out there public as of yet. Hopefully that will take place this summer and I'll be able to start submitting to shows.
Gilles Nuytens: Starship Troopers 2 was very different from the first one. Some people say it was even better. What did you like about that movie?
Ed Quinn: I had such a great experience on that movie. Some people liked it, some people didn't. It was what it was, but for me it came at a time when I hadn't worked in a long time. Ed Neumeier and Phil Tippett are great individuals. They are such passionate filmmakers. Phil Tippett is a legend in the special effects world. This was his first time to direct and we just went and had such a great time and for me I went into the movie really just wanting to work. I wanted to show up every day. And I wanted to basically, hopefully, make the movie better every day. I was able to do that. It was really such a great confidence boost. It, for me, came at a great time in my career, just to kind of boost my confidence. And I love Science Fiction. I loved the first movie and I was just really proud to be a part of it and work with Ed Neumeier and Phil Tippett.
Gilles Nuytens: If there was a third one, would you like to be a part of it?
Ed Quinn: There was already third one. I missed it because I was here. They filmed it in South Africa. They called me, but unfortunately they were filming in South Africa and I was filming up here [in British Columbia].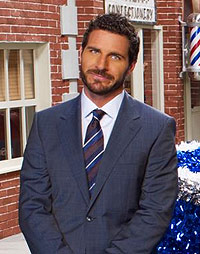 Gilles Nuytens: So you said you like Scifi. What does Scifi represent to you and what are your favorite Scifi movies, series, or books and what do you like the most about them?
Ed Quinn: I just like the imagination. I like the incredible worlds that they take us to. I saw Star Wars when I was a kid and it almost ruined my life just because I couldn't believe there was this world of X-Wing fighters and lightsabers and I wasn't a part of it. And movies like Bladerunner, it doesn't matter how many times I've seen that film it just fascinates me. I just love it so much. It's just one of those special genres that you can revisit and revisit. Like the western. It never gets old. There's just so many stories to tell. It's such a world, as human beings, for some of us it's where our imagination just peaks. And it's just this place that we want to revisit over and over again.
Gilles Nuytens: After the writers strike, there have been rumors of an actors strike. What's your position about it?
Ed Quinn: It's a tough time right now because with the internet and the huge studios trying to work out their business models, it's a really difficult time. I fully supported the writers strike, but I hope the actors and the producers can come to an agreement. But if our SAG board members say that "we can't reach an agreement, that we can't reach a deal we can sign," then we don't have any choice. Frances Fisher is on our cast now. She's involved with SAG and she talks to us a lot about what's going on. As far as being part of a union is that word solidarity. I don't want to strike, I want to work. The writers strike was bad enough. Nobody wants a strike, but unfortunately sometimes you can't do what you want; you have to do what is best for the collective. Hopefully it won't get to that. There's been no vote to strike as of now and I hear there's negations going on so hopefully we can get the deal done and everybody can get back to work and be happy. That's my wish.
Gilles Nuytens: If you were given the opportunity to play a character of your choice, in a movie of your choice, what would you like to play? What would you choose?
Ed Quinn: I think the thing is for me that one of the best things about being an actor is never quite knowing where your journey is going to take you. I have a couple of scripts that I'm writing, there are roles in it that I would love to play, but not just because I want to play them, but because I'd love to see the movies get made. And the best part about every day is the phone could ring and a new script can come in and you can see a character that you just [didn't see coming]. Part of the best part is the not knowing. And there are so many great stories to be told and so many great characters being written as we speak that I never even think like that, whether I want to play. I get out of bed every morning and hope that character is going to come land in my mailbox.
Gilles Nuytens: Now during an interview, what kind of question do you like to answer? What question would you like to answer right now? Is there anything you would like to answer now?
Ed Quinn: I always just like to let the fans know how much we appreciate their support on Eureka. The fact is you do this for an audience and they always need to know how much they are appreciated. Not just their viewers, the viewing of the product, but their feedback especially with the internet that's so amazing with all the websites and chatrooms and stuff. People can respond to what they like and what they don't like about a certain project. And as filmmakers we can read that and learn from it and so I'd like to make sure the audience knows how much we appreciate that.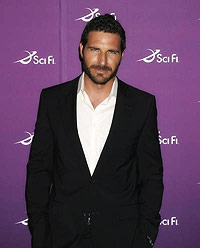 Gilles Nuytens: Do you sometimes go on the internet to check what people say about you?
Ed Quinn: All the time. I go all the time. The fact is some people who are going to really like you, whatever you do good work or not, there's a lot of people who are going to really hate you whether you deserve it or not, but I think when you read what people have to say you kind of get a feeling of if your work is having an impact, if it's touching people a certain way, if people are having a response, especially on a show like Eureka. My character's main objective is to create tension and conflict. Some people love that and think it's really funny, some people don't like it because they don't like tension and they want the show very copasetic. It's fun to see the audience's response. You never take it personally and you gotta realize it is what it is. You can't take it personally—the good or the bad, but you can learn a lot and that's what I really like to do. I just read some of the chatrooms here and there and just learn a bit from people's responses.
Gilles Nuytens: Do you sometimes want to answer them yourself directly?
Ed Quinn: No, not really. I don't. I don't, but I know some actors do. I tend to let the work talk for itself and trying to get into a debate with people about this, that, or the other I don't think will do anyone any good. The best thing to do is work harder. You can't please everyone, but do the work that you're proud of and hope that people understand it when they see it.
Gilles Nuytens: Is there anything to add or say about a movie or anything that you would like people to know about you?
Ed Quinn: Nope, not so much. Just thank them for the support and the response to my work so far. Let them know that I'm constantly trying to find new projects, bigger projects and bigger responsibilities and that will never end.