Date of publishing: 22th June 2005



You all probably remember Ellie Harvie, a.K.a Dr. Novak, the hiccup engineer officer in Stargate SG-1 8x12 "Prometheus Unbound". She kindly granted me an exclusive interview!
she tells us about her time on the set and reveals us she will appear in several episodes of Stargate Atlantis! Ellie's career started at the Vancouver Playhouse Theatre School where she soon met Gary Jones (Master Sergeant Walter Harriman) before she got a part as Morticia on "The New Addams' Family" TV series.


Gilles Nuytens: Hello Ellie, Glad to know you! May you tell us a little more about yourself, about what drives you, about you career?
Ellie Harvie: I wanted to be an actress since I was 3 or 4 years old watching "Abbott and Costello" and "The Three Stooges." I loved Carol Burnett and Lucille Ball and Gilda Radner. Throughout school and with my friends, I was always a clown and dreamed of being an actress. However, I didn't really pursue acting until after I got a Bachelor of Arts in Political Studies. I did that for my parents and then set my sights on my own goals. I got my acting training at the Vancouver Playhouse Theatre School and did many years of theatre and touring. Eventually I ended up at the Vancouver TheatreSports League and began my love for improv. (This is where I met Gary Jones). TV and Film parts started coming to me about 10 years ago and playing "Morticia" on "The New Addams Family" TV series was a big break for me. I learned all about the camera and love it. I still do improv and stand up comedy from time to time, but I don't do theatre as it takes too much time away from TV and film auditions.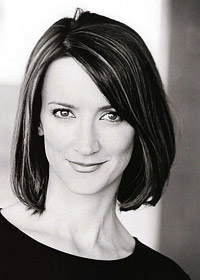 Gilles Nuytens: So you played in the episode 'Prometheus Unbound' in the eighth season of Stargate SG-1, your role will definitely be remembered by a lot of fans! Will you be back this year? What about Atlantis? They do have a ship a lot like the Prometheus, is there any chance to see you aboard it?
Ellie Harvie: I have already shot an episode of Atlantis this season and have just received word that I will be back for another Atlantis - I shoot it in late July.

Gilles Nuytens: The way you portrayed Dr. Novak seemed so spontaneous, did you improvise some lines or was everything scripted beforehand?
Ellie Harvie: The producers know me as a comedian and an improviser, so they were very generous in letting me try things out. However since we have to shoot the same scene several times from different angles, everything I did was set in rehearsal.

Gilles Nuytens: Your appearance in this episode is one of the key factors for its success and it's definitely one of the funniest episodes of the show, or so I think. Your interpretation was really the icing on the cake, what do you think about it?
Ellie Harvie: Well thank you. I always enjoy being icing. Who doesn't like icing!

Gilles Nuytens: The famous glass scene was probably the most hilarious scene of the whole episode, I heard it was your idea? How did you come up with it?
Ellie Harvie: Actually the idea to drink the glass of water up side down was the director's - Andy Mikita. When he suggested it I started laughing, so I figured it was funny. I know Gary remembers it differently. It was however, my idea to have "Walter" pass me the glass. I know Gary so well, I knew that he could make that moment funny.

Gilles Nuytens: What did you put into the character that wasn't already in the script?
Ellie Harvie: I had heard that when the producers first read the script they all thought of me, so I think the character was already there in the writing, just waiting for me.

Gilles Nuytens: You must have some anecdotes about the shooting of this episode, do you have one you would like to share with us?
Ellie Harvie: Since I was a Guest Star, my trailer was nicer and bigger and more air conditioned than Gary's. He had brought his dog that day as it had just been spayed. Gary knocked on my door and when I answered he loaded his dog and all his stuff in my trailer and said, "Yeah, I'm staying in here with you!" I would have done the same to him. He is like a brother and I was happy to share his company..and his dog's.

Gilles Nuytens: Do you have another anecdote non related to the Stargate SG-1 set?
Ellie Harvie: Throughout my career I have worked with, Arnold Schwarzenegger, Adam Sandler, Kevin Nealon, Bobcat Golthwaite, Martin Short and many, many more talented actors. I have so many anecdotes I wouldn't even know where to start.

Gilles Nuytens: What is you best memory of your time on the Stargate SG-1 set?
Ellie Harvie: I love the actually shooting. I enjoy it when the shooting is challenging - long shots with lots of movements and lots going on. It is a real challenge to get things right for the camera. It was a great crew and I remember we all really worked well together.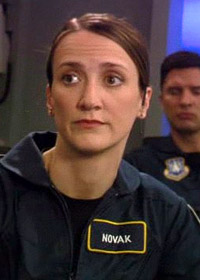 Gilles Nuytens: You played in many SCI-FI TV series such as The X-Files, Andromeda or even First Wave; Are you attracted by this genre or did you just happen to be in the right place at the right time?
Ellie Harvie: Vancouver seems to produce a lot of Sci-Fi. It is great as an actor because it is really fun. The stakes are life and death, the characters are often bizarre. It is a different world. In the television world, you really only get that from Sci-Fi.

Gilles Nuytens: What do you think of Dr. Novak, do you have anything in common with her?
Ellie Harvie: Well, we look a lot alike! I probably have way more confidence and dare I say sex-appeal, than Novak. But she's much smarter than I. She is an engineer! I dropped science in grade 11 when it started getting difficult and turned to "The Arts." What I do have in common with her is "dumb luck." The fact that she would get a hiccough fit at a really important meeting is something that would absolutely happen to me!

Gilles Nuytens: You met up again with a close friend of yours, Gary Jones. How was it like to appear together on screen in this particular episode which became his favorite one partly due to your presence in it?
Ellie Harvie: It was strange for me to see Gary in a supporting role on an essentially dramatic show. He is one of the funniest people I have ever worked with. When I started in comedy he was "The Guy." If you could make him laugh, if you could make him want to work with you then you were officially "good." I think the opportunity to dabble with our comedic chemistry was fun for him, considering Walter is a pretty serious guy. I am glad to see he is being used more and more on the show.

Gilles Nuytens: Did you have to work on the spontaneous streak in your character or was it entirely genuine?
Ellie Harvie: I'm not sure if by character you mean me personally or my Character Novak.
If you mean me personally, the answer is - I had to work at having the confidence to say the spontaneous things I was thinking, but my thinking was always spontaneous.
If you mean Novak - I'm not sure she is spontaneous so I'll say I didn't have to work on that, it just happened.

Gilles Nuytens: Thanks a lot for answering my questions. We hope to see you on the 9th season of Stargate SG-1 (I strongly recommend the producers to consider it!), would you like to say something to your fans?
Ellie Harvie: You never imagine fans when you get a job. You're just happy you got a job! But then you just want to be good - know your lines, have some fun, bring some moment to life on the screen. The fact that people are supportive enough to "google" you and to read interviews and to take an interest in your career is truly flattering and humbling. I'd say to them, thank you so much and I hope to bring you more enjoyment throughout my career, which I hope is very, very long!