Date of publishing: 13th June 2007



Emilie Ullerup was born in Denmark. With her father's job, she travelled a lot around the world, including Belgium, USA and Vietnam. Now she resides in Vancouver. She always knew from an early age that she wanted to act. So by the time she finished high school in Copenhagen she decided to come to Vancouver to pursue acting in 2003 and attended the Vancouver film school. She graduated from there in 2005. It took her a while to get her work permit because she isn't a Canadian citizen. She finally got the work permit and have been working ever since. She got small roles in Battlestar Galactica and Blood Ties and now has a main role in the web series "Sanctuary", playing Ashley Magnus, the daughter of Helen Magnus (Amanda Tapping). For more information about Sanctuary, visit www.sanctuaryforall.com




Download the audio interview by clicking here (Zipped MP3 file)
Disclaimer: Please, do not direct link to this file, link to the page ONLY.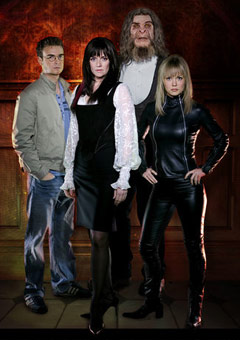 Gilles Nuytens: Let's start with a little bit about you. How did you become an actress? What is your background?
Emilie Ullerup: Well I grew up in Denmark. Well I really grew up all over the world. I was born in Denmark and then we travelled around a lot with my father's job. I always knew from an early age that I wanted to act. So by the time I finished high school in Copenhagen I decided to come to Vancouver to pursue acting. I moved here in 2003 and attended the Vancouver film school. Which is a film and TV school. I graduated from there in 2005. It took me a while to get my work permit because I'm not a Canadian citizen of course. So I waited a long time and then last year I got the work permit and have been working ever since.
Gilles Nuytens: What motivates you in life and what do you like to do when you are not acting?
Emilie Ullerup: I think the strive to always do better is a great motivator for me. In all aspects of life. Not just in acting of course you can always do better you can always go deeper. But with friends, with family, with everything there is always the opportunity to do better next time. I think that is really important to remember that there is more to do. When I'm not acting I'm a bit of a fitness fanatic so I like to run and do yoga, spend a lot of time at the gym and things like that. Other than that it is mostly just friends, I mean I don't have my family here so my friends have kind of become my family here and I spend a lot of time on that.
Gilles Nuytens: Why did you choose to become an actress instead of doing something else?
Emilie Ullerup: It's one of those things that I always kind of – I always wanted to do it. But a lot of the time when you say it to other people they kind of laugh. They just never think that it is the best career choice for a young woman. But I finally just decided that you know I have no plan 'B" there is nothing else I wanted to try and do. So why not give it a go and then we can always worry about plan 'B' later. But there was no, it just didn't make sense to not do it for me.
Gilles Nuytens: Tell us how you got the part in Sanctuary.
Emilie Ullerup: Well it was a pretty traditional way of getting a part. I was called in for an audition. I knew nothing about the project other than the little bit of information that I had gotten from the audition sides. And I went in and did the audition and then I got a call back a couple of days later. I was thrown into the room and Damian Kindler was there and Martin Wood the director was there, John Smith, executive producer, a lot of people were in the room and I did the audition once again. Very unexpectedly in the back of the room stood the stunt coordinator BamBam. And I was caught off guard when they told me that BamBam was going to come up and you know teach me a little fight sequence and then we would see how I did. Upon talking to Damian later I know that that was one of the most important aspects of getting this character is can you physically embody Ashley. So I was thrown into this little fight sequence and I had to do it. Did it a couple of times with BamBam and then I actually heard back that same morning that I had been cast for Ashley and I was just over joyed.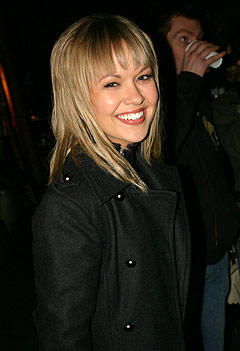 Gilles Nuytens: Have you enjoyed the show as far?
Emilie Ullerup: Absolutely, I think it is the most fantastic thing to be a part of. It's this huge creature and there are so many aspects to it and it is so new and so refreshing. It is truly inspiring I think and the feed back we have been getting so far just seems that it is not just that I think it's great. I think there are other people that really enjoy it too. So it is just a pleasure to be a part of.
Gilles Nuytens: What do you think of the concept of online shows?
Emilie Ullerup: I'm learning about it as we go along it is so new. But I think it is an absolutely brilliant idea, especially in terms of fan involvement. I think it is fantastic that they can feel so connected to the show and to us as actors, to the characters to everything. It is truly amazing that what we do can be put out onto the internet for the entire world to see. Instead of just you know a single network, which is also very nice. But it is so new it is really interesting to see how wide it can spread. I think it's the future, I think it is a revolutionary aspect of TV. I think that it's really going to change TV.
Gilles Nuytens: What do you think about how some people think it is not enjoyable to watch a show on a computer screen instead of a standard TV screen. I think some people hesitate to watch it because on a computer screen it is not as enjoyable as TV.
Emilie Ullerup: I understand where that is coming from because at first I was like, I don't really want to sit in my computer chair, I would much rather sit on a couch and watch TV. But I think with anything that is new and anything that is different it takes a little while for people to, just to be okay with that because it is different. But I think it just needs some time to sit with people and hopefully the show is good enough that they will be drawn to their computer screens to watch instead of the TV. That's all I can hope for; I mean I'm watching the show online of course. It is part of the entire experience.
Gilles Nuytens: Are you happy with what you have seen so far?
Emilie Ullerup: I'm very happy. What is so exciting for us in the show as actors is we have no idea what to expect when we see it. You know we go in and we shoot for an amount of time and we shoot on green screen and it's new for me too when I watch it and I'm so excited to watch all the CGI things and backgrounds. And I think it is gorgeously animated, I think it is really, really a pretty show.
Gilles Nuytens: What type of feedback have you received so far?
Emilie Ullerup: Well as you know Ashley has not spoken much yet in the webisodes. So a lot of the people I think are still waiting and yearning for her to say some more words and have some speaking scenes. But so far from what I can tell from the amazing fans that we have they love it. They love the entire concept and they are just really excited. They are just as excited as we are and that's really fantastic.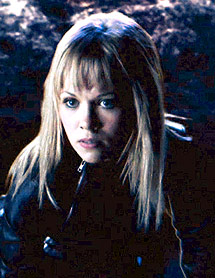 Gilles Nuytens: We have not seen much of your character yet so can you tell us a little bit about Ashley?
Emilie Ullerup: Yes I can. Ashley is a, she is an act now think later sort of person and she is extremely courageous in what she does. I mean she has never known any difference of course. She has grown up in the world with the knowledge of creatures that many haven't and she takes it on single-handedly most of the time with monsters and abnormal beings. She just has an extreme courage and drive to succeed. And that gets her into some sticky situations at times of course because these abnormal beings are not always easy to kill. But overall I think she is a character of determination and ambition. Maybe sometimes she should think a little bit more before she does things as she has been told by her mother countless times I'm sure.
Gilles Nuytens: What characteristics of yourself do you bring to Ashley?
Emilie Ullerup: I would say probably the drive and the ambition. I think both Ashley and I at times can be completely blinded by what we are doing and where we are going that's the most important. I like to think that I think a little bit more sometimes than Ashley does and I think things through before I put myself in mortal situations. But I think we share a drive, yeah we share the drive for sure I think that is the most important piece.
Gilles Nuytens: Ashley is the daughter of Dr. Magnus, how would you describe their relationship?
Emilie Ullerup: It is a complicated web I would say. Ashley and Magnus don't necessarily always see eye to eye on their work. I think at times Ashley is impatient with her mother's constant need to study these creatures. And I think that that leads to some friction in their relationship. There is definitely great love and great respect on both ends. Ashley respects her mother's work and I think Helen realizes that she needs Ashley also. So there is a great amount of respect but at the same time I don't think that these two characters fully understand each other. I think that is going to lead to some definite stress in their relationship.
Gilles Nuytens: So you are new to the craft of acting, what kind of advice have you gotten from your co-stars if any?
Emilie Ullerup: You know I did not get much complete advice but what was absolutely fantastic was getting to work with Amanda on this. She has been doing this for such a long time, she knows this business like the back of her hand and I sense that being new and coming in and working with her she's really been fantastic in taking me under her wing and making sure that I get treated with the same amount of respect that she gets treated with and she has just been really great at making me feel like I am not the new comer. That I deserve to be there just like everybody else and the entire crew I mean they have all worked together on Stargate and know each other really well but they have all just been so great in taking me in as the new comer and making me feel like I have been doing this for a while. But no direct advice, I just get the feeling that they have been really kind and accepting and welcoming of a new actor and I think that is fantastic.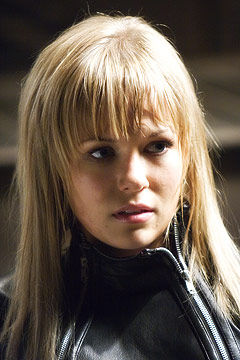 Gilles Nuytens: Did you already know about Stargate before getting this role?
Emilie Ullerup: You know I did not know too much, when I got the role I knew of Stargate of course because it shoots in Vancouver and Atlantis and I knew Amanda Tapping and I knew the names because I had watched a couple of episodes. But I had not followed it religiously, now of course I watch more. But I did not know much.
Gilles Nuytens: What is the most interesting thing about playing on Sanctuary?
Emilie Ullerup: I think just the fact that you know as a girl I get to go to work everyday and play with guns and knives and fight all day long. I think that is absolutely fantastic. It is rare that we get to do that as girls. I love the fact that I got to embody this aggressive character and it has just been a joy to play with that, to be held up and all the fun little things like wire work – you are hanging in the air. Just you know all that kind of stuff is just a joy and it's so much fun.
Gilles Nuytens: What has been the most challenging aspect?
Emilie Ullerup: You know I think we can turn that around and say the physical aspect was also the most challenging. It was the most enjoyable but it was also really challenging. Prior to coming onto Sanctuary I've had no training whatsoever with fight training or weapons training or anything so I came into this not really knowing anything. So really to kick and make it look like I have been kicking since I was crawling and punching and all that kind of stuff was very challenging for me. At the same time remember that I had to act on top of that because otherwise it would really be lousy. But that was definitely a big challenge learning all that and I mean it is hard work too physically. I would come home after the day and I would just pass right out, while we were shooting that is all I could do. I could go to work, I could love it, I could fight and then I would go home and just be done for the rest of the time.
Gilles Nuytens: Playing most of your scenes on green screen is that something you find very challenging or less challenging?
Emilie Ullerup: At first when I heard before we started filming and I heard that we were doing the green screen, I certainly got a little bit scared because I didn't know what to expect but once you are in there and you still have your props which I think are your most important and you still have your actor there that you are acting with. The environment just kind of comes to life on its own. Martin Wood is great with coming out with almost blue print like drawings where he would show us where everything was and so it all just came to life once you were shooting the scene and I didn't find it that challenging in the end. Which was nice because I was definitely a little intimidated by the thought of not having anything around me.
Gilles Nuytens: So far what is your best memory from the show?
Emilie Ullerup: This show was one of those where you wake up every single morning and you have butterflies in your stomach and you just can't wait to go back. There's so many great things about it, right down from Martin being completely silly and fighting with Robin [Dunne] at all times who plays Will and to the more serious scenes of heartache. They were enjoyable days too. I think the entire experience has been one big happy place for me.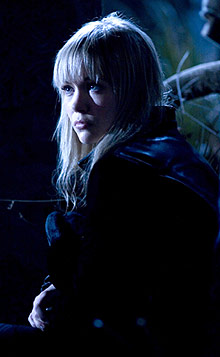 Gilles Nuytens: Do you get a lot of creative freedom with your character?
Emilie Ullerup: Yes, I would say that I do. The great thing about coming on to a show right from the beginning is that Damian writes the script but we are all together finding the characters together from the beginning and we're finding the story together. So while we all get scripts with words and writing on it, Damian is also always saying: If there is anything that you want to add or anything that you don't think is working for your character then please let me know and we'll definitely change it. So yes, I know that at any time if I don't find that it is true to me then I can get it changed, or I can play with it. I can come on set and say let me just try this a little bit different and then they are all completely OK with that and that is nice as an actor not to be completely stuck to the script because that is hard.
Gilles Nuytens: Yes, to give some of your own ideas …
Emilie Ullerup: Yes and my own personality and all of that. You are allowed to do all of that and it is really nice.
Gilles Nuytens: Are you much of a sci-fi fan yourself?
Emilie Ullerup: I always fear this question. I enjoy science fiction. I have not watched as much as I probably should. I'm learning now, I'm learning about it, I am studying it and I find it truly interesting. I love that there is the creative outlet and this huge universe of possibility where you don't have to follow the rules where everything doesn't have to be exactly like we are. I love that it is OK to write about abnormal beings and still have people really interested and not have people discarded and well it's not realistic and this doesn't happen in real life and I love that there is this whole other world that we are exploring in science fiction but I definitely have to watch more science fiction. That is one of my things this year.
Gilles Nuytens: Outside of Sanctuary do you have other projects?
Emilie Ullerup: Yes, I start filming throughout the summer another TV show that is called Jpod and it's a Canadian show and it's in Canada so far and I don't know much of the details yet other than the fact that we are shooting and that it will be airing sometime soon I imagine. So that's what I will be working on this summer.
Gilles Nuytens: Is there a project or movie, TV that you would really like to join or be a part of?
Emilie Ullerup: I would really love to be a part of Heroes. Even if they just wanted to give me a little part in the background or something, I would love to be a part of Heroes because I think that is a revolutionary and amazing show. And I guess that would fall under the category of science fiction too but right now I'm just so happy to be working in general. I'm really, really excited about what's happening with this show.
Gilles Nuytens: Well I'll cross my fingers too for you to get a role in Heroes.
Emilie Ullerup: Thank you very much!
Gilles Nuytens: So you also played a small part in Galactica can you speak a bit about your experience there?
Emilie Ullerup: Yes. Well Battlestar is always going to... I'm never going to forget that because Battlestar Galactica was my first audition ever and I had never been out on an audition before and I got the part so of course I will never forget that. And coming onto as the first thing you ever work on Battlestar is huge, it has a huge following, it is a huge show and I was lucky enough to get to do most or all of my scenes with Starbuck who is just a delightful being and it was, I hit the ground running with Battlestar Galactica and it was a great first experience. It's a great show I think, I think it is doing so well and it was definitely for me a different kind of role for me. I got to play a mother, which I'm not a mother, I'm 22 and it was a good challenging part. It was a heavy emotional part and getting to play that with Starbuck was really a pleasure.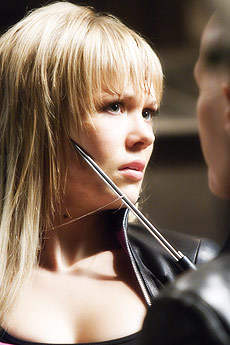 Gilles Nuytens: Yes, getting your first audition in a show like Galactica is very impressive.
Emilie Ullerup: Thank you, I was very overwhelmed. It was a great first, it was a great way to start for sure, it was amazing.
Gilles Nuytens: You also played in a show called Blood Ties can you speak about your role on that show and the show in general?
Emilie Ullerup: Yes, I know very little about the show because it's not up here, it doesn't get aired in Canada yet so I haven't had the privilege of seeing any of it yet. I had a small part in the first episode and for me that again was also an interesting role to get because it was an intimate scene and I had never done that before either. So walking on set knowing that I was not going to be wearing very much clothes was a little bit nerve wracking. But I met Kyle Schmid and he came up and he said to me look I hope you are comfortable and anything I can do to make you comfortable just let me know and we'll just have fun and not worry and he was just really, really great about it and it just made the day enjoyable and easy to get through and not at all uncomfortable because you can very easily get uncomfortable. It was a really fun experience. As I said I don't know much about the show because we don't get it up here unfortunately but I read the first script and it looked very interesting with some great characters. Have you seen it?
Gilles Nuytens: No, it's not airing where I live in Belgium so I haven't seen it yet.
Emilie Ullerup: No, I think it's just in the States so far but I know it is getting good feedback so that is great.
Gilles Nuytens: Do you know how many episodes there are going to be of Sanctuary?
Emilie Ullerup: As of right now we have eight webisodes that will air throughout the summer and we've seen two so far so there is six to go and then from there I'm not sure where we're taking it. But I'm guessing that we'll go back to shooting but I don't know the shooting schedule and I'm just not sure how many they would like to shoot at once. I don't know yet and I don't know if they know yet either I think it is a question of waiting and seeing how well we do so far.
Gilles Nuytens: Have you already shot all of your episodes?
Emilie Ullerup: We have already shot the eight webisodes, yes. They were shot in the month of January, all that month we shot. It's two hours of regular TV and they get split up into the eight of course.
Gilles Nuytens: It's like a pilot movie.
Emilie Ullerup: Yes, kind of a long pilot.
Gilles Nuytens: Can you tell something to the sci-fi fans or your online fans watching the show?
Emilie Ullerup: Well I want to just thank them for being so amazing and for being so obsessing of this new show. I know that it is sad for a lot of people that Stargate is well there is Atlantis now but that there is no Stargate and I'm just so glad that they have accepted this new show and they have been just so fantastic and I hope that they'll keep tuning in. You know as I've promised several times before, Ashley will speak loads more, have some good scenes and she won't be silent forever and I hope that they trust that and I hope that they will tune in for that.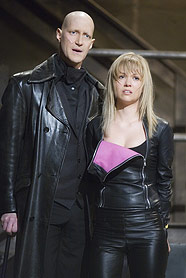 Gilles Nuytens: Have you already tried to audition for Stargate?
Emilie Ullerup: You know I have never got an audition for Stargate.
Gilles Nuytens: Would you like to?
Emilie Ullerup: Which is very strange because I mean it is a big show in this small town, but no I've never or Stargate Atlantis for that matter, none of them. I just haven't been that lucky.
Gilles Nuytens: Well maybe you should try.
Emilie Ullerup: You know I have told some people that I would love to be on Atlantis but I can do nothing other than just put the word out and hope that they get back to me.
Gilles Nuytens: OK, now maybe let's hope that they will hear your voice.
Emilie Ullerup: Maybe, and if not I'll stick to Sanctuary, I'm perfectly happy with Sanctuary.
Gilles Nuytens: Well I've been happy to speak with you.
Emilie Ullerup: Thank you.
Gilles Nuytens: Thank you very much for your time.
Emilie Ullerup: Thank you for yours.
Gilles Nuytens: I wish you all the best and good luck in your future career.
Emilie Ullerup: Thank you, and have a good evening.
Gilles Nuytens: You too.


Talk about this interview on the forum