Date of publishing: 5th May 2009



Eric Bernard is a professional video editor living in Montreal, Canada. Passinate about sci-fi and especially Space 1999, he decided to try to modify some episodes to put right a few things that were wrong. In 2000, he participated to a convention named "MainMission: 2000" and showed his work to the fans. The reaction was a hit. Since then, he works on his free time to upgrade and revitalize the show with the hope that some producers will finally give him the chance to show it to a wide public. You can get more info about this project on his website: http://www.space2099.tv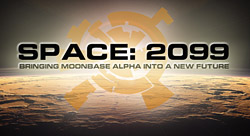 Gilles Nuytens: What is Space: 2099?
Eric Bernard: Space: 2099 is an enhanced edition of the cult classic TV series Space: 1999 created by Gerry and Sylvia Anderson in the mid-seventies and starring Academy Award winner Martin Landau and Emmy Award winner Barbara Bain. With new special effects and editing that gives an emphasis to the show's inherent, underlying chronology, Space: 2099 takes the terrific original series and moves it into a new future. Also working to bridge the original Year One and Year Two into a novel Multi-seasons concept, the Space: 2099 project, which represents the culmination of over a year's worth of effort, was created to show the series in a new light for fans and new audiences alike.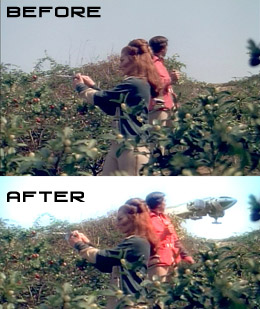 Gilles Nuytens: How is the project going on so far, any good news that could bring the project to a new step?
Eric Bernard: To date I haven't yet been able to get Space: 2099 where I want it to be. I am still in the process of getting the 2099 project idea accepted by the owner of Space: 1999. I've made many attempts in the past few months to get the attention of Granada/ITV and also other companies such as the Sci-Fi Channel by sending Document Presentations and DVD's. Unfortunately, the official response to date is that none of them will accept any project from an individual. Granada will only consider projects that are presented by a major production company and The Sci-Fi channel will only accept projects that are channeled through a small group of agents working for them. To compound the issue, they were not allowed to tell me the contact names so that I could present my concept project to them. Space: 2099 is a different animal than most concepts. I do not consider it to be a fan made production as it has been carefully worked on by many professional artists in the television media. Also, it is not a new product, but rather an enhancement of an existing one that has never received the proper treatment. With Space: 2099, I believe I am proving without a doubt that this series has so much more to offer that what was originally presented. It has all the elements of an epic series and with the enhancement I am proposing the series could be reborn, bring continuity to its story and even offer the opportunity for a continuation. As I do not own the rights to Space: 1999 none of this work is currently considered as official development. And since I cannot convince Granada/ITV by myself and that fan support will not be even considered I am still looking for that Champion, that special someone with the connections, who will help me get in touch with a major production company or a broadcaster who sees the potential there is to revitalize Space: 1999 into 2099. That's the only way Granada will listen. So, if you are that person out there reading this please contact me!? Not only would it be an economic benefit to represent this series into a new format (as it would be a fraction of the cost of producing an entirely new one) but it would also allow every sci-fi fan to get the chance to rediscover this series in a new light, the way it was always meant to be. With the new date moved to 2099 the stories of Moonbase Alpha can be allowed to progress into the future and for the first time offer the chance to continue the adventures of the original show with a new series and a new generation of Alphans.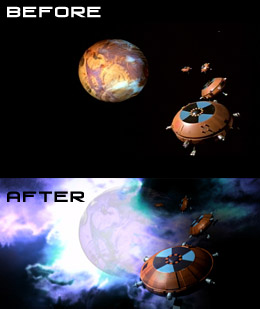 Gilles Nuytens: So, this new version of Space: 1999/Space: 2099, will have brand new special effects, does that mean that most of the old outer space effects, ships, etc. will be replaced by new CGI's? Or will you keep some of the old models?
Eric Bernard: No, the original effects will not be replaced by new CGI, not at all. In fact the special effects of Space: 1999 still hold pretty well today. The eagle model is simply amazing and one of the most praised spaceship designs by many model makers. The new special effects would be there only to enhance what was already done. Thus, it's a mix of new CGI sequences and original models. There are a few inaccuracies that we would redo. For example when an eagle dock with another spaceship, the original docking tunnel doesn't match with the live set. With CGI, it is possible to modify the Eagle pod with a new docking tunnel that visually fits with the live set. It is very important to keep the feel of the series. This is not the new Battlestar Galactica and it will never be. The scenes are filmed in a more classical way and the new special effects should maintain that same spirit. It doesn't mean that they won't be visually stunning; it only means that they will look consistent with and follow the pace and presentation of the live scenes.
Gilles Nuytens: Will all the episodes be the same chronological order than the old version?
Eric Bernard: For me, the major change of the new enhanced series is not the special effects. In fact, the special effects are only a small part of this concept. The most important aspect of 2099 is its new Chronological order and the way the story is now being told. As you know, today's series are similar to soap operas in that their stories are connected and have continuity in their storyline. However, this was not the case for most series of the seventies and eighties. But given that Space: 1999 did have a underlying continuity hidden within its story and character development I decided to work within that, by adjusting the episode order to follow the characters' development, the encounters with other worlds and the mystery behind their unexplained survival. Again, like today's television series, many episodes will be preceded by previously sequences allowing the viewers to understand the story development that has taken place in earlier episodes.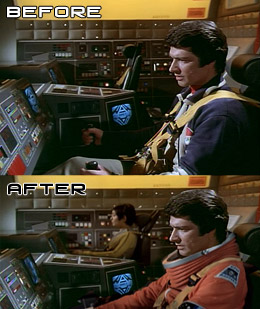 Gilles Nuytens: Will we see some additional new scenes; is that something you would like to do if it was possible?
Eric Bernard: I wish we could add new scenes. We know that many scenes were cut, removed and left on the editing floor during filming from 1974-77. If those shots were still available to work with I would jump at the chance to get these never-before-seen sequences added in the show, but of course only if they could bring new note worthy and relevant elements to the story. But from what I've heard, many interesting scenes were removed from several episodes. With today's editing pacing it is possible to add those scenes without making the episode longer or boring. In this new enhanced edition of 2099, the pacing of the episodes is being a sped up a bit. It doesn't mean that everything has to be fast as some scenes require a calm and measured pace. But it is impressive how many seconds here and there can be removed without missing any significant moment. But to answer your question....Yes! I hope new scenes could be included for Space: 2099.
Gilles Nuytens: You mention the fact that the image will be a bit cut from 4/3 to 16/9, but why cutting when on 16/9 TV's, there's the option to zoom to fit the screen size (I don't say the option that distort the image, just the zoom), so people can choose to see the image uncut or zoomed if they wish to see it full screen on their 16/9 TV's. I know many DVD do it but still...
Eric Bernard: I want to differentiate Space: 2099 from Space: 1999. The original series is already available on DVD in its 4:3 format and eventually on Bluray. Space: 2099 is made to bring the series into this contemporary era. No dramatic series are being film in 4:3 format these days and that is why I wanted to offer the enhanced version into an exclusive 16:9 format that has been carefully reformatted. The new high-definition prints of the series have increased the amount of image on every side of the picture frame. When reformatting the episode into 16:9, I was amazed by the how good the show looked in this film format. We may lose a bit of picture information on the top and bottom but with careful attention nothing significant will be lost. In fact, the new picture framing gives the show a more impressive and contemporary feel to it and makes it feel as if it were filmed just recently.
Gilles Nuytens: What is the source of your material, do you work with the original film stock or from the DVD's?
Eric Bernard: For the project I was working with the Season One Network DVD release. The series has been digitally remastered in HD two years ago and the prints are simply amazing!! I can only imagine how the actual HD prints must look like. Thus, I am presenting the project as a storyboard using the available DVD sources but the actual work on the show would obviously need to be done with the HD prints for the most perfect results.
Gilles Nuytens: Could you describe the process of revitalizing 1 episode? How much time does it takes to revitalize just 1 episode?
Eric Bernard: To enhance the series the way I did required from me to watch every episode over and over again, taking hundred of notes to make the new Chronological order possible. So, let's just say that this part took me months of work brainstorming the ideas with my fellow Space: 1999 fan and good friend of mine, Richard Bendell. The actual editing work varies from episode to episode. Some, like the pilot episode required more time since a huge part of the story needed to be modified into the new wormhole accident. But most episode can be re-edited in less than a week. But this doesn't include the time spent for the special effect that require more work and again depending on each episode it can vary from one week to a month only for one episode. It is a lot of work. But considering that the work is only spent on post-production facilities, the time and money spent is well worth it when you see the end result. Like any project development the most important thing is to know where you are going. That's why the countless time spent brainstorming on 2099 has provided a solid base when the time came to do post-production work making it almost easy and every minute spent enjoyable. At this point in the project development I couldn't work on entire episodes. The best way to show the new timeline of the series and its major changes through each episode was to create short summaries of each one. It gave me the opportunity to present various new enhancement without spending too much time for each episode. I needed to show a global view of the project for it to be best understood and appreciated.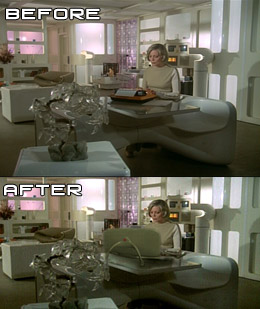 Gilles Nuytens: What else would you like to say about this project?
Eric Bernard: It is a dream project, it's simple as that. Space: 1999 has many qualities that are worth talking about and admiring. It's as visually stunning as 2001. The models designs are unique and memorable. The sets are impressive and the cast believable in their roles. The stories are often dark, or very dark but with a philosophical aspect and humanity to it. It is the first LOST in space type of show that takes a serious look at the survival of human kind. For me the Alphans had a mystery behind their destiny like LOST, but unfortunately their destiny was never allowed to become fully developed. Space: 2099 not only enhances the visual content but significantly reveals this mystery. If the original series is allowed to be represented into the Space: 2099 format, it would make it the perfect platform for a continuation of their stories some 35 years later. Space: 2099 is more than a facelift like they did for Star Trek TOS but it is not a re-imagining of the series either. The characters are the same and none of them will be altered from the characters we know and love unlike some other shows I could mention :) I want Space: 2099 to be seen and enjoyed by the original fans like me, as if we are seeing it for the first time, and by a new audience that was reluctant to watch it because it was considered an old show that never had a proper ending. I believe that the series still has a lot to tell, but to do so; Space needs to start in the year 2099. We could re-imagine the series and redo it all over again but when the original one looks so amazingly good, why bother? Why not simply continue the stories of Moonbase Alpha and save the original series from being drastically changed as it would be if it were to be redone or reimagined. Let's just adapt and enhance the original one and see how well it can do. I think this new way of representing television series could be the wave of the future. If properly done, the show can attract a new and broader audience and allow its original one to be seen and appreciated in a new way and, ultimately, isn't that the best of both worlds? For a better understanding of the project, I encourage viewing the documentary The Future Past Enhanced, that is included on the document presentation I've recently made. It provides an exciting, visual summary of the Space: 2099 concept and it is now available on my website at:
http://www.space2099.tv/video/03_futurepast_f8.htm