Date of publishing: 8th August 2008



RHI Entertainment, a leading developer, producer and distributor of made-for-television movies, miniseries, and other television programming, announced that two of its most popular productions (Flash Gordon, a 22-hour adventure series, and The 10th Kingdom, a 10-hour fantasy saga) will be seen on the ION Television Network's RHI Movie Weekend beginning Friday, August 1 (7/6c). This August, Eric Johnson will star in the title role of SCI FI Channel's original action-adventure series, FLASH GORDON, a modern day retelling of the classic comic strip franchise. This was the occasion to ask a few question to the leading man: Eric Johnson himself!
For more information about Flash Gordon and RHI Entertainment, click here.
Johnson is most recognized for his role as "Whitney Fordman" on SMALLVILLE, a character he portrayed for three years (2001-2004). His career began over a decade ago, when he landed the role of "teen Tristan," the younger counterpart to Brad Pitt in the film LEGENDS OF THE FALL. Prior to and following SMALLVILLE, Eric has enjoyed a successful career in both the USA and his native Canada working in a number of films and TV shows, including TEXAS RANGERS, QUESTION OF PRIVILEGE, STEALING SINATRA and BANG BANG YOU'RE DEAD. Most recently, Johnson made guest starring appearances in several television series, including CRIMINAL MINDS, THE DEAD ZONE, GHOST WHISPERER and THE UNIT.
At the age of 9, to further his desire to be the center of attention, Johnson enrolled in theater school, a far more appropriate venue for his little performances than the hockey arena or dinner table. Eric's passion for an audience was undeniable and he soon began performing in professional theater as well as landing film and television roles. It was after appearing in the epic Western drama LEGENDS OF THE FALL that he realized film and television was the best way to act out his imagination without people looking at him funny. (Bio from: www.rogersandcowan.com)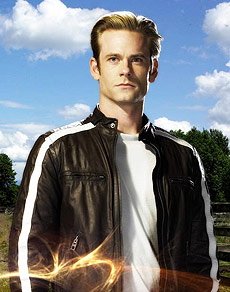 Gilles Nuytens: First of all: HAPPY BIRTHDAY!
Eric Johnson: Thank you.
Gilles Nuytens: How did you decide to start acting?
Eric Johnson: I had always enjoyed being in the school plays and really enjoyed making people laugh so it seemed a natural fit. I also was a terrible hockey player so my parents had to find something to get me out of the house for a few hours on a Saturday afternoon.
Gilles Nuytens: Your first big role was playing the young version of Brad Pitt's character in "Legend of the Fall", nothing less than that! How did you land playing such a role? Do you have any good memory with Brad Pitt (Question dedicated to our female readers!! lol)?
Eric Johnson: Well to be honest it was a cool process for a 13 yr old kid. I had met a casting director in my hometown of Edmonton (about three hours North of Calgary where they shot the film), he apparently liked what I did and so I was flown down to Calgary with my dad to audition in front the director Ed Zwick. Nervous as I could be I somehow didn't screw up too bad and looked enough the part to get the Job. It was that experience that made me realize I could do this for a career. As for Brad Pitt I never met him. Playing the younger version of his character meant we were never on set at the same time. The big thing that I remember people saying about him though, was what a gentlemen he was and how fantastic he was to work with.
Gilles Nuytens: I learned that Flash Gordon isn't going to have a second season, so what are your plans now? Anything in the pipeline you are authorized to speak about?
Eric Johnson: Nothing that I am authorized to talk about except enjoying this summer
playing the best role of all, Dad. My daughter is 10 months and we're having a wonderful time as a family.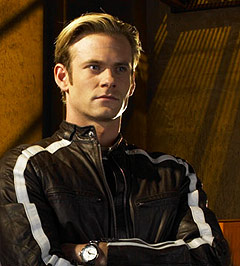 Gilles Nuytens: So, back on Flash Gordon, now that the show is over, what would you say are the positive aspects and the negative ones?
Eric Johnson: The whole experience was very positive. I have never worked with a
better group of people, not just the actors but the entire crew. From Producers to PA's it was a great group of people. I think the only negative thing was we didn't have the money to do the show as we would have liked but I am sure every show has that complaint. Hind sight is 20/20 and of course there are things at every level we would change, from network decisions to the everyday choices we made early on but as a whole given the circumstances everyone can be proud of the show we put on the air. Our schedule was, on paper at least, impossible and every week we found a way to make it work. Despite the critics it is something I am very proud of, not necessarily for the end result but the process.
Gilles Nuytens: As many shows lately, it doesn't have a proper ending, so do you think there would be any chance to close the story with a TV movie for example?
Eric Johnson: I think that door is open, we'll have to see.
Gilles Nuytens: You all got a wonderful time doing this show, is there a particular moment that you will remember more than something else? One of your best memory?
Eric Johnson: One of the best things about the show is when Gina would get the giggles. It was always good for a laugh and I was no help to her at all, in fact I encouraged the giggles. There were more than a few times when I had to leave the room so we could get the shot as she couldn't look at me without laughing. It wasn't fair to Gina but it was really funny.
Gilles Nuytens: Did you feel a bit of pressure or stress to portray such a legendary hero, trying to not disappoint all the fans?
Eric Johnson: No. Filmmaking is so collaborative, especially TV. There is more pressure on the networks exec's than me. The only thing I could do, was do the best I could everyday. If I gave it my all everyday then there was no pressure for me, because I could never ask myself "Maybe I could have done more". So whether the show was a wild success or a colossal failure, I knew I did my best.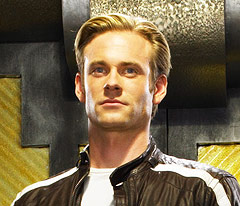 Gilles Nuytens: How did you land on Flash Gordon? Normal audition process?
Eric Johnson: Yeah it was pretty normal, the only difference was that as soon as I read the script I knew it was mine. There was never a point in all of the hoops an actor jumps through during the audition process that I doubted that the Job wasn't already mine.
Gilles Nuytens: Did you watch all the episodes? What would be your favorite one as an actor and what would be your favorite one as a viewer?
Eric Johnson: That's a tough question. Episode 2 directed by Paul Shaprio was a lot of fun to shoot and we were starting to get our legs as a team. Episode 15 with the Bog men was really cool as it was in the middle of that episode that my daughter was born. But I have to say as an actor and fan, episode 17 where we went to Frigia was really fun.
Gilles Nuytens: As a classic in my interviews, do you have any "blooper", anecdotes, funny moments you'd like to share about Flash Gordon?
Eric Johnson: There were bloopers all the time, but one of the funniest things to happen on set was a prank pulled on me. I really dislike the band Fleetwood Mac, they just get under my skin. Anyway it was episode 8 and Karen Cliche aka Baylin had a very Stevie Nix inspired costume and she started singing, needless to say it wasn't my favorite. SO, I come to work one day and everyone is adorned in Fleetwood Mac buttons on their clothes, my trailer is filled with Fleetwood Mac stuff and to top it off Fleetwood Mac was Blaring out for the whole studio to hear... Everyone was in on it. I now hate Fleetwood Mac more than ever.... good times.
Gilles Nuytens: What aspects of your own personality did you put in Flash?
Eric Johnson: Being a dork.
Gilles Nuytens: Question of your choice ... answer a question you'd like to be asked!
Eric Johnson: What about you changed during the filming of Flash Gordon?
I learned to be fearless. No matter how dire things may look, no matter how impossible, with the right attitude and the help of some great people, anything is possible. It was very humbling.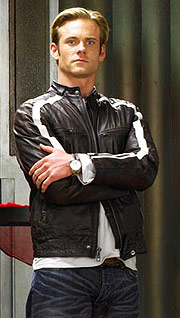 Gilles Nuytens: Do you have a dream role?
Eric Johnson: Westerns. I want to be riding horses and out in the prairies. I have done a few but not nearly enough.
Gilles Nuytens: You were the Director, Writer, Producer, Composer and Editor of a short movie called "Fishbowl", how was the experience being on the other side of the camera? Is that something you'd like to do more often?
Eric Johnson: It is something that I am in heavy pursuit of. I take it very seriously and really enjoy it. I am a very visual person and being behind the camera is a good fit for me.
Gilles Nuytens: What do you like to do in your free time when you're not acting?
Eric Johnson: Play peek-a-boo, work in my garden, write, cook, and play my guitar.
Gilles Nuytens: Are you often recognized on the streets as Flash Gordon?
Eric Johnson: In Europe yes. In Canada? Never. And on the rare occasion in the US.
Gilles Nuytens: Thank you very much for this interview!