Date of publishing: 5th June 2007



Canadian actress Erica Cerra has been a popular supporting player on several hit television series. Viewers of the SCI FI Channel might recognize her as Maya, the mother who adopted the human-Cylon hybrid child of Sharon Valerii at the end of Battlestar Galactica's second season. Fans of the acclaimed Showtime series The L Word know her as Alice's seductive vampire lover, Uta Refson. Cerra's other guest-starring roles include turns on Smallville, such USA Network hit shows as The 4400 and The Dead Zone, and the Showtime series Huff and Dead Like Me. Other series on her résumé include the Canadian police procedurals Cold Squad and Special Unit 2, and the supernatural thriller series The Collector. Her feature-film work includes roles in Man About Town, The Long Weekend, and Blade: Trinity. Erica now plays detective Jo Lupo in Eureka.


Linda Craddock: Tell us about your introduction to the series and the audition process.
Erica Cerra: I was in L.A. at the time. I live in Vancouver and I was in L.A. for the pilot season and it was kind of a funny thing, I had just signed on with a new agency and they were sending me out for a lotof comedy, which is wonderful because I love to do comedy. My manager in Vancouver emailed me the script for "Eureka" and she was like "you know, Erica, I think you 'd really be good in this role" and I was like ok let's get, me in for this. And then when I got back to Vancouver, it was actually quite quick after I got to Vancouver, say on a Friday and I auditioned for it on Monday and I got the call back, what was it, I think it was on a Saturday and I ended up booking it at like two days later It was just one of those things where she (my agent) and I both felt it was the right right character for me because I am I think deep down inside a "tom boy" so and she knew that about me and she was like "this would be good for you". (laughs) I ended up booking it.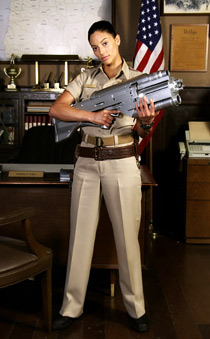 Linda Craddock: Great.
Erica Cerra: Yeah (laughs)!
Linda Craddock: Your character "Jo Lupo", is quite dedicated to the job of deputy. She is strict and an expert in weaponry, but has also displayed her feminine side on occasion. Tell us about the feedback you receive from fans in your role?
Erica Cerra: It's such an interesting reaction from people. There's one reaction like who is this tough chick, who the heck does she think she is kind of thing. I think with "Jo" it's kind of a love or hate relationship kind I find that a lot of women admire her because she's strong and the men, I think tend to veer towards the other side of things, like she's a little too tough for my liking. In "Purple Haze", I think people liked to see that different side of her, when she went a little crazy and I think people enjoyed that, to see there was a softer side to "Jo". But as far as your question, no there wasn't a whole lot of reaction from the couple of episodes that she dressed up. I don't know (laughs) I should have more of those, I suppose (laughs) come on people
Linda Craddock: You handle some pretty fancy weapons on the show and seem to enjoy teaching the sheriff the fundamentals of the firepower at his disposal. Talk a little about that aspect of the show.
Erica Cerra: Yes, there's definitely some severe weaponry. The thing that's really neat though is filming with them. In the first season, a lot of the guns I used were real but they were just kind of filmed up and made them look a little more exciting, I suppose. And they're heavy, I'm not going to lie, I fake that there not, but they're a bit heavy. I have to learn to take the guns apart and put them back together. We had an armor come in to teach me more about the guns. I'm still supposed to, which I am excited about, go to a shooting range and actually experience a bit more of the fire power. There's one scene where I actually got to shoot a gun and of course there were no bullets in it. I still got the kickback in the bigger gun. Yeah, that's some power. Its fun because I'm definitely a "tom boy" but I'm not someone, who – I have no real experience with any sort of guns at all so it was an interesting learning process.
Linda Craddock: That was my next question, your experience with them.
Erica Cerra: Yeah, it was an interesting learning experience. Like when I got to take apart and put together, that was a lot of fun. I think I got to spend 3 or 4 hours on a couple of occasions, trying to get my timing down. One of the armors was really funny because I think putting it together, taking it apart and putting it together, was it 14 seconds or something, it was something really ridiculous and he was like some of the armors at the armory can't even do that. Well, there ya go!
Linda Craddock: It comes across quite well (laughs).
Erica Cerra: And it's funny because yes, it's film but I really could do it quickly which was kind of cool, so for me, it was a huge challenge. Whenever I'm using any of the guns, it's really important to me that it appears to be real because I really want there to be some truth to it. I don't want it to be all glitz and pretty and stuff, I really want to be good if I'm taking someone down I want to do it properly. If I'm holding a specific gun, I want to hold it.properly so there's a lot of questions to be asked and they're (the armors) really great about volunteering the information and showing me how to hold it and the actual kickback that you would actually endure if you were shooting off the gun so yeah, it's really quite neat.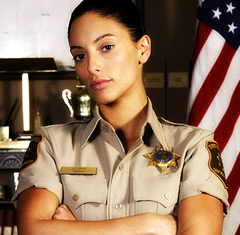 Linda Craddock: Wow, that's sound awesome.
Erica Cerra: It's fun, ya.
Linda Craddock: What amuses you most about playing your character?
Erica Cerra: Oh, there's so many things that amuseme about "Jo". Her severity, her severe interest in the weapons, obviously. It's so fun and so much fun to play, there's no room for mistakes or for any screw ups, but I also like to play the softer roles and the goofier roles. I'm a goofball in real life, so any opportunity I get to play that is a lot of fun for me as well. "Purple Haze" was, by far, my favorite episode. The director that we had at the time was great because he told me to go to the extreme and we'll take it down from there. So that was a lot of fun.
Linda Craddock: What characteristics do you, Erica bring to "Lupo"?
Erica Cerra: A lot of them. Well, I grew up around my brother and my dad and we were really close we used to always play sports and compete. I was very competitive with my brother. My dad was really into weight training and I took up weight training when I was really young and I think when I was probably about 14, I wanted to be a body builder. I think that ended fairly soon, but I really wanted to be this big kind of bulky girl. I think I was this really small girl who thought I was this huge massive girl. (laughs) So, that's really fun to play with "Jo" because there's a sense of that in me! I'm a strong woman, I respect myself, like if I believe in something, I give it everything that I have and I'm also, like I said, a goofball,– I'm not necessarily the most feminine character, I can be feminine, of course, but I'm silly, I'm probably like a 5 year old dropped in a 20 some odd, we won't name woman so it's fun, it's definitely like there's a lot of stuff about "Jo" that's definitely me.
Linda Craddock: If you had the choice to change something about "Lupo", what would it be?
Erica Cerra: The only thing, it's been a learning experience, obviously from the pilot to the first season into the second season and in a sense you're still trying to find the character so I think that they're softening her a bit, which I'm enjoying because she's still strong and she's still independent and so on and so forth, but I think they also want to bring a bit more of a softer side to her and that I'm really excited about. So it's not necessarily what I'd want to change – but it's the different colors in the character that I'm actually getting to research a bit and play with so that's probably the most fun for me.
Linda Craddock: So what was the best gig or funny experience you have had on the set of "Eureka"?
Erica Cerra: Oh, God, there's too many to remember. Well, no, again "Purple Haze" is the most fun because the cast is so great, they're such characters in their real lives and that is always fun. The crew is amazing. Our cast and crew, together are really great. It's really a light hearted set most days, so it's always fun; there is always something funny happening.
Linda Craddock: What do you think is the most unique aspect writing a show such as "Eureka"?
Erica Cerra: It's definitely an original series, which is great. The most unique aspect, could you clarify more, how so.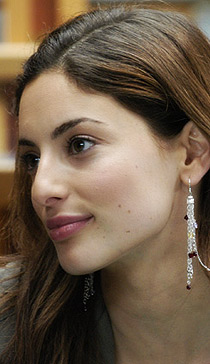 Linda Craddock: For instances, storyline, any particular character who adds a certain dimension or two characters that feed off of one another during the course of an episode.
Erica Cerra: Well, I think the fun part about the writers, from the writers point of view for "Eureka" is there's not too many boundaries so that's one really great aspect of the show, there are not too many things you cannot do. The writers have the opportunity to have a lot of fun with the show and there are not too many boundaries. So that part I think is wonderful. All the characters are so unique and interesting. The "Carter" [Colin Ferguson] character is just so much fun to watch because he's still kind of learning and everything is still new and bizarre. He's still shocked and surprised. Yeah, again, it would be hard to specify but I enjoy all the characters they are so strong. You know in some shows there is just one tone, each character has the same tone and when they're all together, they all have similar qualities. In this show, everybody's so different that when they get together, there is always room for surprise.
Linda Craddock: You never know what to expect from episode to episode, that's what I enjoy.
Erica Cerra: That is definitely one of the great qualities about Eureka.
Linda Craddock: What kind of character development can we expect from your "Jo" in season 2?
Erica Cerra: Well, they're definitely doing new things for "Jo". The audience is going to get to see a bit more of her life and where she comes from and understand her a little bit more. And like I said, I think there will be a couple more layers of "Jo Lupo." Viewers will get to see more into her heart as opposed to just into her work. I think there are definitely more colors to see from "Jo".
Linda Craddock: Well, we talked about the writing aspect of the show, but how would you describe the show to someone who was not familiar with the series?
Erica Cerra: I still describe it is an "X-Files" meets "Desperate Housewives." (laughs) I think that's the best description. It's a town full of quirky, interesting and sometimes crazy characters all with a sci-fi twist.
Linda Craddock: You've appeared in 4 episodes of "Battlestar Galactica" in the role of "Maya". Tell us about working on the set.
Erica Cerra: Working on the set of "Battlestar Galactica" is definitely a different tone, it's obviously a more serious drama. The people are all really wonderful and I enjoyed working with all of them. Mostly, it's a different tone. It's a lot more intense. The scenes that I was doing and the character "Maya" she was in the middle of a war and I don't think she quite understood the severity of the situation. It was fun to be a part of this really intense kind of environment.
Linda Craddock: Were you a fan of the show prior to landing the role?
Erica Cerra: I did watch "Battlestar" when I was a kid. I watched it with my Dad. My Dad and I are both little sci-fi people. He loves sci-fi and I used to watch everything with him. The new show I hadn't watched as much but once I got the role, I definitely caught up on the show and I really enjoyed it. It's a really great show. And its' not just sci-fi, its' a sci-fi drama, it's a soap opera in space. I really enjoyed it.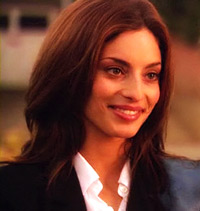 Linda Craddock: There's a lot of depth.
Erica Cerra: Absolutely, there is a lot of depth and they do a great job. I have a girlfriend on the show, Kandyse McClure, so it was fun. Unfortunately, I didn't get to work with her, but it was nice to be on the same show.
Linda Craddock: In "Galactica", you have worked with a baby, and from a recent interview with Grace Park, she said that it wasn't easy to work with a baby, how was the experience for you?
Erica Cerra: It's not, it's definitely not (easy) but at one point they had a mechanical baby and that was really cool. It was so real, it was almost scary. You could actually find those sympathetic emotions, even working with this mechanical baby which is rather scary (laughs).
Linda Craddock: Tell us about the experience working with Mary McDonnell?
Erica Cerra: Oh, she's brilliant, she's just brilliant and she's was just the sweetest woman from the get go. You're working on a new set with new people who have already created a family and that can always be scary because you're the new kid in school. She was brilliant from the moment I met her, "hi, nice to meet you, so happy to have you". I did my first scene and she was nice enough to compliment me and is definitely a pleasure to work with.
Linda Craddock: Excellent.
Erica Cerra: Yes
Linda Craddock: The movie "Man about Town" with Ben Affleck. How was this project presented to you and share a little about your experience working with Ben.
Erica Cerra: I found Ben to be a pleasure to work with. He's really kind and, very funny. I don't think I actually realized how funny he was! One of my very favorite movies is "Good Will HuntingHe is definitely a character. He was a pleasure to work with. Absolute pleasure for me. He was very kind and made me feel very comfortable and yeah, I enjoyed working with him.
Linda Craddock: In the movie "Blade: Trinity", you played a "Goth Vixen Wannabe". Tell us what that meant to you at the time of your audition?
Erica Cerra: I went with the "Goth", you want to call me a "Vixen", sure, and the "Wannabe" I just ignored. I took the character seriously and to me I was not really interested in my job, not really interested in my surroundings and just kind of, not to say that's what Goth people are, but for me, that was just my take on the dialogue
Linda Craddock: Your experience working with Pam Grier and Jennifer Beals in the HBO original series "The L Word", talk a little bit about that!
Erica Cerra: I don't necessarily consider myself to be someone who is a sexy kind of – you know, it's just not, well, you know how you reach into yourself and say who am I and when I think of me I think of a clown because that's my general character, but thankfully, the director thought that I was sexy I suppose and she gave me the role so it was a bit nerve racking for me! I didn't necessarily feel like that character but in one of the scenes where we're in, we're doing speed dating, at the end of the scene, she was very sweet, she was like "you know, that was really sexy" and I said "oh, thank you". And there was a love scene. There were some nerves there, absolutely but everybody was really great and very professional on the set and it was definitely a good experience. It was fun.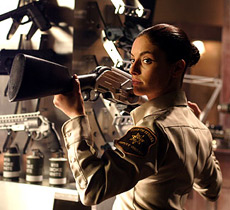 Linda Craddock: I understand you started with commercials and then took a break from acting. What prompted the break?
Erica Cerra: I started acting when I think I was, I don't even know 6 or 7 and I remember thinking "I want to be in the movies" so it was something I'd always wanted and I've always loved to make people laugh and I've always been the one that would do a dance if you asked me to, you know Erica do that thing that you do! Ok and I'll stand in the middle of the crowd and I'll do my silly dance to make people laugh. I was on a show called "Kid Zone" and I loved it and I had fun and I was enjoying myself, then I did some commercials and then I wasn't working as much. I think more for me it was about wanting to be 14. I didn't go to school properly, I was schooled on set so I wasn't in elementary school as much. And I didn't necessarily like all that and so it wasn't the acting that I didn't want to do, it was just the living I wanted to do. I wanted to be 14 with no responsibility but I always wanted to act again. The only thing I've ever enjoyed doing was entertaining. I bumped into my agent and then she and I sort of hit it off. She said you know what, you should really join my agency and I said ok, then
Linda Craddock: Talk about your experience working with top acting coaches Larry Moss and Gina Chiarelli?
Erica Cerra: One of my first acting teachers was Matthew Harrison and he was really great. He kind of gave me, I guess the nerve to get back into the job. He inspired me and believed in me and Gina Chiarelli was wonderful for me when I got back into taking classes again. I don't necessarily think of myself as a kind of a sexual character. Gina was really great. She would push that out of me. Larry Moss was a work shop that I did and he was brilliant and inspiring, Yet nerve racking.
Linda Craddock: So you were comfortable with the analysis when you first started training with him?
Erica Cerra: No.
Linda Craddock: Ok.
Erica Cerra: You're comfortable, and then you're not at the same time. I haven't experienced too many teachers that really let you get away with stuff, but he was really cool, they really inspired me to do some real soul searching and find out who I am and learn about yourself. One of the scariest things for most actors is trying to understand why you do what you do and when you have somebody that takes a look at you, and says "why do you do that thing", you almost feel naked because they've seen something about you that you don't think people know. Really interesting and scary and wonderful at the same time because if you want to learn and I love what I do and my goal is to be as good at it as I possibly can and so I'm always interested in learning.
Linda Craddock: What do you enjoy doing in your spare time?
Erica Cerra: I love reading. I love to read. I love to paint. My best friend bought me an easel, which I'm really excited about and unfortunately haven't used yet (laughs) I draw. I do a lot of drawing. I do more drawing than painting which I think kind of intimidated me so I don't know what'll end up on that page. Anything like that, really and probably more than anything, cooking. Sounds very funny, but that's my spare time thing. I love, love, love to cook. My mom's a really good cook and she has a pasta manufacturing company on Vancouver Island so I'm trying to compete with my mom who is really good at making anything taste yummy. Even if I've just made dinner or if I'm in the kitchen trying to make a snack or trying to learn how to make different things. Cooking to me is like art. I just love making things that taste good and I love making food, yeah. It's my new thing and it's the one thing that if I weren't an actress, I'd probably be a chef.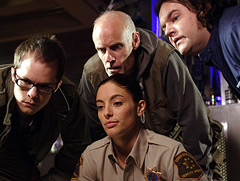 Linda Craddock: It sounds like it.
Erica Cerra: Yeah I love it, and it's funny because they have these commercials that come on TV and their like do you love food do you look at food in a different way than anybody else. You should call the Culinary School and I'm like I do, I look at food like that. I'm sitting there and I'm like, that's me, I should call (lots of laughs)
Linda Craddock: You have been described as possessing an effervescent personality and infectious smile with star quality. Having said that, is that what allows you to play such versatile roles?
Erica Cerra: I hope so. I hope those things are true. You know what, Angelina Jolie said this in this one interview that I read and she said "I think of myself as a schizophrenic with 50 different personalities and when I'm given a role, I take away 49". That's kind of how I think of myself in a way, I a bit of a character like I have a lot of different personalities and I think one of the most important things for me is that if I frame them, its kind of ok, that's that girl, we'll set her aside and we'll use her when we need and ok that's that one. And I find that the older I get, the more I understand myself like the age I'm at now. Now, I'm the most comfortable in my own skin. I am confident and comfortable with who I am and why I do the things that I do and I am confident in saying ok I am that goofy, silly person and I am ditsy once in a while and I am this and I am that and I'm ok withit. Where years ago, it was like "oh well, I don't want to be that person" that person's like this. I'm just comfortable in a lot of different roles and very comfortable with different people. But who said that, that's so nice, tell them I said thank you.
Linda Craddock: I read that on another, it was a review of you. Very interesting.