Date of publishing: 30th September 2005



Erin's acting career began at the age of eight when she was a royal child in The King and I, but, according to her parents, when she was only two years old she could sing I Am a Child of God with perfect pitch. The director of The King and I, recognizing Erin's ability, engaged her again two years later to play Amaryllis in his production of The Music Man.
Erin played in 3 episodes in season 1 of Stargate Atlantis as the Genii soldier Sora. For the moment, nothing is yet planned for her come back in the show but we may hope to see her again in season 3.


Gilles Nuytens: First, thank you for allowing me this interview! What decided you to
become an actress ?
Erin Chambers: I don't think I ever really decided to be an actress. I started doing plays and performing at a young age because I excelled in singing, dancing and acting. I think that when I entered college and really started to study acting and learn more about it, I decided that I wanted to pursue it as a career.

Gilles Nuytens: The shooting of season 2 of Stargate Atlantis approach its end and we haven't yet heard of you this year, have you been contacted to take a part in the last episodes of the season ? If not, any idea if Sora could return in season 3 ? What are your feelings on this subject ?
Erin Chambers: As far as I know, I am not returning for this season. Sora could possibly come back whenever, its just up to the producers. If I came back, I would be
excited to play Sora again.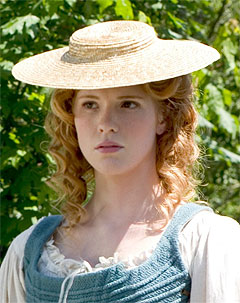 Gilles Nuytens: In Stargate Atlantis, your character is close from Teyla, in the future, how do you want this relation to evolve and how do you think it could evolve?
Erin Chambers: In the future, I think it would be cool if there was resolution between Sora and Teyla. Sora needs to forgive Teyla and deal with the death of her father without taking revenge on his death. Perhaps in the future, they are able to finally trust each other and work together as allies.

Gilles Nuytens: How could you describe Sora, her psychology, her way of life, thinking ? Did you build her a past, a life to give her a more realistic and better play ?
Erin Chambers: Before I started filming, I came up with a past for her. I decided she was 20 years old and that her mother had died when she was a little girl. Her father raised her and that's why she has such a close relationship with him. I think her motivation for fighting and for going into the military is because she wants to prove herself to everyone, especially her father. Her weakness lies in that she's too emotional. That's why she lost out to Teyla. In that respect, she was no match for her.

Gilles Nuytens: How was it to play the battle scene with Rachel Luttrell, did you trained a lot for it ? Was it hard to play ?
Erin Chambers: Rachel and I practiced a lot for the fight. We spent hours getting the moves right without hurting each other. It was hard. I was really sore and tired after we finished filming. But, even though it was hard, we had a great time doing the fight.

Gilles Nuytens: What did you enjoy the most playing in Stargate and what was the most difficult thing ?
Erin Chambers: I enjoyed the fight scenes the most, probably because they were difficult and challenging for me. I also liked filming "Underground". They took us to this remote location outside Vancouver and it was just really beautiful. I think the most challenging thing was that while we were on set, outside the city, it was brutally hot. And I was wearing a million clothes (well, it felt like a million) because of my corset dress and all the layers. That was hard because I was so hot and sticky.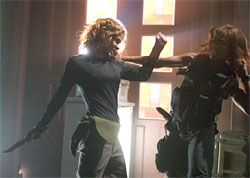 Gilles Nuytens: Do you remember an anecdote, something funny to say about the time you were on the set of Stargate ?
Erin Chambers: During the staff scene with Robert Davi, I accidentally got whacked in the head. I fell over from the hit and they had to yell cut. When I realized what happened, I was embarrassed. They gave me time in my trailer to ice my head and relax and then I came back to finish the fight everyone clapped for me when I came back, and I think that made me feel more silly about it. That was probably the most random, funny thing that happened to me while filming.

Gilles Nuytens: You made additional voices for the anime movie "Neko no ongaeshi" (The Cat Returns), could you describe your experience there ? Dubbing a movie, is it easier or harder than acting ?
Erin Chambers: Dubbing a movie is fun. It can be hard sometimes because you have to match the voice, and that can be difficult. But overall, I think its easier. You get to show up to work in your pajamas. And It doesn't matter how you look. All that matters is your performance.

Gilles Nuytens: The Stargate series allowed you to be known from the fans all over the world, what did this provided to your career ? Did this experience allowed you to get more work opportunities ?
Erin Chambers: I think so. I've gotten work after working on the show. We'll have to see what other opportunities lie ahead.

Gilles Nuytens: Thank you very much for the time you spent answering the questions!
Erin Chambers: Your welcome! Take care and good luck to you!