Date of publishing: 5th September 2013



Ethan stars in the indie tech sci-fi thriller Dragon Day, which is set to have a limited theatrical release and straight to VOD on November 1st 2013. Ethan, plays the lead role of Duke Evans, a laid off NSA specialist who is trying to give his family a simpler life; their own version of the American Dream. However, their dream is cut short as a devastating Chinese cyber-attack destroys U.S. civilization: planes fall from the sky, all power, communication and transportation comes to a halt. Duke and his family must use all their wits to survive this frightening scenario where food, water and freedom become as scarce as they try to cross the border into Mexico with the help of an unlikely friend.



Gilles Nuytens: Hello and nice to meet you! So, let us know what's behind your love for acting. How did the passion start?
Ethan Flower: Hi, Nice to meet you as well, thanks for meeting with me.
Well I started acting when I was very young. Growing up in Stockbridge, Massachusetts a town populated and formed by great artists and great writers such as Norman Rockwell, Norman Mailer, Arthur Penn, James Taylor, Herman Melville, Nathaniel Hawthorne, great Music and theatre institutions such as Tanglewood, Williamstown Theatre Festival, Shakespeare and Company, The Berkshire Theatre Festival, Jacobs Pillow, art was inevitably in my step. I tried out for fun and got offered a part with well-known theatre Director Josephine Abady at The Berkshire Theatre Festival in The Rose Tattoo with the great Hector Elizondo and Cicely Tyson at the age of 11 years old. I was then offered a role in another play at age 12 about FDR called Sunrise at Campobello, and I got into the research and the history of the role. The following summer again I was offered a lead role as a child in my first musical called "Fanny" with a great singer named Spiro Malas. Karen Allen and Kate Burton did plays alongside in rep there as well those summers. I was smitten with both of them. Karen had just shot Raiders of the Lost Arc. Hector Elizondo would play guitar and sing to me in his dressing room. I got on stage and it felt like magic to have all these people look at me and wonder what I was going to do next. I enjoyed the camaraderie of all the cast and crew down stairs below the stage and backstage and then the idea of being able to play again with them on stage in front of an audience was irresistible. These great actors were like father figures to me when I was lacking one at home. To me the theatre held my brothers and sisters that thought the same way about life as I did.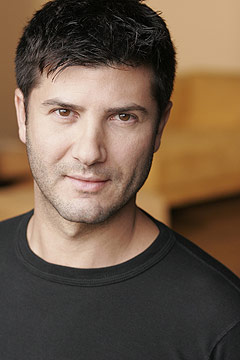 Gilles Nuytens: What do you like the most when you're on the sets in front of the camera?
Ethan Flower: I love being in the heart of a character, in the moment of a situation and looking into another actors eyes and seeing how something I say or do changes them inside. It's an emotional rollercoaster and a drug to perform. I get high off of acting.
Gilles Nuytens: What are the most difficult parts for you in acting? And the easiest?
Ethan Flower: The Most difficult parts are ones that draw on high emotion. Having to break down in a scene and lose control of my emotions. The easiest are when I get to be off the wall crazy in a comedy and just be plain silly.
Gilles Nuytens: Which is the role you preferred to play at this point, the best one, the one that most marked you, and why?
Ethan Flower: I would have to say that I really loved playing Duke in Dragon Day the most so far in my career. I love playing heroes and the character of Duke Evans that I played in Dragon Day is the ultimate hero. It's an amazing task to be given the role of someone who everyone in the entire movie relies on to survive. If I don't get it right then everyone I love will die. That takes a superhuman effort to pull off and make real as an actor. I love playing anti heroes as well. Ones who have really tragic pasts or have jaded personalities but you are drawn to them because essentially they want to do what is best. Another role I recently shot was a real zany one where I played opposite Tobey Maguire in a new Will Ferrell Comedy that is coming out on IFC in 2014. I would have to say that in a way that role marked me strongly. We were encouraged to do a lot of improvisation on set. It is so much fun to really let my imagination go as an actor and just let it rip. Whatever goes. I really enjoy that I get the opportunity to do comedy as well as drama in my career.
Gilles Nuytens: How do you work your character usually, do you have a particular method?
Ethan Flower: It's a really different approach for each character that I play but generally it's the "ESO method". Eat, Sleep, Obsess. I spend all my time thinking, researching and dreaming about what my character would do in every situation. I love the way the human mind works and I love to justify why a character or person would do something in any given situation. There are always reasons why everyone does everything they do. I just have to figure out why or come up with a good enough reason that makes sense to the story line.

Gilles Nuytens: How far would you go to get a role you're really excited about, a role you really want to get?
Ethan Flower: Well, I don't really think like that. I of course will contact people I know on a project if I like it and want to be considered for it. But, I have worked all my life to be an actor and I'm a pretty loyal guy so I don't really believe in competition. I believe that the right roles come my way and as long as I do my best and keep working and doing what I love and putting the right energy into my craft that what is mine will find me. There are many things I have to be passionate about in this life.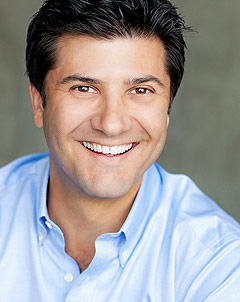 Gilles Nuytens: If you had the opportunity to choose the role you really want to play in the movie of your choice, what would you choose?
Ethan Flower: Well let me put it this way. I wish there was a firestorm about whether or not I was right for the role of Batman! Ha! I would kill in that role! I might have to give Ben a call. We worked together on Mallrats and it's time we had a talk. ?
Gilles Nuytens: Each experience is a whole new opportunity to learn things. So what's the most important thing you've learned lately, acting-related?
Ethan Flower: So many things. Meditation is key. I try to meditate at least once a day. I also try to just close my eyes and shut my mind down for at least 5 minutes before I audition for a role or shoot. Acting is a constant learning process. I have been really working on taking my time, listening to what my fellow actors are saying to me and to not try to do anything, just let it come. It will all just happen authentically if my mind is in the right place.
Gilles Nuytens: What was the most challenging role you had so far?
Ethan Flower: I originated a role of David in London back in the 90's for a new play called The War Boys. We got rave reviews and a British director and friend at the time, Ron Daniels liked it so much that he later ended up directing it into a movie that came out a few years ago. It was a terrifically written play by Naomi Wallace about a group of guys patrolling the US boarder near Mexico. It was a great mix of political theatre and the addition of the everyday barrage of advertising that we get presented in our lives. We did the play in a well-known London fringe theatre called The Finborough Theatre. It was very small in there and that lead to a very intimate performance. I worked with the writer and director for weeks on end getting the specifics of that performance just right. It demanded an enormous amount and combination of physical and mental specificity to detail that really taught me a lot as a young actor. Attention to details that I use today.
Gilles Nuytens: What's your greatest achievement so far, acting related?
Ethan Flower: I would say that still actually in the business is my greatest achievement to date. Seriously. I got into acting because I loved the people. There can be an enormous amount of rejection in our business. So when you do get a job it can be a huge relief. Then sometimes when you work on that job and people treat it as if it's just the same as cleaning cars at the car wash then I wonder, well why are you being like that? I love doing this. This is fun. When people don't enjoy the joy of doing what we do it can take a little bit of you away if you are not careful. I never let it do that. I always love what I do. So in the face of all the difficulties of our career in entertainment, I think that staying an actor and my persistence is really my greatest of all my achievements.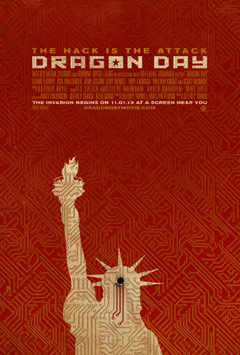 Gilles Nuytens: When you first read the script of Dragon Day, what did you think?
Ethan Flower: Yeah, I loved it. I am kind of a computer nerd anyway; I mean I was using old telephones and old phone modems with an Apple II back when it first came out. I used to log into major main frames and see what was there on their bulletin boards before security was even a word that people used for the Internet. So over the years as technology changed I always knew that our infrastructure was vulnerable. I always knew that our every digital move was being tracked. I mean are people really surprised with what Edward Snowden has awakened the general public to? It's the nature of progression in the digital world. I'm just surprised me that more people were not aware of this. So when I picked up and read Dragon Day and it described how China was going to take over The USA through a Cyber attack, I was like, OK this film is MADE for me. I want to tell this story. I always have. And now I get to. How cool is that?
Gilles Nuytens: China invading USA, I bet Chinese government won't like it... what's your opinion?
Ethan Flower: Wow, well there is certainly a lot there to talk about. I mean, honestly, do I care if China is upset about it? No way. In fact, bring it on! I mean stay out of my laptop but bring it on. Ha! Cyber warfare is a two way street. They do it to us and we sure as heck do it to them. The only difference up until recently is that they were much better at it than we were. Now I think we are getting sort of up to speed but China nails us on a daily basis. They are everywhere inside our machines and we just don't even realize it. They hack into our government mainframes constantly. They steal our military secrets right from under our noses. They hack into major corporations daily and steal info on users and technology. China really has their shit together on that front and we are getting blasted, so that makes me worry. It's only a matter of time 'till we get a major strike. Forget Earthquake preparedness. The new phrase should be Cyber Attack Preparedness. CAP. Ok, I just coined it. Are you CAP ready?
Gilles Nuytens: How was the whole experience on Dragon Day?
Ethan Flower: It was a great experience. The set was professional, the people were kind hearted and generous and the actors were top notch. My biggest problem was wanting to hang out and chat with everyone more but I was in almost every scene and the level of concentration that took did not allow me to hang out between takes at all. I was prepping too much. I did get some time to do that though.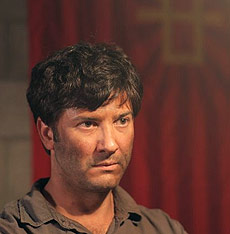 Gilles Nuytens: A follow up: What did you enjoy the most being on that movie?
Ethan Flower: I loved where we shot. What a great place. We shot in a small town in the middle of the woods called Wrightwood, CA. I had never been there before. It's beautiful and so secluded. I reminded me of my small town that I grew up in.
Gilles Nuytens: What are you the most proud of about that movie?
Ethan Flower: There is a scene where we are running out of water and I try to suck what is left out of the water tanks below the house. I loved how we captured the desperation that my character was going though to try to save his family. It's heartbreaking.
Gilles Nuytens: How close (or far...) is Duke Evans from you?
Ethan Flower: He is right inside of me. Real close. I didn't have to search for him at all.
Gilles Nuytens: What did you bring to him? Which part of your personality did you give to Duke Evans that wasn't especially visible on the script?
Ethan Flower: I am a man who will do anything to save what is dear to me. I will fight tooth and nail for those people that I love. I am very protective. I make mistakes sometimes and I do whatever I can to make things right. Duke and I are alike in that and many other ways.
Gilles Nuytens: We love hearing funny stories, anything funny to say about Dragon Day, anecdotes on the sets or anything related to the movie?
Ethan Flower: Yeah, sure. Next to the house where I lived was a local man named Laurence. He invited me to the local bar where we solidified our friendship. He is a great eccentric French musician that played harmonica at the bar on certain nights and was always of a jolly spirit. We got to know each other quite well. He had a crazy messed up hair and mustache or beard I can't remember. He sometimes looked like a homeless person. He would always bring me a bottle of wine to my house at night to have but the only problem is that I don't drink before I have big shoot days and only have a few hours to sleep, so he would stand there chatting with me on my front for sometime when I would have to ask him politely to leave so I could go to sleep. And so, there was a scene in the film of devastation that occurs in the town and a lot of the locals were used in shot. I asked Jeffrey the director if we could use him playing the harmonica in some of those shots in the town. He jumped on it and so in the film we have Laurence playing beautiful and haunting harmonica music and looking so perfect in the shot.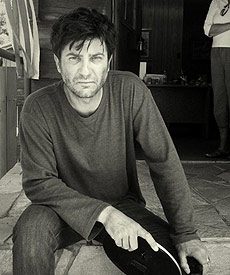 Gilles Nuytens: Any future goals, challenges you want to do?
Ethan Flower: I want to travel more of the world. I love the different cultures that the world has to offer. I challenge myself to see as much of the world before I die.
Gilles Nuytens: A free question to you. Ask "yourself" a question as if you were the interviewer (something that you'd like someone would ask you), and answer it :)
Ethan Flower: What is one of the strangest things that you have ever done?
Ok! Here we go. When I was about 6 to 10 years old, I was a hoarder. I used to go into the post office and dig through the garbage cans for mail that people didn't want. You could find me head first diving into mail trash after school every day at my local small post office. I didn't care that people saw me do it. I would then hoard the junk mail at home in huge garbage bags in my closet. Everything from perfume trials to church pamphlets. Along with about 5,000 matchbooks from all over the world, Hundreds of bottle caps from around the world, comic books, T-shirts, old coins and Baseball cards that I won at school. One day I threw it all away. I think it was after someone I had invited over had stolen my comic books. I burnt all the matchbooks at once in a big pyromaniac blaze of fire. I threw all the mail and bottle caps away. I gave the coins to my brother. Can't remember what happened to the T-shirts. The baseball cards I later sold to help me pay for College expenses.
Gilles Nuytens: Thank you for this interview! Anything else you'd like to share?
Ethan Flower: I appreciate your time. Check out our trailer at www.DragonDayMovie.com and it was great sharing with you. I hope you like Dragon Day as much as I do.