Date of publishing: 27th February 2005



Frida Betrani was raised in Montréal, Québec, Canada. At the age of 12, Frida and her family moved to Vancouver, British Columbia. Frida's passion for acting started at a young age, when she appeared in a play in the 1st grade. She went on to study acting all through her high school years, doing several theater projects along the way including musical theatre. She later moved to New York City to pursue her studies and graduated from The American Academy of Dramatic Arts. Returning to Vancouver, Frida landed her first job as the West coast hostess on YTV "Streetnoise". Frida is best known by the sci-fi fans as Lya, the female Nox in the earlier seasons of Stargate SG-1.


Gilles Nuytens:

Hello Frida and thanks for taking some time to talk with us. Did you enjoy the shooting of the Stargate SG-1 episodes you appeared in?


Frida Betrani: Hi Gilles, Yes, I definitely enjoyed shooting all my episodes of Stargate SG-1 but the first one was particularly special because we shot for seven days in a beautiful location (even though there was lots of rain!) and I had so much fun meeting the cast for the first time. Also, director Charles Correll gave me a lot of freedom to explore and create the character which was great.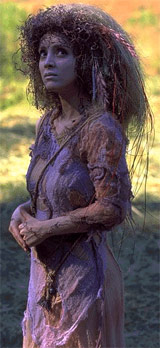 Gilles Nuytens:

Wasn't it a bit difficult to concentrate on your line with such an unusual costume on?


Frida Betrani: This was the first sci-fi show that I had ever done so working in that type of costume definitely presented some challenges. (The headpiece was VERY heavy!) But, at the same time, the costume helped me discover the character so saying the lines actually came quite naturally.

Gilles Nuytens:

What were your opinions of the character you were playing? Is she anything like you?


Frida Betrani: The main things I like about Lya, which I also identify with personally, are her love of peace and her belief in compassion.

Gilles Nuytens: What do you want to say to your fans who want Lya to come back?
Frida Betrani: Write to the producers and tell them and you want me back! I'd love to come back on either SG-1 or Atlantis!

Gilles Nuytens:

Regarding your career, in which movie/TV show you may dream to act?


Frida Betrani: Some shows I would love to act in would be Six Feet Under, Curb Your Enthusiasm and Rescue Me.

Gilles Nuytens:

What about a come back of Lya?


Frida Betrani: I am almost always asked these similar questions about a come back for Lya. I would love to play her again, and I believe it would take a great writer to draw up a unique story line. I have in the past watched SG1 shows but I have not yet caught any Atlantis. You might have some better luck asking the producers of the SG1 or leaving a message on the SG1 site about future plans for Lya.

Frida Betrani: Here's a question for you. Which part of Belgium are you from?
Gilles Nuytens:

Did you already visited Belgium ? If yes, that's great! I'd be glad to discuss more with you about my country. I'm born in Brussels and.... live there until now, it's a little country but usually people like it. And you, if you visited it, where did you go? Did you like it?



Frida Betrani: No, I have never been to Belgium, but I hope to someday. I have however had some amazing chocolate from there!

Peace and Love,
Frida