Date of publishing: 20th August 2007



Garrett Richard Wang was born on December 15, 1968 in Riverside, California to Chinese immigrant parents. He and his sister Laura spent their childhood on the move. He lived in Indiana, then moved to Bermuda and finally to Tennessee. Later, he graduated from Harding Academy High School, Memphis, and moved to Los Angeles to attend UCLA where he majored in Asian studies. UCLA theater professor Jenny Roudtree inspired him to pursue an acting career. His first acting performance outside College was the portrayal of "John Lee" in the lead role of Chay Yew's "Porcelain" at the burbage theater. Later, he continued to perform onstage such as "Model Minority", "Woman Warrior" and "A Language Of Our Own". He made his TV debut in 1994 as a guest star on the pilot episode of comedy All-American Girl. One year later, he got the part of "Ensign Harry Kim" on Star Trek: Voyager where he appeared on television regularly for 7 years. Later, in 1997, Wang was named one of People Magazine's 50 most beautiful people in the world. Also E! Entertainment Television has named Garrett as one of the "20 Coolest Bachelors" in the country. His television experience also includes roles in a variety of movies including Flesh Suitcase, Angry Cafe, Ivory Tower, Hundred Percent, Demon Island, among others.
(Biography written by: Mia)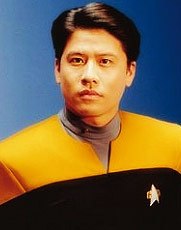 Gilles Nuytens: Looking back on the seven seasons of Star Trek: Voyager what would you attribute to its long run?
Garrett Wang: I don't think that there is really anything to attribute it to except for that they had always planned for it to be seven years so Next Generation was seven years, Deep Space Nine was seven years and Voyager seven years, it was only Enterprise that was unfortunate enough to only get four years. So I think that was just standard, I don't think there was anything to attribute it to.
Gilles Nuytens: Were there any concerns on the part of the executive producers with regards to ratings when Stargate: Sg-1 started it's run in 1997?
Garrett Wang: No, not at all, I don't think so. There's enough room for everybody, I think.
Gilles Nuytens: Did the story lines from Voyager, as Season 1 progressed, meet your expectations?
Garrett Wang: Not my expectations because I really expected to be used more, to be utilised more on Voyager Season 1 and I actually talked to them the second season I said "Listen I want to have a stunt double, I want to do some stunts, I want to run, I want to kick; I want to have a love life". So I had to convince them to give me more things to do. I didn't think it was adequate at all [laughs]
Gilles Nuytens: Six years after the end of Star Trek: Voyager what would you say about your whole experience in the Star Trek world?
Garrett Wang: I think like with any experience there's good and there's bad. The bad part of the experience was having to deal with the politics. The politics behind the producers, the politics behind the actors dealing with each other. The good part is being part of something that is very exclusive, being part of a franchise that has been around for over 30 years, these are the good things about it.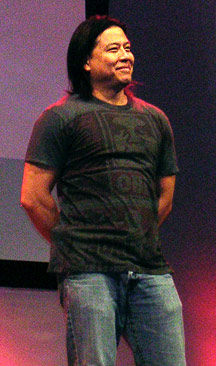 Gilles Nuytens: Recently we celebrated the 40th anniversary of the franchise, did you do something for this occasion?
Garrett Wang: Hmmm I had a party [laughs]. No, nothing special.
Gilles Nuytens: What was the craziest experience you have had with a fan?
Garrett Wang: This one woman she came up to the table , the autograph table, and she had her baby with her and she asked me if I could sign, autograph her babies head and I said no. That was pretty crazy I thought, it was like What? It's probably toxic you know, it's like you're not going to put a Sharpie, a black pen on the babies head I said no thank you. That was crazy.
No, that isn't the craziest one! The craziest one was in England. This woman came up in a wheel chair, she only had one leg OK. She was drunk and she climbed on the table and she grabbed me and she was talking very sexy you know like she wanted me to be with her and I was "Whoa, whoa". And when I didn't talk to her, she slapped me across the face. That was the craziest, I've never experienced anything like that. I was laughing because is was crazy, so crazy, so kookoo that I was laughing.
Gilles Nuytens: What aspect of your personality do you share with Harry Kim?
Garrett Wang: Well probably there is a very serious side to me at times and Harry Kim can be quite serious about things. So I think that's probably the closest thing.
Gilles Nuytens: Did you have a lot of creative freedom with your character?
Garrett Wang: No, not really. I tried, I mean I always told the writers Listen you need more comedy, it has to be funnier. Make Ensign Kim funnier and I suggested that all the time but in their minds they felt that the only characters that could be funny were holodeck characters like the doctor or Nelix, an alien. They thought that those are the characters that are allowed to be funny and I said that's wrong you should let the human characters be funny, they didn't do that. So creative control, very little of it.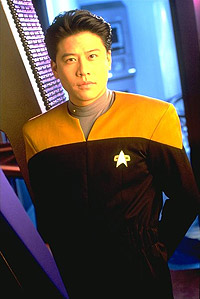 Gilles Nuytens: You've participated in Star Trek Of Gods And Men, what can you say about your experience in that?
Garrett Wang: It was a very difficult shoot because we were filming in upstate New York, we didn't really have a soundstage. It was a garage, it was an old car dealership garage so it was hot, there was no air conditioning, very, very hot, very humid and it was difficult. It was a tough shoot but it was fun because I got to play a character who's kind of bad, Ensign Kim is always so good, good, good; this character is kind of bad so I like that.
Gilles Nuytens: We haven't seen a lot of you since the end of Star Trek: Voyager what have you done since then and what are you going to do?
Garrett Wang: Well the first few years I just travelled, I went to all the places that I wanted to go to that I did not have the time to go to while I was working on Star Trek, so I did a lot of travel. Then after that I did try to do some auditioning but I think with all the reality programs that are out there, there's a lot of reality shows, it's taken away a lot of the jobs. A lot of the opportunities are not there and being on a show for seven years kind of keeps you a little stagnant, your creativity is a little squashed so I wasn't really as creative or open as I could be. In the last two years I have actually stopped auditioning, I haven't even auditioned for anything except for things that my friends call me about. With Of Gods And Men, Tim Russ called me so I said Sure I'll do that. I did another independent film where again a friend called me to say come on in. The future for me is probably getting back into acting again full swing, that will happen at some point but not now.
Gilles Nuytens: Has Star Trek mostly opened doors for you or closed doors in acting?
Garrett Wang: Some of both I think. I think Hollywood doesn't really take science fiction seriously, they think it's a kid's show, they think oh yeah, whatever, they don't think that it is a real show and it's very weird. They know how much money it makes for them but they don't think of it as a real show, it's very bizarre. I think in a way it has hurt me a little bit, it would be easier if I was an alien then they wouldn't know what I look like underneath and then I could go off and do something different. But the good part is that people know that I was on a show for seven years so there are some plusses too.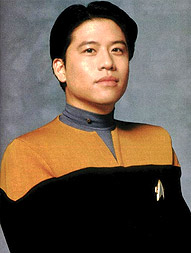 Gilles Nuytens: Is there a project, movie or series that you would really like to be a part of?
Garrett Wang: Yeah, there's always stuff out there that I want to be a part of. There's a very popular show in the United States called Grey's Anatomy, it's a medical program in a hospital, and I think that that would be something good because there's so many doctor's that are Asian and they're not there. So that would be something that I would enjoy.
Gilles Nuytens: Are you interested in directing or writing for a TV show?
Garrett Wang: Yes, both
Gilles Nuytens: Are you going to?
Garrett Wang: We'll see. That is the next logical step though, to actually write the show and be a showrunner and create my own television show. Maybe I'll create my own television show about being on Star Trek: Voyager. Why not? I have all the experiences and all the material that is already there, it's history now.