Date of publishing: 30th January 2008



Gigi is an Australian actress who stole the hearts of sci-fi enthusiasts with her role as Chiana on Farscape, a cult science fiction TV show by Henson Company. She is an adorable, exuberant and energetic person, who is a pure joy to talk to in person. Gigi was born on November 16, in Perth, Australia. She earned a Bachelor of Arts degree from the Queensland University of Technology after entering in the auditions along side hundreds of other candidates. Gigi has accumulated a truly remarkable set of skills she utilizes throughout her career. Including, dance, singing, martial arts, trapeze and her signature fire twirling.
She has recently finished shooting the feature 'Newcastle' and the
documentary 'Creature Keepers'. Just prior to this she was working on 'The Starter Wife'.

Her other credits include a feature shot last year in the states, 'Showdown at Area 51'. Gigi additionally starred for six months on one of Australia's most popular and respected television series 'The Secret Life of Us'. She has also worked in lead roles on countless other films, series, mini series and theatre. These include Systolic, Twisted Sister, Black Jack, Monkey's Mask, Him and Her, Peacekeeper Wars, Stingers, Beast Master, Lost World, Water Rats, Day of The Roses, Kill Everything you Love, 4.48 Psychosis, Kakos, The Rover, Boy's Life, The Rover, Real Girls, Romeo and Juliet The caged Birds, Blue People, Princess and the Pea, Road Picnic at Hanging Rock and Les Miserables.

She starred on the Jim Henson Company's series 'Farscape' for four and a half years. It has an astronomically large fan following. The merchandise includes action figures, video games, trading cards…the list goes on.
This interview has been conducted by Renee Burl during Dragon*Con 2007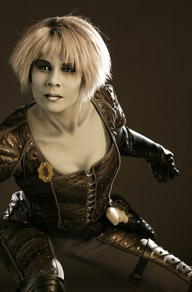 Renee Burl: You are credited for a movie called "Alien vs. Alien". Can you tell me a little bit about that?
Gigi Edgley: We shot it in St. Louis. I think it was last year. It was all a little bit of a time warp. It was amazing. It was my first production that I had a chance to play around with in the States and it was very exciting. It was with two gentlemen called Jason London, who had been in "Dazed and Confused" one of my all time favorites, and also Coby Bell who was in "Third Watch", another great show. We had a great time. They have yet to ask me back for ADR, so I think they are still in post-production mode but as soon as we know when it is coming out I will post it on the site and Jean's site. My site is GigiEdgley.com and Jean's site is, I think it is PeachTreeServices.
Renee Burl: Can you talk about your role in that movie at all?
Gigi Edgley: Yes. I actually got to play a human, which was very exciting and rather unusual for me. She is a scientist that was gently released because she knew a little too much, from some special forces. So I got to play a sexy American scientist and wear glasses. I was very intelligent.
Renee Burl: And can you tell me about the movie called "New Castle"?
Gigi Edgley: "New Castle" I just finished shooting in Sydney and it was fantastic. It's directed by an American, a beautiful, beautiful gentleman called Dan Castle and it's a surfing film. It's a coming of age film and it has a very prestigious Australian cast, so it was an absolute dream to go and shoot in the fresh air and actually explore New Castle because I had never been there before. And I got to play a mum so that was exciting too. I had this beautiful little girl.
Renee Burl: Was that your first time?
Gigi Edgley: That was my first mommy role. I had two kids and it was quite funny because in one of the takes I had a five-year-old girl. She is so beautiful. Her name is Cherry. And a little, little girl and we had this massive crowd scene and we were preparing for it. Through all of the rehearsals all the kids were fantastic and in the actual take all of the crowd was screaming because it was at a surfing competition and the poor little baby was crying and then the little girl started crying because the little baby was crying. They were all crying and I was like, "Well what a fantastic mother I am." So we will see. I'm not quite sure how that shot will turn out but it was very realistic.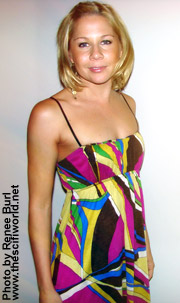 Renee Burl: And the movie "The Starter Wife."
Gigi Edgley: "The Starter Wife" was, I think, a six-part mini-series and it was shot on the Gold Coast in Queensland. They auditioned me in Los Angeles and originally I was up for the role of the Russian nanny. So that was kind of cool because I had never been up for a Russian role before and I just finished doing a gig in London and I got back to Los Angeles where I had been living and I needed to find someone with a Russian accent. So I went down to Fairfax in Santa Monica and it is this area where there is a very strong Russian vibe. I literally just went up to people with my camera, saying, "Look, I'm an actor would you mind. I've got this role for a Russian and I just need an accent." And some people were like, "No, no, we do not want that," and I was like "No, no, no it's all legit. I swear." So finally I got three different ladies talking and it was quite funny because the line is like, "What? You treat me like a prostitute. You use me once and then throw me away." and all this stuff. And it was quite amusing because the only ladies that would do it for me were of some years. So people were watching this scene in the streets and going what is this little young Australian girl doing accosting these poor Russian women, making them say these ridiculous words. So I went in for that role and they said, "Look, we really like your look but we are interested in testing you for Chloe as well. Will you come back?" The next day I went back and tested for Chloe and that's how it all came about with Chloe. It was just so cool. It was just an absolute treat working with Debra, Joe Mantegna, and Judy Davis. It was really very exciting.
Renee Burl: "Stingers." How did you enjoy being a part on that show?
Gigi Edgley: "Stingers" was surreal because I just finished "The Peacekeeper Wars" and one of the directors that worked on the B-Unit of Matrix has seen Farscape and really liked the character. He got in contact with me and he wanted me to be in this rock clip and it was this legendary Australian rock band called the Hoodoo Gurus and they were trying to find the best time to record. And because they were trying to fit in with my schedule we ended up doing it over a weekend and I had finished Farscape: the Peacekeeper Wars on a Friday and went to Outback, like into the middle of nowhere, and shot this crazy film clip and it was called, "When I get to California". It was about this surreal, crazy girl that is driving through this dream state looking for the love of her life. It was amazing. It was really cool. I got to drive this funky old car. The director was pushed in there. I had two cameras attached on either side. No power steering or anything, so I would turn a corner and all the crew in the car were like, "Ahh!" So it went from that to literally the next day was playing a homicide detective on a very renown television series in Australia. So I was an alien, a dream girl, and a homicide detective and I was literally standing over a dead body with blood splattered all over it going, "What? What's going on?" And it took me a while to organize my life. "Fantastic, regroup? Now I'm a homicide detective!" So that was cool. I was guess starring on that for 10 weeks and I had some pretty crazy things to do on that show as well. So it was very exciting and very challenging.
Renee Burl: Now some questions about Farscape. Chiana had a very different with each of Moya's crew members. Rygel tended to bring out her worst side and Crichton, for example, her best side. Is there one relationship that you would have liked to have seen more developed?
Gigi Edgley: I think Chiana and Scorpius should have gotten it on. Just kidding, Wayne. Just kidding.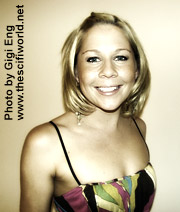 Renee Burl: Like all of the characters, Chiana is changed by her experiences with Moya. Which person or event do you think had the most profound effect on her?
Gigi Edgley: Geez, these aren't easy questions for this hour of the day. Let's see, I think the most fascinating and enticing thing about Farscape is that it's constantly ever-changing and I don't think I can locate one moment. I think there were so many different worlds and so many different characters and so many different creatures and so many different tastes and colors and shapes and sizes on Farscape that's it's impossible to capture one moment and go, "This is it." So I think it was her whole journey. I think it was probably the time when she realized she didn't want to run away from Moya anymore. She had always been a runaway and never really particularly fit in anywhere. So all of a sudden she had this family and didn't quite know what to do with it with all of the horrible stuff that she did with D'Argo. So I was trying to figure out where that came from because it was such a big, disgusting, horrible moral event and I was trying to make some sense of it. I thought maybe it was becoming a little bit real for her and she needs to slingshot back into the life that she knew. Everything was getting a little bit too close to home. So I think most of all I learned a lot of life lessons from Chiana. She taught me more than I taught her. Just to be brave and to play and to surrender to the moment. To really work for what I love and to experiment. To really renew my spirit.
Renee Burl: What do you miss most about Farscape?
Gigi Edgley: I miss all of the gang. I miss my family because they are such an amazing group of people. I miss the creatures. It was such an event. I'm going to burst into tears. I miss playing in the Uncharted Territories.