Date of publishing: 19th October 2007



In the past five years, Gina Holden has been swept up in a wave of work and recognition. She has become a familiar face on the small screen, having portrayed Haley Collins on the CW's Supernatural and Coreen Fennel on Lifetime's series Blood Ties. Holden played the ruthless Rachel on the Fox series Reunion and has made guest-starring appearances on the series Psych and The L Word. For the big screen, Holden's credits include supporting roles in New Line Cinema's Final Destination 3 and Butterfly Effect 2. She will soon be seen in the 20th Century Fox feature Alien vs. Predator 2 and the Lion's Gate release The Christmas Cottage. Holden worked opposite Ben Affleck and Gina Gershon in Man About Town and appeared in the superhero blockbuster The Fantastic Four. Holden was born in the small mountain town of Smithers, British Columbia, where her first performance took place at a figure-skating exhibition at the age of 5. At 15, she was scouted by a modeling agency and invited to work in Japan. Embracing the move, Holden became the face of Shiseido cosmetics and appeared on more than 20 magazine covers. Though her talent and drive brought her success in the world of modeling, it was ultimately a stepping stone for her acting career. A small movie role inspired Gina to take acting classes, and it was in this medium that she found her true passion.
In the new Flash Gordon TV show, she plays Dale Arden. Dale Arden was Flash's high-school sweetheart until she left for college, while he stayed home. Dale now works as a reporter for the hometown television station.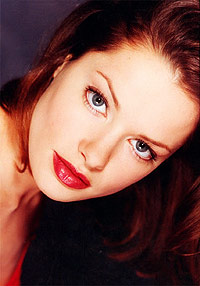 Gilles Nuytens: You're a fan of the Alien saga, so how different is Aliens vs Predator 2 compared to the first one?
Gina Holden: Well it's a very confidential script, so I don't know the specific details about the storyline for the new one, but it's bigger, better and has lots of special effects, so it's just overall a bigger movie with great directors. I think it's just going to be visually much bigger than the last movie.
Gilles Nuytens: Are you also a fan of Predator?
Gina Holden: Yes I am, I'm more of a fan of the Aliens, I'm kind of on the Alien side, but I like both, they're both really exciting. But I really love the Aliens movies, the originals, those that I began watching and became a fan of, and then Predator came later so of course I like that, but I'm a big fan of the Aliens.
Gilles Nuytens: What do you think of the idea to mix the 2 franchises into one movie?
Gina Holden: I think it's great, it just makes for a bigger idea and more excitement, to have the two kind of battle is really exciting, I think it's really interesting and a great idea, and I think the new movie is just going to bring it completely back to life, and make it more exciting for everybody to see.
Gilles Nuytens: What kind of challenges did you go through during the shooting of Aliens vs Predator 2?
Gina Holden: Well the challenges for me are the fun part of acting, it's working with green screen and not the actual monster itself, you use a green ball or something like that, so that's always a really really exciting challenge, because you have to use your imagination, and make yourself believe something that's not really there, so for me that's the challenge, and making it so scary and so real.
Gilles Nuytens: And what was the easiest part?
Gina Holden: I think just being there and enjoying it and having fun, because as a fan of B movies, the easy part is for me to sit and enjoy every minute, and be there and be part of something so huge, that's the easiest part, just going to work in the morning and being there, it's so much fun.
Gilles Nuytens: Is that the project you've been the most excited about so far?
Gina Holden: All my projects are so different, they all have different things that I love about them, but I think that Aliens vs Predator 2 is such a huge cult following, it's got such a massive history, it's very very cool to be part of that, I grew up watching Aliens, so for me, to be part of it is really special.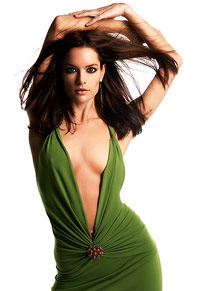 Gilles Nuytens: What does your character bring to the story of Aliens vs Predator 2?
Gina Holden: Well I don't actually have a full script, it's very confidential, so I don't know how my character fits in to the overall movie, we only had pieces, each cast only had pieces of the script, we didn't get to read the whole script for confidentiality, so I have to watch when it comes out and see how it turns out.
Gilles Nuytens: What is unique about this character compared to your previous roles?
Gina Holden: The circumstances that my character finds herself in are very unique, it's such a different reality that I find myself in as this character, it's just a small town so it's different because of what happens to this town, so that's new and different than any other character.
Gilles Nuytens: I read that you're a hard worker, so how does working so hard influence your private life?
Gina Holden: Yes I work a lot, I'm very busy, but I love to work, for me that's really exciting, I live in Vancouver and Los Angeles, both, and both places are very nice for outdoor in my free time, I can go outside and go hiking or do something like that, so I have a nice balance of work and then living in great cities you can have a nice social life as well, even though I'm so busy I find time to spend with family and friends so it's great. But I'm usually working, so that's my life, and I love, I love to work.
Gilles Nuytens: You've been nominated as the Sci-Fi hottie of the month in July, how do you feel about that?
Gina Holden: I was so excited! I saw that and I'm actually so honored, I think it's really great because I love this genre, so I'm so happy that people are enjoying my work in this genre, I'm honored, it's really neat. I'm on the webpage, I can't believe it was me that was picked, I was chosen for sci-fi hottie, so I'm really excited.
Gilles Nuytens: As an actress, you're used to answer questions asked by journalists. Now as Dale Arden, you play a journalist yourself, does your experience influence the way you play the part?
Gina Holden: Yes it helps me very much, because there's a specific way that journalists and reporters speak, how they talk is very specific, so the more interviews I do and news reports etc, the more I learn about this type of language, so it helps me ground Dale, and make her very professional. Being a journalist is very special, so you need to know the language and how they speak. For me it's very helpful, yes, all the interviews I get to do I use them to help her.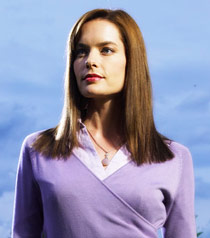 Gilles Nuytens: The more interviews you do the more background to play Dale you get.
Gina Holden: Yes, it helps me in this job, so it's great.
Gilles Nuytens: What aspects of your personality do you share with your character, and what aspects are completely unlike you?
Gina Holden: There are lots of similarities, I think this character is like myself. She's very independent , career-orientated, driven , ambitious and at the same time she's has a big heart and is a normal woman, she's just a real person. So I love this balance, It's very similar to my self or any other modern woman in the world. Modern women have to balance family , career and relationships, so it's me, but it's everybody else too and that's what I love about her. I'm learning about her as I go, so far there's nothing that I would never do that's Dale, , so it's really fun and challenging to play her, I really really enjoy it.
Gilles Nuytens: After a few episodes of Flash Gordon, have the storylines met your expectations?
Gina Holden: Oh yes very much, they've done such a great job. It always takes time to build a new series, so it's getting better and better as we go because you have to establish so much in the early shows and then once you keep growing you get bigger and better and more exciting storylines, so I think it exceeded my expectations. It's such a great show and the quality is very very good, it's exciting to see it, it's getting better and better every script, so I hope people will continue to watch and to support. There's lots more coming, lots of very exciting episodes, so hopefully everybody will enjoy it.
Gilles Nuytens: The show got a lot of criticism, and being familiar with the comic books, how do you fell about it?
Gina Holden: I think it's fine, it's the way the world works, people need to talk about things, it's exciting and that just gives us the challenge to continue,to get better and to work harder, we really enjoy it, but I think it's all valid and important. If we didn't have people talking, then we wouldn't be doing a good job. I just hope that people can continue to watch and enjoy the show. Like I said, every episode gets better and better, and it's ok, it's natural for a new show, we're just starting out. It's going to be very challenging to win over the audience, so hopefully people will keep watching and give us a try.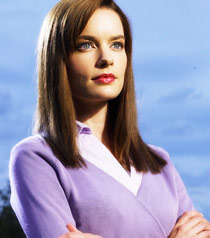 Gilles Nuytens: What in your perspective sets the character of Dale apart from the other characters in Flash Gordon and how as an actor did you approach the process of setting her apart and making her stand out?
Gina Holden: She's different just because of her job and her life on Earth, a lot of the characters are from Mongo, so she's the Earth character that has this big history with Flash, that sets her apart because she's different than any other women characters on the show, their aliens , so they have a different life. Dale's character is the character that's real and just a modern woman from Earth that people can relate to. For me, I just focus on my character, I don't think about setting her apart from anybody else, I just do my job and if I stand out that's great, if I make it really special, that's just how it happens, I don't think consciously how to stand out from anybody else, I just do my best job.
Gilles Nuytens: Have you already heard some feedbacks from the fans about Dale?
Gina Holden: Yes, a little bit, the feedbacks I've gotten are very very positive and people seem to really love my character, so I think it's great, I get lots of interviews and people are very interested in my role , it's very exciting for me.
Gilles Nuytens: What kind of evolution of Dale do you expect in the future of Flash Gordon?
Gina Holden: Well I just think that's she's going to continue to work , grow and to have this relationship with Flash in the future. I think that it will evolve into something probably very special, I don't know when, but it's natural because of how much they care for each other. They are so busy right now that they can't really focus on how their feelings are for one another, but I think that relationship and love triangle will evolve eventually and Dale's career will continue to grow, I'm very excited to see what the future has in store for her.
Gilles Nuytens: What kind of storylines do you prefer, stand-alone episodes like Stargate SG:1 or continuity episodes with constant evolution of the characters like Battlestar Galactica where everything is in constant move?
Gina Holden: That's a great question. I prefer some what of a storyline that carries over from episode to episode, but not so much that somebody new couldn't just watch once and know what was going on, I like a theme and a constant tone to the show that people can come back for and see what happens and want to know what's next, but also that they're each individually are very exciting episodes, so I think a combination of both. The writers are doing a very good job at that, they want to give exciting episodes but not that if you miss one you can't watch anymore, because if you don't know what's going on you won't enjoy it, so I think a balance between the two.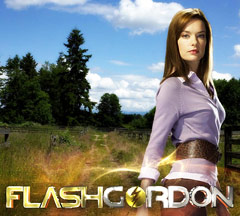 Gilles Nuytens: In one or 2 words, how would you describe your co-stars from Flash Gordon?
Gina Holden: Amazing, fun, professional, and joy!
Gilles Nuytens: And one by one? Eric Johnson?
Gina Holden: Eric Johnson is ridiculous energy, so fun!
Gilles Nuytens: Karen Cliche?
Gina Holden: Beautiful strong woman.
Gilles Nuytens: Jody Racicot?
Gina Holden: Jody Racicot is corky genius.
Gilles Nuytens: Jonathan Walker?
Gina Holden: Oh, Jonathan Walker is fa-bulous!
Gilles Nuytens: Anna Van Hooft?
Gina Holden: Anna Van Hooft is like a fawn, she is so special.
Gilles Nuytens: John Ralston?
Gina Holden: Intelligent.
Gilles Nuytens: Andee Frizzell?
Gina Holden: I didn't actually work with her but I know she had a wonderful prepared professional influence. Wonderful! Everybody was so happy to have her.
Gilles Nuytens: TJ Scott?
Gina Holden: He is adventure and fun, great. Great, great, great!
Gilles Nuytens: Paul Shapiro?
Gina Holden: He is so great! I don't know how to describe him, he is so interesting!
Gilles Nuytens: Panou?
Gina Holden: Panou is so funny, you wouldn't think it but he is hilarious to work with. So, funny, comic!
Gilles Nuytens: Are there any practical jokes from the set of Flash Gordon that you'd like to share with us?
Gina Holden: I don't think there's a specific one but we have so much fun every day, we're always joking, laughing, having fun so we always have everybody joking together and it's great!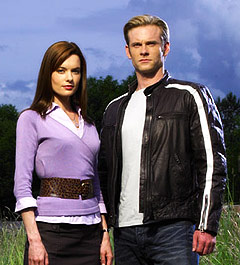 Gilles Nuytens: Is there anything else you would like to say about Flash Gordon that we haven't talked about yet?
Gina Holden: Just that we are having so much fun, it's great show with hearts , humor and adventure .Although it's different than the comic books, it needs to be different, it needs to be modern and updated. It is such a great show and the episodes get better and better , we're working very hard for the fans so that they enjoy watching, and we really really enjoy doing the show, . We hope everybody likes it, we work really hard and we're so grateful for the support we are getting, so thank you to everybody.
Gilles Nuytens: Can you talk about your experience in the movie Code Name: The Cleaner?
Gina Holden: Oh that was great experience, I went in for a small role and it was a very very fun couple of days, I got to work with Cedric the Entertainer, Nicolette Sheridan, Lucy Liu and everybody. It was so much fun, I believe every role is important, no matter how big or how small, so I had a great great time. It led me to another big movie later because of that role, so I'm so grateful for that experience, it was so much fun and it turned out very well, even though it was a small role it was very important for my career.
Gilles Nuytens: About Blood Ties, what memories do you keep from the show?
Gina Holden: Great, great memories. My character is so cool… It's a very very fun, smart, spunky, kind of crazy character, she's very cool, and I had an amazing time playing that character, so I'll always remember that and I have lots of fans from Blood Ties. It was something that was a very small idea and it turned into a big idea in the end, so I will always love that show. I think it's wonderful and I hope they go another season.
Gilles Nuytens: So you know nothing yet about a second season?
Gina Holden: Not so far, nobody knows for sure, it's always very difficult to tell in television nobody really knows. They should find out soon, but I don't know how that works.
Gilles Nuytens: If there is a second season, would you be part of it?
Gina Holden: I'm not sure, we'll have to see, that's up to my producers on Flash Gordon, I'm committed to Flash Gordon, but if I had time and if it's possible I would love to, I would absolutely love to.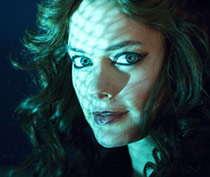 Gilles Nuytens: Can you talk about The Christmas Cottage?
Gina Holden: Yes, another wonderful movie, a dramatic movie, different genre, I worked with Jared Padalecki again, we did Supernatural together, so we had a wonderful experience with this movie, it's very special , very light hearted, meaningful and a wonderful story. So great to work on a big feature film like that and have a beautiful, dramatic performance. It was wonderful.
Gilles Nuytens: What can you tell us about your character in this movie?
Gina Holden: My character is a high-society, very wealthy college student and she is very much into art, in the dark New-York style of art, and wants to influence Thomas Kinkade, who is played by Jared Padalecki, she's encouraging him to go to the deep dark side of art and not do commercial art so to speak, so she's very intelligent and persuasive . They have a very heated relationship in college together, they don't end up seen together, but they have a very special relationship. It was a very different experience/character for me, very beautiful character.
Gilles Nuytens: Of your whole career, what are you the most proud of?
Gina Holden: Everything! Everything that I have done, I'm so proud of. The way that I have grown as an actress and all of my experiences. I'm just so proud of everything that I have done. Whether big or small. I'm just proud of how I felt with everything. I just think it's wonderful. So there's not one specific project because everything as led to the next and every door has lead to another door, I'm just proud of everything that I have done.
Gilles Nuytens: Do you still do some modeling or are you more focused on your acting career?
Gina Holden: Oh, no, no, no! That's just long time ago, that's something that led me to something else. I'm not interested in modeling at all but it was wonderful when I was young to travel and to learn about camera, work ethic and long hours all prepared me for now being actress so it's a very important history for me but not what I want to do at all. I'm not interested in it as a long term thing. I like acting!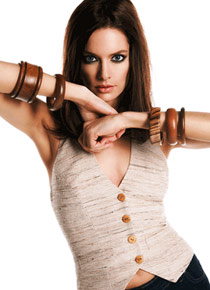 Gilles Nuytens: If you were given the opportunity to choose a character of your choice to play in a movie of your choice, what would you choose?
Gina Holden: Thank you for asking! I hope I can play so many different things but I'd love to play maybe something very dark,deep secretive and challenging. A role that challenges me even more than I am challenged now. A character where I can overcome something would be interesting as well., maybe in the theatre and on screen. I'm actually very lucky that I studied theater, so now I'm able to do many many characters from plays. I think it's wonderful to go to a very deep ugly place in yourself and express that and tell the story for somebody who is going through something really difficult . Then that allows me to play very smart, very educated characters so they have the balance, I play a very strong women in my roles so to play something very weak and dependent on something or someone would be interesting to balance. I don't like just one type, I like very different types.
Gilles Nuytens: What was your motivation to become an actress?
Gina Holden: My motivation is just pure … something you can't really describe, just a dream and something that I really wanted to learn about. I was so curious about what this passion was that I had so I just wanted to go to acting class and see. It led me to a great career but originally it was just a feeling that you have, that you need to do this something. It's very difficult to describe but it's like anyone with a dream, you just have it inside you somewhere and it just propels you. My drive was just unstoppable and I just wanted to go for it and see what I found and I found something that's so important to me ,I'm very grateful that I was able to follow through with it.
Gilles Nuytens: Generally, before playing a character, how do you prepare yourself to be in the mood of the character?
Gina Holden: I prepare myself by doing so much preparation work with the script and working on it is just going through every type of feeling and emotions. Doing back-story on the character before an audition, small audition or big role, same process. I just commit fully, I go for a walk, I sit by the ocean and I just let life flow through me. I can take in the character and learn the lines, really prepare as much as possible, so when I'm filming i am relaxed and free. I know I've done all the work so I can just let it go and have fun with the director , play and find great things. Being prepared is very important for me.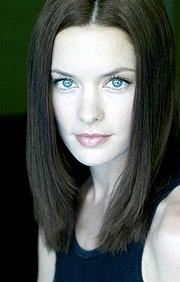 Gilles Nuytens: What else can we expect from you in the future?
Gina Holden: Well, you can expect me to work very hard and to hopefully be working in great projects and having a lot of fun The doors are open, the future is great and I will be enjoying life and working very hard. So we'll see what's next, I'm excited to see what's next too.
Gilles Nuytens: And my last question, is there anything else you'd like to see or to share about anything of your projects, career?
Gina Holden: I just want to share my thanks to the fans, to you and to people who are interested in watching my work. I thank them very much, it means so much to me, I always work my hardest, I do my best, I have great time and I'm very down to earth and real and that's just me, I'm very accessible as a person, so please if anyone as any question or letters they want to write me I would love to get them so thank you everybody!