Date of publishing: 12th February 2007



Model, singer and actress, Holly Valance was born in May of 1983 in Melbourne, Australia. At the age of twelve she became a model, and three years later the crew of Australian soap "Neighbours" approached her to play the part of loveable Felicity 'Flick" Scully. Her parents encouraged her to take the role despite Holly's initial reluctance. It turned out to be an excellent move. Holly Valance quickly became one of Australia's most loved actresses and a household name. Holly left Neighbours at the age of 19 to concentrate on her music career. In April 2002 she stormed to the no.1 slot worldwide with summer smash "Kiss Kiss." She later released two additional singles, "Down Boy" and 'Naughty Girl", along with her debut album "Footprints". In 2005 she won the lead role in the cinema adaptation of the popular video game "Dead Or Alive", playing Christie Allen. Shortly after, she landed in the hit TV show Prison Break, playing Nika Volek, a Russian stripper and wife of Michael Scoffield. Check her online blog at: www.hollyvalance.com


Gilles Nuytens: You are a multifaceted artist, modeling, and singing and acting, can you tell us what you like the most about each of these professions?
Holly Valance: When I was young and modeling it was a great experience and introduction into the entertainment industry. I made way more money than any 13yr old should and I liked working hard and achieving things for myself.
Acting was something early on in life I was stimulated by but I never thought of it as a realistic job for myself. It seemed so far away from my normal upbringing but once I was given the opportunity to audition for Neighbours my senses told me this was something I had to give a go.
I'm from a very musical background with my family so it's only natural for me to have a creative instinct and interest in music, it's an extremely hard industry and I was putting in more than what I got out so I'm put it on the back burner for a while. And I missed acting too much.
Gilles Nuytens: If you had to choose between one of the 3 professions, which one would you focus on and why?
Holly Valance: Oh modeling doesn't even come into the equation. I have a mind that's constantly ticking and needing to be worked hard and stimulated so that's out of the question. I love writing music and making it, but not necessarily doing all the crazy publicity that comes with it, so for now I'd say I'm most content acting.

Gilles Nuytens: You have accomplished a lot of great things during your career, what are you the most proud of?
Holly Valance: I love entertaining people, making them feel good, laugh or dance. Whether they've loved a character of mine or one of my songs is something that they rock out too that's when I know I did my job right. But I'm most proud when I can help my family or friends out and share everything I've worked hard for because if there's no one to share it with what's the point in having it???
Gilles Nuytens: You have a leading role in the movie Dead Or Alive, a video game based movie, and did you know about the video game prior to getting the job?
Holly Valance: Yes I did, although I hadn't played it before I was given the role.
Gilles Nuytens: Have you played the game? If yes, do you like it and this kind of game?
Holly Valance: I have played this game for hours and hours and hours. Basically all the down time we had on set in China, the girls and I played. And this is one of my favorites cos I actually got good at it for a while and knew which characters had the coolest moves and who I wanted to be.
Gilles Nuytens: You had an intensive Wu Shu training during 4 months before starting to shoot the movie; can you speak about this experience?
Holly Valance: Well the first month of training I thought I was just going to die. Eventually I got fitter and more flexible and the pain went away... for the most part. I was extremely proud of myself and the girls for all the progress we made in 4 months; we can kick some serious ass for real!!!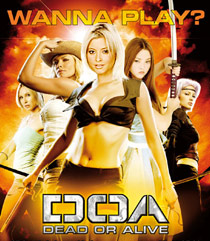 Gilles Nuytens: You also do kickboxing, What are the main differences between Wu Shu and kickboxing?
Holly Valance: Lord where do I begin? I had to relearn a basic roundhouse and punch because it was a Muay Thai kick not Wu Shu. That was hardest, changing my instinctual fighting ways. It would have been easier to start from scratch having no training before!! But I slowly learnt new things and it's a very beautiful form that I'd love to continue working on. That's why it's in so many movies; it's so fluid and graceful and looks incredible.
Gilles Nuytens: You said in your blog that shooting in rural China was difficult, can you describe a bit your life there, and what was the most difficult experience?
Holly Valance: I think the even Chinese crew found it hard in rural China. They were as sick as us and they were from a few hours plane ride away but the same country. I really wish I'd written a daily journal of all the funny things that happened cos no one would believe it, but the hardest part was being violently ill with food poisoning everyday for 4 months, as were the others.
Gilles Nuytens: What was the best gig or funny experience during the shooting of DOA?
Holly Valance: There was a very humorous evening when a Wu gong (a giant centipede, and poisonous) was in my room and the staff came to catch it with chopsticks. I think they were more frightened of than me.
Gilles Nuytens: Did you already watch the movie? What do you think of it?
Holly Valance: I have seen the movie 3 times now I really like it. I'm my worst critic but I think it's a lot of fun, full of laughs and the fighting is sick! Boys love it cos there's hot chicks and fighting. Girls love it cos we get to be the hero's, gamers love it because it stays true to the game and martial artists love it cos the fighting is fantastic.
Gilles Nuytens: What do you think of video games being adapted to the big screen in general?
Holly Valance: I think as long as the movie is entertaining to people who aren't familiar with the game its great. You reach a massive audience that way. There's a huge market for them.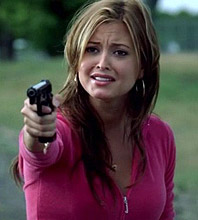 Gilles Nuytens: You are also in the cast of the hit TV show Prison Break, how did you land on the show?
Holly Valance: Like everyone else. I auditioned. I didn't think I had a chance though because the girls I was up against really had Slavic accents so I thought I was screwed, turns out my Serbian roots kicked in and I was able to pull it off.
Gilles Nuytens: How was your experience there?
Holly Valance: It's a total boys club but that's fine with me. We had a great laugh and I enjoyed it immensely! I was very excited because I'd been a fan of the show already and couldn't believe I was now a part of it!
Gilles Nuytens: What can you share with us about your experience working with Wentworth Miller?
Holly Valance: He's very professional, quiet and a nice guy. Things ran very smoothly so I have no juicy gossip I'm afraid!
Gilles Nuytens: Do you have anything in common with your character Nika?
Holly Valance: Yes, we're both money-grabbing strippers from the Czech Republic on mail order in the USA. Just kidding!!! No I would say our minds work very differently, although perhaps some of her feisty strength is in me.
Gilles Nuytens: You play a character that has been brought to USA to fall in the world of prostitution, how did you prepare for this role, did you meet some of those girls to help you prepare for this role?
Holly Valance: Well stripping is pretty different from prostitution so I didn't fortunately have to delve into the world of that. But I've visited a couple of exotic establishments in my time and known a couple so I have a vague idea of what goes on. It wasn't so necessary for her though because it was something she was doing out of survival. She was illegal and couldn't get a proper 9-5. I'm sure if she had a green card she's be teaching 2nd graders. Hahahahaha!
Gilles Nuytens: What would you like to say to all those girls that are victims of this business?
Holly Valance: I don't think anything I could say would matter particularly. Some are not victims and truly love exotic dancing and view it as a career. Others are enticed by a boyfriend, some need money for drug habits, and everyone's situations are different. But until I've walked a mile in someone else's shoes I'll never know what the real down falls are.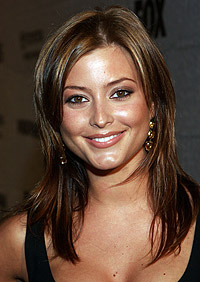 Gilles Nuytens: The last time we saw you on Prison break, the story arc with Nika seemed finished, are there any plans for Nika to come back?
Holly Valance: Yes she will appear in season 2 with some very juicy storylines!!
Gilles Nuytens: You have modeled alongside Naomi Campbell at a Melbourne Fashion Show, is it true what they say "the fashion world without pity"? Have you had any bad experiences?
Holly Valance: That was 10 years ago but I would say if you're of strong character you can get through many hardships, including earning $300 an hour and standing around for hours posing. Ha!
My bad experiences consisted of long hours at work and the occasional pimple. It's not so bad. If you have a predisposition to eating disorders or peer pressure maybe you will fall into the dark side but generally all the girls I know who model are very healthy happy women who want to milk while they can.


Gilles Nuytens: What are your current projects and is there anything coming down the pipe for future projects?
Holly Valance: I'm working on the new Luc Besson feature called "Taken" starring Liam Neeson in Paris in March. I'm very much looking forward to that because I'm a fan of both those men. I'm shooting a British independent in Serbia in the summer about the Balkan conflict and an Australian drama later on in the year in OZ. There's a couple other things in the pipeline but they're all too early to get excited about! I'll let ya know!