Date of publishing: 22th June 2005



Jaime was born on April 2nd, in Farmington Hills, Michigan, a suburb of Detroit. She started performing at age 11 in the debut of Israel Horovitz's play, "A Rosen by Any Other Name." She worked consistently around Detroit, acting in many of the regional theaters. At 16, while attending Cranbrook Kingswood High School, Jaime founded Apollo Theatre Productions. She rented out a theater, hired a well-known local director, professional actors and an entire crew to put up their first show. She acted as both producer and director, and found such a warm reception that she produced two more shows the following year.

She will portray Lieutenant Laura Cadman in the episode 'Duet' the 4th episode of of the 2nd season of Stargate Atlantis. She gave us more information about her character. We also got 2 exclusive images from this episode. Check them out at the end of this interview.


Stargate Ultimate: How did you get Lt. Laura Cadman's role?
Jaime Ray Newman: I auditioned for it through Paul Weber. I had seen the show a few times on late night TV, but wasn't that familiar with it. Even at the audition I didn't realize I would be playing a Marine!

SGU: Do you think this character may become a recurrent one?
Jaime Ray Newman: I would love if it became a re-occuring role! I had never worked in Vancouver before, and had a blast. I really loved playing Cadman too. She's a free spirit, and says it like it is. She is the polar opposite of McKay, which obviously added to the comedy of the episode.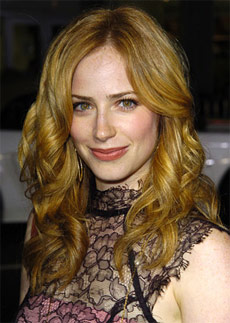 SGU: How is the atmosphere on the Atlantis' set?
Jaime Ray Newman: Everyone is so generous and open. After a day working together it felt like family. I spent a lot of time with David Hewlett, Paul McGillon, and the writer Martin Gero. They made me feel right at home, and showed me Vancouver as well. Everyone really seems to get along and have respect for each other on the set. It was very easy going, yet the work ethic high. A great combination.

SGU: What is your character's personality?
Jaime Ray Newman: Laura is a lot of fun to play. She's a marine, so she is tough and smart and high energy. She can hang with the boys, but when she likes someone (i.e. Beckett), she goes after them full throttle. She is definitely a life-lover.

SGU: Are you a Stargate fan? Do you prefer SG-1 or Atlantis? What do you think about these two shows?
Jaime Ray Newman: Didn't really know anything about them, but got a quick education while on set. They are great genre shows, really well executed, and fun to do. I like sci-fi a lot!

SGU: You spent some time with David Hewlett? Was it fun? What kind of person is he?
Jaime Ray Newman: David is hilarious. A really nice guy. But more than anything, he is a fantastic actor. He had to play me for half the show! I was constantly impressed with his work and comedic timing. I learned a lot from him. It was more than a pleasure working with him.

SGU: What's your best memory on the Atlantis' set?
Jaime Ray Newman: Learning to shoot the big gun! They took an afternoon to train me, but it never made it in the scene. It was incredibly fun to learn about though.

SGU: And lastly, do you like Turkey sandwiches? According to the rumour mill, it's worshipped within the crew and cast staff.
Jaime Ray Newman: They were quite yummy. On whole wheat bread nonetheless!


| | |
| --- | --- |
| | |