Date of publishing: 5th April 2007



James Kyson Lee can currently be seen as one of the stars on NBC's Golden Globe nominated hit drama "Heroes." On the show James plays 'Ando Masahashi,' sidekick and best friend to 'Hiro'. Traveling from Japan to the states, 'Ando' begins his journey as a realist and is soon transformed into a believer, as he comes across supernatural events and begins to claim his place on the mission to save the world. James was born in Seoul, South Korea, then moved with his family to NYC at the age of 10, where he later attended Bronx H.S. of Science. He studied Communications at Boston University and New England Institute of the Arts, where he also began performing in music, dance, and improv. In summer of 2001, James sold his used car for $1800, packed one suitcase, purchased a one way ticket, and jetted off to Los Angeles. There he began training in jazz singing, musical theater, and for the first time - acting. In his first ever Television audition, he landed a guest-starring role on CBS' "J.A.G.", and since has appeared on NBC's "Las Vegas", "The West Wing", "Heist", as well as ABC's "Threat Matrix", and Fox's "All About the Andersons".
In addition to "Heroes," James will be starring in four feature films in 2007 & 2008, including "Big Deal" with Treat Williams, Daniel Baldwin, & Charlotte Ross, "Asian Stories: Book 3" opposite Kathy Uyen, "Big Dreams, Little Tokyo" starring opposite David Boyle, and "Point of Contact" with Buddy Dolan. He will also be starring in the upcoming action-thriller video game: The Darkness, for Playstation & Xbox.


Download the audio interview by clicking here (Zipped MP3 file)
Disclaimer: Please, do not direct link to this file, link to the page ONLY.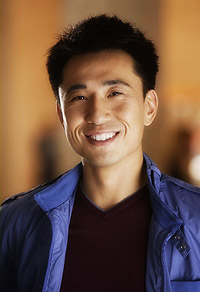 Gilles Nuytens: How did you get into Heroes?
James Kyson Lee: It was a long audition process that started about a little over a year ago and basically I had to audition about five times. There was delay through audition and then the call back with the producers and then there is what's called a work session where the casting people and the writers and the producers prep you before going before the execs. We had to do a studio test with Universal Studios and finally there was a network test with NBC.
Gilles Nuytens: Were you a fan of comic books and Manga?
James Kyson Lee: Yes, I was. I grew up reading comic books like Spiderman and loved Batman and Superman and I also was a fan of Japanese Manga. I like Dragonball and Slam Dunk. Definitely a genre I grew up reading and watching. I had a very active imagination as a kid. What was cool is in a couple of episodes ago we got to meet Stan Lee who is the founder of Marvel Comics, who created comic books like Spiderman and Fantastic Four. He made a little cameo in an episode as a bus driver. So that was a big treat.
Gilles Nuytens: How was it to meet him?
James Kyson Lee: How was it to meet Stan Lee? It was great. It was really fun and interesting to talk to him. Like I told you, it's somebody who created stuff that I grew up reading. It was definitely special.
Gilles Nuytens: Did you audition only for Ando or did you try to get the opportunity to audition for the role of Hiro?
James Kyson Lee: Actually, when I was auditioning, they weren't auditioning anyone for my role of Ando. So I had to audition as Hiro. And then when we basically got through the whole process, by the time we got to the network test, they basically just narrowed it down to me and Masi and then kind of said Masi will play Hiro and James will play Ando. The part was really offered to me. No one had others to play the part.
Gilles Nuytens: Do you follow Heroes on TV like some of your co-stars do?
James Kyson Lee: I do! Yeah! I'm a fan of the show as much as the next person. It's always great to see the episodes and how things turned out. A lot of times we don't get to see our co-stars because we're filming on different days and different locations. Catching up on the show is always fun.
Gilles Nuytens: What is your most favourite part of the show?
James Kyson Lee: You mean being on the show or watching the show?
Gilles Nuytens: Watching.
James Kyson Lee: I think it's overall a great experience. I love watching performances of my fellow castmates. Also, the writing is so great. And so many things are unpredictable. There are so many surprises and twists and turns that, really, from beginning to end, I feel like it's a great ride.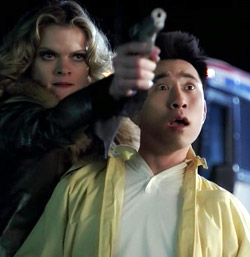 Gilles Nuytens: And what is your favorite part in the acting perspective?
James Kyson Lee: It's a lot of fun. They love writing for our storyline. Playing Ando has been a lot of fun because he sort of started out as this realist who sort of considers Hiro like a child living in a fantasy land. He slowly has to transform into a believer, realizing that he has a really strong claim and stake in this journey to save the world as well. Ando's a character that's gone through some of the biggest character growth during season one and they really have created this really interesting dynamic duo of a sort. We get to add a comedic element to the show that's really rare in any kind of one hour drama. I think it's what separates us from anything that's out there on television.
Gilles Nuytens: Are you happy with your character development so far?
James Kyson Lee: Yeah. I think as this season progressed, the character of Ando has organically been growing. He started out as this side kick to Hiro and then by the time we got to episode fifteen, they kind of swapped roles and you see Ando sort of become the leader of the two and become the hero and sort of spearheading this mission. Now Ando's motivation was a little different because he met a girl named Hope and they kind of run off for a couple of episodes. I kind of see it as Hiro is kind of like the Luke Skywalker. He sort of has to be the responsible one with the mission and I think Ando is more like Han Solo where he gets to go off, be adventurous, and have some fun. It's been really interesting.
Gilles Nuytens: How would you like Ando to evolve in the second season?
James Kyson Lee: Well, technically, I have no idea how second season is going to develop, but it'll be great to see more of Ando's back story and his background. And it would be awesome if Ando were to develop some special powers in the future. I know there are some theories going around on the internet. But we were talking about this the other day and wouldn't it be funny if Ando got a power that was unique, but random, like make cheese out of thin air, you know? It's like, "Mozzarella!" Or like, "Spaghetti sauce!" Maybe he could be like a karaoke hog. When I get mad, I turn blue and start singing eighty's rock songs from Journey. It's like "Don't stop!" and there's explosive glass shatter and the villain is like "Please! Make him stop!" I think it would be really fun to have a special, unique ability that's out of the ordinary. But who knows. Everything is up to the writers and producers.
Gilles Nuytens: Any similarities between you and Ando?
James Kyson Lee: I think as the season has grown I've been able to bring some of my own characteristics that I've created into the character and I think when it started out Ando was sort of very different from how I was and I think organically he's grown just grown to the point where I've been able to bring a sense of energy and joy to the character that I kind of personally carry. I think we're starting to have some similarities. There are things that I sort of created for myself. I put Ando as a big fan of Elvis and also American culture, like 80's rock music, and karaoke. Those are little details I've created for myself that's not necessarily played out in the shows, but we'll see. I see Ando as a big basketball fan, which I am. I think it's going to be an organic process.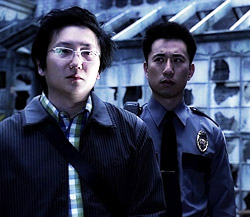 Gilles Nuytens: Without really speaking Japanese, was it a problem to get the role?
James Kyson Lee: It's been one of the biggest joys of doing this part is learning Japanese. The interesting part is my father used to live in Japan in the late sixties and early seventies as an electrical engineer. And here I am, thirty-five years later, playing a character that starts out as a worker from Japan, so it's been a lot of fun. It is a lot of work. I have a coach that I work with and we walk through the translation process together, discussing the American versus the Japanese and why we say the certain things we do. Some people ask if I memorize it phonetically. I actually study all the words, basically every single word in the dialogue and break it down and sort of learn the roots of it. It's sort of like studying Latin and English. I try to understand the different conjugations and the forms of the verbs. It's a lot of work and a lot of time, but for me it's worth it. I feel like it's a skill that I'll get to hold on for a long time. And I'm getting to be going to Tokyo this May for a movie, so I'm really excited about that.
Gilles Nuytens: For the audition, did they require you to speak a bit of Japanese to get the role of Ando?
James Kyson Lee: Oh, yeah, yeah, yeah. I had to study hard for the audition. Definitely. As an actor it's always a big challenge to learn how to act in a foreign language. I think it helped that I took a semester of it in college and also had done some other work in Japanese before. But definitely I'm learning a lot through this process. I'm really enjoying it.
Gilles Nuytens: What is your best memory so far from Heroes?
James Kyson Lee: I think the whole season has been a great ride from the beginning with filming the pilot to what's to come. I can't believe we're almost finished. We're wrapping up the last two episodes of the season right now and we come back on the air April 23rd. There's so many great memories. I think doing the whole Vegas episode where we went to the casinos and then stopped time at the roulette table. That was a lot of fun. Meeting George Takei and getting to know him has been a lot of fun. Having a two episode arc with Missi Pyle, who played Hope. I think those are big episodes where Ando really kind of grew out and stepped up as a leader of the two. This whole season has been a great, great ride.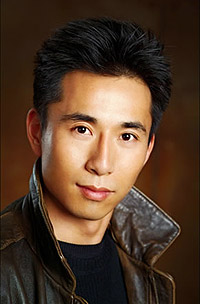 Gilles Nuytens: I see that you are credited in the new Pirates of the Caribbean movie. What can you tell us about that?
James Kyson Lee: Basically my role was to just adding some of the different voices for some of the characters. A lot of times, I've done various voice work for TV shows and different films. When I was starting out, I did a lot of radio commercials and promos and what not. For me it's always fun because we get to do a lot of improv. A lot of times I do it more for favors and what not, but it's always a good time. I think that's going to be a really, really big and fun movie. I'm sure it's going to do greatly in the box office.
Gilles Nuytens: How do you see the evolution of Asian actors in Hollywood since Star Trek? Do you think it has changed at all?
James Kyson Lee: I think it's growing each year. The industry will continue to evolve at a different rate. I think the reality is we're still the smallest represented group in television and film. I've had the fortune and the blessing to have and be a part of many great projects and have many satisfying roles. I definitely count my blessings every day. I think the important thing is you do quality work and do great work regardless of what your background and what your ethnicity is. I think if you do that then it will be celebrated and opportunities will open more doors. The reality is it's tough for minority actors and especially Asian males but hopefully I can do my part to break down barriers, break new grounds, and blaze new trails. I hope to do that and carry this torch for a long time.
Gilles Nuytens: How would you best describe what kind of man Ando is?
James Kyson Lee: I think Ando is someone who started as a person who felt like there was a lot more to his life than the cubicle life, the corporate life. He got the chance to go on an adventure and starts to experience new perspectives and really thrive on it. I think he's really enjoying his new adventures in America, learning a lot, and growing. I think a lot of times Ando represents the every man as an audience because he's a mortal who is thrown into the supernatural world. A lot of times he has a lot of the same questions that we viewers would have. What's going on and how are these things connected. He goes back and forth with being a realist, dealing with his reality, and also believing that he too has a strong part in this mission. I think he's courageous and I think he's encouraged more and more as we come back on the air. I think he's fun. He has a very witty sense of humor that the writers have given him and I credit our brilliant writers for that. He also learns to adjust very fast to the gravity of the situations when he's in one and is able to act accordingly. I think he and Hiro have this wonderful relationship where they really compliment each another in personality and in energy. You see them be separated and be united and save each other all the time. It's a dynamic relationship that the show has created.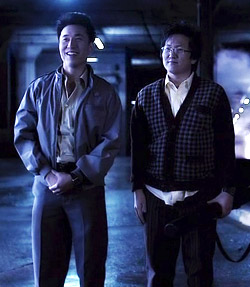 Gilles Nuytens: Are you aware of your fanbase? Do you sometimes read feedback on the internet?
James Kyson Lee: I try not to, but I do get random Myspace messages from people in Germany, France, and in Asia. The show has really started to become international, which is great. I think our show really sort of represents the world in a lot of ways and how we're all connected in a sense. It's a show that can definitely be talked about and debated about in the terms of the different characters and theories and what not. I'm really glad that we have a strong fanbase all over the world. I'll get to do some traveling this summer and later in the fall to London and to Tokyo and hopefully to Europe, so I'm looking forward to it.
Gilles Nuytens: Do you have some funny anecdotes about your time on the set?
James Kyson Lee: I think sometimes people ask how the whole freezing time thing works and it's really an interesting process of hi-tech special effects and green screen mixed with your very basic actors holding still and keeping their eyes open. I thought that was really funny. Such an interesting juxtaposition of knowledge of the future with the old-school mime of the past. We get to joke around on set sometimes and that's a lot of fun. I remember one time we had a scene in downtown where all twelve of us of the cast members were on set for the first time together in the script. There was a great turn in. I remember going out during lunch we went to a sports bar and just hung out with burgers and beer. That was a good time.
Gilles Nuytens: Do you think the duo, Ando and Hiro, should stay as it is? Do you think that Ando should step out from Hiro's shadows? Would that bring something positive to the show, or do you think if Ando gets more independent he could get killed off?
James Kyson Lee: I think Ando is sort of coming into his own as the season progresses, but at the same time I think that's a wonderful dynamic relationship between Ando and Hiro. And I think they are a team. I think we're viewed as sort of a duo. We have our own individual identities, but as a team we have a really strong chemistry. My hope is that they continue that and explore that even more and sort of flush out the characters even more. We are both linear characters individually, yet the dynamic relationship continues on as we go through different journeys and adventures.
Gilles Nuytens: How would you describe your co-stars from Heroes in one or two words? I'll begin with Masi Oka.
James Kyson Lee: Eager.
Gilles Nuytens: George Takei.
James Kyson Lee: Deep voice, such a strong voice.
Gilles Nuytens: Hayden Panettiere.
James Kyson Lee: Adorable.
Gilles Nuytens: Jack Coleman.
James Kyson Lee: Very warm.
Gilles Nuytens: Santiago Cabrera.
James Kyson Lee: He's interesting. Thoughtful.
Gilles Nuytens: Sendhil Ramamurthy.
James Kyson Lee: Very talented.
Gilles Nuytens: Ali Larter.
James Kyson Lee: Sexy.
Gilles Nuytens: Milo Ventimiglia.
James Kyson Lee: Deep and smart.
Gilles Nuytens: Adrian Pasdar.
James Kyson Lee: Leader.
Gilles Nuytens: Greg Grunberg.
James Kyson Lee: Teddy bear.
Gilles Nuytens: Tawny Cypress.
James Kyson Lee: Beautiful.
Gilles Nuytens: Tim Kring.
James Kyson Lee: Ooh, amazing. Talented.
Gilles Nuytens: Leonard Roberts.
James Kyson Lee: Cool and athletic.
Gilles Nuytens: Noah Gray-Cabey
James Kyson Lee: Awww, so smart. Prodigy.
Gilles Nuytens: Jimmy Jean-Louis.
James Kyson Lee: Jimmy Jean, Mysterious and joyful.
Gilles Nuytens: Zachary Quinto.
James Kyson Lee: Zach Quinto. Great guy. Very talented, very talented.
Gilles Nuytens: And Eric Roberts.
James Kyson Lee: Oh, Eric Roberts! Oh! Gosh, he's been around for so long. Eric's a veteran. A respective veteran.
Gilles Nuytens: If you were to convince skeptical people to watch the show, what would you say to them?
James Kyson Lee: I think the show really speaks for itself. And I'll say, I think the wonderful thing about this show is it does combine the comic book and Scifi genre, which is always going to have a strong fanbase, but at the core of it, it is really rooted in reality. It's about human relationships and how people from all different backgrounds come together for a common goal and the notion that we're all connected. And there's also we're all probably meant for something greater than what we realize. I think that's a feeling a lot of people latch onto and relate to.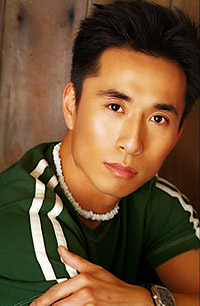 Gilles Nuytens: Do you sometimes do some theatre?
James Kyson Lee: I do. Theatre is where I started. I started at Los Angeles doing plays. I've done a couple of musicals including Hair. I do enjoy theatre. I feel like it's sort of like the root of where my craft started. It's hard to find time for it these days. I don't know when I'll go back on stage, but I definitely plan to at some point.
Gilles Nuytens: What are your current projects?
James Kyson Lee: I have four feature films coming out this year and next year. The last one I worked on, Big Deal, an ensemble comedy with Treat Williams and Daniel Baldwin and Charlotte Ross. I'm also doing a Twentieth Century Fox feature called Shutter and that's with Joshua Jackson and Rachel Taylor. This May I'll be going to Tokyo, Japan to film that. And then possibly in June I may be doing another independent feature film called White on Rice by David Boyle, so we'll see.
Gilles Nuytens: Okay. Thank you very much for your time.
James Kyson Lee: You're very welcome. It was my pleasure.
Gilles Nuytens: Good luck with your latest projects.
James Kyson Lee: Thanks very much. You're welcome. Bye bye.