Date of publishing: 13rd December 2005



Born on the 9th of August 1976 in Alliston (Ontario, Canada), James knew that he would become an actor at a young age. He first played on Stage at school and for some associations. In 1996 he hired his first agent and went to live in Toronto. He made some commercials for TV, worked for TV and orginized DJ events. In 2002, he traveled the Canada for some months and finally he moved to Vancouver where he got the role of the Wraiths in Stargate Atlantis. He loves acting and he is trying to write scripts and maybe to direct movies. James allowed The Scifi World a small interview. Enjoy the reading!



The Scifi World:

We don't know anything about you, I mean, we know you as a wraith, but until two hours ago, I haven't the slightest idea of what you look like. How do you feel about that ?


James Lafazanos: Well sometimes it can be difficult you know, don't be seen even after been on the show for two years, but I feel it's okay.
I mean, I would like to play other roles, and be seen for my particular talents in the acting ground, but for now, I think it's fine. Sometimes in the sci'fi world television, it can be stigmas attached to certain actors, so in a way it's good, I can do Sci'fi, and don't have stigma because my face is not attached to the show, and so I won't be typecasted as a wraith for my future roles.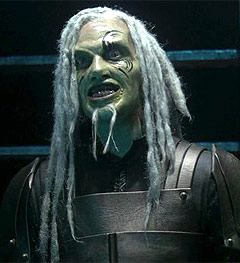 The Scifi World:

You can also expect to play with your real face in the show.


James Lafazanos: I would like that.

The Scifi World:

Please, Tell me about you.


James Lafazanos: Hard question, I'm 29 years of age, I'm a leo, I'm born in 1976, that was the year of a drago. So, Leo and drago, I guess you have a strong combinaison. I think Stanley kubrik was also a leo and drago, and as I would like to direct myself one day. I think I am just a regular guy, I like to watch films, I like to read, I design shirts, like the one I have underneath.
(James shows me his shirt, looks great.)
I like to dance, I like all kind of music, but a lot of electronic actually, techno/house, Hip/hop, electro.

The Scifi World:

You quit after the first episodes of the second season of Atlantis, and now, you're back, can you explain what happened ?


James Lafazanos: Well, I did quit halfway through season 2 because I felt undervalued, I guess they tried someone else, but it didn't work, so they call me back, and they made me a better offer basically.

The Scifi World:

It's ok for you ?


James Lafazanos: For now, it's okay, we'll see what happen next.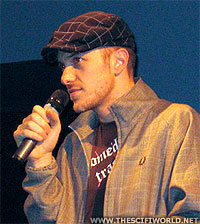 The Scifi World:

Okay, quick questions, quick answers. Which shakesperean character would you like to be ?


James Lafazanos: I would say Hamlet.

The Scifi World:

Three things in a desert island ?


James Lafazanos: A StarTrek replicator, but they don't really exist so, maybe the girl of my dreams, who she is, what she looks like, I don't know, didn't met her yet, maybe a good book and ....

The Scifi World:

Hey, that's three already


James Lafazanos: Okay, forget the replicator, I keep the girl and the book, and I would say my Ipod, but I would have to take my battery charger, and I don't think there is so much plug to put the recharger in.

The Scifi World:

Okay, thanks, I hope you'll enjoy this week end. See ya.