Date of publishing: 21st September 2008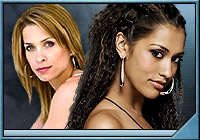 Janina Zione Gavankar is an American actress and musician of mixed Indian and Dutch descent. She is also trained as a pianist, vocalist, and orchestral percussionist. She majored in Theatre Performance at the University of Illinois at Chicago. Musically, she used to be in Endera, a group signed to Universal Records. She also collaborated on a project for a song called "Tell Me What" in India with Pratichee Mohapatra of Viva, Deep, and Navraaz. She has had songs licensed to movies and television, and has played marimba on film scores. Janina's most notable roles are that of Papi, a promiscuous lesbian in The L Word, and Ms. Dewey, the personification of a Microsoft branded search engine who comments about the user's searches (www.msdewey.com). She has appeared in theatre, commercials, short films, independent films, ... In 2008, she was nominated for an Asian Excellence Award. She is also rumoured to be joining the cast of Grey's Anatomy for the upcoming fifth season. Recently, she played the role of a soldier in Stargate Atlantis (with Christina Cox) and gave this little homoristic touch to the episode (5x07 "Whispers").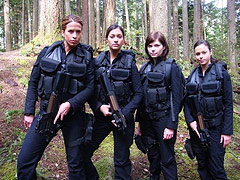 Christina Cox was born in Toronto. She studied theatre and dance at the Arts York at Unionville High School. She continued her theatre training at the Ryerson Theatre School of Toronto where she studied for two years. She competed in the areas of gymnastics, track and field and Tae Kwon Do. At one point she had aspirations of becoming an Olympic gymnast but then focused on drama and dance while in high school. She is also proficient in boxing, Muay Thai Kickboxing and fencing and has had training in stage combat, period weaponry and firearms. She has over 38 movie and television appearances to her credit. Her best known movie roles include the 1999 Canadian movie Better than Chocolate, where she co-starred as Kim, and a feature supporting role as Eve Logan in The Chronicles of Riddick. She received a Gemini Award nomination for her performance of Angela Ramírez in F/X: The Series in the episode Red Storm. Christina has appeared in numerous national theater productions. She is also credited with stuntwork in Million Dollar Baby, starring Hilary Swank. On television she is known for her role of Vicki Nelson in Blood Ties, a supernatural detective series based on the novels by Tanya Huff and Stargate SG-1 & Stargate Atlantis, where she played 3 episodes and 3 different roles.
Click on the image below to watch our exclusive video interview!
The video is Quicktime format, 15Megas, 12min 47.
Please do not direct-link to the video file, link to this page only, thank you.

A transcript will be available soon (Volunteers welcome ... !)
We need people able to do good transcriptions, so if you feel able and if you have the time to, please contact us!