Date of publishing: 25th May 2013



Jeremy Raymond is a rare talent with a unique character. A professional film and TV actor and musician, he brings an array
of talents to every performance. Born and raised in Cranbrook BC. Jeremy started his career in theater at a very young age. Throughout high school he performed in plays, musicals, street theatre, improv shows, and even a vaudeville act. After high school he moved to Edmonton, where he studied music at Grant MacEwan College and majored in Vocal Performance. His first
foray into the world of feature film was with the Showtime movie "The Incredible Mrs. Ritchie", opposite Gena Rowlands and Kevin Zegers. He played one of Mrs. Ritchie's handicapped sons, Stanley Ritchie and the role earned him a Gemini nomination for Best Supporting Actor in a Dramatic Program or mini-series. Riding high on success Jeremy moved to Vancouver and began working steadily. He appeared in SyFy's Alice, HUB's R.L. Stine's The Haunting Hour and the ABC Family series Kyle XY where he was challenged to play the role of a mental patient with autism. Jeremy appeared in the films A Problem with Fear, Growing Up Julianne and the indie film Karma Inc. before meeting with JJ Abrams in 2012. Having seen some of his previous work JJ Abrams brought Jeremy in for a meeting which resulted in Jeremy being offered a featured role in the Star Trek sequel Star Trek Into Darkness.
Gilles Nuytens: Hello and nice to meet you! So, you've been involved in the arts since you were very young, how did it all start?
Jeremy Raymond: I was about five years old and the company my mom worked at was having a Christmas party where they put up a little play – The Night Before Christmas. When the teenager playing Santa got stage fright and wouldn't go on, I told them to give me the suit. Of course I was too small, so his mom ended up playing the part instead. Been at it ever since.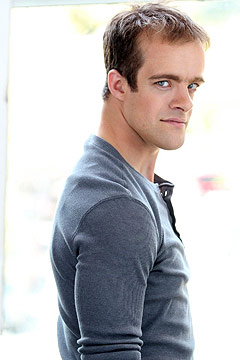 Gilles Nuytens: What do you like so much about acting?
Jeremy Raymond: I love telling stories, as any of my friends who have heard me spin an amusing anecdote into an epic saga will agree. As an actor you get to contribute to telling much larger and (hopefully) more engaging stories than you could on your own. Plus you get the opportunity to see the world through the eyes of a different character. And I've learned some important lessons about life from doing that. Namely that my own perspective is just that – my perspective.
Gilles Nuytens: Theatre and film/TV, what do you enjoy the most in each?
Jeremy Raymond: The great thing about film is that the exploration and experimentation happens on camera, so if magic happens there's a record of it. Whereas with theatre, if a truly great moment happens in rehearsal, the audience doesn't get to see it. I love the fact that film is a safe place to explore and fall on your face with no real consequences. But I also love that high-wire feeling of being in front of a live audience. It's a contradiction, but I wouldn't have it any other way. Oh, and it's nice to have people clap for you in theatre. You miss that sometimes in film.
Gilles Nuytens: You've worked with Metallica, how was this experience, how are they to work with?
Jeremy Raymond: I never actually got to work with the guys in the band, but the director Nimrod Antal was great to work with. Besides having an amazing first name, he had a lot of love for making movies and for the material he was working with. We talked about being Metallica fans growing up and about how that inner-child was going bananas getting to work on a Metallica film. He said it was a similar situation when he worked on Predators a few years ago, and I certainly felt a healthy dose of that working on Star Trek.
Gilles Nuytens: We all learn everyday, so what's the most important thing you've learned lately, acting-related?
Jeremy Raymond: Keeping things simple is something I am constantly forgetting to do, but it's also one of the most effective things I can do. I like to do a lot of homework and preparation for roles, and I get a lot out of doing it, but when the camera roles you need to put all that stuff aside and really deal with the person in front of you. It's a point that an acting teacher named Uta Hagen made years ago: if you had a play being performed with the most skilled actors in the world, wearing beautiful costumes and playing in front of elegant sets, and then you put a cat on stage, the audience would all watch the cat because the cat is the only one experiencing it for the first time. So I guess I'm trying to be more like the cat.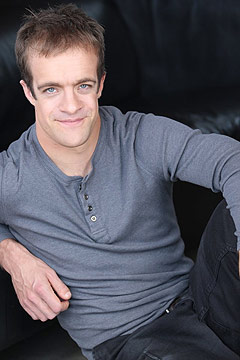 Gilles Nuytens: What is the role you most preferred to play to date, the best one, the one that most marked you?
Jeremy Raymond: It's a cliché answer, but my favorite role is always the next one. I've had some very good fortune in my career thus far, and I've been proud of the work I've done, but it's all about the hunt for me – trying to uncover and understand a new character or story – so once the film's in the can, I've already moved on.
Gilles Nuytens: What are you the most proud of about what you've accomplished so far in your career?
Jeremy Raymond: The fact that I'm still in it, and that I still love what I do. I've been doing this professionally for over a decade now and there have been tough times where I was struggling to find answers to questions like, "Is this really what I want to do with my life?" and "Why am I doing this?" but finding meaningful answers to those questions has not just made me a better actor, but I think a better person as well.
Gilles Nuytens: In your daily life, what is the most challenging thing?
Jeremy Raymond: Finding balance between all the things I want to do, and those things I need to do. Music is also a big part of my life, so finding time to satisfy both my music and acting muses is tough enough, but then I complicate things by adding other passions and pursuits. And I'm not very good at half-measures, so when I get into something, I dive in with both feet. Then add to that the everyday life stuff that we all need to take care of (e.g. bills, grocery shopping, planning and executing elaborate jokes on our closest friends), and my days get really full really fast.
Gilles Nuytens: It must have been very hard to play "Stanley Ritchie" in "The Incredible Mrs. Ritchie", how did you prepare for that role?
Jeremy Raymond: Yeah, that one was especially terrifying because it was my first big movie, and I knew that I would be working with legends like Gena Rowlands and James Caan, so I wanted to do a good job. But luckily I had some personal experience to draw from for my role. When I was a kid, my dad worked for the Ministry of Mental Health and there were a number of amazing mentally handicapped men he worked with. I knew them as "The Guys" and they were sort of like uncles to me. Even though I would mimic or do impressions of anybody else I saw (whether in real life or on TV) I never mimicked The Guys; I think I knew back then that it would have been disrespectful. So when the time came to create the character of Stanley Ritchie, I not only had a lot of first-hand inspiration, but also a deep desire to present something that was honest and respectful.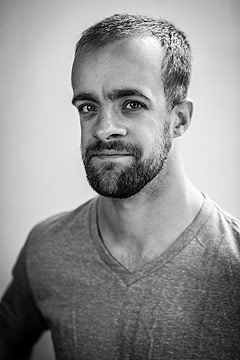 Gilles Nuytens: How much did you enjoy/know Star Trek before being a part of the saga?
Jeremy Raymond: I grew up watching the original series with my dad, so that's the Star Trek I've always connected to the most. Then I saw bits and pieces of every other version that was made (but only bits and pieces as we did not have cable growing up). I remember when the Voyager series came out, I was excited because I could finally get in on the ground floor with a series. For a while it was cool to have a show that I had to tune in to each week to get the next part of the story. Nowadays I'm way too impatient for that, and before I get into any show, I have to know that there's a full season on DVD that I can plow through.
Gilles Nuytens: How was the whole experience working on that movie?
Jeremy Raymond: Amazing. Surreal. Intensely demanding, but hugely satisfying. Unfortunately I can't be more explicit about my experiences at this time because it would ruin some surprises for fans and I don't want to do that. Also, I'm pretty sure JJ Abrams has a team of elite ninja assassins standing by that would take me down if I said too much.
Gilles Nuytens: What did you enjoy the most being in Star Trek?
Jeremy Raymond: Again, I have to tread carefully here, but I would say that I loved the collaboration. I had the opportunity to work with some of the greatest talents working in movies today and what impressed me was just how passionate all of these people were about their jobs. Aside from JJ Abrams, of course, you had giants like costume designer Michael Kaplan, creature designer Neville Page, and special effects master David Anderson all bringing their A-game and that was incredibly inspiring as an actor. If you don't recognize their names then check them out; chances are they had a hand in creating many of the movies you love. And the thing I enjoyed the least about it was having to keep it a secret for so long. I mean, I know I can't say much now, but for a while I couldn't even tell people that I was in it. In retrospect, I'm very surprised my head didn't pop.
Gilles Nuytens: What's your best memory from Star Trek?
Jeremy Raymond: The LA premiere was an amazing experience. It was held in the Dolby Theater (formerly the Kodak Theater) where they've held the Oscars, and they had closed of an entire block of Hollywood Boulevard and brought in some bleachers to accommodate the thousands of fans who came out. And then finally seeing the full film was stellar. On set I had taken pains to not learn anything about the story that I didn't need to know in order to do my job. There were even a few times when I had been invited to watch some scenes that I wasn't in being filmed and I politely turned them down. I was happy to hang out on set between setups, but once they started rolling I got out of there because I wanted to be surprised when I saw the movie. Once I saw it, I was glad that I did it that way. Seriously, it's a great movie. And I'm sure I'd be enthusiastically recommending it to people even if I wasn't in it.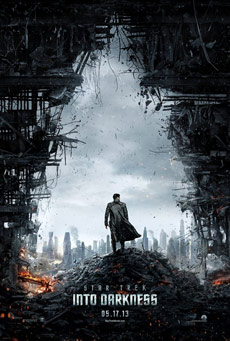 Gilles Nuytens: Could you share some nice or funny anecdotes from the sets of Star Trek?
Jeremy Raymond: I do have a handful of stories from set, but regrettably they all fall well inside of my non-disclosure agreement. So my lips are sealed. Remember those assassins I was telling you about…
Gilles Nuytens: How did you get to first meet JJ Abrams and what was it like to sit down with the legend for the first time?
Jeremy Raymond: When JJ Abram's people first called me about the possibility of being a part of the Star Trek sequel he was doing, I was blown away. But as excited as I was, there was still a part of me that thought this whole thing must be an elaborate practical joke (I've played a few good ones on my friends, so I'd certainly have it coming), and it wasn't until I was sitting down with the man himself that I fully realized it was legit. I also remember there being a tremendous amount of candy in his office. We had our first meeting seated at couches around this coffee table that was covered with all of these cool vases, and those vases were teaming with every sort of candy imaginable. On any other day, my sweet tooth might've taken over, but as it was I had other things on my mind.
Gilles Nuytens: What kind of person is JJ Abrams to work with?
Jeremy Raymond: He's amazing to work with. He has this unquenchable enthusiasm and excitement that you can feel whenever you watch one of his movies, and that's largely because everybody on-set is being infused by that energy every day. One aspect that I was truly impressed by was his ability to focus on one thing at a time. Even though there may be hundreds or thousands of things that need his attention, when he's talking to you, he really talks to you. And listens. He's one of the best listeners I've ever worked with.
Gilles Nuytens: What was your experience working with so much green screen?
Jeremy Raymond: Actually there was a lot less green screen than people might think. JJ tends to favor practical effects whenever possible, and then uses CGI to enhance that. As an actor, it's great because there's a lot more that you can tangibly play with and interact with.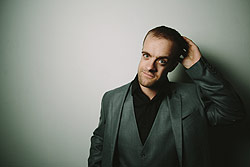 Gilles Nuytens: JJ Abrams is also set to direct the new Star Wars movie, after your work experience with him, would you consider auditioning for this one?
Jeremy Raymond: Of course. I may have watched Star Trek as a child, but I played Star Wars. I had found this old fishing rod handle that served as my lightsaber for many years, and I can remember seriously trying to cultivate my force powers for a little while. So it would really be a dream come true (although they would probably have to add my force powers in post, because I never did get too far with that). But really, I'm not going to worry too much about it. You can see from his films that JJ Abrams has a great sense for casting, so if there's something in Star Wars that's right for me, then he knows where to find me. And if I don't hear from him, then there probably wasn't the right role.
Gilles Nuytens: A free question to you. Ask "yourself" a question as if you were the interviewer (something that you'd like someone would ask you), and answer it :)
Jeremy Raymond:
Q: What has been the biggest obstacle in your acting career?
A: I've got a unique look and that was something that I really struggled with early on in my career. I wanted to be thought of as a chameleon and so I had a tough time accepting that I didn't look like everyone else. In a visual world like the film industry, it has been something of a double-edged sword that has prevented me from going out for a lot of roles, but the older I get the more I appreciate the fact that I stand out from a lot of other actors. And taking ownership of that fact has allowed that sword to start cutting the other way for me, and opening up paths in my career that would not be open to more conventional looking actors.