Date of publishing: 27th March 2007



Joe Morton most recently starred in the summer crowd-pleaser Stealth with Jamie Foxx, Jessica Biel and Sam Shepard. This only adds to the distinguished list of actors Morton has worked alongside in both features and telefilms, including Ben Affleck and Uma Thurman in John Woo's Paycheck; Jon Voight in the Showtime movie Jasper, Texas; Will Smith in Ali; Kevin Costner in Dragonfly; and Gwyneth Paltrow in Bounce. Morton was one of the narrators on the enormously successful Ken Burns documentary Jazz and the eight-part documentary Africa on PBS. Film fans perhaps best know Morton as The Brother from Another Planet or as the ill-fated scientist in Terminator 2: Judgment Day. You can now see Joe Morton in the SciFi Channel's original series "Eureka", playing Henry Deacon.

Linda Craddock: What was your first impression when you were approached with script for "Eureka"?
Joe Morton: My first impression of Eureka was intrigue. I loved the balance of comedy and drama.

Linda Craddock: "Henry Deacon", Jack-of-all-trades, solves all problems in "Eureka", how do you, as an actor, prepare for this role with each episode?
Joe Morton: Henry was the core reason I took the job. He's a complicated guy who maintains a "behind every dark cloud there is a golden lining" attitude. He's a genius who won't work on weapons. He's a man who lost the only love he ever knew and doesn't know why. So he's like a shark when it comes to science. He has boundless energy. He eats, sleeps and breathes it in science without abatement.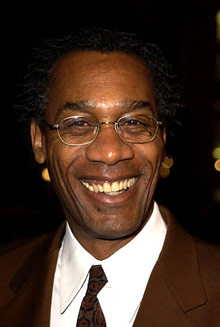 Linda Craddock: Critics say Eureka is the highest-rated, most-watched series of 2006. What impresses you most about the writing on the show now that you have completed one season?
Joe Morton: The characters have a great deal of integrity. The world we occupy is not one filled with monsters or black holes in space but monsters within our selves and black holes in the fabric of who we are. And there is a tremendous amount of joy despite the dangerous nature of our jobs.
Linda Craddock: You are in the process of filming season 2 of "Eureka". There was some notion between "Purple Haze" and "H.O.U.S.E. Rules". "Henry", feeling that politics were the greater good in "Eureka", and not the scientific advancement, was contemplating moving one. Will there be any indication of this scenario in season 2?
Joe Morton: There are a great deal of surprises in season 2. All of the characters have arcs that "move them on" in somewhat unexpected ways.
Linda Craddock: Can we look forward to any writing contributions from you in the coming season?
Joe Morton: I would love to be able to say that I feel confident enough to contribute an entire script, but I'm not. We all contribute, however, a certain amount of script changes as the episodes proceed. The writers and the cast have a truly collaborative relationship.
Linda Craddock: Talk a little about cast and crew chemistry.
Joe Morton: The crew, on any T.V. or Film job is without question the backbone of any day's work. They are on the set before we are and there after we leave. Without a healthy relationship between cast and crew the show would suffer. We love our crew and I believe the feeling is mutual. There is a lot of joking and light hearted banter. It makes long days feel less daunting despite the exhaustion.
Linda Craddock: "Eureka" is referred to as a "dramedy". Give us a sample of any funny anecdotes on the set.
Joe Morton: Eureka is referred to as a dramedy because of the nature of the characters and situations they find themselves in. Eureka, as I said before, is dramatic while simultaneously comedic. One of the running jokes, however, is the fact that it's hard to be blocked around Ed Quinn because he's so tall. He's always in someone else's light. Consequently, we are always "Ed- clipsed" by him.
Linda Craddock: You have an extremely diverse acting career. What would be one of your most recent favorite moments in front on a television/movie set?
Joe Morton: My favorite moments recently, with the exception of Eureka, have not actually been in front of a camera. I directed a play this past winter called "History of the Word." It was a semi-spoken word piece conceived, written and produced specifically for high school students. It is a non-romantic view of their lives. We didn't try to teach them anything more than allowing them to see themselves as young people who are trying to figure out who they are and where/how they fit in, in this incredibly complicated world. The other event in which I was a participant was a film call "Badland," written and directed by Francesco Lucente. It's a film about two American soldiers who have recently returned from Iraq and are unable to move back into the world. Their efforts fall into two categories homicidal and suicidal. I was the suicidal one. I think it will be making the festival circuit before heading out into commercial theatres. Before either of those two projects, I played Colin Powell in David Hare's "Stuff Happens," about America's and Britain's invasion of Iraq. It was one of the most thrilling theatrical experiences of my career.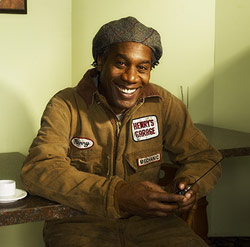 Linda Craddock: During your very outstanding career path, is there any particular project that stands out in your mind as very challenging?
Joe Morton: There are three projects I would very much like to accomplish: filming the life of Robert Johnson (America's foremost bluesman), staging a "hip-hopera" based on Athol Fugard's Tsotsi, and staging an adaptation Ralph Ellison's "Invisible Man." The challenges would all be projects I will be directing.
Linda Craddock: Any plans to return to the stage in the not to distant future?
Joe Morton: There has been some talk of Jeffery Wright and I doing Othello. I would play the title role and he would play Iago.

Linda Craddock: Was there any discussion with writers or producers about wearing dreadlocks at the beginning of series?
Joe Morton: The dreadlocks sort of evolved along with the character. They seemed to just happen. Actually, my girlfriend wanted me to wear my hair that way and I just let them get long. I'd always wanted to wear dreads ever since "Brother From Another Planet."

Linda Craddock: What inspires you as an actor to narrate a series of documentary you have been involved in?
Joe Morton: I think I like the idea of doing voice overs for documentaries that I can share with my kids as bits of information that they can use for school or just general knowledge. It's also a way for them to hear my voice, not so much as a character in a movie or T.V. series, but as me after I'm gone.
Linda Craddock: Do you have a hobby outside of acting?
Joe Morton: I am a part time poet, photographer, and bluesman.
Linda Craddock: For a dramatic role, (one of many impressive performances), you have a new project "Badland" about a soldier returning home after a tour of duty in Iraq. What inspired you to take this role? How do you decide what roles you choose to accept?
Joe Morton: Badland was, again, one of those experiences that stay with you. The character was a man who was completely off balanced and unfocused. I seldom, if ever, get a chance to play such a man. Most of my characters are rooted firmly on the ground and comfortable in their skin.
Linda Craddock: The movie "Stealth" was a high tech drama with an impressive collection of special effects. You are no stranger to the special effects with regards to your work. How much exposure do you have to that aspect of a project?
Joe Morton: Special effects is usually in the hands of SFX experts and happens long after the cast is gone. I did watch Josh, Jamie and Jessica "fly" around in their jets in front of a green screen and that was amazing. I like the real thing, though. Being aboard the USS Abraham Lincoln was pretty spectacular. We watched real jets take off and land, day and night on a ship that housed 5,000 people and was moving pretty dam fast. That's something to see and feel!!
Linda Craddock: I need to ask this: how familiar were you with the movie "Terminator" prior to your role as Dr. Miles Bennett Dyson" in T2?
Joe Morton: I don't think I saw "Terminator" until after I got the part in T2.