Date of publishing: 17th February 2006



As Artistic Director of the 'Stage Company of S.A.' for ten years, John Noble was involved in South Australia's cultural explosion in the 1970's and 80's. He performed with all of the States major arts companies. He also directed on London's West End (David Williamson's Sons of Cain), and acted in an award winning production at the Edinburgh Festival in Scotland (Rob George's Errol Flynn's Great Big Adventure Book For Boys).
In 2004, for his role as Denethor (The Lord Of The Rings), John won a Screen Actors Guild Award for Best Ensemble Cast; a Broadcast Film Critics Association USA Award for Best Ensemble Cast. And, in the previous year, won Best Ensemble Cast Award from National Board of Review USA; and the Fellowship was nominated for Best Audio Commentary for DVD Exclusive Awards. John played the role of Ben in Nicholas Cohen's feature Voodoo Lagoon, and recently completed production on an episode of Stargate-SG-1 for MGM Television. Last year, he played the role of Ivan Yugorski in Running Scared, and at the end of last year, played Prince Ardmantha in the feature One Night with the King, produced by Larry Mortorff and shot in India.


Gilles Nuytens:

Could you say something about yourself?


John Noble: I am an Australian actor. I am married with three children. The oldest Sam is an actress. She will appear in the upcoming film See No Evil with Kane of wrestling fame.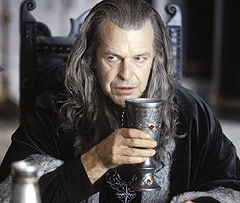 Gilles Nuytens:

What are your current/future projects?


John Noble: I have about five projects being negotiated at present. The only finalised is LA Noire which is a new Sony video game. A terrific project.

Gilles Nuytens:

You played the role of Meurik in the last episode of this season of Stargate SG-1, could you talk about this role? What can you say about him, his personality, his behavior?


John Noble: Meurik was governor of Camelot (yes that Camelot). The villagers live in fear of the return of the Black Knight. Enter the Sargate team seeking information. Meurik clashes with them, expels them, and finally relents anf the village is saved by them. Great fun. Meurik is a terrific character. He is a patriach who wants desperately to protect his people.

Gilles Nuytens:

What's his importance in the story, his contribution to the SG-1 team? Is it a good guy?


John Noble: He is the main guest for the episode. I have wonderful scenes with main cast members. Yes, he is a good guy, although he appears to be a bit misguided at first.

Gilles Nuytens:

What do you keep in mind from Stargate?


John Noble: Friendliness and efficienct. The best of all worlds for an actor.

Gilles Nuytens:

How did you come into Stargate and how was it with the cast/crew?


John Noble: The producers had seen me in Lord of the Rings and offered me the role. The cast and crew were wonderful. First rate.

Gilles Nuytens: And how was it to play Meurik for Stargate? The role seems to be a
bit similar from Denethor as they're both leader of a village/kingdom in an middle age world.
John Noble: No not really. Denethor was mentally unbalanced. Meurik is not.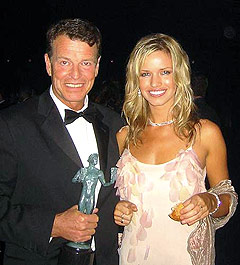 Gilles Nuytens:

This role, any chances for becoming a recurring one? Are you returning in season 10?


John Noble: No the character probably won't be recurring. I think we tied the story up in the episode. Pity. Iy was fun.

Gilles Nuytens: Could you talk about your experience on The Lord Of The Rings, the
weeks or months you were there?
John Noble: I was in NZ for three months during principal photography, and returned 18 months later to film the scene in The Two Towers between Boromir, Denethor and Faramir. It is difficult to imagine a more fulfilling project to work on. Every detail was perfect, and everyone who worked on it was totally committed.




Gilles Nuytens: Did you read the books before playing Denethor to have a better
understanding of the character? And for you, what were the most interesting parts of his personality?
John Noble: Yes I did. He is a very complex man. We see him after his judgement has slipped and his mental instability has become evident. He was however a fine man and a fine leader who didn't cope with the events in his life and world, and tipped over the edge into insanity.

Gilles Nuytens:

What did you put from yourself to the character described in the book? What are the differences?


John Noble: An actor always 'creates' a character. This is based on description, script, personal study and training. I guess Denethor could have been played very differently.

Gilles Nuytens:

Is there any blooper or a funny inside story that you remember about The Lord Of The Rings?


John Noble: Not really. I worked intensly when I was there. All of the scenes were highly dramatic. It was a focussed time. Nothing 'funny' happened, but everything was extremely satisfying.

Gilles Nuytens:

Same question about Stargate.


John Noble: I did loose my footing in the mud on Stargate and had a very very long stumble trying to not fall flat on my face in three inches of mud. I did eventually go down, but only on my hands, otherwise filming would have been held up while they tried to clean my velvet imperial clothing. There was so much mud, and a cable was buried in it. That was what I tripped on. At the same time Ben Browder was battling the Black Knight and getting coated from head to toe in the mud. He did great in that scene.

Gilles Nuytens:

Thank you very much for your time!






Talk about this interview on the forum