Date of publishing: 25th April 2006



Julie Caitlin Brown, a native of San Francisco, California, began her musical career at the age of twelve. After working as a singer-guitarist, competing in vocal jazz in high school, and fronting a number of bands, Julie moved at age eighteen to the Napa Valley. In 1983, she made her stage debut as "Mary Magdalene" in the Mondavi Concert Series production of "Jesus Christ Superstar". Other musicals followed, along with straight stage plays, including the critically acclaimed and sold-out production of "A Late Snow" at Theatre Rhinoceros in San Francisco. 1988 found her in Florida where over the next two years, she appeared in over sixty commercials, and was also seen in the NBC movie, "Roxanne-The Prize Pulitzer", ABC's "B.L. Stryker", CBS's "Wolf", and the feature films "Miami Blues" with Alec Baldwin and "Chains of Gold" with John Travolta. Making the move to New York in 1990, Julie appeared in "A Funny Thing Happened on the Way to the Forum" starring George Wendt, as, who else? "Gymnasia", for the prestigious Williamstown Theatre Festival.
She returned home to California in 1992, and immediately landed a pilot for Stephen J. Cannell and went on to guest star in shows such as: Star Trek: Deep Space Nine, "Raven" for CBS, "Dream on", for HBO, Star Trek: The Next Generation, and many others. It was a phone call at home from casting director, Mary Jo Slater, that led to her being offered the series regular role of Na'Toth, on Babylon 5. After the first season as G'Kar's intense attaché, she then appeared as the human lawyer Guinevere Corey in season two's "There All Honor Lies" and was invited back to reprise her role as Na'Toth in season five's "A Tragedy of Telepaths".
(Biography taken from http://www.juliecaitlinbrown.com)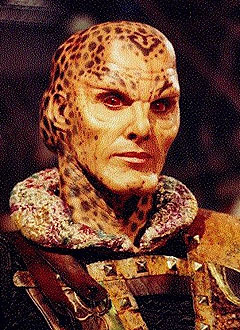 Gilles Nuytens:

What motivated you to begin to sing and later to become an actress?


Julie Caitlin Brown: I have always sung, as my mother tells me, I started singing at 6 months old! Later, when I was 18, I joined a musical theatre group and fell in love with acting.

Gilles Nuytens: You were an actress and now you are the agent of many well-known ctors/actresses, what motivated you to go to the other "side"?
Julie Caitlin Brown: I am still an actress, writer, and producer, but when I went out on the convention circuit, I found that there really were no managers handling the talent in a way that I was comfortable with. I had been an agent for rock bands and well-known comics when I was 22 years old, and had worked for an agency. Therefore, I was trained in contracts, negotiation and running events, and it became clear that I was going to have to do it for myself. When my fellow actors saw how well I was doing, they asked me to do it for them too!

Gilles Nuytens: You do a lot of different things, you are an actress, musician, speaker, agent ... Which are the points that interest you the most in each of these jobs?
Julie Caitlin Brown: All of these jobs deal with communication. I enjoy expressing my self in the different forms, I like the travel, the opportunity to meet so many interesting
people and learn more about life. I also enjoy creating abundance for people, and the convention work is a wonderful way to give back to the fans, create abundance and see the world.

Gilles Nuytens: What gave you the idea to create the audio book "Love First"?
Julie Caitlin Brown: After traveling all over, I realized that one theme presented itself with all the people I met. Everyone wants to FEEL love, not just BE loved, but to feel LOVE. So many people will tell you that although they know their families love them, they do not love themselves, and they struggle to find substitutes for that self-love in many external things. I wanted to focus on how to Love First, giving the love, respect and approval to YOURSELF, and then to others, knowing that without the love of self, you have nothing to give.

Gilles Nuytens: What are your next/future acting projects?
Julie Caitlin Brown: I am currently attached to do a role in a picture called, "Knife Through the Veil" and am auditioning for different things.

Gilles Nuytens: And outside of acting, what are your other future projects?
Julie Caitlin Brown: I am a writer and have several scripts for television and film that are being represented by my literary agent, Jo-Ann Carol of Monteiro, Rose and Dravis, as well as another book that I am writing, Love First and Business. I have many speaking engagements lined up and you can find out more about them on www.lovefirstbooks.com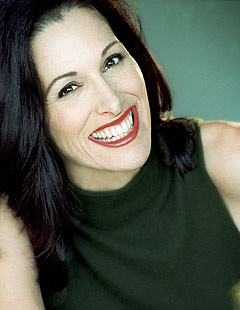 Gilles Nuytens: Can you speak about the movie "Kontrast" and your involvement on it?
Julie Caitlin Brown: I am an elemental producer of feature films. I work with the writer on the script and develop the package to get it financed. I work on attaching actors, producers and other creative talent to the project and then approach different sources for the financing. I am the producer on "Kontrast" an urban fairytale about a hip-hop boy and a punk rock girl, whose lives are forever changed by their meeting.
Gilles Nuytens: You know a lot of people working on Stargate, did you ever try to get yourself a role on that show? Or would you be interested to have a part on it?
Julie Caitlin Brown: I would love to work on Stargate, and my clients on the show have told the producers they would love to see me get a part. So far, nothing has come up that I was right for.
Gilles Nuytens: What is your best memory since you work into the cinema industry?
Julie Caitlin Brown: I loved my role on "JAG" as Staff Sgt. Carrington, who was accused of killing one of her recruits. I had such an intense part and was able to fool some journalists who thought I was a real Marine officer who had been given the chance to act!
Gilles Nuytens: What do you keep in mind from your time spent on the sets of Babylon 5?
Julie Caitlin Brown: I loved the character of Na'Toth and the strength of the writing. I had a great time with the crew and felt that I was offered the opportunity to push myself as an actor.
Gilles Nuytens: Do you regret sometimes to have left Babylon 5 after the first season?
Julie Caitlin Brown: Yes, I wish I would have stayed a little longer, as the character was so interesting. I didn't know at the time that I could have been released from my contract if I signed it, so I was afraid to sign it. My face was very sore from the makeup and I was afraid there would be permanent damage.
Gilles Nuytens: Was the make-up so hard?
Julie Caitlin Brown: In a word, yes!
Gilles Nuytens: What does science-fiction represent to you?
Julie Caitlin Brown: I have always enjoyed Sci-Fi, the idea of the future is exciting and the possibilities are endless. Sci-Fi for me, is the limitless opportunity to keep reaching, keep growing as a race, to look for more in the Universe!