Date of publishing: 6th February 2008



Karen Cliche has had leading roles on several television series, including Mutant X, Young Blades, Adventure Inc., Galidor, Vampire High, The Business and MTV's Undressed. She has made guest appearances on the SCI FI Original series The Dresden Files, 'Til Death Do Us Part, Big Wolf on Campus and Aaron Spelling's All Souls. Cliche has starred in the feature films Summer and Riders, and in the Lifetime telefilms Flirting With Danger and I Do (But I Don't).
In the new Flash Gordon TV show, she plays Baylin, a bounty hunter. As dangerous as she is beautiful, Baylin joins Flash and Dale on Earth as they battle the evil forces of Mongo.


Gilles Nuytens: Since we last spoke, I've seen a real improvement with Flash Gordon, as you said the second part of the season IS better. Do you think fans criticisms have influenced the way the writers wrote the final episodes?
Karen Cliche: Yes, the show has gotten so good now, we all agree! I think everyone involved listened to the fans and what they wanted and tried their best to incorporate that in the show. We can call it team work! Also, by the second half of the season everyone had become comfortable in their characters' skins, the chemistry between certain characters improved, and the writers knew how to write for us even better.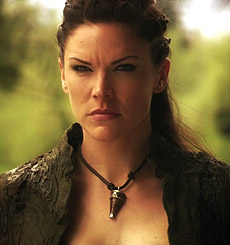 Gilles Nuytens: Have you noticed any changes during the shooting of the 5 or 6 last episodes? I mean the dynamics, has it changed?
Karen Cliche: We would shoot some scenes during the last half, and look at each other and just know we had done something really good. We loved the scripts and to see how it all was coming together was very exciting. We were all very happy and actually very curious to see what would happen next!
Gilles Nuytens: Looking back at the first season, what are your overall thoughts about it, about your role, Baylin, your co-workers and everything related?
Karen Cliche: I have such great memories of working on Flash. I swear we had so many laughs. Eric Johnson and Jody Racicot and I were constantly laughing and bugging each other. They are 2 of the funniest people I have met! Even Jonathan Walker and John Ralston, our "Rankol" and "Ming" were hilarious. Our directors would join in on the fun and sometimes it felt like one big party. And then there was our caterer Dean, his food was sooooo good!!!!! (can you tell my favorite things in life are laughing and eating?? haha!)
Gilles Nuytens: Somekind of follow up to the previous question: Can you speak about the evolution and changes from the first day to the last? What are the changes?
Karen Cliche: Well the biggest change was how every department came together and we all meshed to produce some really great episodes as time went on. And of course the camaraderie between the cast and crew grew, and we became one big family.

Gilles Nuytens: We can see some chemistry growing between Zarkov and Baylin, a bit like 2 opposites, is that something you agree with?
Karen Cliche: Jody and I loved working together, and making Baylin and Zarkov like brother and sister who have a real fondness for one another, but also an annoyance at times too! We would discuss our scenes and try to find great moments to further define the relationship. They are both so serious about what they do and feel, and don't realize that they are even being funny sometimes! We would always look forward to our scenes together. He has a wicked sense of humor that I just adore.
Gilles Nuytens: In episode 19, you have a scene in the snowy mountains, where has it been shot? Was it on location or in studios with green screens?
Karen Cliche: OH! Those scenes were shot on location way up in the Whistler mountains. Freezing cold, absolutely beautiful and breathtaking! It was a little scary when we were preparing to go up either via snowmobile or helicopter, and they had us wear avalanche trackers around our necks so they could find us if we were to get buried in a massive avalanche! Luckily, there wasn't one........!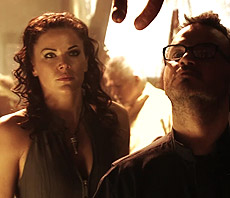 Gilles Nuytens: On what are you working for the moment? Or maybe are you taking some holidays before the next season?
Karen Cliche: Right now I am in toronto. I wanted to take a full month off and enjoy being back home, and spending time with family and friends. That's my number one priority. Soon, the strike will be over and there will be work again, and I will get back to it!!!
Gilles Nuytens: I see you are credited in a movie called "Involuntary Muscles" but I can't find much information about this, what is it exactly?
Karen Cliche: Involuntary Muscles was a pilot we did and they are still trying to sell it. It is a great story and I would love it to go! I can't say too much about it though.....
Gilles Nuytens: I'm not much into the convention things so I'm not much aware of everything, I'm just curious, have you already been invited for conventions about Flash Gordon?
Karen Cliche: I have been invited to a few conventions in my career, and the timing just never worked out. I love meeting fans, and can't wait to get an opportunity to do so, if it all works out one day!!!