Date of publishing: 25th February 2007



At the age of six, Katee started participating in dance classes as well as drama classes. She later went on to star in many of her high school's productions. Taking her acting a step further, Katee made her way to the small screen when she took on the role of a teenage mother in the Lifetime original movie Fifteen and Pregnant with Kirsten Dunst. She later followed up with the role of Mary in the USA original movie Hefner: Unauthorized. In 2000, Katee appeared as a full-fledged cast member of the Fox Family Channel series The Fearing Mind, in which she played Lenore, the daughter of horror author Bill Fearing. In 2001, Katee won the role of Jenna Danzig in the eighth movie of the Halloween series, Halloween: Resurrection. Katee also successfully landed the role of Nell Bickford on the CBS series The Education of Max Bickford, in which she played the daughter of the title character, played by Richard Dreyfuss. Winning her breaktrough role as the tough-talking Starbuck on the Sci-Fi Channel miniseries "Battlestar Galactica" (2003) wasn't exactly easy at the start for Katee Sackhoff. Although the new incarnation of "Galactica" was met with a fair amount of skepticism when it debuted, new and old fans alike have come to embrace the show as one of the best sci-fi shows to grace the airwaves, thanks in no small part to Sackhoff, who managed to be both tough and vulnerable, bringing an extra dimension to a critical character in the thrilling space saga.

Gilles Nuytens: You have a contract for 5 years with Galactica I believe, but there are rumors about you not coming back in season 4. I assume that is false rumor?
Katee Sackhoff: I cannot answer that question due to confidentiality. All I can say is that when I read ep. 16. I was shocked to say the least.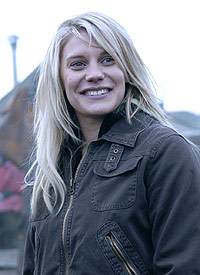 Gilles Nuytens: You had long hair during all your life but you had to cut it for the show, how did you react when you learned that you had to cut it and how was it to get it back, even if it was a wig, in the last episode of season 2?
Katee Sackhoff: I know this sounds so ridiculous... but I cried when they cut it. Grace and I were sharing a room at boot camp and I got up in the middle of the night to see if I could still put it back in these twisty bobby pin things I used to do. I barely could with so much hairspray I couldn't stand too close to flame! Lol It was great to have it back for a little while in season 2 and 3. All I will say is I will never cut it again for Battlestar...
Gilles Nuytens: Are you happy with the character developement of Starbuck so far?
Katee Sackhoff: I'm thrilled with my character. However I did feel under used in season 3. I kept getting phone calls from people asking if the producers were mad at me. Trust me at one point my mind went to that assumption.
Gilles Nuytens: Season 3 is very dark, at least from what we have seen so far, do you already know what direction the show is going to take next year?
Katee Sackhoff: I have not given Battlestar a thought for awhile. Focusing on feature work.
Gilles Nuytens: You said in another interview that you would love to play as yourself in "The Office", have you been approached about it since then?
Katee Sackhoff: No. Would still love to. I'm such a fan of the show.
Gilles Nuytens: Kara has been drawing mysterious symbols we can see in "The Eye Of Jupiter", some believe she is the choosen one or even one of the Final Five! What are your feelings about it?
Katee Sackhoff: I'd like to say I have some feelings about it. I love where the writers have taken Kara and I trust they have done what's right and most interesting for the show.
Gilles Nuytens: After 3 seasons, has the show changed your life in any way?
Katee Sackhoff: Not really. I had a guy break into my house and had to move. Does that count. That's a change for the bad though.
Gilles Nuytens: We have seen a very complicated relationship between the "anders-kara-lee-dualla" characters, is that a storyline you enjoyed doing because of all the various 'love triangles'?
Katee Sackhoff: I actually hate the triangle. I think it's ridiculous. I wish she would just be with one of them and call it a day. Haha. But then that wouldn't be dramatic now would it.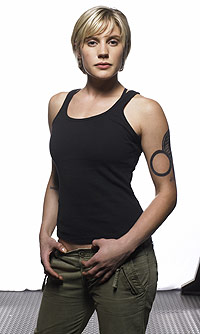 Gilles Nuytens: These characters don't seem to know exactly what they want, they break up, they get back together, they fight and the next minute they kiss, is that going to be solved once for all anytime soon?
Katee Sackhoff: Again I say Ridiculous...
Gilles Nuytens: You watched a lot of Star Trek during your school years, are you still fan of the franchise?
Katee Sackhoff: I haven't watched Star trek in Years. Sorry!
Gilles Nuytens: Outside of Galactica and "White Noise 2", what have you worked on recently?
Katee Sackhoff: I am doing a movie called "Be careful what you wish for". For Lifetime channel. I have 2 or 3 big jobs I don't want to jinx and can't tell you about yet. Probably by Monday...
Gilles Nuytens: I think you are a fan of the Indiana Jones movies and you mentionned once that you would love to play in a new one, now that there are plans for a fourth movie, have you been approached at all?
Katee Sackhoff: NOOOOOOO!!!!!!
Gilles Nuytens: Since that incident with Dirk Benedict, you are not really as we can say in good terms with him, have you solved the problem with him finally? If not, would you like to?
Katee Sackhoff: I have not one problem with Dirk Benedict.
Gilles Nuytens: What was the funniest situation you found yourself in during the shooting of Galactica?
Katee Sackhoff: Every sex scene is always without a doubt terribly funny.
Gilles Nuytens: With one word for each, how would you describe each of your co-stars from Galactica?
Katee Sackhoff:

Eddie- Genuine
Mary- Brilliant
Jamie- Interesting
Trisha- Irreplaceable
James- Loyal
Grace- Introspective
Michael H. - Free spirit
Aaron- Misunderstood
Tamoh- Charming
Nicki- Sweetest thing ever. (oops more than one word.)
A.J- Intelligent
Michael T- Under-rated
Callum- Most intrigueing man I've ever met. (There I go again sorry.)
Gilles Nuytens: If you were not an actress, what would you have liked to do?
Katee Sackhoff: Living in Mexico taking rich people scuba diving.